The day has finally arrived… The UK's FIRST Royal 50p has JUST been issued! And, it's got a very special obverse design – NEVER-before-seen on a 50p…
The 2022 UK Platinum Jubilee 50p is arguably the most significant coin of a lifetime, celebrating Queen Elizabeth II's incredible 70 years of service to the crown.
We're so excited to bring you all of the important details, as well giving you the chance to secure it for your collections!
What's more, we're giving JUST 50,000 collectors the chance of owning this poignant issue in bespoke Change Checker Jubilee Presentation Cards featuring the official Platinum Jubilee logo!
Keep reading to find out more…
2022 UK Platinum Jubilee 50p
2022 sees Her Majesty become the first monarch in British history to reach her Platinum Jubilee, so it's only fitting that this moment has been captured for the very first time on the UK's most collected coin!
And, this UK first also features new designs on BOTH the reverse and obverse!
Experienced coin artist John Bergdahl has created a stunning commemorative Jubilee portrait of Her Majesty on horseback, which is reminiscent of previous jubilee designs, including the 1953 coronation crown!
Created by design agency Osborne Ross, the reverse features the number 70 in a striking centralized design, with the dates 1952 and 2022, beneath The Queen's royal cypher.
I'm sure you'll agree that this coin is one of the most exciting issues we've ever seen.
We've never-before-seen a UK 50p mark such a significant event and it's only right that the UK's first royal 50p, should feature such an exciting design.
This is also the first time that we've ever seen the portrait of Her Majesty on horseback feature on the 50p!
And don't forget, the first 50,000 2022 UK Platinum Jubilee 50p coins will be protectively encapsulated in bespoke Change Checker Jubilee Presentation Cards, featuring the Official Platinum Jubilee logo!
This is an absolute MUST-HAVE for collectors. If you need reminding why, here are my 3 top reasons to add this coin to your collection:
This is the UK's FIRST royal 50p – making it a numismatic first
For the first time on the 50p, we've seen the portrait of Her Majesty on horseback feature on the obverse design
The first 50,000 collectors to secure this coin in Brilliant Uncirculated quality from Change Checker will also receive it in bespoke Jubilee packaging, featuring the official Platinum Jubilee logo.
Secure your Platinum Jubilee 50p for JUST £4.50 (+p&p) by clicking here >>
You must act fast if you want to be one of JUST 50,000 people to secure it in this bespoke Change Checker Jubilee packaging!
2022 UK Platinum Jubilee £5
As the perfect accompaniment to this stunning new 50p, The Royal Mint have also issued a brand new £5 coin to celebrate Her Majesty's Jubilee.
Set to rival the collecting frenzy of the Queen's first Jubilee Crown released in 1977, this brand new release features a design created especially for collectors.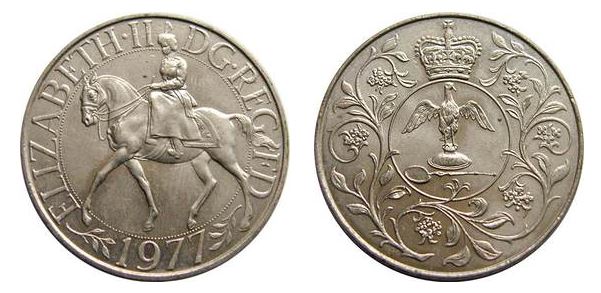 In 1977, Her Majesty celebrated 25 years on the throne – her Silver Jubilee and the first of her reign. The Royal Mint issued this commemorative crown. The coin's reverse design is focused upon the Coronation theme and features the Ampulla and anointing spoon from the Royal regalia surrounded by a heraldic floral pattern and the Crown.
The coin's obverse takes inspiration from the 1953 Coronation Crown, showing a newly designed image of the Queen on horseback.
Unusually, this coin does not feature an edge inscription or date on its reverse, making it the only crown of its kind at the time of issue. It was also one of the last crowns to be issued with a face value of 25 pence (commemorative crowns issued after 1990 have a face value of £5), which makes it continually sought-after among collectors!
Reminiscent of the 1953 Coronation Crown, the 2022 Platinum Jubilee £5 features a special obverse design of the Queen riding on horseback – only found on the individual release of this coin!
The reverse design by John Bergdahl includes the Queen's garter robes in a fitting tribute to her 70 years upon the throne.
As you'd expect with such a stunning issue, this coin will come struck to a Brilliant Uncirculated quality, protectively encapsulated in Official Change Checker packaging.
To secure the brand new 2022 UK Platinum Jubilee £5 for your collection for JUST £10.99 (+p&p), simply click here >>
---
The UK's FIRST Royal 50p – secure the most in-demand coin of our lifetime!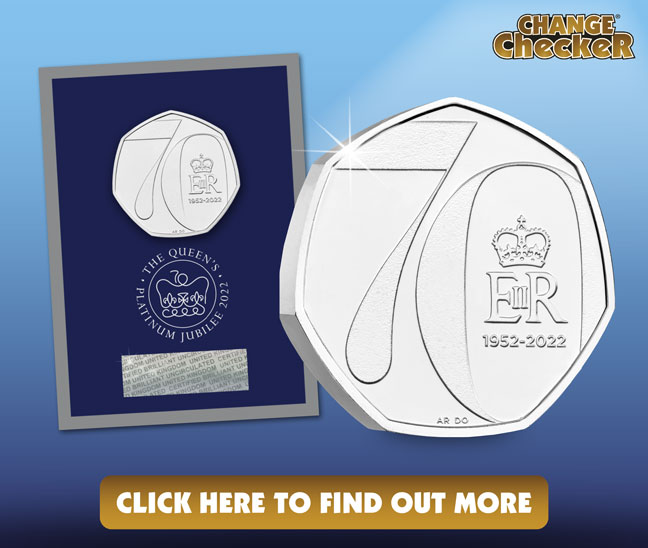 Secure the brand new 2022 UK Platinum Jubilee 50p for your collection for JUST £4.50 (+p&p).
The first 50,000 collectors to order this brand new coin, will receive it in bespoke Change Checker Jubilee Presentation Cards, featuring the official Platinum Jubilee logo!
Each year, collectors eagerly anticipate the arrival of the The Royal Mint's Annual Set.
These coins commemorate some of the key anniversaries of the year ahead and it means we get treated to FIVE brand new coin designs!
With some momentous anniversaries coming up this year, the issues in the 2022 Annual Set are some of the MOST poignant yet.
So, let's kick off the year with the coins we've all been waiting for, the 2022 Annual Set.
Platinum Jubilee 50p
Kicking things off with a UK FIRST, is the brand new 2022 Platinum Jubilee 50p.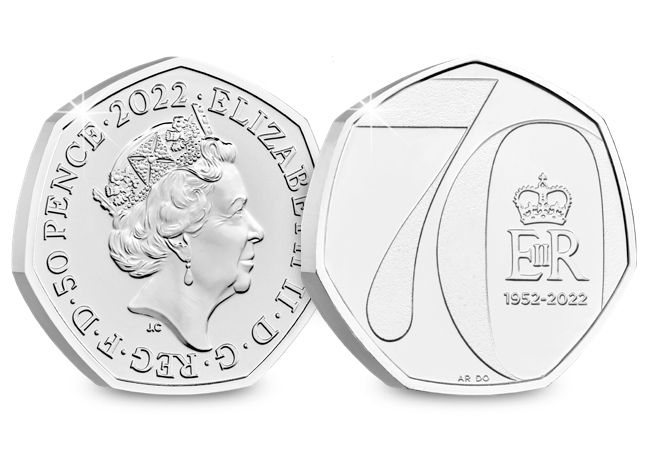 Her Majesty Queen Elizabeth II is the United Kingdom's longest reigning monarch, with an incredible 70 years of service to the crown.
In tribute to this record-breaking achievement, The Royal Mint have issued the UK's very first royal 50p!
Designed by Osborne Ross, the coin features a slick reverse design that shows the number 70, the royal cypher and the years that span her reign so far.
Her Majesty's fifth portrait, by Jody Clark, also features on the obverse of this coin.
What an incredible anniversary for Her Majesty to be celebrating this year and I'm sure you'll agree that this stunning 50p is a wonderful tribute to her.
The UK's VERY FIRST Royal 50p will be issued individually in just two days' time, on the 6th January. This version will feature a special obverse design not found in the Annual Set… Stay tuned to find out more!
Commonwealth Games 50p
The Commonwealth Games was first held in 1930 and with the exception of wartime (1942 and 1946) has taken place every four years since then!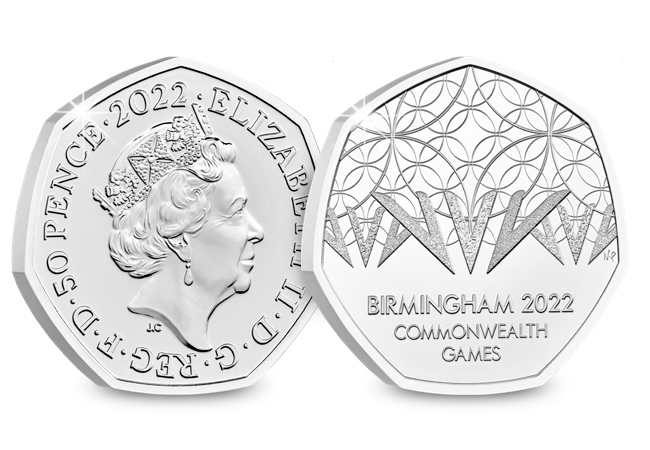 In the entire 92-year history, 2022 marks only the third time that England has played host to the games! So to mark the occasion, The Royal Mint has issued this brand new 50p.
Featuring a design by Royal Mint designer Natasha Preece, this 50p represents the essence of Birmingham 2022 with a striking geometric design.
We think it's the perfect tribute to Birmingham hosting the games for the very first time and a great way to wish all of the athletes good luck.
Alexander Graham Bell £2
Alexander Graham Bell was a Scottish-born inventor, scientist, and engineer who patented the first practical telephone.
In the 100th anniversary year since his passing, The Royal Mint have issued this brand new £2 coin.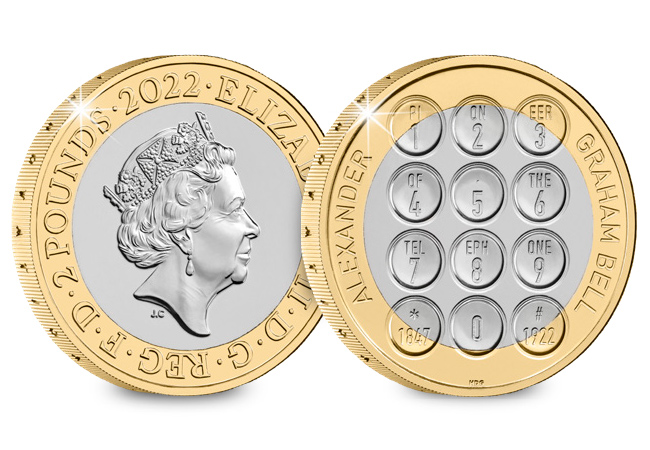 The coin features a design showing the dial of a push-button phone, alongside the words 'pioneer of the telephone' inscribed into the buttons.
It's hard to image a life without our phones, but before Bell's work, it was a complete unknown.
It was back in 1871 that Bell first started work on his harmonic telegraph, which allowed multiple messages to be transmitted over a wire at the same time.
And in 1876, he made his very first telephone call to Thomas Watson and was then granted his telephone patent.
The design of this coin perfectly celebrates all of Bell's achievements in making real-time long-distance communication possible.
Dame Vera Lynn £2
In 2020, we received the sad news that Dame Vera Lynn had sadly passed away. The iconic wartime singer was famous for boosting the morale of British troops during WWII.
Coined as the forces sweetheart, her renditions of We'll Meet Again, The White Cliffs of Dover and I'll Be Seeing You, became synonyms with wartime.
Dame Vera Lynn played such a key role during wartime that Buckingham Palace sent a private message of condolence to her family.
And in 2022, to commemorate her life and achievements, The Royal Mint commemorates her on a brand new £2 coin.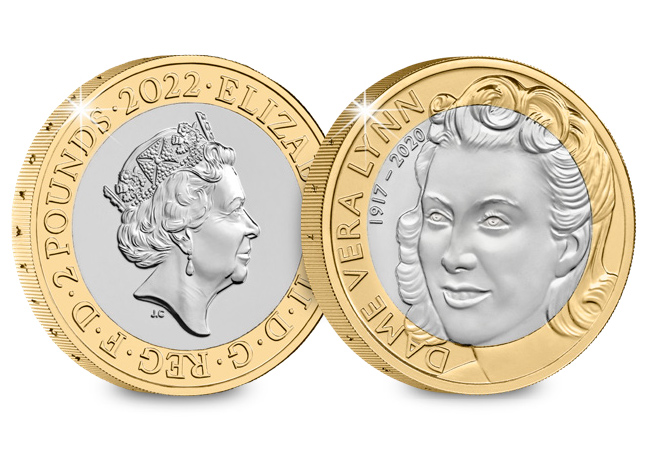 Designed by The Royal Mint design team, this £2 features a detailed portrait of Dame Vera Lynn as she appeared during the height of her fame.
The popularity of her songs has carried across generations. In 2020, her songs still spoke to the nation with a similar level of emotion as they did in 1940 – a testament to her charm, skill, and beautiful voice.
Platinum Jubilee £5
In this very special anniversary year for Her Majesty, we have been treated to not one but TWO Platinum Jubilee coins.
This £5, designed by John Bergdahl features a stunning reverse design. The royal mantle appears as a surround, as it was used on the coinage of William IV!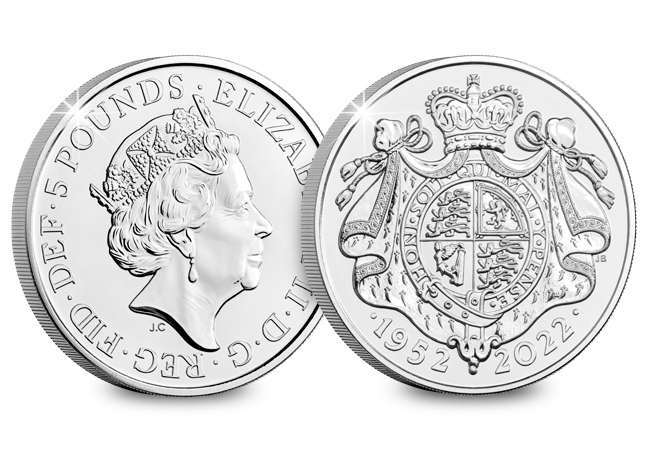 Inheriting the throne at the age of just 25, Her Majesty Queen Elizabeth II has remained a national constant as head of state since 6 February 1952.
Since then, the nation has watched her grow from a young queen to the much-loved monarch that she is today.
The dates 1952-2022 feature on the reverse design, in a poignant tribute to her incredible 70 years of service to the crown.
---
I'm sure you'll agree that this year's Annual Coin Set is the most impressive to date.
With some incredible anniversaries and events coming up this year, there's no doubt these coins will be in high demand with collectors.
Don't forget, the UK's VERY FIRST Royal 50p will be issued individually in just two days' time (6th January) – stay tuned to find out more!
---
Secure the most sought-after Annual Set to date!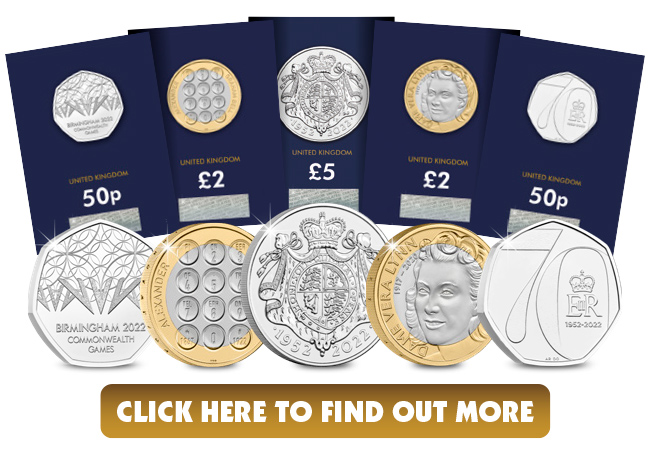 To ensure you don't miss out on adding all FIVE coins for your collection for JUST £40.00 (+p&p), simply click here >>
Each coin has been struck to a superior Brilliant Uncirculated quality and protectively encapsulated in official Change Checker packaging, housed in a Display Page ready to slot into your Change Checker Album.
We've been keeping our eyes on the latest Royal Proclamations and there's some very exciting coins on the horizon for 2022!
I'm sure you're just as pleased as I am to hear which themes we can expect for these coins, so read on to find out more…
100th Anniversary of the BBC 50p
The British Broadcasting Company (BBC) was formed on 18 October 1922 by a group of leading wireless manufacturers including Guglielmo Marconi.
Since establishment, the BBC has been shaped by some of the UK's biggest innovators, from Marconi, to John Logie Baird. Baird used BBC frequencies to broadcast some of his first experimental television broadcasts from studios near Covent Garden in London.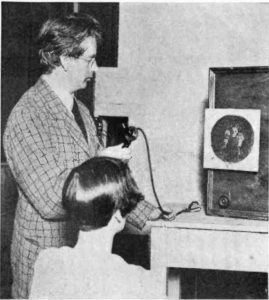 The BBC is highly regarded for its award-winning creative output, trusted and impartial news services and innovative use of technology.
To commemorate the centenary of the BBC, The Royal Mint have confirmed that they will be issuing a brand new 50p in 2022, which has definitely got Change Checker excited!
As of the Royal Proclamation, on 16th December 2021, the design is said to feature a globe with transmitter waves accompanied by the inscription "1922-2022 100 YEARS OF OUR BBC INFORM EDUCATE ENTERTAIN".
50th Anniversary of Pride 50p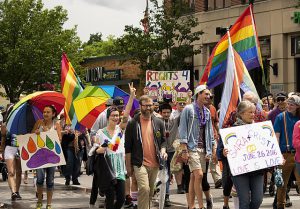 Pride is an annual global event which is celebrated every June. From parades and concerts, to workshops and exhibitions, the events of Pride month enable LGBTQ+ people and allies to celebrate their genders and sexualities, discuss LGBTQ+ history, and advocate for further change.
Since the start of the modern LGBTQ+ liberation movement in the 1970s, hundreds of independent Pride events have sprung up in cities worldwide, each distinctly local and generally tied in some way to the foundational Stonewall Riots in June.
The increased visibility and activism of LGBT individuals back in the 1970s helped the Pride movement make progress on multiple fronts.
In 2022, to celebrate over 50 years of Pride, the latest royal proclamation has confirmed a brand new 50p is set to be issued, with a design depicting elements of the Pride flag, accompanied with the inscription, "PRIDE PROTEST VISIBILITY UNITY EQUALITY".
50p Commemorating Life of Alan Turing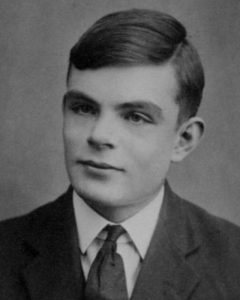 Alan Turing was most famously known for accelerating Allied efforts to read German Naval messages enciphered with the Enigma machine.
His work is said to have been key to shortening World War Two and saving millions of lives.
In addition to his work during World War Two, Turing played a pivotal role in the development of early computers, first at the National Physical Laboratory and later at the University of Manchester.
In 2013, he was given a posthumous royal pardon for his 1952 conviction for gross indecency.
To commemorate his life and achievements, a brand new 50p is set to be issued, depicting a cogwheel accompanied by the inscription "ALAN TURING" set against a background of letters.
2022 Winnie the Pooh 50ps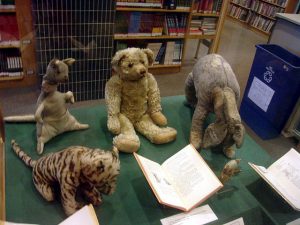 In 2020, The Royal Mint confirmed a brand new 9-coin series of 50ps celebrating 95 years of fun-filled adventure, each featuring a different inhabitant of Hundred Acre Wood.
The Winnie the Pooh 50p series continues in 2022, with the final three coins in the series being confirmed in the latest Royal Proclamation.
We can expect the final coins to depict designs of the following characters from A. A. Milne's classic tale:
Winnie the Pooh and Friends
Kanga and Roo
Eeyore
These are some of the most famous characters from the story and we're sure collectors will be racing to get their hands on these coins as soon as they're issued!
The £2 Turns 25
It's incredible to think that the bi-metallic £2 coin turns 25 in 2022! To celebrate a number of incredible issues are set to be released, including some of our favourites, all unified by the inscription, "CELEBRATING 25 YEARS OF THE £2".
The coins include:
Brunel £2
Florence Nightingale £2
Robert Burns £2
Charles Darwin £2
DNA £2
Wireless Transmission £2
60th Anniversary of the end of World War Two £2
Charles Dickens £2
First World War (Navy) £2
First World War (Kitchener) £2
First World War aircraft £2
Jane Austen £2
Frankenstein £2
D-Day 75th Anniversary £2
HRH Prince William's 40th Birthday £5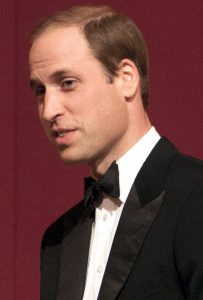 The Duke of Cambridge (Prince William) is the second in line to the throne and the elder son of The Prince of Wales and Diana, Princess of Wales.
In 2022, His Royal Highness will celebrate his 40th birthday and to mark the occasion, The Royal Mint are set to issue a brand new £5 coin.
The £5 coin, which is traditionally reserved for the UK's most significant royal and historical anniversaries, is said to feature a portrait of the Duke of Cambridge.
120 Years of Peter Rabbit £5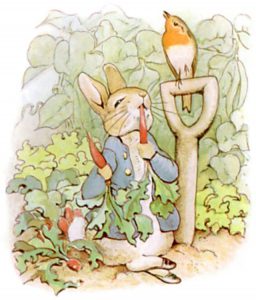 The Tale of Peter Rabbit by Beatrix Potter was first published in 1902 and since then the iconic rabbit in a blue jacket has gone on to win the hearts of millions of families around the world.
2022 marks 120 years since Peter Rabbit's very first appearance and to commemorate the anniversary, The Royal Mint will issue a brand new £5 coin.
Featuring a depiction of the children's character and the inscription "120 YEARS" and "THE TALE OF PETER RABBIT", we're sure this £5 coin will be a huge hit with collectors!
---
We're certainly excited for these coins to be issued in 2022! Which coins are you looking forward to? Let us know in the comments below.
---
Never miss a future UK coin issue!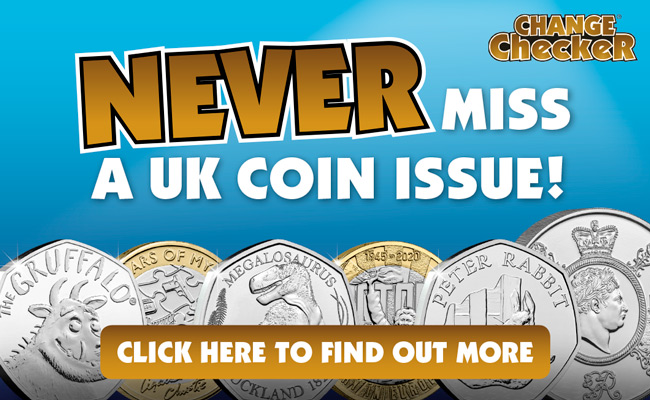 Join the Change Checker UK CERTIFIED BU Subscription Service and receive new UK coins sent to your door without the hassle of placing orders on the day of release!