Among the most popular and influential bands of the 1960s and '70s, The WHO were key to defining the mod genre and originated the 'rock opera' both in Britain and worldwide.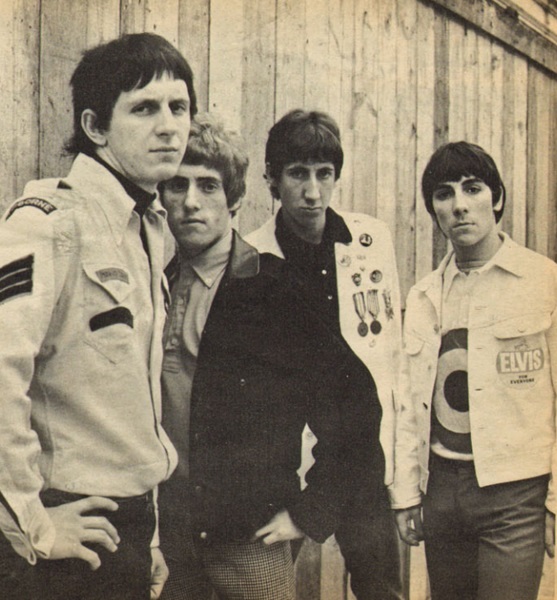 Despite having an early influence from the American Rhythm and Blues genre, The WHO's move towards a new style of British rock allowed them to reject any form of pretension when dealing with teenage frustrations.
The WHO's undeniable popularity, which spans across generations, has granted them numerous awards and they even reached the Grammy Hall of Fame for their single "My Generation" and the albums Tommy and Who's Next.
But Change Checker is head-bangingly excited to reveal that as of The Royal Proclamation on 28th April 2021, The WHO can add a brand new UK £5 coin to their impressive collection of accolades.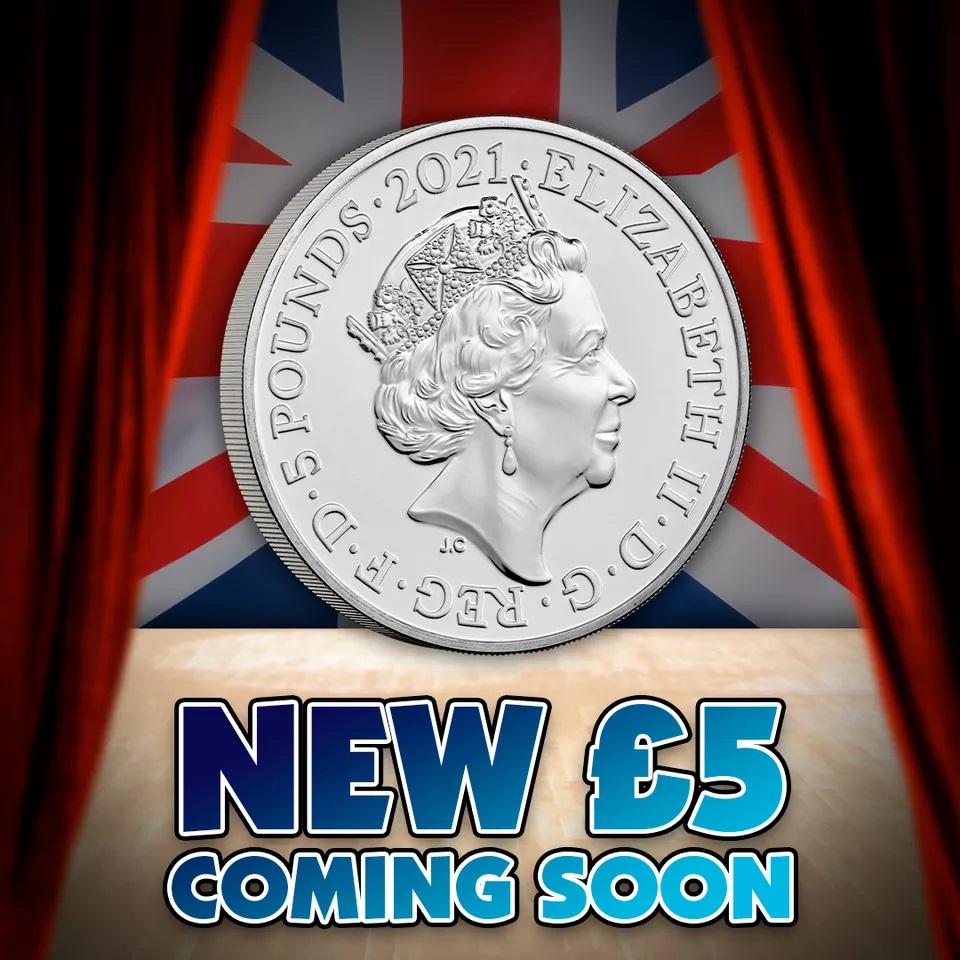 Whilst the design of the coin remains top secret, we can expect the reverse to show a depiction of a guitar shaped pinball machine accompanied by the inscription "THE WHO".
Whilst it hasn't been officially confirmed, we can safely assume this coin will be part of the incredible Music Legends series which brought us the 2020 UK Queen £5, the 2020 Elton John £5, and the 2020 UK David Bowie £5.
We're so excited for the design of this brand new coin to be revealed – we're sure it's going to rock the coin collecting world…
If you want to get ahead of the crowd, and be one of the first to receive these coins when they're individually released, you can do so by signing up to the Change Checker New Issue £5 Subscription Service >>
Be one of the first to receive the brand new The WHO £5 coin!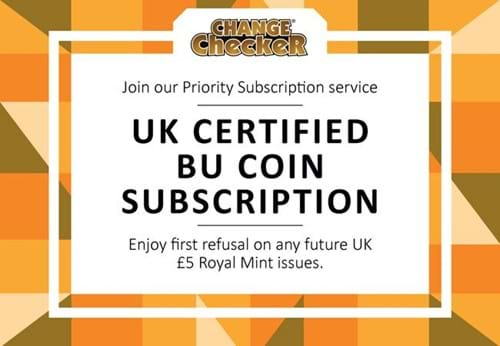 This is your opportunity to get ahead of the crowd and secure this brand new £5 coin and every future new UK £5 issue at the initial release price of just £10.99 (+p&p) >>
The Change Checker United Kingdom £5 Priority Subscription allows you to own the latest £5 coin releases, delivered to your doorstep, without any of the hassle of ordering the coin yourself!
In 2017, The Royal Mint revealed a series of brand new base metal UK £5 coins featuring an intriguing range of creatures called the 'Queen's Beasts'.
The series has been inspired by the ten ancestral and heraldic beasts that have watched over Her Majesty The Queen throughout her unprecedented reign – from her coronation to her Sapphire Jubilee and beyond.
Today, the series as a whole has been commemorated with a BRAND NEW celebratory coin as a fitting finale.
Designed by acclaimed Royal Mint engraver, Jody Clark, the reverse of this coin features not just one, but ALL TEN beasts together on a single coin to celebrate the series as a whole.
The design features each heraldic creature from the series in a striking illustration of Her Majesty's royal line of descent.
Recognisable as national symbols and representations of the great houses that vied for the throne, the beasts include lions, a bull, a falcon, a horse and a greyhound, as well as creatures of myth and legend.
The Queen's Beast coins have been some of the most popular releases of recent years and this FINAL celebratory coin is the perfect way to complete the series.
To secure yours in Brilliant Uncirculated quality and in Official Change Checker packaging for JUST £10.99 (+p&p), simply click here >>
The History of the Queen's Beasts
Over 400 years ago Henry VIII commissioned the sculpting of 10 heraldic animal statues. They were produced to represent the ancestry of King Henry VIII and his third wife Jane Seymour. These became known as "The King's Beasts" and can still be seen to this day, guarding the main entrance to Hampton Court Palace.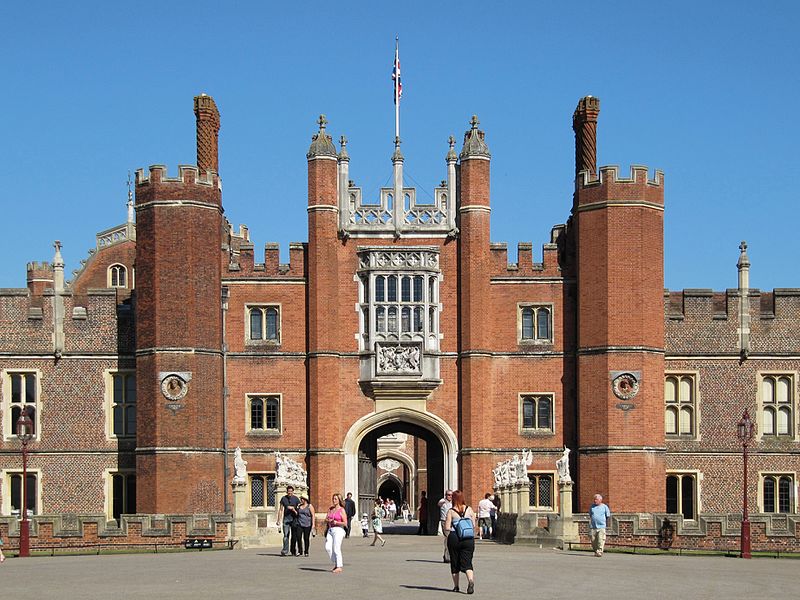 In 1952, in preparation for the coronation of Queen Elizabeth II, sculptor Sir James Woodford was tasked to create ten new statues, similar to "The King's Beasts" but more suited to the Queen.
He created 10 six-foot tall beasts each representing a different part of her genealogy and thus "The Queen's Beasts" were born.
The 10 beasts were made up of 'The Lion of England', 'The White Greyhound of Richmond', 'The Yale of Beaufort', 'The Red Dragon of Wales', 'The White Horse of Hanover', 'The White Lion of Mortimer', 'The Unicorn of Scotland', 'The Griffin of Edward III', 'The Black Bull of Clarence' and 'The Falcon of the Plantagenets'.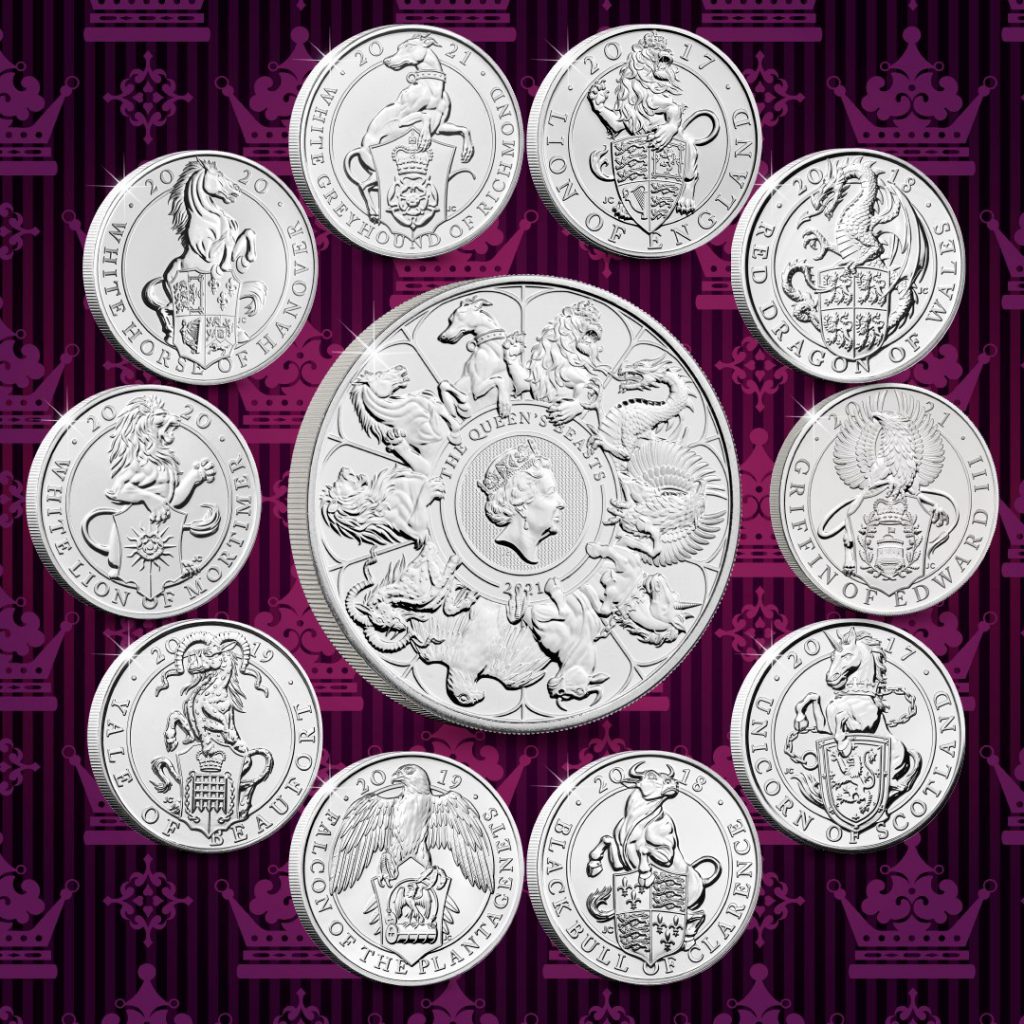 The Royal Mint Celebrate the Queen's Beasts with Their Biggest Coin Ever Made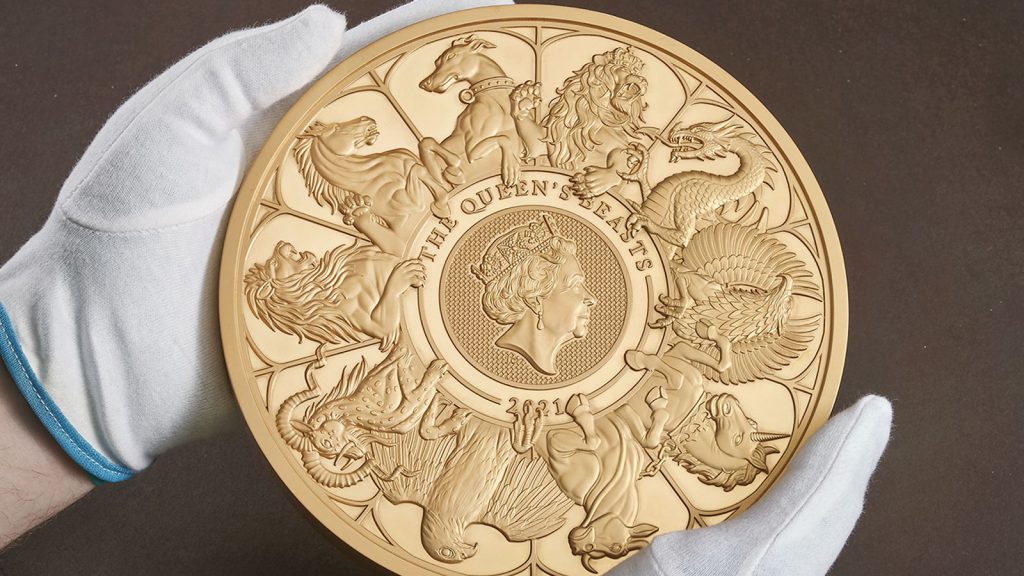 To mark the conclusion of the Queen's Beasts commemorative coin collection, The Royal Mint issued a 10kg, 20cm wide coin with the denomination of £10,000.
Taking over 400 hours to produce (including four days of polishing!) this one of a kind original is the latest issue in The Royal Mint's MasterWorks series.
The production of this coin combined traditional engraving machines to cut the intricate design, followed by a master toolmaker hand-working the coin to remove any marks from the cutting.
One lucky collector is already claimed to be the owner of this masterpiece, having allegedly paying a six-figure amount!
We certainly think it's an impressive addition to any collection and it's issue acts as a testament to the popularity and mastery of the Queen's Beast coins.
Vote for your favourite Queen's Beasts £5 Coin!
These impressive creatures have each been commemorated on highly sought-after UK £5 coins as a striking illustration of the royal line of descent.
Do you have a favourite Queen's Beasts £5 coin? Have your say and vote below!
We'll announce your favourite Queen's Beasts £5 coin next week, so make sure you tune back in to find out!
Will you be securing the brand new 2021 UK Queen's Beasts £5 for your collection? Let us know in the comments below!
Secure the 2021 UK Queen's Beasts £5 in Brilliant Uncirculated Quality!
Own the brand new 2021 UK Queen's Beasts £5 in CERTIFIED Brilliant Uncirculated quality for JUST £10.99 (+p&p).
Your superior collector quality coin has been protectively encapsulated in Official Change Checker packaging to preserve for generations to come.
Secure your 2021 UK Queen's Beasts £5 today by clicking here >>
"What heaven can be more real than to retain the spirit-world of childhood?" – Beatrix Potter
The Tale of Peter Rabbit and other Beatrix Potter stories span across generations, with each and every one of us having fond childhood memories of these wonderful characters.
And today, we journey back to childhood as Change Checker is foot-thumpingly excited to reveal that the UK's FIRST-EVER Peter Rabbit™ £5 coin has JUST been issued!
Inspired by Beatrix Potter's classic tales that have enchanted readers of all generations for more than 100 years, this brand new release is set to be incredibly popular amongst Beatrix Potter fans and collectors alike.
The reverse design by Ffion Gwillim perfectly captures a heart-warming scene from the original, much-loved Beatrix Potter stories.
To secure this UK FIRST for your collection in Brilliant Uncirculated quality, in official Change Checker packaging for JUST £10.99 (+p&p), simply click here >>
Since 2016, Peter Rabbit has encouraged a whole new generation to start collecting – featuring on not just one, but FIVE 50p coins in the Beatrix Potter series. And now the tale continues as Potter's most famous character makes his debut appearance on a UK £5 coin.
Join us in this blog, as we journey down the cosy burrow of the Beatrix Potter series and explore the tale of the sought-after 50ps…
A Woman Ahead of Her Time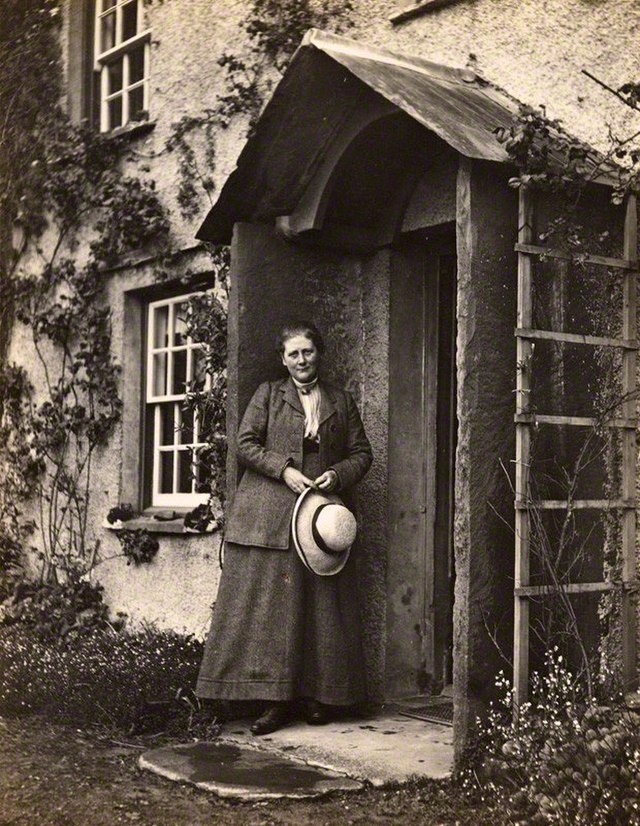 Beatrix Potter truly was a woman ahead of her time. Not only was she an accomplished children's author and illustrator, she was a passionate and knowledgeable farmer and conservationist – long before it became popular.
Potter was always encouraged to draw, and she spent many hours of her childhood making intricate sketches of animals and plants, revealing an early fascination for the natural world that would continue throughout her life.
However, it's fair to say her enchanting tales of countryside characters, including Peter Rabbit and Mrs. Tiggy-Winkle skyrocketed her to stardom. The Tale of Peter Rabbit was published in 1902 and it instantly became a best-seller!
The Series That Inspired a New Generation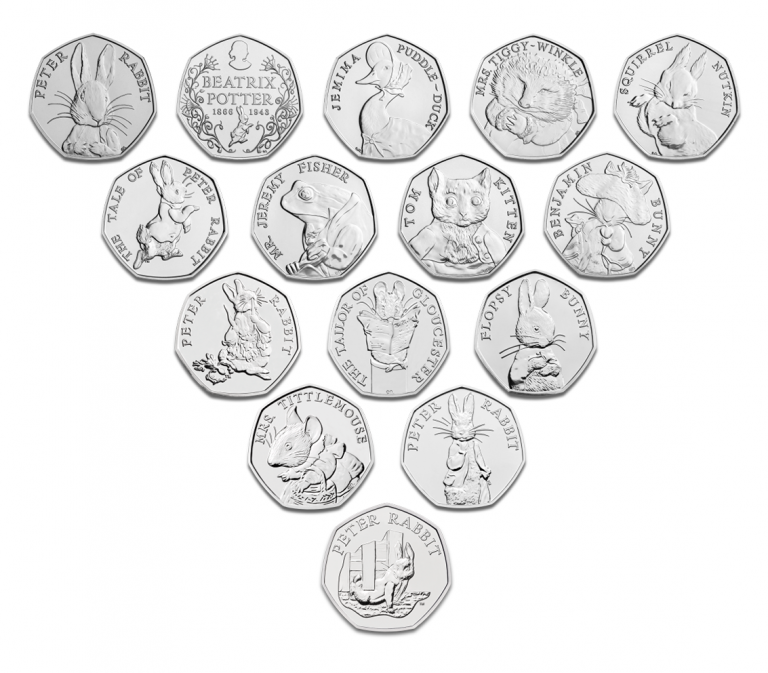 It was in 2016 that Peter Rabbit escaped from Mr. McGregor's garden and made his first debut on United Kingdom coinage.
Issued to celebrate 150 years since the birth of renowned Children's author, Beatrix Potter, this 50p changed coin collecting forever.
This series of coins continued into 2017, 2018 and 2019. Fifteen Beatrix Potter coins have now been issued since 2016, each featuring one of Potter's delightful characters, from Flopsy Bunny to Mrs. Tiggy-Winkle.
Peter Rabbit is the only character to feature more than once in the Beatrix Potter 50p series, with no less than 5 coins issued to celebrated the nation's favourite little rabbit.
In 2020, The Royal Mint confirmed that Peter Rabbit's 50p tale had sadly come to an end with the issue of a brand new coin.
This means there are fifteen Beatrix Potter 50p coins to collect and now we're delighted to see a brand new £5 coin has been added to the mix.
With Peter Rabbit proving to be one of the UK's most popular characters to ever feature on UK coins, this new release is set to prove incredibly sought-after amongst Beatrix Potter fans and collectors alike.
---
Will you be securing this brand new £5 coin for your collection? Let us know in the comments below!
---
Secure the 2021 UK Peter Rabbit™ £5
This brand new Peter Rabbit™ £5 coin has been specially struck and encapsulated as a Change Checker CERTIFIED Brilliant Uncirculated issue.
It has then been protectively encapsulated in Official Change Checker packaging with the all-important security hologram to guarantee its quality forever.
Own the brand new 2021 UK Peter Rabbit™ £5 today in superior Collector Quality, for JUST £10.99 (+p&p) by clicking here >>