The latest addition in The Royal Mint's Music Legends £5 series has just been released, and it celebrates the man in the best-selling show…
For the first time ever, the Starman himself, David Bowie, has been featured on a brand new UK coin.
The coin, by Jody Clark, features a design which pays tribute to Bowie's Aladdin Sane era. It depicts the music legend transitioning between his various personas, set against his iconic 'BOWIE' font.
Being a huge Bowie fan myself, my favourite feature of this coin has to be the world-famous lightning bolt that Bowie sported as his alter ego, Ziggy Stardust.
Encapsulating everything Bowie stood for; transformation, non-conformism, and vibrancy, this £5 coin pays the perfect tribute to one of the UK's biggest Music Legends of all time.
Ziggy Stardust
Rock star David Bowie's first hit was the song "Space Oddity" in 1969. The original pop chameleon, Bowie became a fantastical sci-fi character for his breakout Ziggy Stardust album.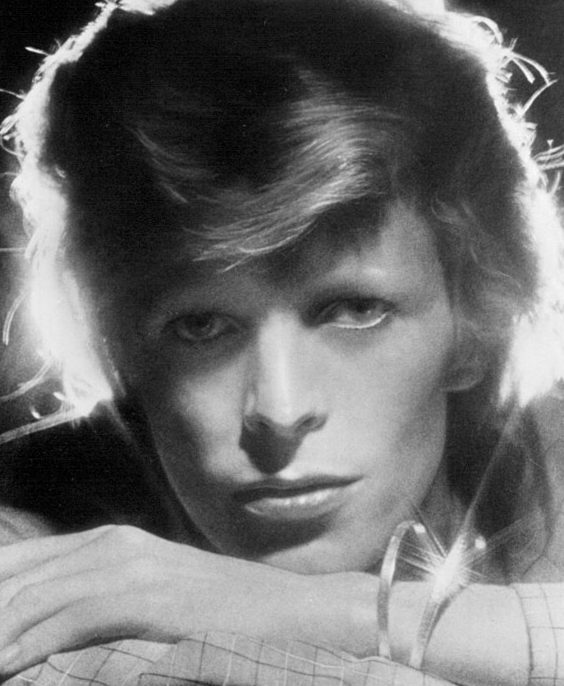 Bowie's songs depicted the ups and downs being an outsider: an alien, a misfit, or even a faraway astronaut! His music appealed to all, with a blend of rock, cabaret, jazz and soul. It was this eclectic mix of style and honest charm that defined him as one of the greatest music legends of the 20th century.
During Bowie's vibrant career, he released 27 studio albums, 128 singles, and 72 music videos. Some of his most famous works include Space Oddity (1969), Life on Mars? (1971), Heroes (1977), and Ashes to Ashes (1980).
Sadly, in 2016 David Bowie passed away just two days after his birthday, leaving behind a legacy of nonconformist music and style.
And, in 2020 his legacy lives on, with the release of this brand new £5.
2020 UK Elton John £5
The second coin in the Music Legends series was released earlier this year, celebrating Sir Elton John, who has been delighting his fans for more than half a century.
Since his very first self-titled album in 1970, Elton John has sold in excess of 300 million records worldwide.
Some of his chart-topping hits include, 'Can You Feel the Love Tonight?', 'Don't Go Breaking My Heart', 'Candle in the Wind', and 'I'm Still Standing'.
He also found success on Broadway, composing for Billy Elliot (2008), which went on to win 10 Tony Awards.
As recognition of his contribution to music, Sir Elton John was knighted in 1998 and in 2020 he was celebrated on a £5 for the first time.
The reverse design of this £5 coin, by Bradley Morgan Johnson represents Elton John's I'm Still Standing era. Speaking of the design, Johnson said, "I'm Still Standing was one of [his] favourite childhood pop tracks" and you can definitely see the influence this song has on the design of this coin.
My favourite feature of this coin design, is that Sir Elton John himself approved it. By owning this coin, you really are in possession of some huge music legend memorabilia.
If you would like to secure the 2020 Elton John £5 to your collection, click here >>
2020 Queen £5 Coin
The very first £5 coin in the Music Legends series was released earlier this year, celebrating one of Britain's most iconic and influential bands ever, Queen.
Formed in London, 1970, Queen instantly rocked the nation and became a British icon, creating unique and timeless songs which are still loved to this day.
As of 2005, Queen's albums have spent the equivalent of 26 years in the UK Album Charts! (According to the Guinness Book of World Records).
The design of this £5 coin by Chris Facey, showcases the iconic instruments of all four founder members of the band: Brian May's Red Special guitar, John Deacon's Fender Precision Bass™, Roger Taylor's Ludwig™ bass drum, and Freddy Mercury's Bechstein™ grand piano.
Band members Brian May and Roger Taylor have officially approved the design of this coin and alongside the fact that this coin is full of numismatic firsts, this coin has already proved incredibly popular with collectors:
The first-time ever Queen have featured on a coin worldwide
The first-time ever a British band has been celebrated on UK coinage
The first coin to be issued in the new series celebrating British Music Legends.
If you would like to add the 2020 UK Queen £5 in Brilliant Uncirculated quality, then click here!
I'm sure you're just as excited as we are by this brand new £5 coin and the continuation of the Music Legends £5 Series. 
Which coin is your favourite in the series? Let us know in the comments!
---
Secure the brand new David Bowie £5 today!
As you would expect with a coin this exciting your brand new UK £5 has been struck to superior Brilliant Uncirculated quality and protectively encapsulated in official Change Checker packaging to preserve its quality forever.
Add this coin, celebrating one of the greatest music legends ever, to your collection right now, by clicking here.
It's a magical day indeed as this morning, The Snowman™ has made a return to the UK's favourite coin, the 50p!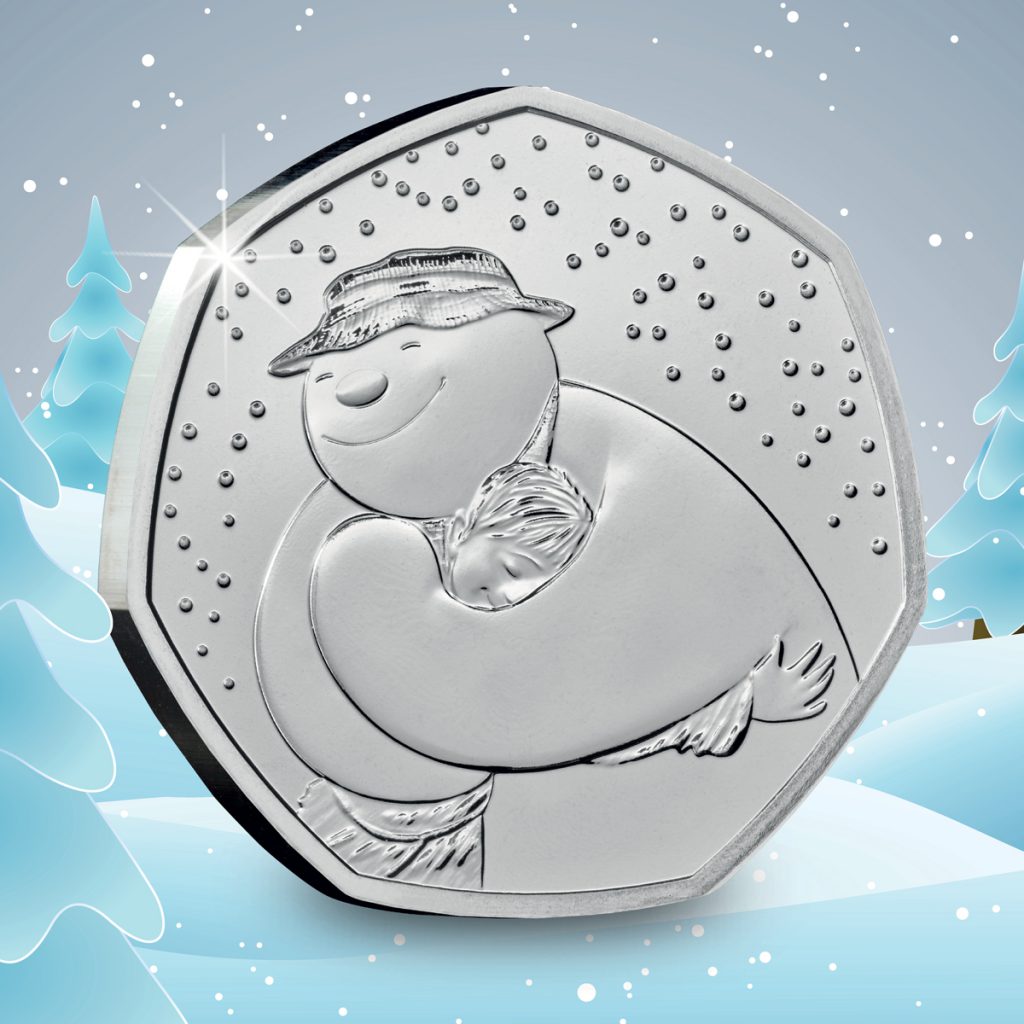 This brand new 50p has been issued to continue the celebrations of the 40th anniversary of the much-loved festive tale, The Snowman™!
In this latest release we see James and the Snowman embracing in a scene that is sure to warm your hearts this festive season!
Designed by Robin Shaw, this brand new 50p brings our favourite Christmas character to life exactly how we remember him from the famous tale.
With such a special issue, this coin is available in superior Brilliant Uncirculated quality from JUST £4.50 (+p&p)
But this isn't the first time we've seen The Snowman™ feature on a 50p! Previous Snowman 50p coins from The Royal Mint have proved incredibly popular with collectors and have even seen sell outs within just hours of release!
So, grab yourself a blanket and a mug of hot chocolate and cosy up, as we take a look at the history of The Snowman™ on coins…
2019 UK Snowman 50p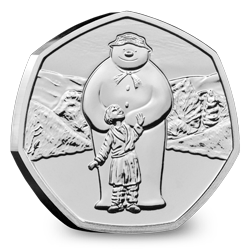 In 2019, The Snowman™ made his second UK 50p appearance, featuring alongside his friend James, set against the snowy mountains they famously fly over in the tale.
At the time of its release, it was the second Christmas 50p to be ever be released in the UK, with previous festive releases being dedicated to the £5 coin.
This coin is still available to order in Brilliant Uncirculated quality for JUST £4.50 but we have STRICTLY LIMITED STOCK remaining, so act fast.
2018 UK Snowman 50p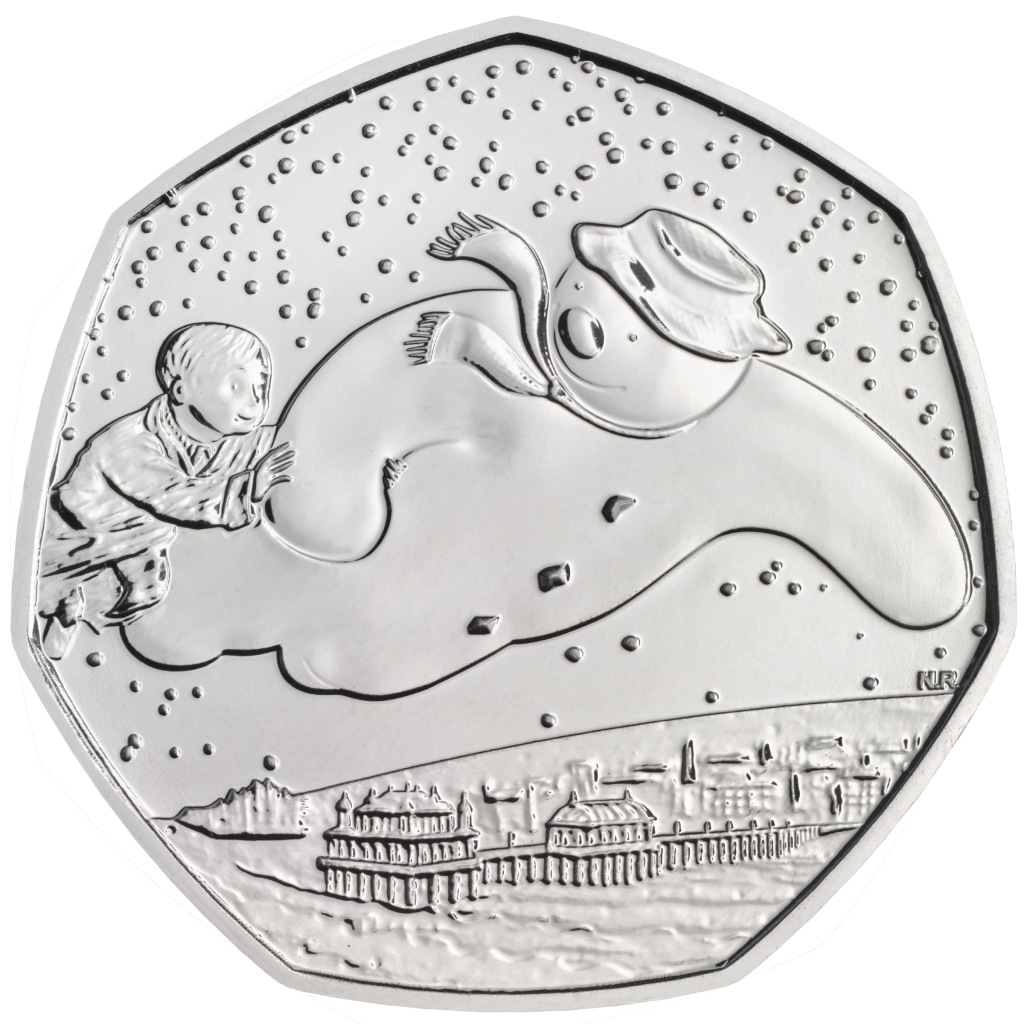 Celebrating the 40th anniversary of the Christmas classic, Natasha Ratcliffe's design features The Snowman and James 'walking in the air'…
Issued as the very first UK Christmas 50p and very first UK Snowman issue, this coin was destined to be popular amongst collectors!
In fact, it was so popular that the Silver Proof version completely SOLD OUT on the first day of issue!
Whilst the 2018 release marked the first time that The Snowman™ has appeared on a UK coin, it's actually not the first time that this frosty friend has appeared on a 50p…
Isle of Man Snowman 50ps
Over the years, The Snowman has featured on a number of different 50ps from The Isle of Man, some of which are incredibly sought after.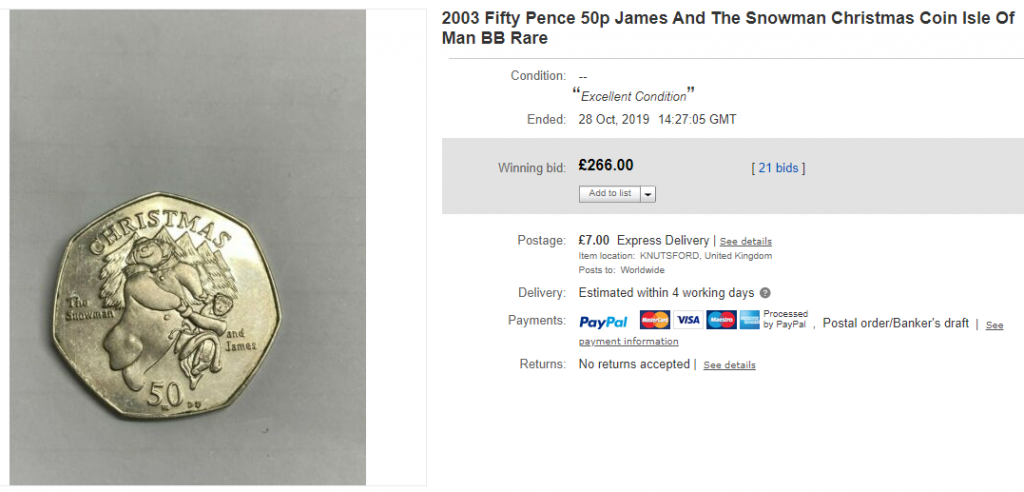 One such coin from 2003 featuring James and The Snowman™ recently sold for over £250 on the secondary market – not a bad return on a 50p coin!
Isle of Man coinage is particularly sought-after by collectors as mintages are significantly lower than in the UK, due to a population of around 85,000.
As these coins are very similar in appearance and specification to UK coins, they can sometimes find their way over here when people return from holidaying on the island.
Have you found an Isle of Man Snowman 50p on your travels or perhaps one has mistakenly made its way into your change! Let us know in the comments below!
---
It seems as though this frosty friend is a festive favourite amongst collectors but we want to know which Snowman 50p is your favourite!
Let us know in the comments below!
---
Gift The Snowman™ 50p this Christmas for JUST £4.50 (+p&p)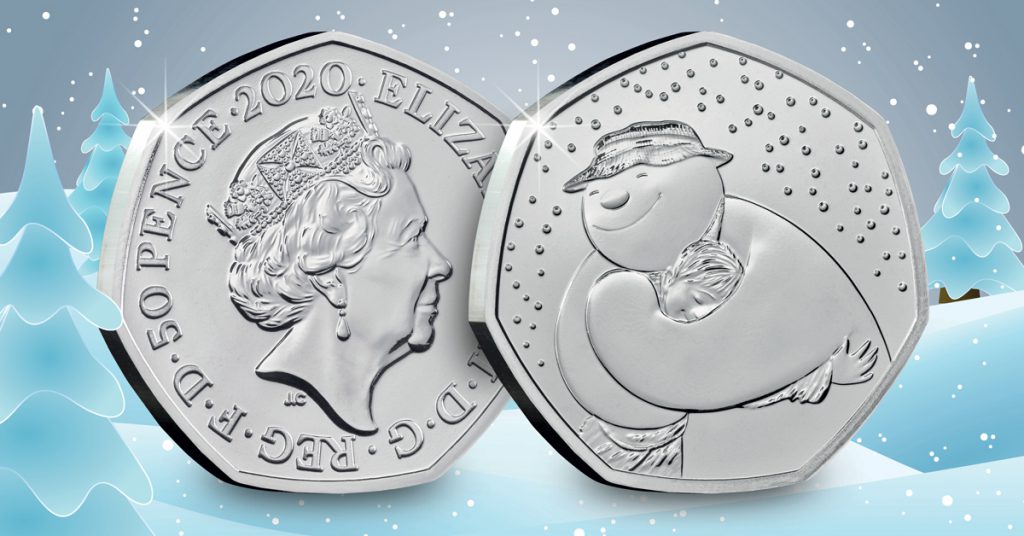 This coin really is the perfect festive treat for a loved one or even as a gift to yourself.
To secure the 2020 UK The Snowman™ 50p for just £4.50 (+p&p), click here >>
Sleigh bells ring, are you listening? Because a brand new Gibraltar 50p and £2 coin have just been released featuring none other than Father Christmas himself!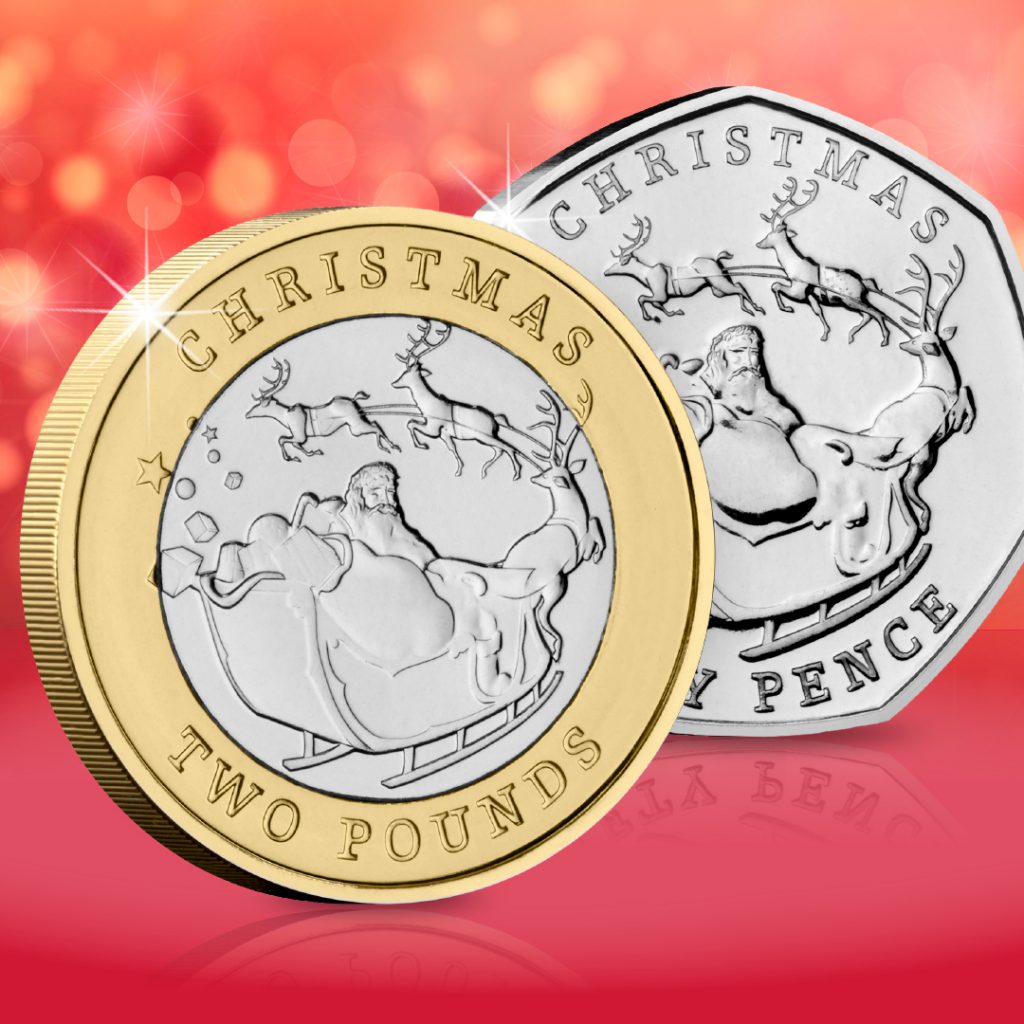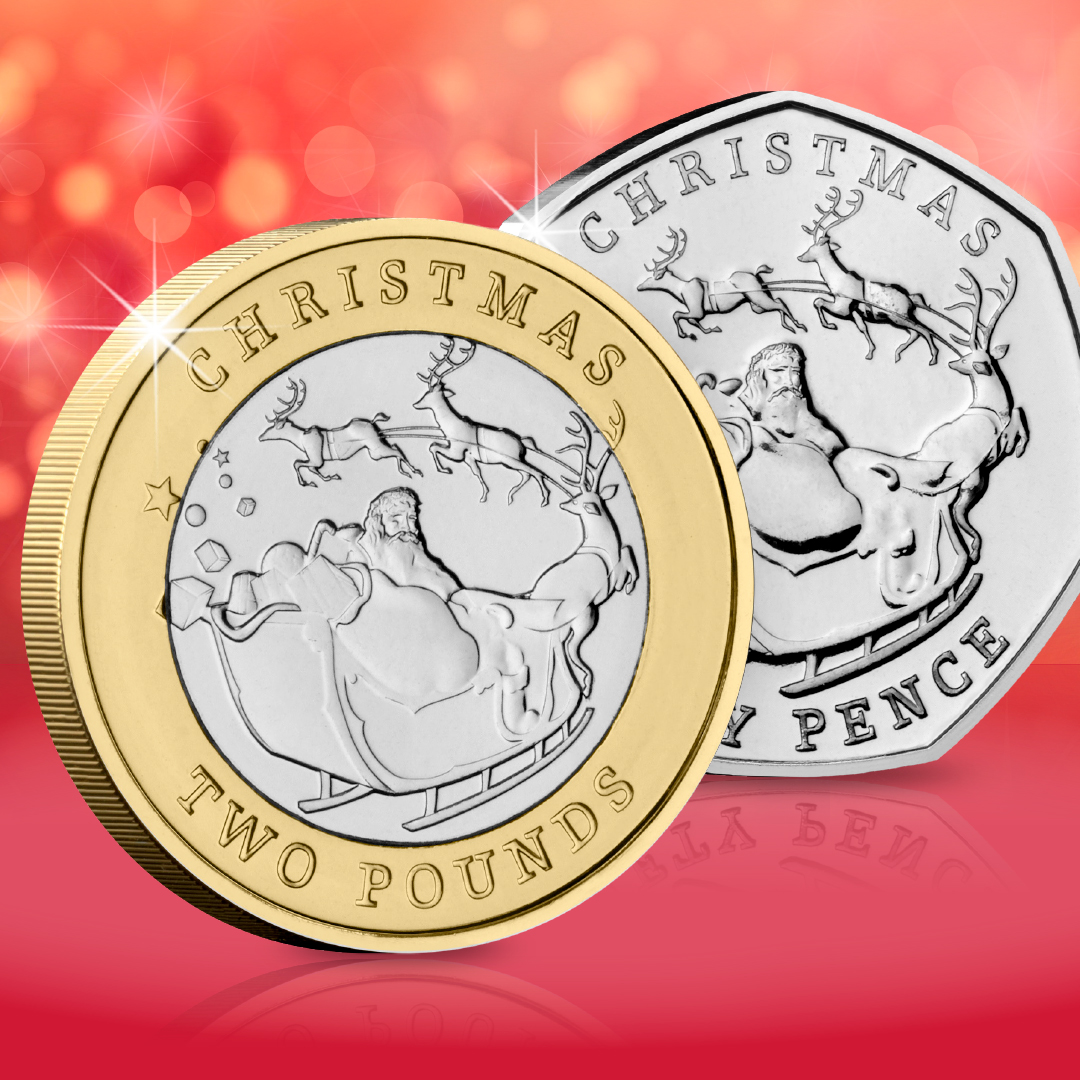 These very festive coins have been released by the Government of Gibraltar, making them particularly sought-after by collectors given the low mintage figures typical from the country!
You can secure this magical Christmas coin pair (the very best way to own these coins!) here for just £13.50 (+p&p).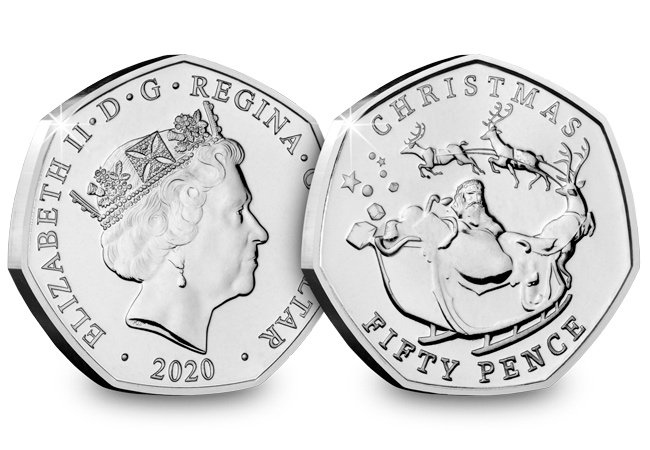 Or, you can secure the single 50p to your collection for JUST £4.50 (+p&p) by clicking here.
Your brand new Gibraltar Christmas 50p & £2 Pair will come in Official Change Checker Packaging, ready to slot into your Change Checker Album!
With previous Gibraltar issues proving immensely popular with collectors, I expect these coins will be snapped up quickly by collectors (especially as we have just a small allocation for Change Checkers!)
A history of popular coins
Gibraltar has released some truly beautiful coins in recent years, and as their mintage figures are typically much lower than UK coins, they are often highly sought-after by collectors…
Coins from Crown dependencies, such as Gibraltar and overseas British territories can sometimes make an unexpected appearance in our change.
They are identical in size, shape and weight to UK denominations which means they often find their way into tills and vending machines undetected.
Whilst these coins aren't technically legal tender in the UK, finding new and interesting designs is always a bonus!
So, whilst it may be tricky to find one in your change, Change Checker has listed our Top 10 Coins from Gibraltar that are worth trying to hunt down!
2019 Breast Cancer £2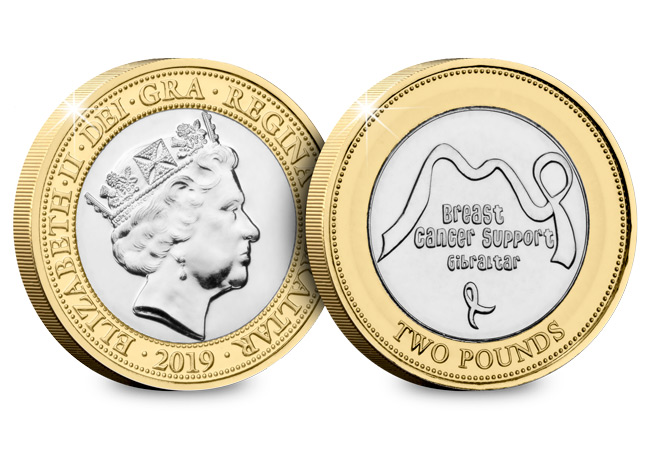 Last year the Government of Gibraltar issued a new £2 coin in partnership with Breast Cancer Support Gibraltar.
However, only a limited number were released into circulation on the Isle of Gibraltar, making it one of the most popular coins of the year, but also one of the most difficult to source.
But not many collectors were aware of the secret this coin was hiding…
The Gibraltar Breast Cancer £2 features a special portrait of Queen Elizabeth II on the obverse. It was originally drawn by Raphael Maklouf for the Gibraltar 90th Birthday £5 coin issue but has also been used on a small selection of Gibraltar coinage.
This portrait is currently not in use by any other country in the world, making any Gibraltar coin with this portrait on extremely collectable!
A limited number of coins were available at The Westminster Collection, and they sold out within hours! Collectors were quick to search on the secondary market to find them and some prices reached over £40!
Gibraltar Candytuft Flowers 50p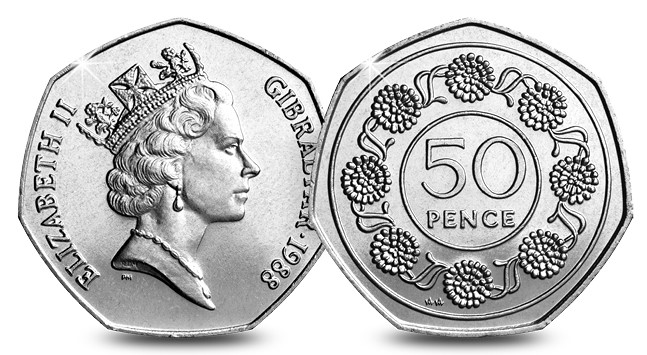 This 50p features the denomination surrounded by a crown of Gibraltar Candytuft flowers, known as 'Iberis Gibraltarica'.
Iberis Gibraltarica is the national flower of Gibraltar and is the symbol of the Upper Rock Nature Reserve which covers 40% of the country's land area. Gibraltar is the only place in Europe where it is found growing in the wild!
In 1988, JUST 30,000 of these 50ps were issued for circulation, making it 7 times rarer than the UK's rarest 50p and particularly scarce and sought after amongst collectors. Another key feature which makes this coin so collectable is that it was issued in the pre-1997 specifications, meaning it's significantly larger than the current 50ps we find in our change!
Rock of Gibraltar £1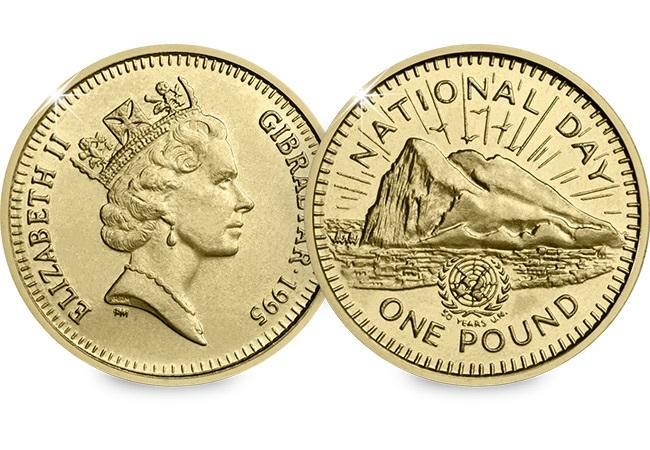 This £1 coin was issued for the 1995 National Day and for the 50th Anniversary of the UN.
National Day is celebrated annually on September 10th and is the official national day of Gibraltar.
The reverse features the iconic Rock of Gibraltar with birds and sun rays above, and the obverse features the Raphael David Maklouf engraving of Queen Elizabeth II.
This £1 is in the older round pound specifications, meaning they won't appear in your UK change as the round pound lost its legal tender status in the UK in 2016, after the introduction of the 12-sided £1. This means it's even harder to get your hands on this coin!
Neanderthal Skull £1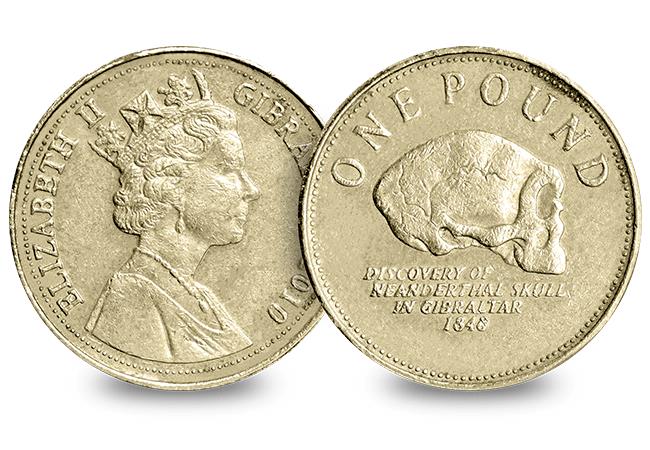 This £1 coin from Gibraltar was issued to celebrate the discovery of a Neanderthal skull in a quarry near the Rock of Gibraltar in 1848.
The Neanderthals in Gibraltar were some of the very first to ever be found and this particular skull is one of the oldest specimens known.
Designed by Philip Nathan, the reverse features the Neanderthal skull and lettering, "Discovery of Neanderthal skull in Gibraltar 1848". The obverse was designed by Raphael Maklouf and features the crowned bust of Queen Elizabeth I.
Capture of Gibraltar 50p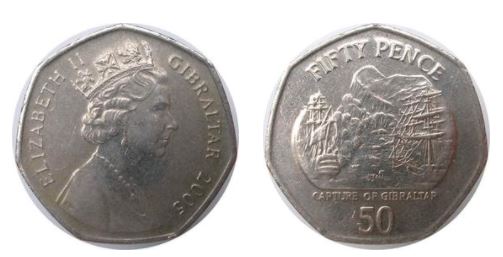 This 50p was issued in Gibraltar in 2005 to commemorate the Capture of Gibraltar in 1704, during the war of the Spanish Succession.
As part of the Allied strategy, Sir George Rooke had been sent with an Anglo-Dutch force into the Mediterranean to attack the French in Toulon. However, when his objectives proved impracticable, Rooke decided to justify his command by attacking Gibraltar.
The coin features a design on the reverse of ancient ships at sea with the Rock of Gibraltar in the background, paying tribute to the Anglo-Dutch fleet that sailed into Gibraltar. The obverse features the third portrait of Her Majesty by Royal Mint engraver Raphael D. Maklouf.
---
So will Santa be visiting you this Christmas in the form of the Gibraltar 50p and £2 pair? Comment below!
---
Don't miss your opportunity of owning this magical Christmas coin pair!
Due to the limited circulating mintages of these coins, we have just a small allocation for Change Checkers, so don't miss the opportunity to secure yours this Christmas!
Secure the 2020 Gibraltar Christmas £2 and 50p pair today for JUST £13.50 (+p&p) by clicking here >>