Posts Tagged 'annual coins'
To welcome in the near year, the BRAND-NEW Annual Coin Set has just been issued including the FIRST 2023 dated King Charles III coins!
For 70 years our coins have featured the portrait of Queen Elizabeth II. So, as we enter a new era of UK coinage, now really is the time to build up your new collection of coins featuring the King.
The issue of the Annual Coin Set is always exciting for collectors, as these coins are curated by The Royal Mint as being some of the most significant issues of the year to come.
Not only do we have our first King Charles III £2 coins, but there are some very poignant anniversaries being celebrated!
If you don't want to wait in adding these coins to your collection, click here to get yours in Brilliant Uncirculated Quality >>
Otherwise, continue reading to discover these brand new UK coins...
King Charles III 75th Birthday £5
This year, His Majesty King Charles III celebrates his 75th birthday, his first birthday as our reigning monarch.
£5 coins have always been reserved for key royal anniversaries and significantly, this is the first £5 coin that has been solely dedicated to our now King.
On the reverse design, floral emblems can be seen surrounded the number 75 and His Majesty's Royal Cypher.
75th Anniversary of the NHS 50p
Also celebrating its 75th birthday this year is our beloved National Health Service.
Our NHS has kept us safe for ¾ of a century and significantly, has saved millions of lives.
This year, The Royal Mint issues its second NHS 50p, following on from the incredibly popular 1998 coin.
Its reverse design features words synonymous with the NHS, including Dedication, Respect, Empathy, and Knowledge.
Windrush Generation 50p
2023 will mark 75 years since the arrival of the Windrush ship, carrying many people from British Commonwealth countries who had been granted British citizenship from the British Nationality Act.
However, the Windrush generations experiences were different than imagined.
To say thank you, and to celebrate their sacrifices and contributions, The Royal Mint has issued a brand new 50p.
Flying Scotsman £2
2023 marks 100 years since the Flying Scotsman entered service.
This is the world's most famous steam engine and is easily the most recognized.
It was the first locomotive to run on the newly formed London and North-Eastern Railway line.
To celebrate its centenary, The Royal Mint has issued this brand-new £2 coin – one of the first £2 coins to bear King Charles III's portrait on the obverse.
J. R. R. Tolkien £2
3rd January is official J. R. R. Tolkien Day – the birthday of the Lord of the Rings author.
His works, The Hobbit and The Lord of the Rings, have since gone on to be adapted as some of the highest-grossing films of all time.
To celebrate his birthday, The Royal Mint has issued this brand-new £2 coin.
It features a quote taken from Tolkien's famed fantasy novel, The Fellowship of the Ring.
---
We can't wait to see the individual issue of each of these coins, but of course, we will have to wait several months for each of these to be available.
That's why the Annual Coin Set is the best way to get ahead and add these coins to your collection.
---
Add the first 2023 King Charles III Coins to your collection!
Your coins will come protectively encapsulated in Change Checker packaging, reading to slot straight into your Change Checker Album.
What's more, you've also got an ID card detailing each of the coin's designs.
Each year, collectors eagerly anticipate the arrival of the The Royal Mint's Annual Set.
These coins commemorate some of the key anniversaries of the year ahead and it means we get treated to FIVE brand new coin designs!
With some momentous anniversaries coming up this year, the issues in the 2022 Annual Set are some of the MOST poignant yet.
So, let's kick off the year with the coins we've all been waiting for, the 2022 Annual Set.
Platinum Jubilee 50p
Kicking things off with a UK FIRST, is the brand new 2022 Platinum Jubilee 50p.
Her Majesty Queen Elizabeth II is the United Kingdom's longest reigning monarch, with an incredible 70 years of service to the crown.
In tribute to this record-breaking achievement, The Royal Mint have issued the UK's very first royal 50p!
Designed by Osborne Ross, the coin features a slick reverse design that shows the number 70, the royal cypher and the years that span her reign so far.
Her Majesty's fifth portrait, by Jody Clark, also features on the obverse of this coin.
What an incredible anniversary for Her Majesty to be celebrating this year and I'm sure you'll agree that this stunning 50p is a wonderful tribute to her.
The UK's VERY FIRST Royal 50p will be issued individually in just two days' time, on the 6th January. This version will feature a special obverse design not found in the Annual Set… Stay tuned to find out more!
Commonwealth Games 50p
The Commonwealth Games was first held in 1930 and with the exception of wartime (1942 and 1946) has taken place every four years since then!
In the entire 92-year history, 2022 marks only the third time that England has played host to the games! So to mark the occasion, The Royal Mint has issued this brand new 50p.
Featuring a design by Royal Mint designer Natasha Preece, this 50p represents the essence of Birmingham 2022 with a striking geometric design.
We think it's the perfect tribute to Birmingham hosting the games for the very first time and a great way to wish all of the athletes good luck.
Alexander Graham Bell £2
Alexander Graham Bell was a Scottish-born inventor, scientist, and engineer who patented the first practical telephone.
In the 100th anniversary year since his passing, The Royal Mint have issued this brand new £2 coin.
The coin features a design showing the dial of a push-button phone, alongside the words 'pioneer of the telephone' inscribed into the buttons.
It's hard to image a life without our phones, but before Bell's work, it was a complete unknown.
It was back in 1871 that Bell first started work on his harmonic telegraph, which allowed multiple messages to be transmitted over a wire at the same time.
And in 1876, he made his very first telephone call to Thomas Watson and was then granted his telephone patent.
The design of this coin perfectly celebrates all of Bell's achievements in making real-time long-distance communication possible.
Dame Vera Lynn £2
In 2020, we received the sad news that Dame Vera Lynn had sadly passed away. The iconic wartime singer was famous for boosting the morale of British troops during WWII.
Coined as the forces sweetheart, her renditions of We'll Meet Again, The White Cliffs of Dover and I'll Be Seeing You, became synonyms with wartime.
Dame Vera Lynn played such a key role during wartime that Buckingham Palace sent a private message of condolence to her family.
And in 2022, to commemorate her life and achievements, The Royal Mint commemorates her on a brand new £2 coin.
Designed by The Royal Mint design team, this £2 features a detailed portrait of Dame Vera Lynn as she appeared during the height of her fame.
The popularity of her songs has carried across generations. In 2020, her songs still spoke to the nation with a similar level of emotion as they did in 1940 – a testament to her charm, skill, and beautiful voice.
Platinum Jubilee £5
In this very special anniversary year for Her Majesty, we have been treated to not one but TWO Platinum Jubilee coins.
This £5, designed by John Bergdahl features a stunning reverse design. The royal mantle appears as a surround, as it was used on the coinage of William IV!
Inheriting the throne at the age of just 25, Her Majesty Queen Elizabeth II has remained a national constant as head of state since 6 February 1952.
Since then, the nation has watched her grow from a young queen to the much-loved monarch that she is today.
The dates 1952-2022 feature on the reverse design, in a poignant tribute to her incredible 70 years of service to the crown.
---
I'm sure you'll agree that this year's Annual Coin Set is the most impressive to date.
With some incredible anniversaries and events coming up this year, there's no doubt these coins will be in high demand with collectors.
Don't forget, the UK's VERY FIRST Royal 50p will be issued individually in just two days' time (6th January) – stay tuned to find out more!
---
Secure the most sought-after Annual Set to date!
To ensure you don't miss out on adding all FIVE coins for your collection for JUST £40.00 (+p&p), simply click here >>
Each coin has been struck to a superior Brilliant Uncirculated quality and protectively encapsulated in official Change Checker packaging, housed in a Display Page ready to slot into your Change Checker Album.
Every keen collector knows that it is worthwhile paying close attention to the small details of your coins – it's the only way you can ever hope to spot an error. 
From edge inscription mix ups to inverted effigies, there are a few stories that crop up more often than not. However, recently, a couple of 'error' stories have cropped up, that Change Checker really think you should pay attention to – involving an H.G. Wells £2 and the Technology £2…
Stay tuned as we take a closer look at these 'errors' and help you determine if your £2 coin is a genuine rarity!
H.G. Wells £2 – Blank 'Error'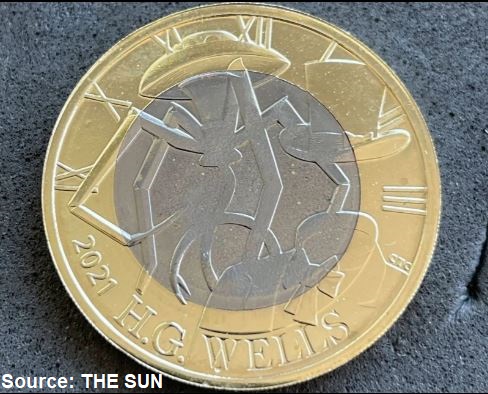 This £2 coin was issued as part of the 2021 UK Commemorative Coin set and it marks the 75th anniversary of the death of science fiction novelist, H. G. Wells.
With the clue in the name, this bi-metallic coin is made up of a combination of a silver coloured cupro-nickel disc and an outer yellow nickel-brass ring.
In the case of this H.G. Wells £2 coin however, it appears that the blank used has a thicker yellow ring, much wider than what we'd see on normal £2 coins.
When striking £2 coins, the first step is to punch a hole through a blank planchet to create the outer section. The inner core is taken from a different metal, sized to fit inside the outer ring.
There have already been estimations that if this coin was to be sold at auction, it could fetch over £1,000! We're going to be eagerly awaiting confirmation from The Royal Mint whether this error is genuine or not. Nonetheless, it certainly makes for interesting collecting!
This coin is yet to be individually issued, so any 'error' versions will have come exclusively from the 2021 UK Annual Set. It'll certainly be interesting to see if any other stories crop up after the coin's individual issue….
Whilst there are no identical examples to compare the H.G. Wells £2 'error' to, there have been previous instances of the inner and outer sections of £2 coins not quite matching up:
Clipped Planchet
In the above image, the inner core was punched out from the end of the sheet of metal used for blanks, forming a straight or ragged edge clip.
Whilst this also occurs with monometallic coins, the pairing with an outer ring exposes a large gap which is much more noticeable.
The Royal Mint strike millions of coins each year so it is inevitable that variances will occur during the striking process and can't always be picked up during quality control, despite the fact that this particular coin would weigh less than the standard 12g £2 coin.
Off Centre Inner Core
The inner core of this coin hasn't been united properly prior to being struck, resulting in an off centre inner core.
Due to the way the inner and outer core are struck together with the two metals being lined up and then fused together during striking, a misalignment will mean that the inner core spills into the outer ring, as seen in the image above. There might also be a gap between the two metals on the opposing join.
Faulty Outer Ring
This particular mis-strike, shows a faulty planchet or outer ring, where the inner core is exposed.
In the image above, you can actually see the specific engineering design features where the inner core is grooved to help the metal flow bond to the outer ring and fuse during striking.
Similar to the first mis-strike we looked at, this could be caused by a clipped planchet, this time created when the outer ring was punched, however coins like this may also be caused by tampering post striking, for example by fakers trying to replace the inner core of a £2 with another coin to pass off as a rare error.
Bronze £2 Error
The 'Monometallic' £2 is described as the Holy Grail of bimetallic 'errors' and is the result of the nickel-brass £2 blank not having the inner core section punched out before being struck.
This means that the £2 coin is made from one full piece of nickel-brass, completely contrasting the very idea of a bimetallic coin.
A 2007 monometallic £2 was verified by The Royal Mint and in the email confirming the mis-strike it was mentioned that they had only seen 4-5 similar coins before.
However, in 2021, Change Checker was contacted by a collector called Amin who informed us that he had found this exact error coin but with a 2010 date.
After sending details of his coin to The Royal Mint for further information, it was confirmed to be genuine error as a result of the minting process.
This rare striking error is highly sought-after and coins have achieved extraordinary prices in private sales and auctions.
Whilst information of this coin's sale has remained private, it's certainly a very interesting story and we imagine the collector can expect to see a very impressive return on this coin…
---
We look forward to the individual release of the HG Wells £2 later this year and will certainly be keeping our eyes peeled for any unusual looking variations!
Have you ever come across any of these £2 error coins in your collection?
We'd love to know! Comment below.
---
Secure the 2021 UK Commemorative Coin Set – featuring the H. G. Wells £2!
Secure the 2021 CERTIFIED BU Commemorative Coin Set, featuring the 2021 UK H. G. Wells £2 for JUST £40.00 (+p&p) today >>