Posts Tagged 'British coins'
Standing strong for over 1,100 years throughout Britain's wars, political upheavals, social and economic progress and technological and scientific advances, The Royal Mint's history can be traced back through our country's coinage.
But it was 50 years ago today that The Queen herself opened the new site for The Royal Mint, which was moved to a purpose-built site in Llantrisant following 157 years at Tower Hill, London.
This was the first time since its inception that The Royal Mint had been based outside of London, and marked an incredibly important moment in the history of our coins.
In 1966 it was announced that Britain would adopt a new decimal currency, which meant that hundreds of millions of new coins would need striking. Tower Hill simply didn't have enough space to cope with this demand and so the decision was made to find a new location for The Royal Mint.
Llantrisant made it onto the shortlist of the top 7 locations, and as James Callaghan (Chancellor of the Exchequer, Master of the Mint and an MP for Cardiff) supported a move to Wales, Llantrisant was chosen for the big move.
The announcement was made in 1967 and construction soon began on the new site. For the Llantrisant area, the move meant more work and a regeneration of the town, as well as adding to the sense of history and tradition. It was estimated that the move would provide 10,000 jobs to South Wales.
It was in 1968 that the site was officially opened by Her Majesty The Queen when she switched on the coining presses to begin production of decimal bronze coins.
Llantrisant was built to house the most advanced coining machinery in the world and have a larger capacity than any other mint in Europe, necessary to cope with the amount of new coinage needed.
When the site opened, the circulating coin presses could strike up to 200 coins per minute, however the latest generation of presses today strike around 750 coins per minute!
Today the Royal Mint is the market leader and the largest single supplier of plated coins and blanks in Europe. They can produce 90 million coins and blanks a week – that's almost 5 billion coins a year!
And all this has been made possible thanks to the advanced facilities at Llantrisant, as pictured above, without which the move to decimal coinage simply wouldn't have been possible.
---
Own this Historic Royal Mint anniversary DateStamp™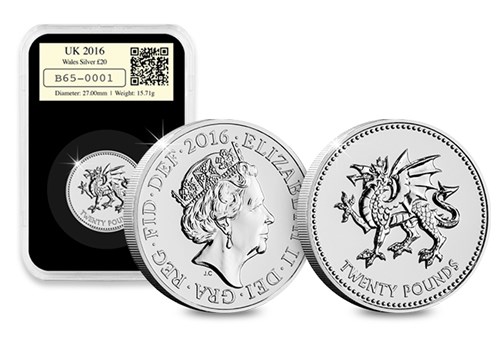 To mark the move of The Royal Mint to Llandistrant, you have the opportunity to own the Royal Mint in Wales 50th Anniversary DateStampTM.
Featuring the 2016 Wales £20 coin with the iconic Welsh dragon design, and postmarked 17th December 2018, exactly 50 years since The Royal Mint moved to Wales.