Posts Tagged 'Coin Collecting'
Coin collecting is a hobby that spans across generations, but did you know it also spans across centuries?
In this blog, we talk you through the different phases of coin collecting!

The Hobby of Kings
Historically, only very wealthy people or royals could afford to collect coins rather than use them as a daily necessity.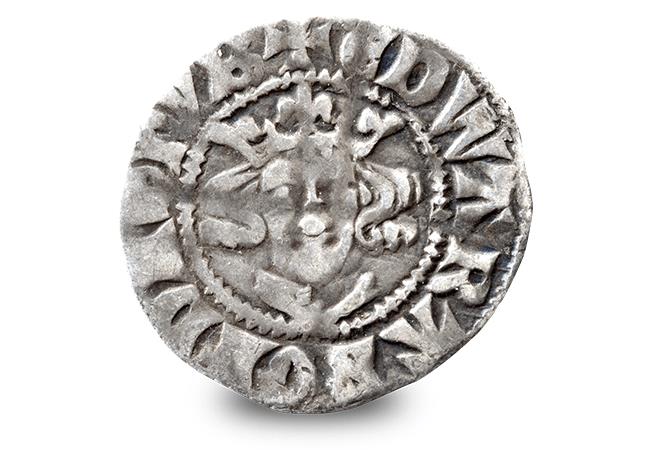 This high-level collecting peaked in about the 14th century and there is evidence that coins were even collected in ancient times!
Industrialisation
In the late 18th century, at the time of the industrial revolution, factories, mills, and other private enterprises were set up, opening up a new avenue of wealth creation. This meant more people were in possession of a disposable income and many became interested in coins and began collecting them as a hobby.
This demand was noticed by Matthew Boulton and James Watt, who began making specially designed coins in various metal specifications, to sell on.
In 1887, ahead of the golden jubilee of Queen Victoria, The Royal Mint produced commemorative gold and silver florins for the first time, a new Double Florin denomination featuring a Jubilee bust of the Queen.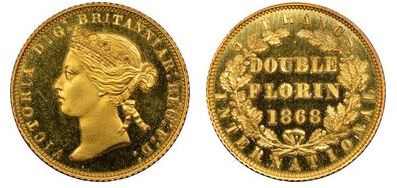 This was to start a tradition of producing 'special' coins to mark particular historic or royal anniversaries that carried through to the 20th century.
Decimalisation and Coin Collecting
In 1971, the UK switched its currency to a decimal based system from the previously used system dating back to ancient Roman times.
Whilst a few old coins remained legal tender, it saw the phase out of others, including the large penny, which hadn't changed much since 1860!
This restructure inspired a world-wide interest in coins! Mints all over the world started producing coins and sets to issue to the public in a way that had never been seen before.
With an increasing of exciting numismatic issues, came an influx of coin stories, each one hoping to shed light on a 'rare' or 'error coin' that could be found in your change.
Fast-forward to 2020 and the hobby of checking your change for that special coin is still alive with plenty of interesting coin stories still surfacing!
Collecting to Sell
As the opportunity for people to both collect and sell coins increased (e.g. with the introduction of secondary market sites, etc.) so did the volume of people collecting.
All too often we are bombarded by press articles citing eBay listings of 'rare' or 'error' coins and, naturally, interest is piqued when we hear about the coin we've just come across in our change 'selling for thousands'. These stories often encourage people to collect and hoard coins, purely in the hope of making a 'buck' when selling them on.
Unfortunately though, these tabloid articles can often sensationalise the actual value of the coin and when taken out of context we can forget that anyone can list anything they like on eBay, for whatever price they choose, regardless of whether or not the item is genuinely worth it. To avoid the pitfalls of buying coins eBay, Change Checker created our top 5 eBay buying tips.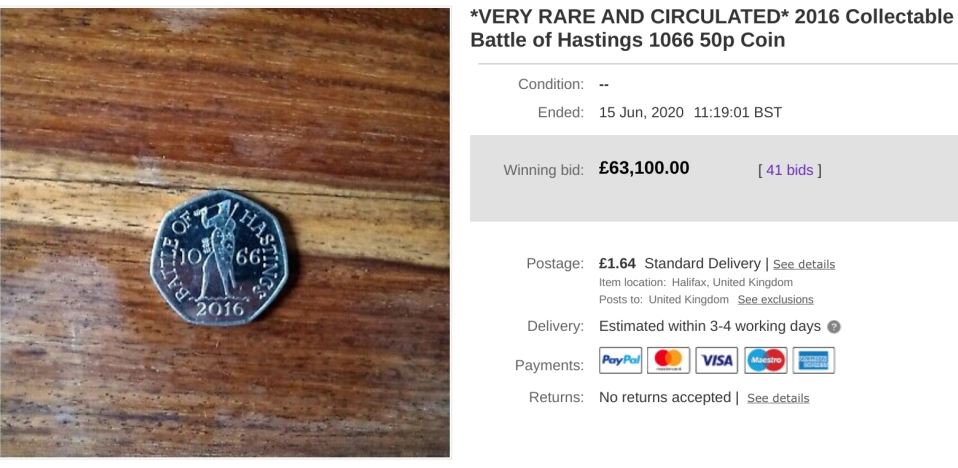 However, many collectors do continue to check their change in the hope of finding coins to add to their collections just for the pleasure of the hobby, or even to build a meaningful gift or heirloom to a loved one.
---
As we navigate a climate where less cash is being used and therefore the opportunity of finding those special coins in our change is reduced, could this push us into a fifth phase of coin collecting?
---
Secure the History of Britain in Coins Collecting Album!
Secure one to your collection today by clicking here >>
To honour the 150th anniversary of the establishment of the British Red Cross, The Royal Mint has issued a brand new £5 coin.
2020 UK British Red Cross £5
Currently supported by more than 18,000 domestic volunteers, the humanitarian mission of the British Red Cross exemplifies human kindness in times of great crisis, not just in the UK, but the world over.
Henry Gray's bespoke design of this coin features a scarlet red cross at the heart of the coin, with the inscription 'The Power of Kindness' which echoes the organisation's principles of selflessness, compassion and goodwill.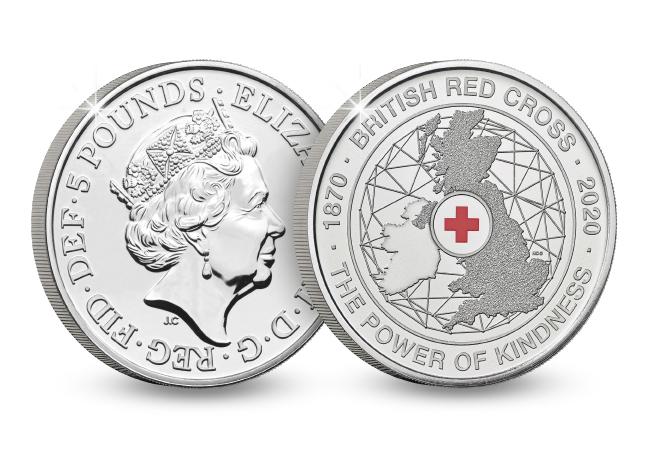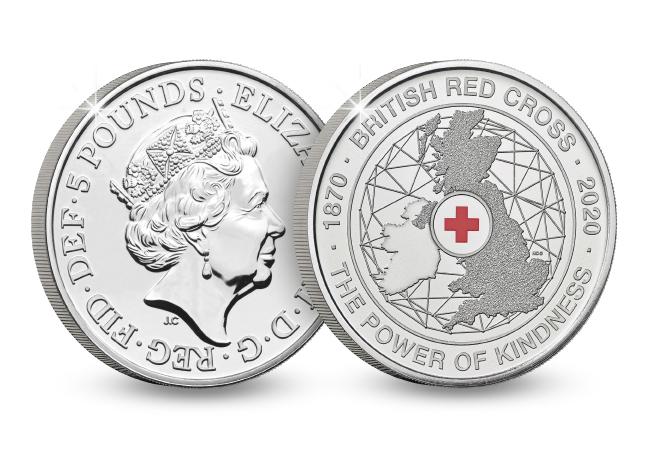 This coin also features an edge inscription that bears the motto of the British Red Cross, 'PER HUMANITATEM AD PACEM' which translates to 'THROUGH HUMANITY TO PEACE'.
This coin is available in a number of specifications, including Brilliant Uncirculated quality, for just £14.99 (+p&p).
Inspiring Hope for a Kinder World
The British Red Cross is part of the world's largest humanitarian network – the International Red Cross and the Red Crescent Movement.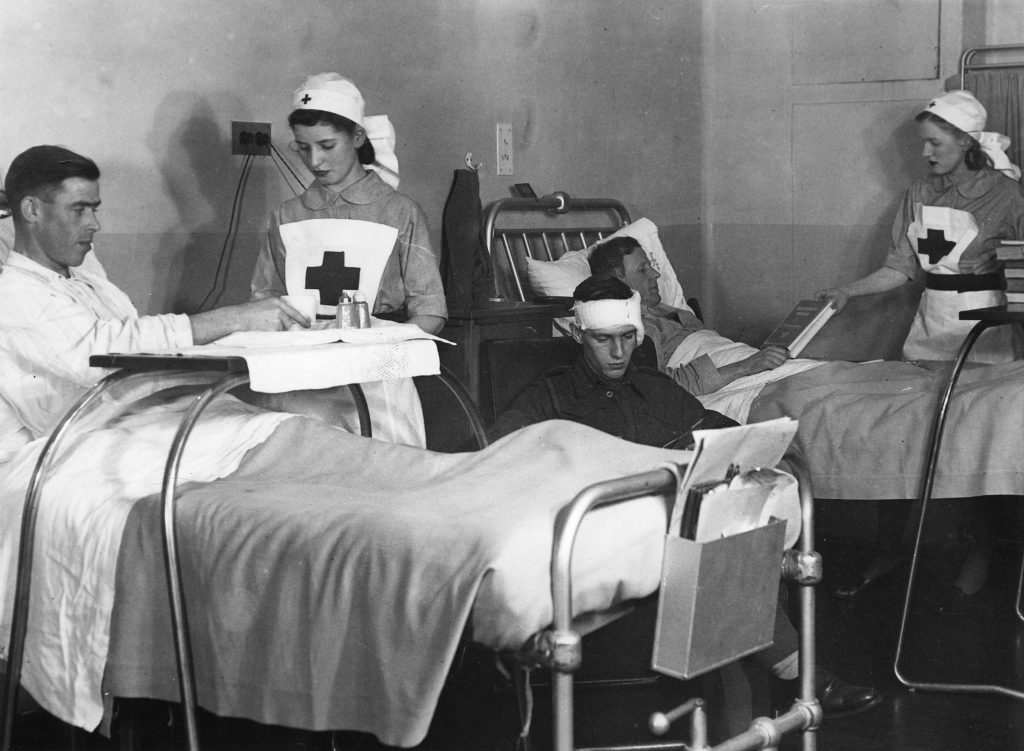 The history of the Red Cross dates back to 1870 where a petition was raised by Colonel Loyd-Lindsay, to provide aid and relief to both warring armies during the Franco-Prussian War, and in other wars and campaigns during the 19th century.
From hiring a wheelchair or dealing with loneliness, to adjusting to life in a new country, the British Red Cross help anyone, anywhere in the UK and around the world, to get the support they need if crisis strikes.
Around the world, whenever a humanitarian crisis occurs, the Red Cross or Red Crescent is always one of the first organisations on the scene thanks to kind volunteers.
The message of kindness is echoed in the inscription of this brand new 2020 UK British Red Cross £5, but it isn't the only UK coin issued to celebrate humanitarian and charitable efforts…
WWF 50p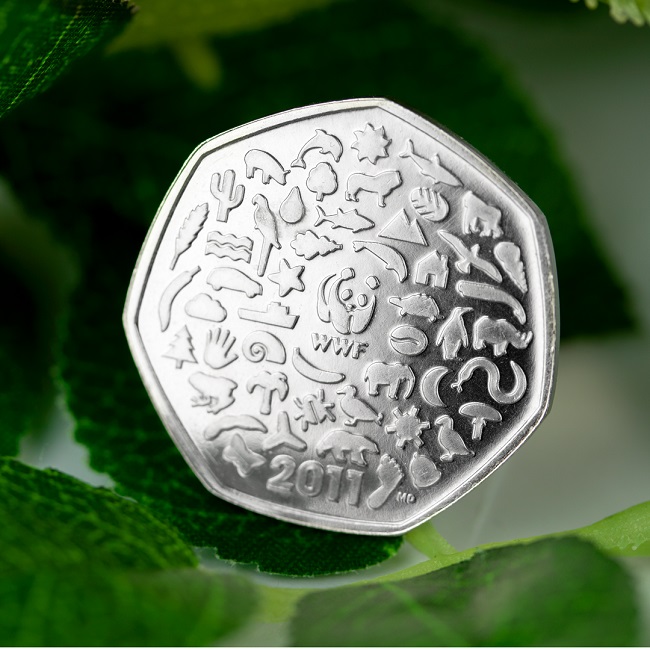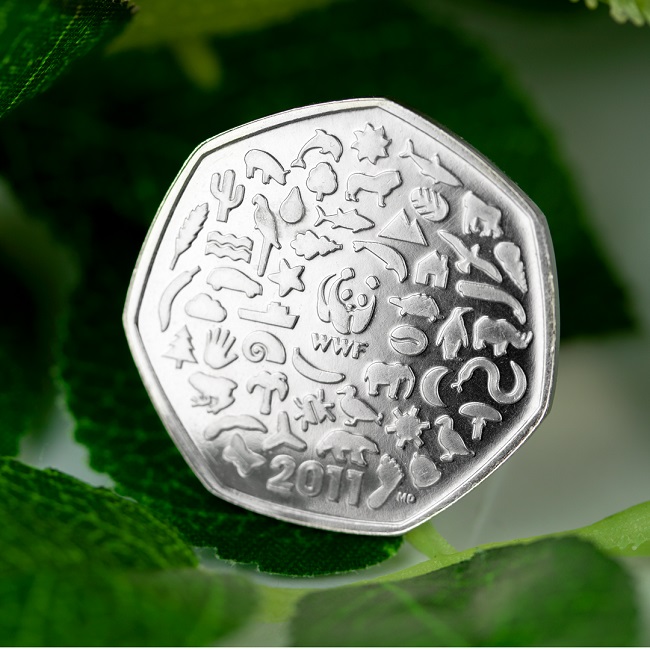 The Worldwide Fund for Nature was formed in 1961 in Switzerland and the world's leading independent conservation organisation.
WWF's work is mostly focused on saving endangered species and conserving the world's most precious natural places.
In 2011, to celebrate its 50th anniversary, The Royal Mint issued this 50p coin. It features 50 different icons to represent the variety of work which the organisation is involved with.
It entered circulation with a mintage of 3,400,000.
Florence Nightingale £2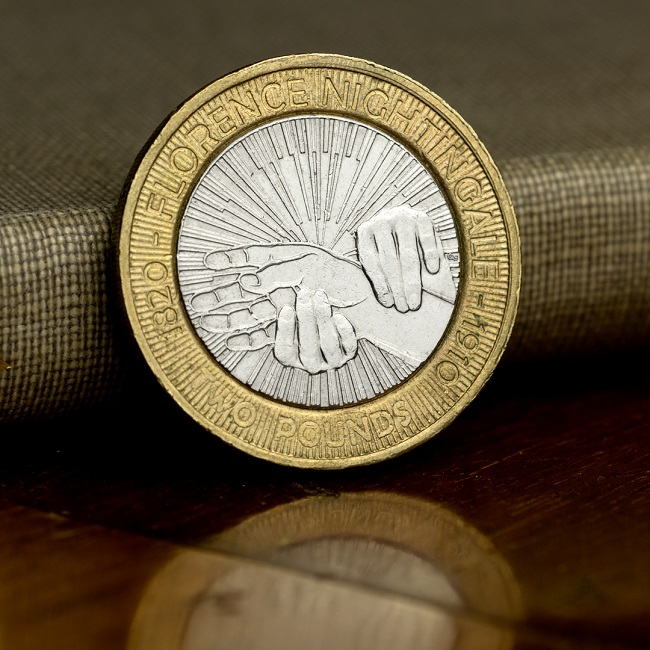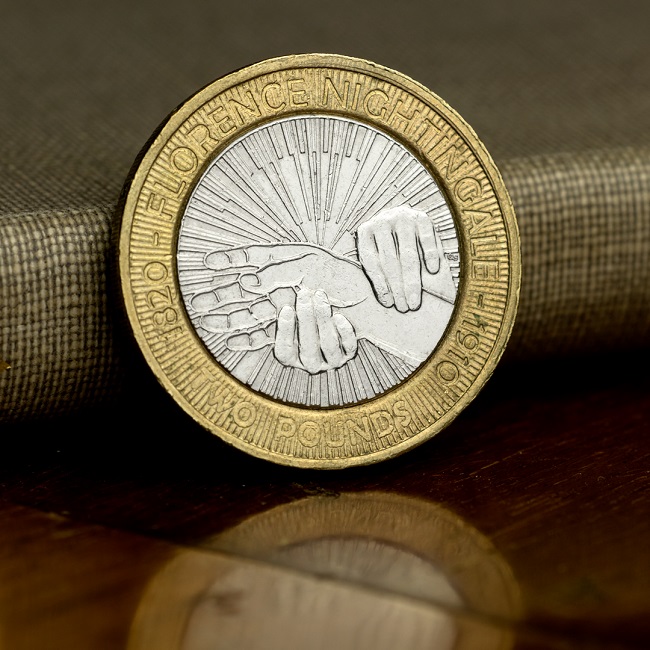 Named after the Italian city in which she was born in 1820, Florence Nightingale is famous for her work in the military hospitals during the Crimean War where she tended to wounded soldiers.
In 1860 she laid the foundation of professional nursing with the establishment of her nursing school at St Thomas' Hospital in London. Her book Notes on Nursing proved to be influential in changing the way hospitals were run and the role of nurses within them.
This coin was issued in 2010 to mark both the centenary of the death of Florence Nightingale and the 150th anniversary of the publication of her Notes on Nursing, celebrated in 2009.
It has a circulating mintage of 6,175,000.
2016 'Lest We Forget' Poppy Coin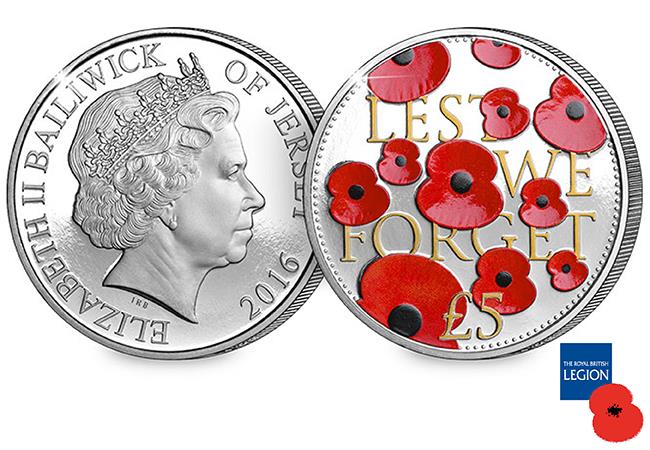 In 2016, as a tribute to those who have made the ultimate sacrifice, the 2016 'Lest We Forget' Proof £5 Poppy Coin was issued in Jersey in support of The Royal British Legion.
Inspired by the falling poppies at the Festival of Remembrance, the reverse features 11 masterfully engraved poppies struck to a proof finish.
Individual poppies have been selectively picked out in red ink and the words Lest We Forget can be seen in the background in gold ink.
It has an edition limit of just 4,950!
NHS 50p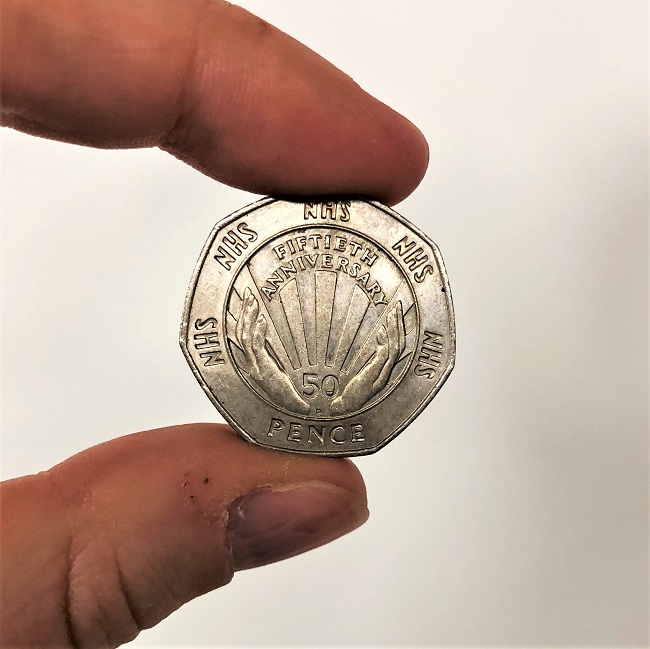 Although the NHS isn't a charity, or a donation funded service, it was founded in 1948 with the principle aim of providing a health service that would be available to all, based on a person's clinical need, rather than their ability to pay.
It was the first ever health service to provide free health care and this year celebrates its 72nd birthday.
This coin was issued in 1998 to celebrate its 50th anniversary and has a circulating mintage of 5,001,000.
---
We're so excited by this brand new £5 coin and we're sure collectors will be racing to add this to their collections!
What other charitable, humanitarian or environment organisations would you like to see celebrated on a UK coin? Let us know below!
---
Secure the BRAND NEW 2020 UK British Red Cross £5 for JUST £14.99 (+p&p)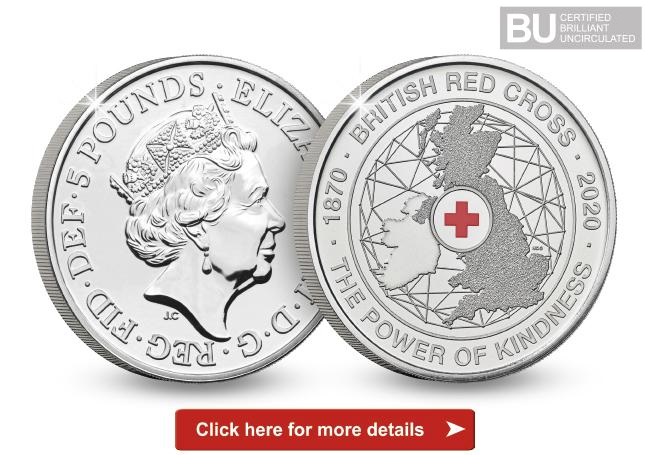 Click here to secure the 2020 British Red Cross £5 in Brilliant Uncirculated quality for just £14.99 (+p&p) >>
*A small percentage of the net wholesale price from the sale of this commemorative coin will be paid by The Royal Mint to Britcross Limited, a subsidiary of the British Red Cross Society, which makes an annual donation to the charity.*
The second coin in The Royal Mint's Music Legends £5 series has just been released, and this £5 is sure to make you feel the love…
For the first time ever, Elton John features on a brand new UK £5 coin!
I'm Still Standing
Demonstrating a remarkable musical talent at a very young age, Elton John's underlying musicality and passion for rock 'n' roll drove him to breakthrough. From playing in pubs to becoming a global sensation, Elton is a superstar who has been delighting fans for more than half a century!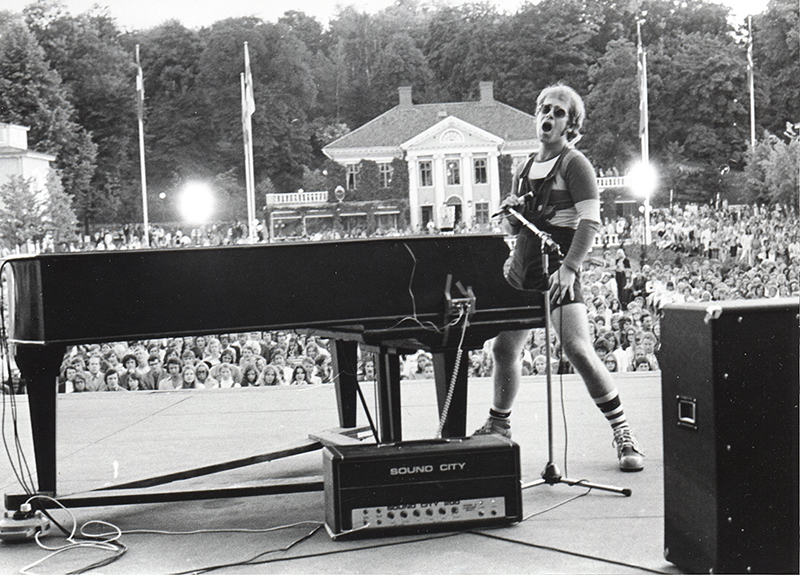 Since his very first self-titled album in 1970, Elton John has sold in excess of 300 million records worldwide.
Some of his chart-topping hits include, 'Can You Feel The Love Tonight?', 'Don't Go Breaking My Heart', 'Candle in the Wind', and 'I'm Still Standing'.
He also found success on Broadway, composing for Billy Elliot (2008), which went on to win 10 Tony Awards.
As recognition of his contribution to music, Sir Elton John was knighted in 1998.
2020 UK Elton John £5
To celebrate this true music legend, a brand new Elton John £5 has just been released by The Royal Mint.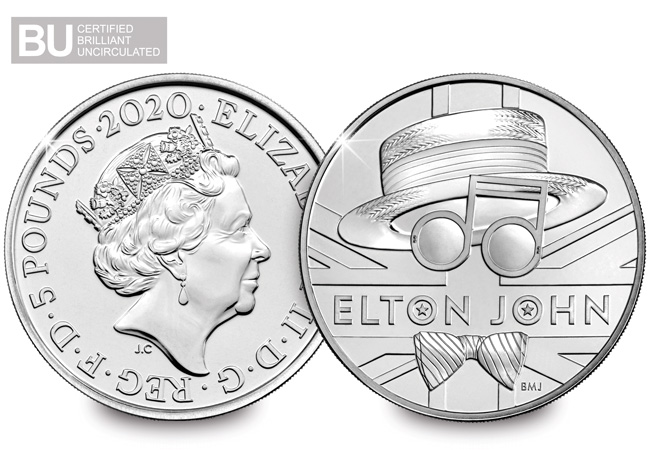 The reverse design of this £5 coin, by Bradley Morgan Johnson represents Elton John's I'm Still Standing era. Speaking of the design, Johnson said, "I'm Still Standing was one of [his] favourite childhood pop tracks" and you can definitely see the influence this song has on the design of this coin.
My favourite feature of this coin design, is that Sir Elton John himself approved it. By owning this coin, you really are in possession of some huge music legend memorabilia.
2020 Queen £5 Coin
The very first £5 coin in the Music Legends series was released earlier this year, celebrating one of Britain's most iconic and influential bands ever, Queen.
Formed in London, 1970, Queen instantly rocked the nation and became a British icon, creating unique and timeless songs which are still loved to this day.
As of 2005, Queen's albums have spent the equivalent of 26 years in the UK Album Charts! (According to the Guinness Book of World Records).
The design of this £5 coin by Chris Facey, showcases the iconic instruments of all four founder members of the band: Brian May's Red Special guitar, John Deacon's Fender Precision Bass™, Roger Taylor's Ludwig™ bass drum, and Freddy Mercury's Bechstein™ grand piano.
Band members Brian May and Roger Taylor have officially approved the design of this coin and alongside the fact that this coin is full of numismatic firsts, this coin has already proved incredibly popular with collectors:
The first-time ever Queen have featured on a coin worldwide
The first-time ever a British band has been celebrated on UK coinage
The first coin to be issued in the new series celebrating British Music Legends.
If you would like to add the 2020 UK Queen £5 in Brilliant Uncirculated quality, then click here!
I'm sure you're just as excited as we are by this brand new £5 coin and the continuation of the Music Legends £5 Series. Who do you think will appear on the next coin in the series? Let us know in the comments!
---
Secure the brand new Elton John £5 today!
As you would expect with a coin this exciting, your brand new UK £5 has been struck to superior Brilliant Uncirculated quality and protectively encapsulated in official Change Checker packaging to preserve its quality forever.
Add this coin celebrating one of the UK's most iconic Music Legends to your collection right now by clicking here.