Posts Tagged 'Coin Collecting'
It's time to get creative as we challenge Junior Change Checkers to design their very own A-Z 10p!
In 2018, the surprise release of 26 commemorative 10p coins celebrating the A-Z of Great Britain caused quite the stir in the collecting world and have since kick started a nation wide coin hunt!
These sought-after coins have proved incredibly tricky to hunt down, but have certainly caught the imagination of the British public with their unique designs.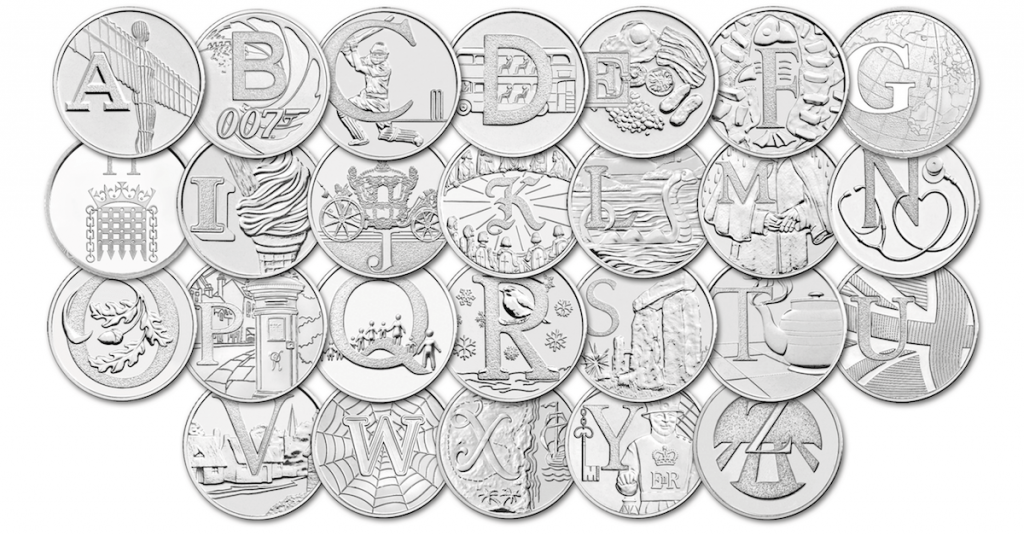 And so now we're calling all our Change Checker Juniors to have a go at designing their very own A-Z 10p.
We'll be turning the TOP 5 designs into virtual 10p coin animations, so stay tuned to see if your design is selected!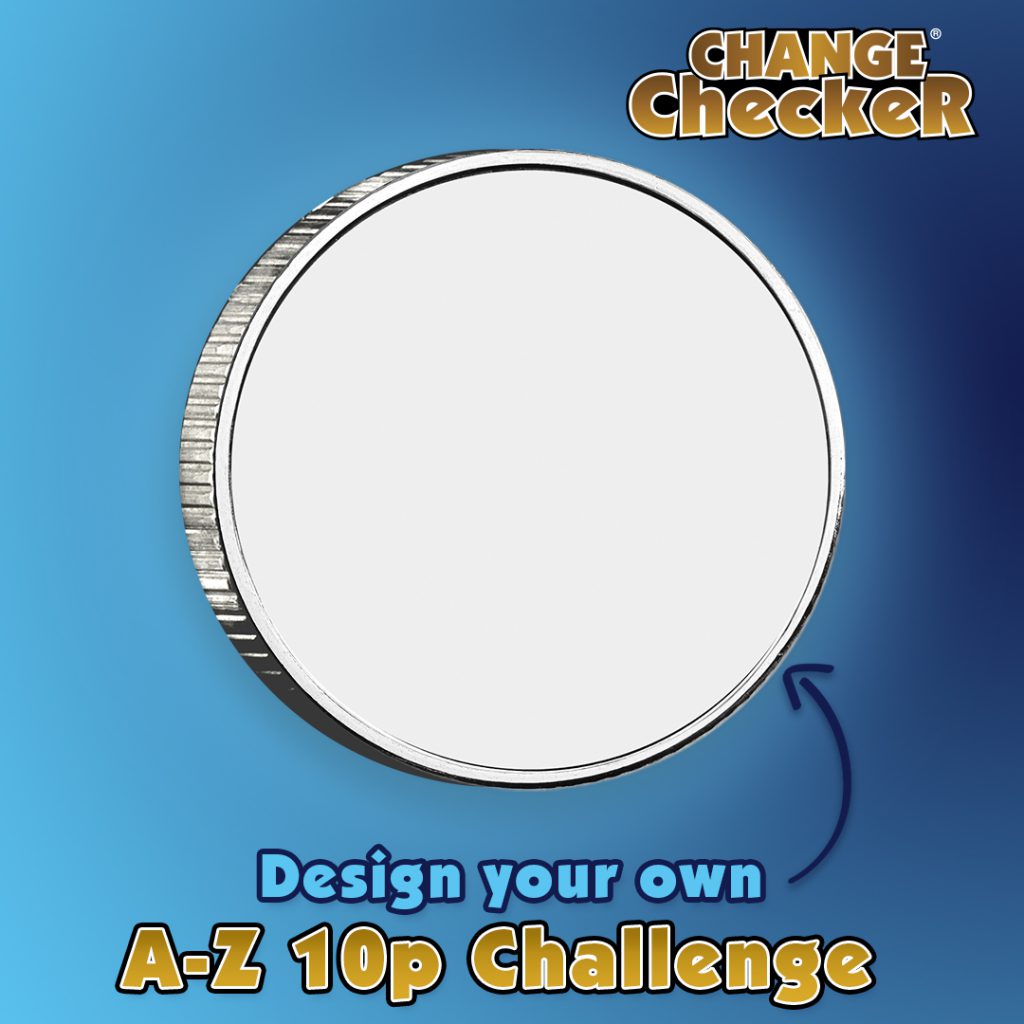 If you'd like to get involved, all you need to do is follow these simple steps:
1. Download this PDF and print it out.
2. Create your A-Z 10p design and fill in the details on the page. You can take inspiration from the UK 10ps listed on our web app!
3. Photograph your design.
4. Post a photo of your design in the comments on this Facebook post [link]
The TOP 5 designs will be brought to life in an animation and featured in a Change Checker video, which will be available to watch on the 13th June.
Entries close at 9am on Tuesday 9th June, so don't delay!
Best of luck and happy designing!
---
If you're interested in coin collecting, our Change Checker web app is completely free to use and allows users to:
– Find and identify the coins in their pocket
– Collect and track the coins they have
– Swap their spare coins with other Change Checkers
Sign up today at: www.changechecker.org/app
In recent years, the 50 pence piece has become the most collected coin in the world.
But here at Change Checker, we get asked a lot about the older specification 50p coins… "How many old 50ps are there to collect? How rare are my old 50ps? Can I still find these coins in circulation?" are just a few of the questions frequently asked.
So, we've put together a guide answering your questions and giving you the key facts we think you need to know about these out-of-circulation coins!
What are old specification 50ps?
The 50p emerged in 1969 as the first coin in the new decimal series.
It was also the world's first seven-sided coin and has since become the most collected coin in the country!
In 1997, the specification for the 50p changed to the size and feel we're familiar with today.
But, between 1969-1997, there were five 50p coins issued in these older specifications. But what was different about these coins?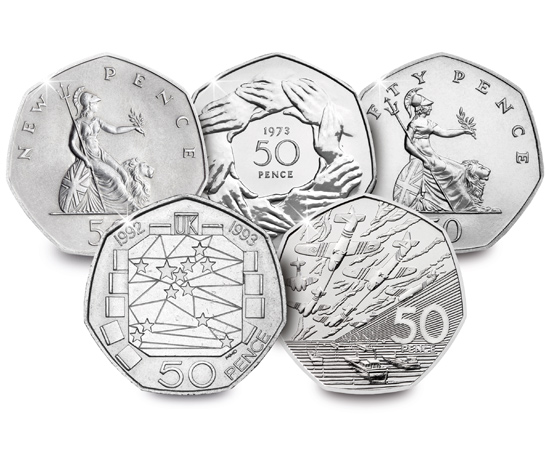 Spot the difference
Pre-1997 (old specification)
1998 onwards (new specification)
Weight
13.05g
8.00g
Diameter
30mm
27.30mm
Metal
Cupro-Nickel
Cupro-Nickel
Obverse
Effigy
1969-1985 – 2nd Portrait, Arnold Machin

1985-1997 – 3rd Portrait, Raphael Maklouf
1998-2015 – 4th Portrait, Ian Rank-Broadley

2015-onwards – 5th Portrait, Jody Clark
As you can see, despite the 50p retaining the same metal composition, the older specification was much bigger and heavier than the coin we're used to today – imagine carrying around a bundle of those in your pockets!
These coins were removed from circulation when the new specifications were introduced, so you won't come across these in your change.
What's more, shop keepers and banks won't accept these as legal tender, so we imagine a lot of these will have been kept by collectors for their private collections!
So, how many of these coins were issued? Let's take a look at our Pre-1997 50p Mintage Chart and see..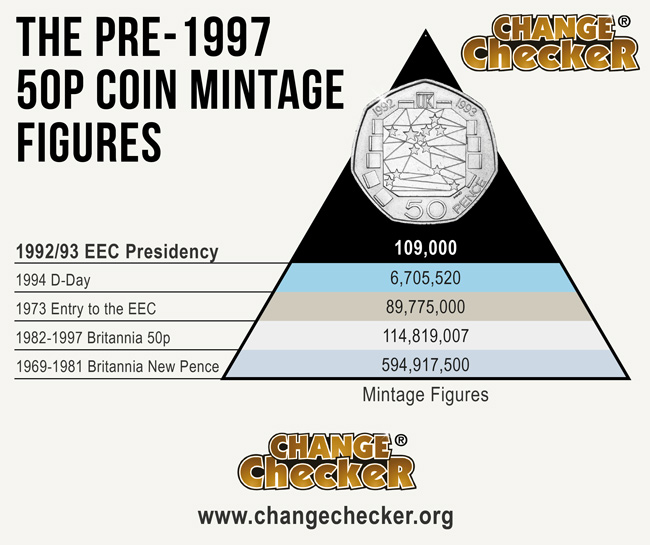 You might have spotted the top coin in our chart has a mintage of JUST 109,000! Let's take a look at each of these coins in closer detail to get the full story..
1969 Britannia New Pence
Fact File:
Year of Issue: 1969-1981
Obverse Designer: Arnold Machin
Reverse Designer: Christopher Ironside
Mintage: 594,917,500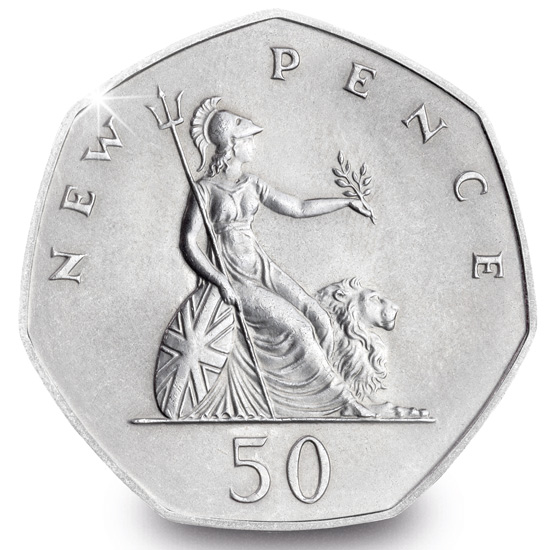 The New Pence 50p was the first 50p coin ever issued and it featured Christopher Ironside's iconic Britannia design.
Britannia first appeared on UK coinage in 1672 and since then has always been present on at least one denomination.
With a mintage of 594,917,500 is the most common of the pre-1997 50p designs, which is hardly surprising as it was the definitive 50p design between 1969-1981.
Despite it's considerably high circulating mintage, this coin is still considered collectible as it's no longer in circulation.
1973 Entry to the EEC 50p
Fact File:
Year of Issue: 1973
Obverse Designer: Arnold Machin
Reverse Designer: David Wynne
Mintage: 89,775,000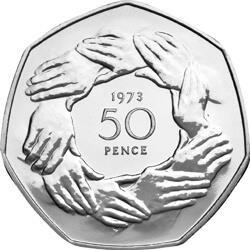 This coin was issued to celebrate the UK's entry to the EU (then called the European Economic Council or the EEC).
With a mintage of 89,775,000 it is less common that the definitive design but not the rarest out there!
It is still incredibly sought-after by collectors though as this was the FIRST-EVER commemorative 50p!
1982 Britannia Fifty Pence
Fact File:
Year of Issue: 1982/83/85
Obverse Designer: Arnold Machin (1982/82) Raphael Maklouf (1985)
Reverse Designer: Christopher Ironside
Mintage: 114,819,007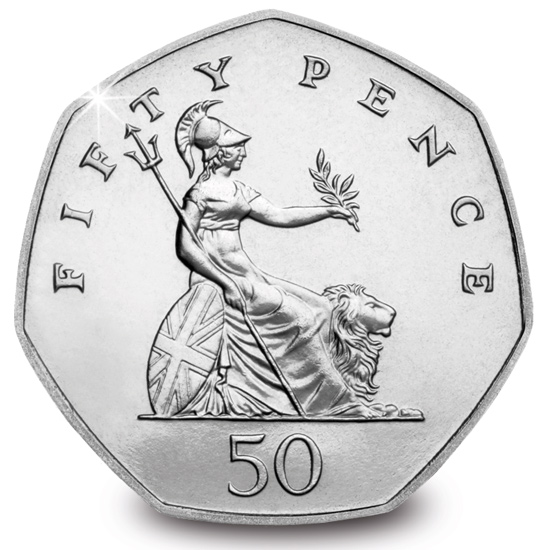 In 1982 the 'New Pence' in the design was replaced with 'Fifty Pence' as the design was no longer considered new.
Although still the definitive design, this coin was only issued in 1982, 1983 and 1985 and featured two different portraits of Her Majesty on the obverse! Machin in '82 and '83 and the new Maklouf portrait in '85.
With a mintage of 114,819,007, it's the second most-common of the Pre-1997 50ps.
1992/93 EC Presidency 50p
Fact File:
Year of Issue: 1992/93
Obverse Designer: Raphael Maklouf
Reverse Designer: Mary Milner
Mintage: 109,000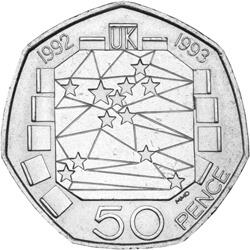 Designed by Mary Milner, this 50p celebrates the UK's presidency of the European Council of Ministers.
Excitingly, this 50p is the RAREST ever UK 50p to enter circulation. With a mintage of just 109,000 it's even rarer than the sought-after Kew Gardens 50p which has a mintage of 210,000.
As this coin is no longer in circulation AND has the lowest ever UK 50p circulating mintage, it's incredibly sought-after by collectors and if you're lucky enough to have one in your collection, you should be extremely pleased!
1994 D-Day Landings 50p
Fact File:
Year of Issue: 1994
Obverse Designer: Raphael Maklouf
Reverse Designer: John Mills
Mintage: 6,705,520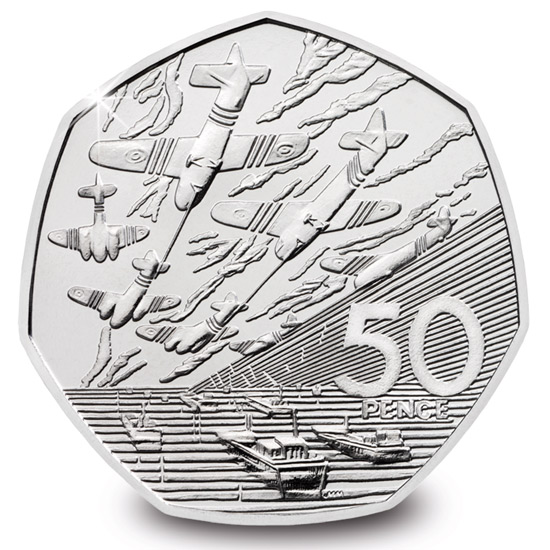 Issued to commemorate the 50th anniversary of the D-Day Landings, this was the final 50p issued in the older specifications.
Interestingly, this has been voted Change Checkers 'Favourite Ever' 50p!
With a mintage of 6,705,520 it is the second rarest of the pre-1997 50p coins.
---
So hopefully our guide to the Pre-1997 50p coins will help you along the way to expanding your collection!
What's most exciting about all five of these coins is that now they're out of circulation, they are all considered particularly sought-after by collectors!
Do you have any of these coins in your collection already? Let us know in the comments below!
---
Own the UK's FIRST-EVER Commemorative 50p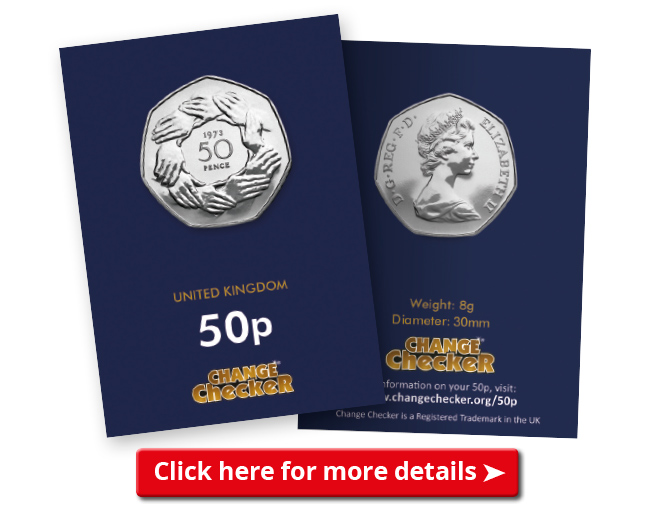 To secure the 1973 Entry to the EEC 50p – the UK's FIRST-EVER commemorative 50p – carefully encapsulated in Change Checker packaging click here >>
Victory in Europe Day – more commonly known as VE Day – is celebrated across Europe and America as the official end of the Second World War.
Following the Allies' acceptance of Nazi Germany's unconditional surrender on the 8th May 1945, the war had finally come to a close after a long five years.
This year marks a particularly poignant anniversary as we celebrate 75 years since VE Day. Many celebrations had been scheduled to mark this joyous occasion, including rescheduling the Early May Bank Holiday to the 8th.
Although, sadly, many of these celebrations have now been cancelled this does not detract from the significance of this historic anniversary.
To mark this momentous occasion, The Royal Mint have issued a brand new £2 coin, commemorating 75 years since VE Day.
So, we thought we'd take this opportunity to look a closer look at this brand new £2 and the other UK coins which tell the story of Britain's warfare history.
2020 Victory in Europe £2
Issued by The Royal Mint, the brand new 2020 VE Day £2 features a woman holding a newspaper aloft in a crowd of celebrating people, set against a backdrop of the word VICTORY.
The edge inscription reads 'JUST TRIUMPH AND PROUD SORROW'.
The coin, designed by Dominuqe Evans, has been available as part of the 2020 Annual Coin set since January, however has just been released for individual sale.
The unique design and poignant anniversary year makes us think this brand new release is certain to be popular with collectors, so if you want to get your hands on one, just click here.
1995 Dove £2
This old-style £2 was issued in 1995 to mark 50 years since the end of the Second World War.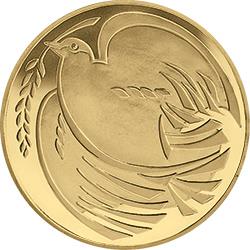 The reverse design, by John Mills, features a dove as a symbol of peace since the end of the war. The edge inscription reads '1945 IN PEACE GOODWILL 1995', highlighting fifty years since the truce.
One of only seven commemorative £2 coins to be issued in the older specifications before the change in 1997, the Dove £2 has a mintage of 4,394,566 – the third highest of the seven.
2005 St. Paul's Cathedral £2
In 2005, The Royal Mint issued a second £2 in the new bi-metallic specifications to commemorate 60 years since the end of the war.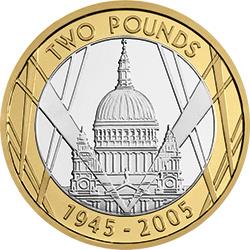 Interestingly, the reverse design depicts St. Paul's Cathedral. This is because the cathedral was one of only a few structures which survived the Blitz to become a great symbol of hope to a war-torn nation.
The edge inscription reads 'IN VICTORY: MAGNAMITY, IN PEACE: GOODWILL' which is part of the famous maxim that prefaces Churchill's history of the Second World War.
This coin has a staggeringly high mintage of 10,191,000, meaning it ranks as 'Common' on the Change Checker Scarcity Index.
2015 Battle of Britain
The Battle of Britain was an intense air battle fought mainly throughout the summer of 1940 between Germany and Britain.
To commemorate 75 years since the great battle, The Royal Mint issued a commemorative 50p.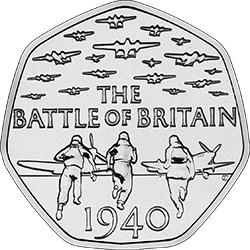 Designed by sculptor Gary Breeze, this coin quickly gained interest from collectors due to the three different obverses when it was initially minted. You can find out more about that here.
This coin was also re-issued in 2019 as part of the 50th Anniversary of the 50p celebrations in the Military History 50p Collection.
2019 D-Day £2
Last year, The Royal Mint issued a £2 coin commemorating the 75th Anniversary of D-Day, the largest seaborne invasion in history.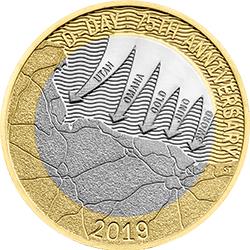 The invasion took place on the 6th June 1944 and began the liberation of German occupied France and laid the foundations for the Allied Victory.
Initially issued as part of the 2019 Annual Coin Set, the D-Day £2 was favoured among collectors last year for its innovative design by Stephen Taylor.
The reverse features arrows pointing across the English Channel to Normandy; each arrow has one of the five code-names for the beaches where Allied Troops landed: Utah, Omaha, Gold, Juno and Sword.
Released last year, this £2 coin has not entered general circulation yet.
And there we have it! It's fair to say the UK has a great history of celebrating important warfare anniversaries on our coinage, and they certainly are popular with our collectors!
Do you have a favourite warfare anniversary coin? Let us know in the comments below!
---
Secure the BRAND NEW UK VE Day £2 Coin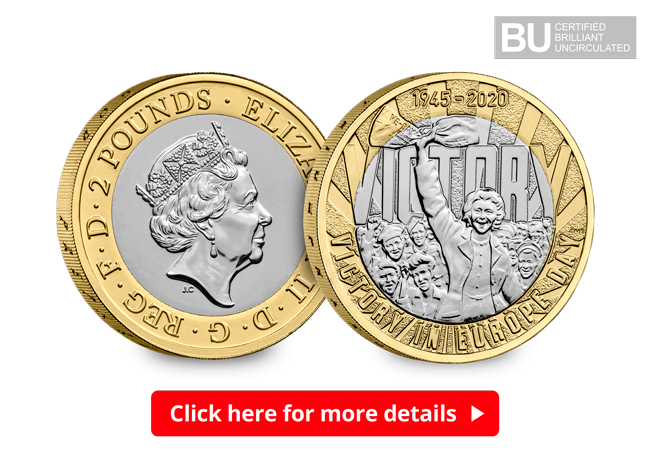 To add the BRAND NEW 2020 UK VE Day £2 Coin to your collection, in superior Brilliant Uncirculated Quality, today for JUST £8.99 (+p&p) click here >>