Posts Tagged 'Coin Collecting'
World Book Day is recognised across the globe as an opportunity to celebrate great books and authors. But more excitingly for Change Checkers, it's an opportunity to take a look at which of these great books and authors have been commemorated on UK coins!
In recent years, we've seen some classic British books and authors celebrated on UK coinage, from Jane Austen to Julia Donaldson's much-loved Gruffalo. Take a look below to find out what these coins are and where their designs came from.
Beatrix Potter 50p series – Beatrix Potter's The Tale of Peter Rabbit has sold some 150 million copies since its release in 1903. The much-loved children's character was initially featured on a 50p coin in 2016.
First issued as a series of five coins featuring Peter Rabbit and his friends the 50ps designs by Emma Noble, were taken straight from the illustrations of the original books. These 50p coins started an unprecedented collecting phenomenon and have been so hugely popular the series has been continued throughout 2017 and 2018 with the release of a further eight 50p coins. The question is, will we see more of these coins in 2019?
Shakespeare £2 set – In the 400 years since his death, William Shakespeare has become widely regarded as the greatest writer in British history and the world best dramatist. In 2016 The Royal Mint struck three official £2 coins in honour of the playwright – a first for the UK. Each coin celebrates an aspects of Shakespeare's famous work, tragedies, comedies and histories, all designed by John Bergdahl.
Jane Austen £2 – It might come as a surprise to some collectors that it was only after Austen's death in 1817 that her works were sent out to print. In 2017 The Royal Mint issued a £2 coin to commemorate 200 years since her death; the reverse design, by Dominique Evans, features a portrait of Austen herself and was approved by leading Jane Austen Academic, Professor John Mullan.
Frankenstein £2 – Mary Shelley's novel 'Frankenstein' is widely regarded as the first science-fiction novel. To celebrate 200 years since publication, The Royal Mint issued the Frankenstein £2 coin in 2018. The design, by Royal Mint designer Thomas T. Docherty, portrays ECG monitor style wording of 'Frankenstein'. The coin also features the edge lettering 'A SPARK OF BEING' which is a quote taken from the novel.
Paddington Bear 50p pair – Struck to celebrate the 60th Anniversary of the classic book, two Paddington Bear 50p coins were issued in 2018. The design on each coin is derived from the modern film adaptation of the book and shows the much-loved bear at Paddington Station and at Buckingham Palace. Collectors and Paddington fans alike have been thrilled with the detail on the coins, designed by David Knapton, from Paddington's famous duffle coat to the label around his neck that reads 'Please look after this Bear, thank you.'
The Snowman 50p – To celebrate 40 years of Raymond Briggs' classic tale, The Royal Mint issued this particularly special, festive commemorative Snowman 50p in November of 2018 that would not enter general circulation. Briggs' characters are brought to life by designer Natasha Ratcliffe as the boy and the snowman soar through the night sky together. The design was approved by Robin Shaw, assistant director of The Snowman and The Snowdog animation, to ensure the detail was perfect.
The Nutcracker £5 – The Nutcracker story is renowned, and just like coins, it has a long history with Christmas. This £5 coin was issued by The Royal Mint to celebrate Christmas 2018; the reverse design by Harry Brockway shows an enchanted Christmas Nutcracker scene. £5 coins are reserved for the most important Royal and Historical anniversaries, which shows the significance of this Nutcracker £5.
The Gruffalo 50p – Julia Donaldson's The Gruffalo was first published in 1999 and to celebrate 20 years of the world's best-loved monster, The Royal Mint issued a commemorative 50p, featuring The Gruffalo, which will not be entering general circulation. The reverse image was designed by Magic Light Pictures themselves and features The Gruffalo as seen in the modern film adaptation. The Gruffalo 50p has seen remarkable popularity since its release last month and is proving a firm favourite with collectors.
It's hard to believe we've had all these coin releases celebrating British authors and stories in just the last few years.
What's more, in 2019 we'll also see the release of a further two coins celebrating famous British authors – a £2 coin to mark 350 years since the famous diarist, Samuel Pepys', last Diary Entry and a brand new 50p coin to celebrate the prolific writer, Sir Arthur Conan Doyle's, famous detective stories featuring the fictional Sherlock Holmes. Although the designs for these coins have already been released they are not yet available to buy or find in your change – keep your eyes out for their releases later this year!
What authors and books would you like to see on UK coins in future? Let us know below and comment on what your favourite author, story and coin is!
---

You can now secure some of Britain's Best Loved Coins featuring your favourite authors and book characters in Brilliant Uncirculated condition.
There's been some exciting news for 10p coin hunters today, as The Royal Mint has announced that 2.1 million new 2019 dated A-Z of Great Britain 10p coins will be released into circulation from today.
Since the initial surprise release of 2.6 million quintessentially British themed 10p coins back in March 2018, the British public have been head over heels for these wonderful little coins and yet, despite another 2.6 million A-Z 10ps entering circulation last year, they still remain incredibly hard to come across in your everyday change.
In fact, a question I'm asked most days by Change Checkers is 'Where are all the A-Z 10ps?'
We've even held our own Change Checker live events to help collectors kick start their collection, as the coins are proving so hard to find.
Whilst there are 5.2 million A-Z 10p coins in circulation, we can assume that there are 200,000 coins per design, which actually makes each individual coin rarer than the UK's scarcest 50p, the Kew Gardens.
However, we have noticed more Change Checkers adding these coins to their collection, and based on this data we've been able to put together an A-Z 10p Scarcity Index to show you which coins are currently most sought-after.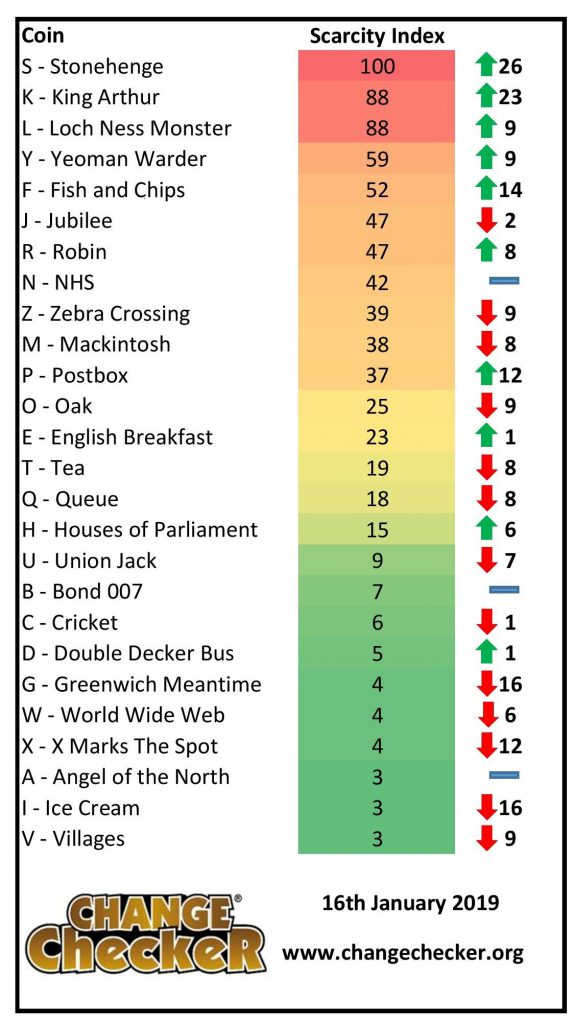 Now that The Royal Mint will be releasing a further 2.1 million coins in to circulation, chances are that more collectors are likely to come across these coins
I for one am certainly incredibly excited about the chance to find these coins in my change and build up the whole collection from A-Z and there will of course be collectors looking to complete a set of both year dates.
Have you found any of the 2018 A-Z 10p coins, and will you be looking out for the new 2019 coins? Let us know in the comments below!
---
Reserve your 2019 A-Z 10p set!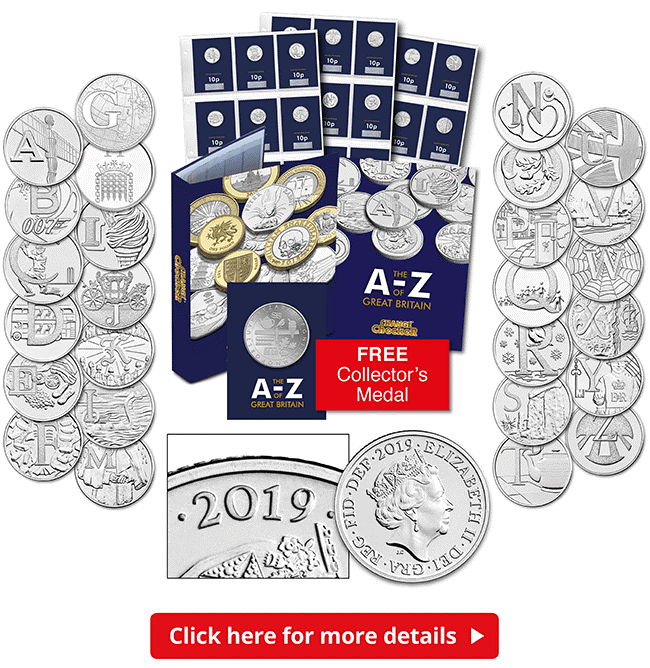 Complete your A-Z 10p set with the 2019 Complete Certified Uncirculated coins.
An elusive British book character has finally made his way out of the forest and onto a UK 50p coin, making his debut appearance especially for collectors!
After months of anticipation, The Royal Mint has now released the brand new Gruffalo® 50p in celebration of the 20th anniversary of Julia Donaldson's classic children's Tale.
The Gruffalo has sold over 13.5 million copies worldwide and is adored by children and families across the globe, who I'm sure will now be delighted to see this character (terrible tusks and all) immortalised on a UK 50p coin for the very first time.
The reverse design by Magic Light Pictures beautifully captures the mysterious and unusual beast, described in Donaldson's book as having 'two large, curved horns at the top of his head' and 'an enormous, poisonous wart on the end of his wet nose.'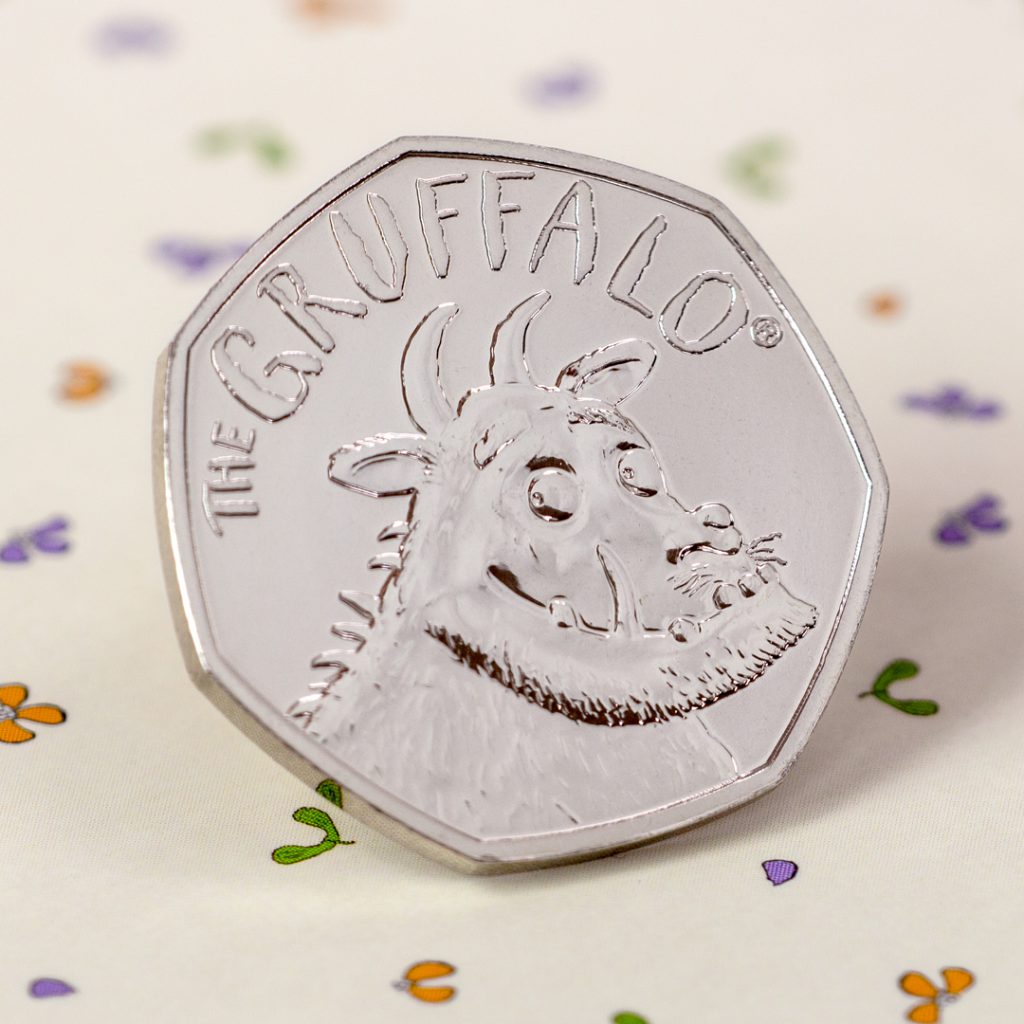 Since the release of the first Beatrix Potter 50p coins in 2016 – a collecting sensation, appealing to not just dedicated collectors, but the wider public and fans of the children's stories too – classic book and film characters have been a real favourite theme for 50p coins.
The release of The Snowman 50p last Christmas created a flurry of excitement as collectors and lovers of the story rushed to add this coin to their collection, and I wouldn't be surprised if the latest fictional character to take to our UK coinage becomes the next must-have coin.
The Gruffalo® 50p is available in Brilliant Uncirculated and Silver Proof quality, with the silver coin featuring colour printing to really bring the orange eyed monster to life. Just 25,000 colour printed silver coins are available and after the sell-out success of the silver Snowman 50p, collectors looking to secure this coin will want to act quick!
From publication of The Gruffalo in 1999 to the film adaptation, to the west-end theatre production and now to the 50p coin, the adoration for this endearing character amongst children and adults alike makes the 20th anniversary of the Gruffalo a wonderful occasion to celebrate.
---
Own the coin in superior Brilliant Uncirculated quality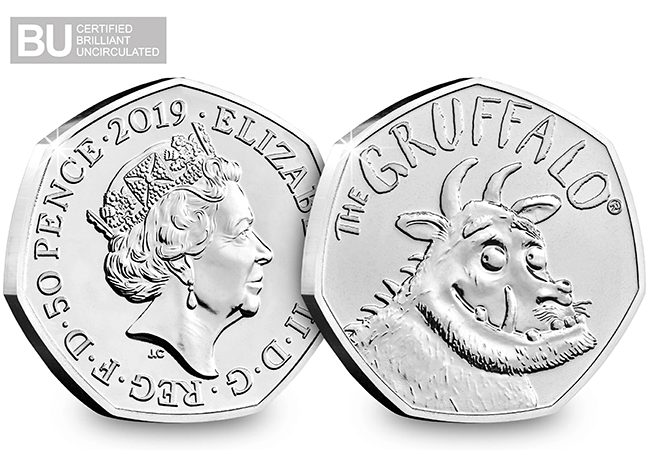 This is the first time the Gruffalo has featured on official UK coinage and serious collectors will want to guarantee themselves one for their collection.