Posts Tagged 'Coin Collecting'
I'm sure we could all use a bit of escapism right now, and so I invite you to join us on a trip far away as we return to Neverland for one last time…
Last year, the collecting world experienced the magic of the world's first Peter Pan 50ps, issued by the Isle of Man and developed in partnership with Great Ormond Street Hospital Children's Charity.
The unprecedented demand for these coins saw tens of thousands queuing to get their hands on the stunning new issues. And in just a matter of months, through the sales of these Peter Pan 50ps, collectors raised over £250,000 for Great Ormond Street Hospital.
Today I have some very exciting news to share with you, as the SECOND (and final) collection of British Isles Peter Pan 50ps have just been released!
LAST EVER Peter Pan 50p
The FINAL Peter Pan 50p has been issued by The Isle of Man, continuing the 90th anniversary celebrations of author JM Barrie gifting his rights in the story to Great Ormond Street Hospital.
This brand new coin features an enchanting illustration of Peter Pan and Tinkerbell on the reverse design, created by David Wyatt and Matt Tindall.
Available in Brilliant Uncirculated quality, this coin comes encapsulated in official Peter Pan packaging.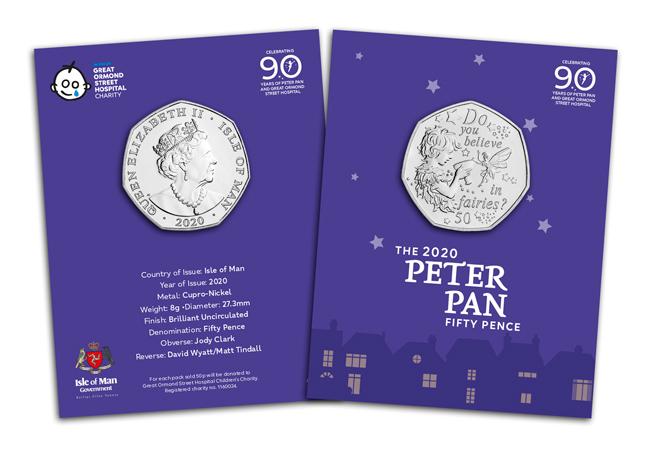 Or, for those collectors looking for a touch more magic, this coin is also available in stunning .925 Sterling Silver Proof quality, featuring coloured illustrations.
Six BRAND NEW Coins
Excitingly, 5 more Peter Pan 50p coins have also been created this year and are available alongside the Peter Pan and Tinkerbell coin in this fantastic six coin set.
This year's characters include:
Peter Pan and Tinker Bell
The Mermaid
Smee
The Jolly Roger
Peter Pan at the window
Tinker Bell
But which is your favourite? Let us know in the comments below!
The set is available in Brilliant Uncirculated quality and .925 Sterling Silver Proof quality, featuring those beautiful coloured illustrations.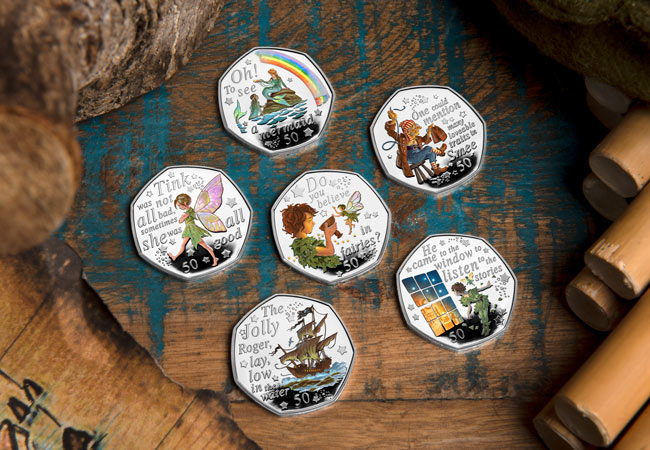 These 50ps are only available as a set and if you don't want to miss the chance to own them, you'll need to act fast, as they have been issued with some incredibly low edition limits…
Strictly Limited Edition
These brand new 50ps are sure to sweep you off your feet, however what's most exciting about the coins is that there are some very low edition limits for the Silver Proof versions…
Silver 50p coins are, without doubt, the collector's favourite and a sell-out is inevitable. Especially when you consider the edition limit for the single coin is just half of last year's edition at 4,995 and the complete set is strictly limited to just 1,995 worldwide! So that's the same quantity as last year's edition limit which completely SOLD OUT.
In fact, even Silver Proof 50ps with much higher mintage figures often still result in sell-out stories.
For example, the UK Gruffalo 50p released in 2019 had a mintage of 25,000 and sold out at The Royal Mint in just a few hours after its release!
And so I wouldn't be surprised to see demand for these brand new Silver Proof Peter Pan 50ps exceed the amount available.
Gold Proof Peter Pan 50p
For the creme-de-la-creme, and by far the most limited way to own this coin, a .916 Gold Proof version of the Peter Pan and Tinker Bell 50p has been issued.
This official new release has been given a strict edition limit of JUST 500 worldwide, MUCH LOWER than previous Gold Proof 50p sell-outs.
Just a handful of lucky collectors will have the chance to own this prestigious new Gold Proof coin.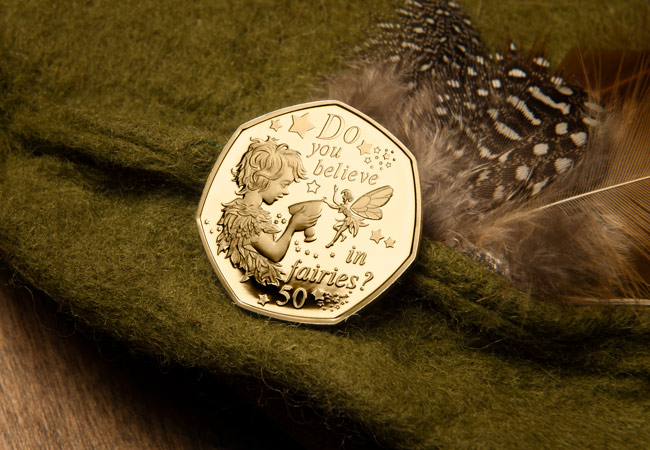 Can I find the Peter Pan 50ps in my change?
If you're living on the Isle of Man, then yes!
25,000 of each coin will be entering circulation on the Isle of Man, but when you compare that to the mintage figures for UK coins (our rarest 50p in circulation has a mintage of 210,000) you'll realise just how few of these coins are actually out there.
Coins issued on the Isle of Man typically have lower mintage figures due to the smaller population of just 84,000 which means that their coins are particularly sought-after amongst collectors.
And, based on the popularity of last year's coins, I'm sure that British Isles collectors will be super quick to snap these ones up!
Peter Pan remains one of the most cherished and loved children's stories of all time and if last year's coins are anything to go by, I'm sure these new 50ps are going to be some of the most sought-after coins of the year.
As with last year's coins, each has been developed in partnership with Great Ormond Street Hospital Children's Charity (GOSH Charity). For every coin or set sold a donation will go directly to GOSH Charity to help support the hospital and the seriously ill children from across the UK who are cared for there.
---
Secure your 2020 Peter Pan 50p coins today!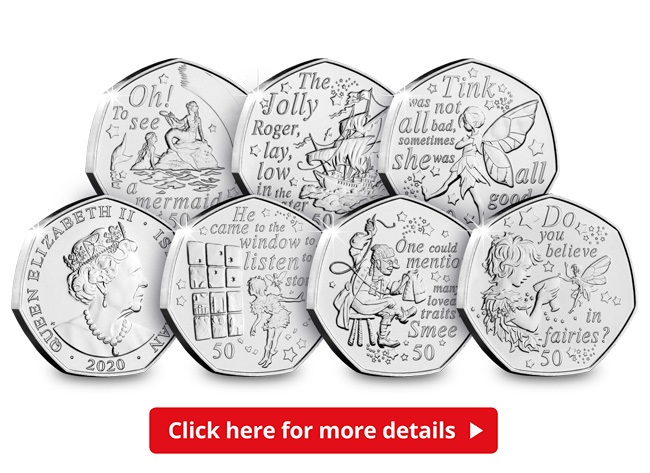 To discover the magic of these brand new 50ps and add the brand new Peter Pan 50ps to your collection, click here to see the full range.
I don't know about you but here at Change Checker, we've been getting creative in our spare time recently.
We've loved creating designs and patterns from our coin collections, seeing Change Checkers design their own 50p coins for our Key Worker Heroes and creating their own A-Z 10p designs too!
But our latest creative activity, has involved partnering up with Half Asleep Chris to design the very first Change Checker Colouring Sheets.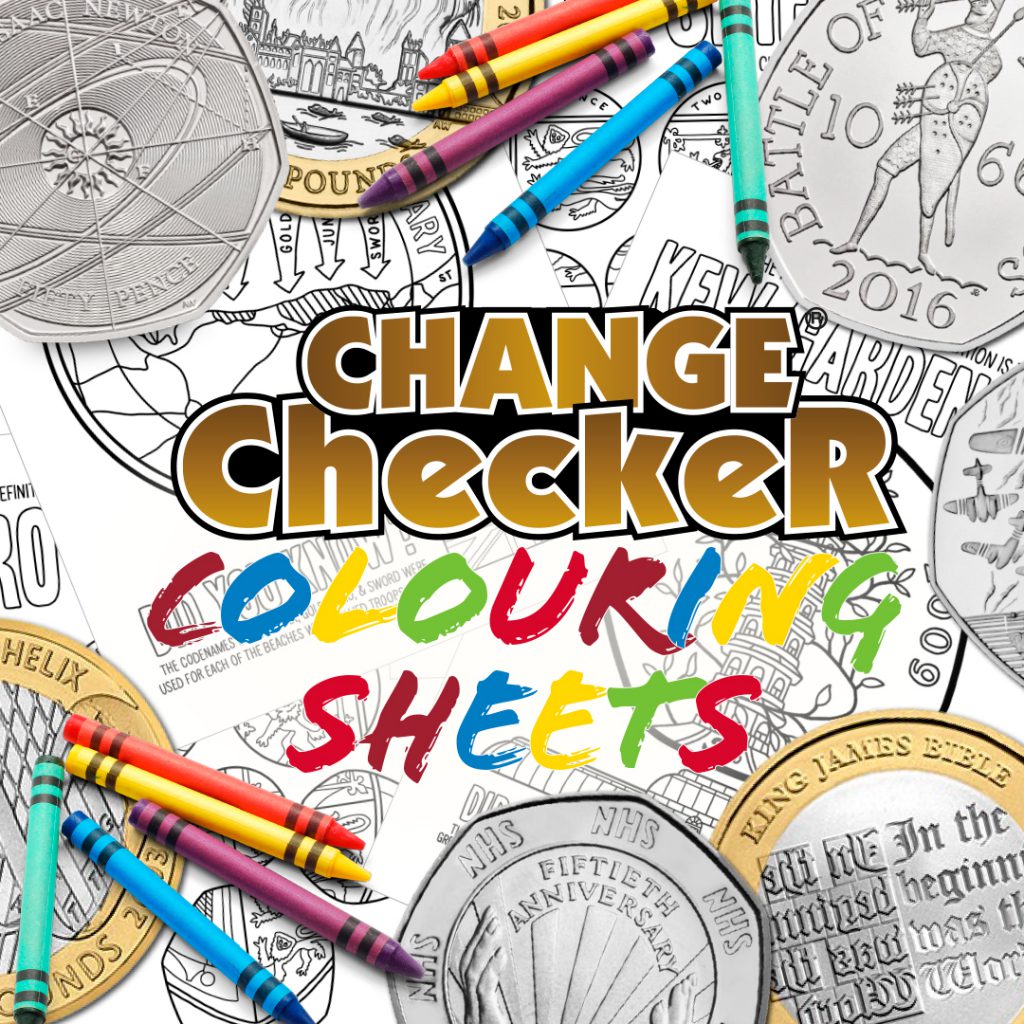 The Change Checker Colouring Sheets feature some of the most popular coins as a template that you can download, for you to colour in at home!
Once you've completed your colouring sheets, send us a photo of them by commenting on this Facebook post, or by emailing info@changechecker.org for the chance to see your design feature in our July Newsletter!
To get involved, just follow these simple steps:
Change-Checker Colouring SheetsDownload
Entries close 24th July. We can't wait to see how you all colour in your coins!
Happy colouring!
---
If you're interested in coin collecting, our Change Checker web app is completely free to use and allows users to:
– Find and identify the coins in their pocket
– Collect and track the coins they have
– Swap their spare coins with other Change Checkers
Sign up today at: www.changechecker.org/app
A brand new United Kingdom 50p series has been announced and the news is so colossal it's sure to shake the coin collecting community!
The new series celebrates the Discovery of Dinosaurs with three brand new 50p coins.
British anatomist Richard Owen proposed the term 'Dinosauria' in 1842 and this comprised the first three dinosaurs to be discovered – the Megalosaurus, Iguanodon, and Hylaeosaurus.
Excitingly, this is the FIRST-TIME ever Dinosaurs have featured on UK coinage so we're very excited by this numismatic first!
What's more, this new series of 50p coins has been issued in partnership with the Natural History Museum so the coins are sure to be popular with palaeontologists and collectors alike!
So without further delay, let's take a closer look at the designs of these coins…
Hylaeosaurus 50p
The final coin in the incredibly popular Dinosauria 50p series has JUST been released and features the Hylaeosaurus.
It is estimated this dinosaur was around five metres long, however limited remains have been found of this particular species…
Designer, Robert Nicholls wanted to pay homage to the life-sized Crystal Palace Park Hylaeosaurus sculpture and we think he's done an amazing job with this truly unique coin design.
This is the final coin in this series and has been officially released today!
So, if you don't want to miss out on completing the series, then you can secure this brand new 50p to your collection here.
This 50p is available in Gold Proof, Silver Proof and Brilliant Uncirculated Quality.
Iguanodon 50p
The second coin in the incredibly popular Dinosauria 50p series features the Iguanodon.
Distinctively, the Iguanodon had large spikes on their thumbs which you can see clearly in the intricate details of the coin design.
It is thought these spikes could have been used for defence against predators. As Iguanodons were large herbivores, it is unlikely these would have been used for hunting.
This 50p is available in Gold Proof, Silver Proof and Brilliant Uncirculated Quality. You can secure this coin to your collection here.
Megalosaurus 50p
The first coin in the series was released in February and features the Megalosaurus Rex.
'Megalosaurus' translates to mean 'Great Lizard' and I think it definitely lives up to its name!
Living on earth around 166 million years ago, this great dinosaur could reach up to nine meters in length!
As the first coin in the Dinosaur series, this 50p is available in Gold Proof, Silver Proof and Brilliant Uncirculated Quality.
So there we have it! A good look at the brand new United Kingdom 50p series celebrating the Discovery of Dinosaurs.
As this is the first time Dinosaurs have ever featured on UK coinage, the coins have been issued in partnership with the Natural History Museum, AND they are brand new UK 50ps (the most collected coin in the country!) we're certain this series is going to be immensely popular with collectors.
Do you have a favourite coin from the series? Let us know in the comments below!
---
2020 UK Hylaeosaurus CERTIFIED BU 50p
Do you want to add this exciting new 50p to your collection? Click here to secure yours today in superior Brilliant Uncirculated quality!
You can now own the FINAL 50p coin in the Dinosauria series.
To secure this coin for your collection, click here.