Which coins should you be looking out for in your change?
We've taken a look at the mintage figures for UK coins to find out which ones are the rarest in circulation...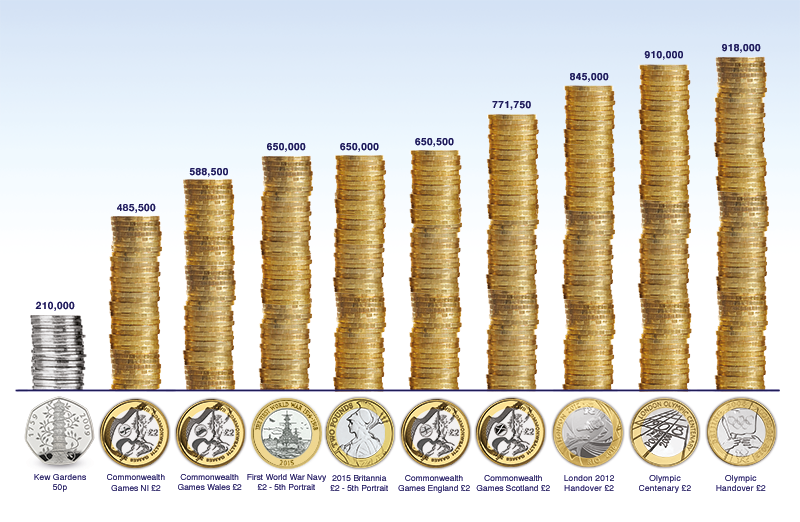 What you might be surprised by is that on our top 10 list, just 1 out of the 10 coins is a 50p!
The rarest UK coin currently in circulation is the Kew Gardens 50p, but the 9 rarest coins after that are actually £2s.
Whilst 50p coins are very popular amongst collectors at the moment, it's certainly worth noting that it is in fact the £2 coins which you should be keeping your eyes peeled for, as some of the ones you can find in your change are very rare.
Other rare coins to look out for
Of course, this doesn't take into account the rare error coins that have been found in circulation, such as:
Whilst exact mintage figures for these error coins may be unknown, we can assume that they could each be rare enough to find themselves near the top of the list.
A-Z of Great Britain 10p coins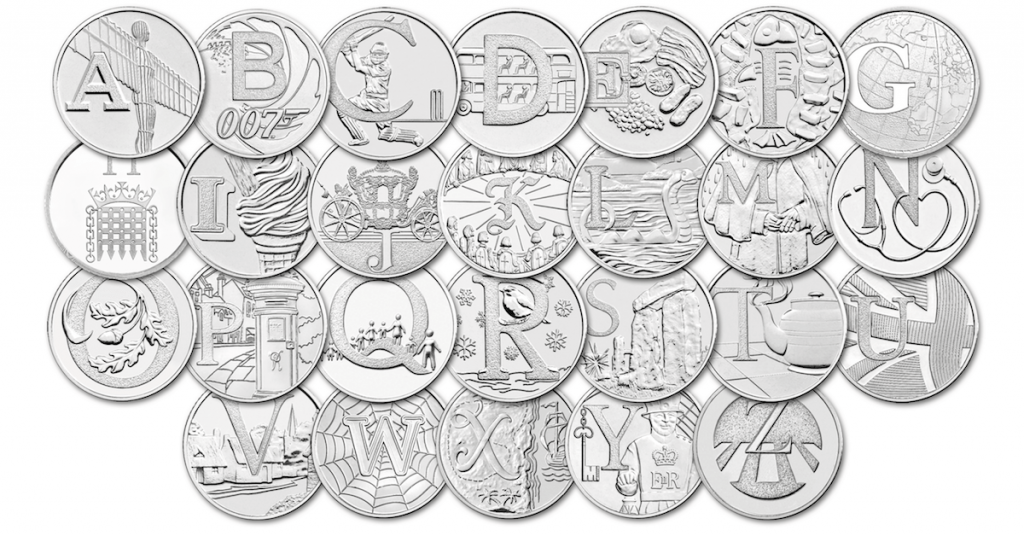 It's also worth noting that whilst mintage figures for the individual designs haven't been released, if we assume that each A-Z of Great Britain 10p has been struck in equal quantities, then there would be approximately 281,000 of each design.
This would put each A-Z 10p design in equal second place on the list of the top 10 rarest coins in circulation!
What about the coins no longer in circulation?
Currently the Kew Gardens 50p is the rarest coin in circulation, but did you know that it isn't actually the UK's rarest 50p?
This title goes to the 1992/93 UK EC Presidency 50p, with a mintage of just 109,000 – almost half of the Kew Gardens!
In 1997, 50p coins were redesigned in the smaller specification and this coin was demonetised, meaning it is no longer in circulation.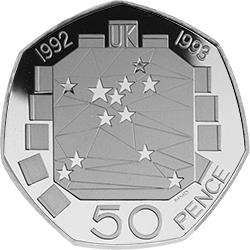 The same can be said of the 1989 Claim of Right £2, which was demonetized in 1997 when the bi-metallic £2 coin was introduced.
This coin has a mintage of 381,400 which makes it the rarest UK £2 and would put it in second place on the list if it were still in circulation.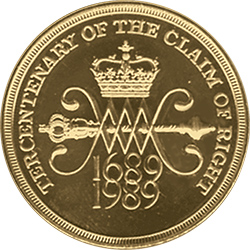 Are you lucky enough to have any of the top 10 rarest coins in your collection? Or perhaps you've even been lucky enough to get your hands on the pre-1997 coins listed above. Let us know in the comments below!
---
If you're interested in coin collecting, our Change Checker web app is completely free to use and allows users to:
– Find and identify the coins in their pocket
– Collect and track the coins they have
– Swap their spare coins with other Change Checkers
Sign up today at: www.changechecker.org/app
Paddington Bear has been all over the news this week as the release of two brand new 2019 UK 50p coins won over the hearts of the nation.
Coin collectors and fans of the bear have been really eager to get their hands on the first coin in the 2019 series which has been released this week, and are looking forward to later in the year when the second coin will be released.
This dynamic duo follows up the hugely popular pair of 50p coins from last year.
In 2018 two Paddington 50p coins were issued to mark the 60th anniversary of Paddington's first appearance in Michael Bond's classic childhood tale.
So, now that we've seen the designs for all 4 coins, which Paddington 50p is your favourite?
*** UPDATE ***
Change Checkers have been voting and the winning Paddington 50p design has now been decided!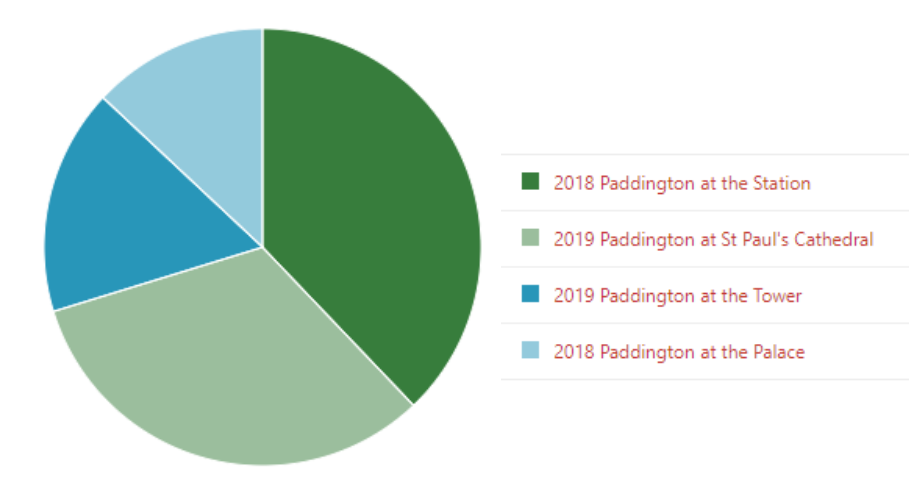 And the Paddington coin which comes out on top is actually the 2018 Paddington at the Station 50p, taking 38% of the votes!
A very close second at 32% is the soon to be released Paddington at St Paul's 50p. I'm sure Change Checkers will be keen to get their hands on this coin when it is released next month.
You can find out all the details about each of the Paddington 50ps below and let us know which one is your favourite in the comments.
2018 Paddington at the Station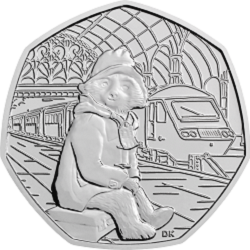 This is the first UK 50p coin ever to feature Paddington Bear!
In 2018, The Royal Mint released this brand new 50p coin to celebrate the 60th anniversary of Paddington Bear featuring in Michael Bond's much-loved book, 'A Bear Called Paddington'.
The coin's design by David Knapton is based on the modern adaptation from the CGI-live action movie, featuring Paddington on his suitcase in front of the station, wearing the famous tag around his neck, which reads 'Please look after this bear. Thank you.'
2018 Paddington at the Palace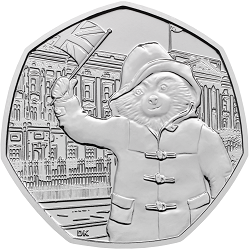 Much to the delight of both coin collectors and Paddington fans, a second coin was issued as part of the 2018 Paddington 50p series.
This coin features Paddington Bear outside Buckingham palace, waving his Union Jack flag.
The always polite Paddington Bear has always been a family favourite and this coin pays tribute to the bear from Darkest Peru.
2019 Paddington at the Tower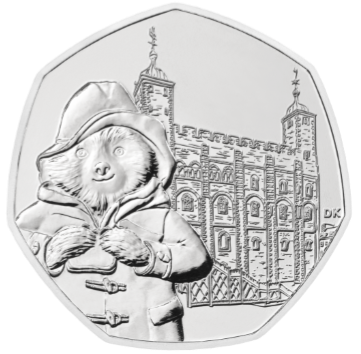 Paddington's London adventure continues into 2019 as two new UK Paddington 50p coins will be issued this year.
This is the first coin in the 2019 series, which has been released in August and will start circulating in our UK change based on demand.
Paddington can be seen outside the Tower of London (former home of The Royal Mint). David Knapton's design beautifully captures the day this very British bear brought marmalade sandwiches with him on a trip to the Tower – an iconic image I'm sure you'll agree.
2019 Paddington at St Paul's Cathedral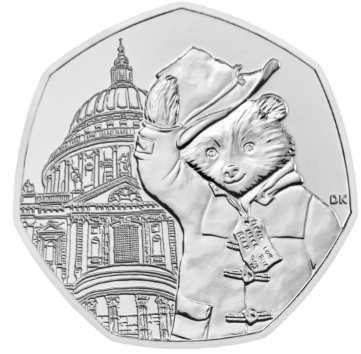 Whilst we know the design for this final coin in the 2019 Paddington series, we'll have to wait a little while until the coin is released on the 12th September.
I'm sure collectors will be really keen to add this 2019 coin to their Paddington collection and continue his exploration around some of London's most famous landmarks!
This coin shows the bear outside St Paul's Cathedral and is inspired by Bond's final book, "Paddington at St Paul's" which was published last year to celebrate the 60th anniversary.
With four beautiful Paddington 50p coins to choose from, it'll certainly be hard to pick a favourite, but we're looking forward to seeing which design comes out on top when Change Checkers vote in our poll!
---
Secure your Collecting Pack for the BRAND NEW 2019 Paddington 50p coins!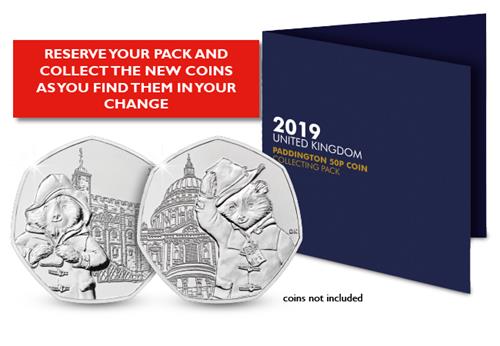 Own the Change Checker Coin Collecting pack for JUST £3.99 (+p&p) to house both brand new 2019 Paddington™ 50p coins as you find them in your change.
It's been revealed that no 1p and 2p coins were struck for circulation by The Royal Mint last year.
This marks the first time in decades that no penny coins were struck in a year. In fact, the last time we saw a year with no new 1p coins was way back in 1972! And it's been 35 years since the last time no new 2p coins were struck for circulation.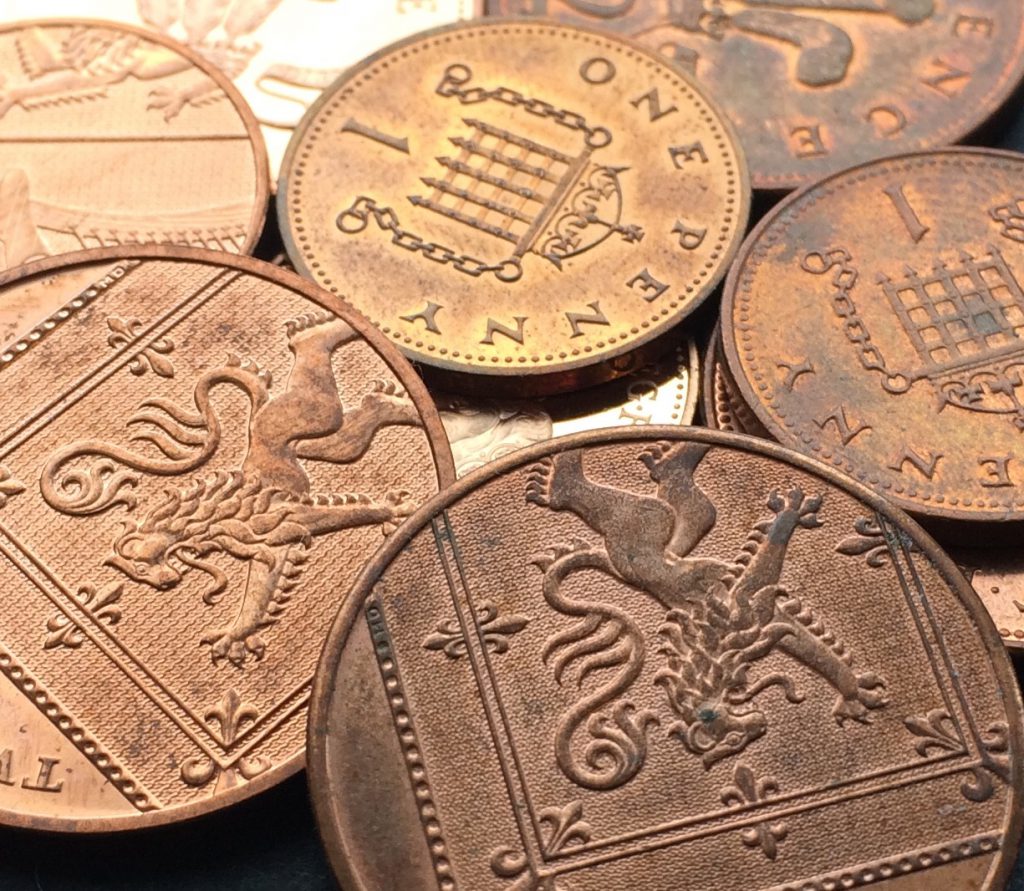 The future of the penny
Back in May 2019, the UK Treasury confirmed that 1p and 2p coins will continue to be used "for years to come". Find out the full story here.
This news emerged following concerns that the 1p and 2p coins would be scrapped after their validity was questioned in the 2018 Spring Statement.
Members of the public were outraged by the idea of the humble penny being scrapped. However it isn't just sentimental value which has safeguarded the future of the penny.
It's estimated that around 2.2 people are thought to be reliant on cash to live their daily lives. This includes the elderly, vulnerable people and rural communities who would likely be hit hard if cash availability were to decline.
Card payments are on the rise
Nevertheless, it is clear that card and electronic payments are on the rise and whilst around 500 million 1p and 2p coins are usually issued each year, the fact that none were produced last year goes to show how low the demand for these coins currently is.
We already know that no 20p or £2 coins were struck for circulation in 2017 and it's also been revealed that no £2 coins were struck for circulation in 2018 either.
A spokesperson from the Treasury said, "We didn't ask the mint to issue any £2 or 1p/2p coins this past year because there are already enough of these in circulation. Our coins are of the highest quality and the amount we ask the Royal Mint to produce every year depends on demand from banks and Post Offices."
Commemorative £2 coins
Despite no £2 coins entering circulation since 2016, collector editions of the new commemorative designs have still been produced by The Royal Mint to mark Britain's most important anniversaries.
Whilst some people are happy to pay a little more to secure the latest coins in superior quality, others are understandably frustrated by the lack of coins entering circulation recently.
To give collectors the chance to own 2019 UK £2 and 50p coins for just face value, this year we launched the Change Checker Face Value Coin Ballot, which you can find out about here.
Spending a penny
It's thought that around 10.5 billion 1p coins are currently in circulation, but the Treasury estimates that roughly 60% of copper coins are typically only used once before being stashed away or lost.
Despite the lack of 1p and 2p coins being struck for circulation last year, we know that the future of our UK coins is still secure (for now at least), but how often do you find yourself actually spending your 1p and 2p coins?
Let us know in our Facebook poll:
---
If you're interested in coin collecting, our Change Checker web app is completely free to use and allows users to:
– Find and identify the coins in their pocket
– Collect and track the coins they have
– Swap their spare coins with other Change Checkers
Sign up today at: www.changechecker.org/app