More than a year after His Majesty King Charles III was officially proclaimed Head of State and Sovereign of Canada, The Royal Canadian Mint have announced the release of their official King Charles III coin effigy.
The news was shared on the 14th November – making for a wonderful birthday treat for His Majesty, who celebrated his 75th birthday that day.
SELL OUT Canada King Charles III 50 cent Coin Roll
The brand new Canadian effigy of His Majesty features on the 50 cent coin, which has been issued in a highly sought-after special collector's edition Wrap Roll.
Each of the Wrap Rolls include 25 brand new 2023 dated Canada 50 cent coins, which feature a design of the Canadian Coat of Arms on the reverse and – for the first time in seventy years – a new monarch's portrait on the obverse.
A Special Presentation
The coins are packaged in special, themed illustrated paper wrapping, featuring the official Royal Canadian Mint logo and a stylised band of Fleur-de-lis – a traditional Royal symbol of Canada.
You might not have heard of coin rolls before, but they're a big deal across the pond, and a highly collectable way to own Canadian coins. Previously, Canadian coin rolls have proved incredibly popular with UK collectors, and we've even seen sell outs of our initial allocations of these rolls in the past.
A Canadian Collecting Frenzy
These Canadian 50 cent Coin Rolls are part of the first wave of Canadian coinage that features the new obverse of King Charles III, so it's currently the only way to secure them for your collection. There were also only 25,000 rolls available worldwide – making them highly sought-after by collectors. So sought-after in fact, that they SOLD OUT at The Royal Canadian Mint within just four days!
We've been lucky enough to secure just 500 Canada 50 cent Wrap Rolls for UK collectors, and once they're gone, they're gone! So don't miss out – add these coins to your collection now for just £29.99 (+£3.99 postage) >>
---
A Major Change for Canadian Coinage
During her incredible 70 year reign, there have been four different obverse portraits of Queen Elizabeth II used on Canadian coinage. The latest portrait change was in 2003 when Susanna Blunt's effigy of Her Late Majesty made its way onto Canadian coins.

Considering that the obverse of Canadian coinage hasn't changed in over 20 years, and the fact that we haven't seen a King on Canadian coins in 7 decades, the introduction of King Charles III's effigy is sure to cause a stir in the coin collecting world.
The Process of Creating an Effigy
As you might imagine, there are a lot of steps behind the scenes that go into creating a new effigy…
Canada's new coin effigy was created from Steven Rosati's winning design, following an invitation to more than 350 artists and engravers.
The process involved each artist/engraver submitting a portfolio of portrait work to be evaluated. These were then shortlisted before a brief outlining mandatory design requirements was given out.
An internal Mint review panel judged submissions based on aesthetics, technical requirements and mass-production suitability before the winning design was submitted for approval from the government and Buckingham Palace.
Once the design was ready, the Mint could begin the engraving and tooling process – producing dies to strike the coins.
Only 500 available for Change Checkers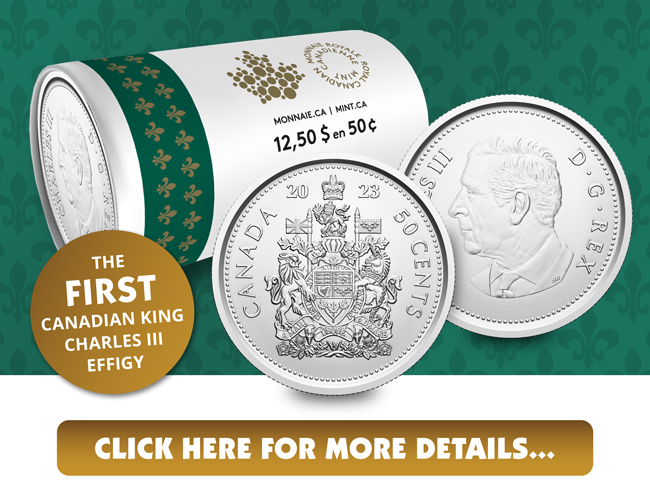 Click here to secure your Canada King Charles III 50 cent Coin Roll >>
Following the 60th Anniversary since Bond first appeared on the silver screen, The Royal Mint have launched a seven-coin series celebrating each decade of James Bond! Kicking it off with the first decade of Bond… the 1960s.
Bond of the 60s
Sean Connery captivated our hearts as he became the first James Bond in 1962's, Dr. No. To this day, he's ranked by entertainment publication, Collider, as the most popular Bond, and to no surprise. Connery's distinct, Scottish accent helped define some of Bond's most memorable quotes.
The first coin in the series depicts Sean Connery in the trusty 'autogyro' (a one-person aircraft) named 'Little Nellie' from the much-loved, You Only Live Twice. With a subtle nod to Connery's work as the special agent, each of his 007 film titles appear behind James Bond in Little Nellie.
The Beginning of Bond
70 years ago writer Ian Fleming first brought James Bond into the world, in the April of 1953 with his first 007 novel – Casino Royale. Paving the way for eleven more Bond novels to be made, and inspiring a whole franchise based on the famous spy himself.
Just under 10 years later, 007 took to the screen and the first James Bond movie was made, bringing the impressive agent 'to life' in 1962. And, it hasn't stopped there, with the most recent Bond movie, No Time to Die, only coming out 2 years ago!
A History of Bond Coins
This isn't the first time we've seen Bond on our UK coins!
First appearing in 2018 on the 'B' for Bond coin as part of the A-Z of Great Britain 10p collection, 220,000 Bond 10ps were first issued in 2018, followed by 84,000 in 2019! This 10p has proved extremely popular with collectors and has been at the top of Change Checker Scarcity Index in recent rankings.
And, how could we forget that in 2020 we had the three-part 007 £5 coin series, in which each of the coins placed together, spell out '007', alongside some of Bond's most memorable quotes.
Collector's Galore
Start your Six Decades of Bond collection today for just £12.99 (+£2.99p&p) with the Bond of the 1960s £5 Coin.
Click here to secure yours today! >>
2023 has been quite the year for King Charles III. As well as being crowned King on 6th May, His Majesty celebrates his 75th birthday on 14th November 2023.
To celebrate his milestone birthday, The Royal Mint have issued a UK £5 coin featuring a reverse design representing The King's love of nature.
In case you missed it…
You may recognise the King Charles III 75th Birthday £5 from earlier this year, as it was one of 5 commemorative coins issued in the 2023 Annual Coin Set. It's actually the final coin from the set to be released individually, so now's the time to secure it if you missed out on the 2023 Annual Set.
A passion for nature
Inspired by King Charles' passion for nature and conservation, designer Dan Thorne has created a beautiful reverse design on this new UK £5. It includes The King's royal cypher along with the number 75, all framed within oak leaves and delphiniums. The design was even personally approved by The King himself.
It's not just nature that His Majesty is passionate about, he also has a keen interest in the arts, architecture and supporting disadvantaged young people. In 1976, when he was His Royal Highness The Prince of Wales, The King founded The Princes Trust, an organisation committed to improving the life of young people in the UK.
He's also been an avid campaigner for environmental issues and sustainability, living by the principle that it's better to work with nature than against it.
A closer look
As well as the main aspects of the design such as the plants, royal cypher and the years 1948-2023, there are a few features on the coin you may not have noticed at first glance.
On closer inspection, we can see a ladybird, 4 bees and a dragonfly hidden within the design – another nod to The King's love of nature.
New UK Coinage for King Charles III
The King's love for nature and his passion for conservation is also reflected in the UK's New Coinage. The 8 brand new coins feature designs themed around British wildlife and conservation, whilst the obverses feature King Charles III and a special privy mark.
Find out more about the UK's New Coinage here >>
Secure your 2023 UK King Charles III 75th Birthday £5 in Brilliant Uncirculated quality for just £12.99 (+£2.99 postage) >>