Posts Tagged 'Commonwealth Games £2'
Next year Birmingham is set to host the international multi-sport event, the 2022 Commonwealth Games.
The first-ever edition of the Commonwealth Games took place in Canada in 1930. The games consists of 400 athletes from 11 countries who take part in six sports and 59 events.
Since then, the Games have been conducted every four years (except for 1942 and 1946 due to World War II). Team England has competed at every Games – one of only six nations to do so and Team Scotland has hosted the games THREE times!
The Commonwealth Games have been incredibly influential in the sporting world but they've also provided the UK with some incredible coin issues!
In our blog, we take a look back at some of the UK coins celebrating the Commonwealth Games…
1986 UK Commonwealth Games £2
The 1986 Commonwealth Games £2 coin changed the face of UK commemorative coins, being the first of its denomination to be struck and the first British coin being issued to commemorate a sporting event.
The thirteenth Commonwealth Games were held in Edinburgh in 1986, and are well remembered for being boycotted by 32 of the 59 eligible countries who did not agree with Britain's sporting connections to South Africa during the Apartheid era.
These original £2 coins were never commonly found in circulation, as they were mainly struck for collectors. This made them much rarer than their successor, the bi-metallic £2 coin, as their mintage figures were much lower.
The pre-1997 £2 coins are still legal tender but they're not used in circulation and banks/shops can refuse to accept them. Despite this, they still remain incredibly popular amongst collectors!
The reverse design of this coin features a thistle encircled by a laurel wreath over the cross of St Andrew and it has a mintage of 8,212,184.
This coin is no longer in circulation but Change Checker has strictly limited stock remaining for collectors. To secure yours with FREE p&p today, simply click here >>
2002 Commonwealth Games £2 Series
These four coins were issued in 2002 – again issued to celebrate the Commonwealth Games – this time held in Manchester.
At first glance, you might struggle to spot the difference between them as they all feature the same running athlete trailing a banner behind.
However, each has a different cameo, representing each of the four constituent parts of the United Kingdom.
They are some of the scarcest £2 coins now in circulation, with the Northern Ireland design having a mintage of JUST 485,500!
The other coin designs have the following mintage figures:
2002 Commonwealth Games Wales £2: 588,500
2002 Commonwealth Games England £2: 650,500
2002 Commonwealth Games Scotland £2: 771,750
Find out more about these coins here >>
2014 Commonwealth Games 50p
To celebrate Glasgow holding the 2014 Commonwealth Games, the Royal Mint issued an official XX Commonwealth Games 50p coin the very same year
Designed by Alex Loudon, the reverse features a cyclist and athlete depicting the power of sport.
The home of the Games are reflected in the choice of Scottish Saltire and lettering inspired by Glasgow-born architect, artist and designer, Charles Rennie Mackintosh.
This coin is the least rare of the Commonwealth Games coins, with a total of 6,500,000 entering circulation.
---
Vote for your favourite Commonwealth Games coin!
With a total of 6 coins commemorating the Commonwealth Games, we want you to have your say and vote for your favourite!
---
Secure the 1986 UK Commonwealth Games £2 for your collection!
This coin can no longer be found in circulation, so this could be one of your last chances of securing this coin for your collection!
It's time for your latest Scarcity Index update, where we'll reveal the UK's most sought-after circulation coins of the last three months! And it's all change again for the A-Z 10ps, as Tea establishes itself in top spot…
With less cash being used because of the current climate, it's likely this is affecting collecting and it seems this has exposed some new trends on the indexes!
You can use the updated A-Z 10p, 50p and £2 indexes below to discover how sought-after the coins in your collection really are.
This information has been compiled using data from the Change Checker Swap Centre and presented in the easy to use indexes below, with arrows to signify how many places up or down a coin has moved since the last Scarcity Index.
A-Z 10p Scarcity Index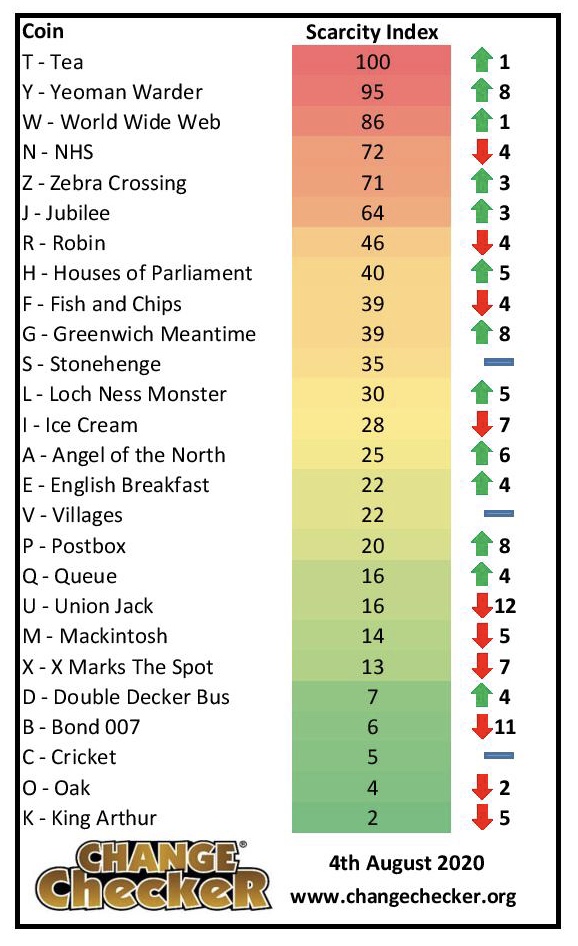 Well we've seen another big mix up for the latest A-Z 10p Scarcity Index update, with a new leader taking top spot!
In our last Scarcity Index, we saw B for Bond knocked off the top spot by the NHS 10p, but now we've seen both of these coins move further down the pack, by 11 and 4 points respectively. The Tea 10p takes the top spot for the first time and Bond now sits at the lowest we've seen since our A-Z 10p Scarcity Index started!
Other key movers to keep an eye on are the Y for Yeoman Warders and G for Greenwich Meantime 10ps, both moving up the index by 8 places.
Regardless of where they feature on the above index, if you have any of the A-Z 10ps in your collection you should consider yourself lucky, as they are particularly hard to come by in circulation and each design has a relatively low mintage (just 220,000 of each design released in 2018 and 2.1 million overall in 2019).
50p Scarcity Index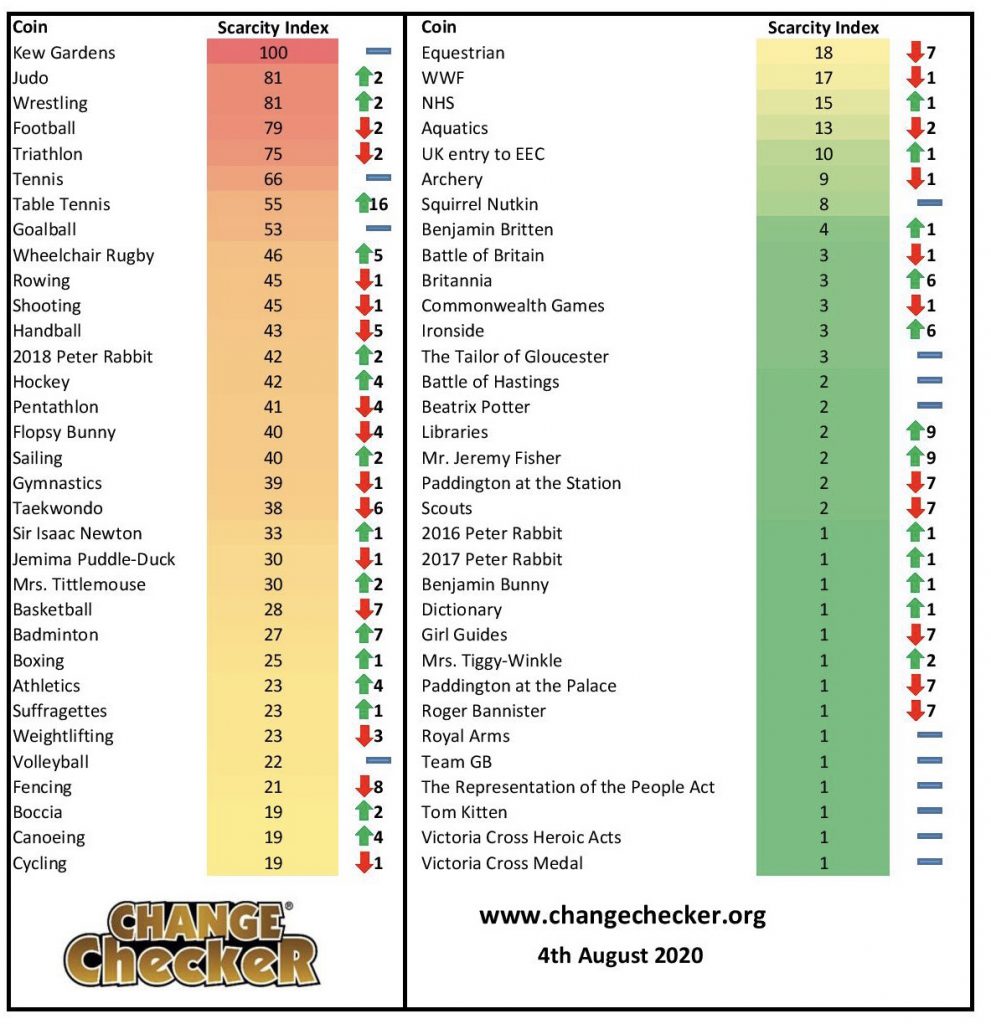 We can't quite believe it, but it looks as though the Olympic Football 50p has been knocked off second place by the Judo 50p this quarter! However, it's not done enough to take the top spot, as it sits 18 points behind the scarcest 50p coin in circulation, the Kew Gardens. But, are you lucky enough to have the Judo 50p in your collection? Let us know in the comments below.
There's been quite a lot of shuffling around with the Olympic 50ps, with Table Tennis moving up the index by 16 places! Although, it's definitely worth noting that all of the Olympic 50ps are particularly sought-after due to their low mintage figures and an estimated 75% have been removed from circulation by collectors, making them even harder to get hold of.
Since our last Scarcity Index update, we've seen the 2018 Peter Rabbit climb 2 places but the 2018 Flopsy Bunny 50p has dropped down by 4 places. As the two rarest Beatrix Potter 50ps in circulation, it's interesting to see them move in opposite directions on the index, so we'll be keeping our eye on these over the next quarter…
£2 Scarcity Index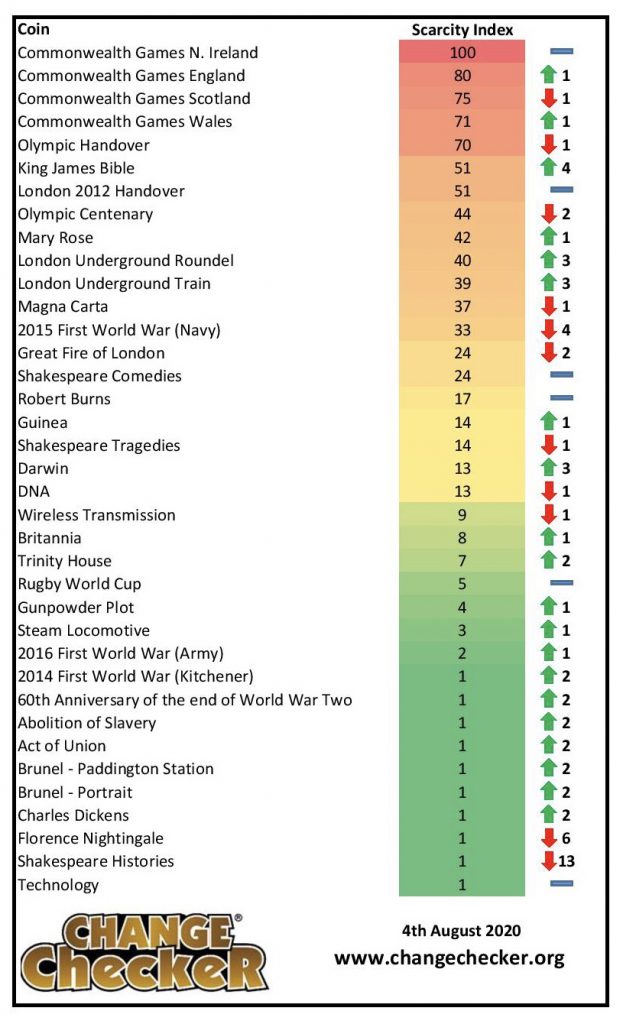 The top five coins on the £2 index remain strong, with the Commonwealth Games Northern Ireland keeping its position at the top, now 20 points above the second most sought-after £2 coin in circulation.
There's been a slight reshuffling on the top half of the index, with the Commonwealth Games England and Scotland, switching positions from the last index! We've also seen the King James Bible £2 jump up 4 places, bringing it 6th position.
In the bottom half of the index, there's been some big shakers! The Shakespeare Histories £2 has dropped a huge 13 points, pushing into the penultimate spot, and Florence Nightingale has also dropped by 6 points!
We're yet to see any new £2 coins in our change since demand has been so low, although I'm sure I speak for many collectors when I say we eagerly anticipate the release of new £2's into circulation, hopefully in the near future.
How your Scarcity Index works
Generally collectors have had to rely upon mintage figures to identify the scarcest coins. But they only tell part of the story. Trying to find a good quality coin from 15 – 20 years ago, even for a higher mintage issue, is much more challenging than a more recent issue, as coins become damaged over time and are ultimately removed from circulation.
Additionally, some designs are more hoarded than others by people who might not normally collect coins – the poignant First World War £2 Coin series being an example. Finally, it can be up to a couple of years before the Royal Mint eventually confirms the actual mintage for an issue.
That's why we have combined the mintage information with two other key pieces of information.
How many of each design are listed as "collected" by Change Checkers, indicating the relative ease of finding a particular coin.
The number of times a design has been requested as a swap over the previous 3 months, showing the current level of collector demand.
Importantly, as new coins are released and popularity rises and falls across different designs the Scarcity Index will be updated quarterly allowing Change Checkers to track the relative performance of the UK's circulation coins.
How much are my coins worth?
The Scarcity Index does not necessarily equate to value but it is certainly an effective indicator. For example, the Kew Gardens 50p coin commands a premium of up to 200 times face value on eBay.
You can use the 6 point guide to help you determine a more realistic value for your coins.
What about £1 Coins?
The £1 Scarcity Index has already been published for the Round £1 coins and, because they are no longer being issued, this is now set in stone.
---
Secure your collector pack for the UK 2016 Beatrix Potter coins for JUST £3.50! (+p&p)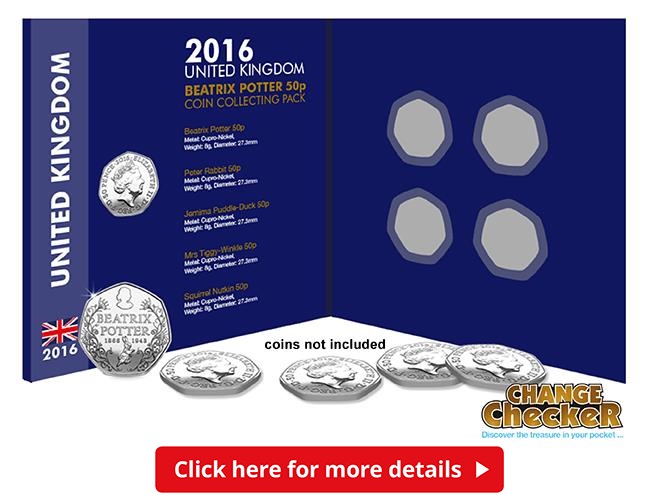 Secure your own Change Checker Coin Collecting Pack for just £3.50 to house all five 2016 Beatrix Potter 50p coins by clicking here!
---
If you're interested in coin collecting, our Change Checker web app is completely free to use and allows users to:
– Find and identify the coins in their pocket
– Collect and track the coins they have
– Swap their spare coins with other Change Checkers
Sign up today at: www.changechecker.org/app