Posts Tagged 'Cricket 50ps'
Last year, two Isle of Man £2 coins were released for the special anniversary year of the Isle of Man Tourist Trophy, and now that the legendary races are in full swing, I'm sure you'll be just as excited as I am to hear that two brand new TT £2 coins have been issued for 2019!
These coins are particularly special, as they mark 112 years since the first TT race in 1907 and the 100th race which will take place this year, due to no races being held during war time.
The reverse designs feature legendary rider, Steve Hislop racing the Tourist Trophy track.
The obverse features Jody Clark's new portrait of HRH Queen Elizabeth II as seen on last year's TT £2s and you might notice that this portrait looks quite different to UK coins, as the Queen's shoulders are present in the design.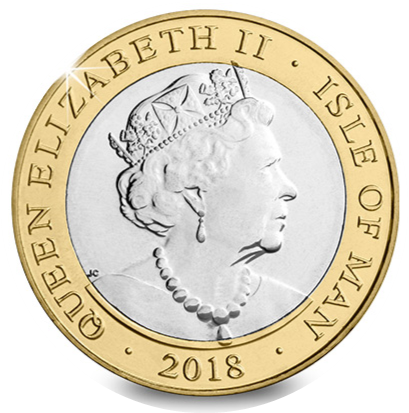 Commemorating racing hero, Steve 'Hizzy' Hislop
These coins celebrate Steve 'Hizzy' Hislop, 11 time winner of the notorious Tourist Trophy races.
Known by motoring enthusiasts world-wide as the ultimate road race, the 37.73 mile monster course takes place each year across the winding public roads on the Isle of Man.
In 1989 Hizzy rode into the history books as the first rider to lap at over 120mph! The 30th anniversary of this epic achievement has now been commemorated with two brand new coins that will enter circulation on the Isle of Man.
Hislop's first win was in 1987, although he really stole the show in 1989 and 1991, winning three races in a week! His extraordinary racing career has cemented him as a hero of the TT mountain circuit.
Isle of Man TT numismatic history
Since the first Isle of Man TT coins were issued in 1981, they have proved incredibly popular amongst collectors and motoring enthusiasts alike, with some selling for over £700 on eBay!
The first Isle of Man TT coin was a 50p which featured famous motorcyclist Joey Dunlop and only 5,000 coins of this design were struck.
A new TT 50p has been released most years since 1981 by the Isle of Man, however commemorative £2, £5 and Crown coins have also been issued to mark the event, which just goes to show how important and incredibly popular the TT races are.
Last year the Isle of Man release two £2 coins commemorating racing legend Mike Hailwood's 60th year since his first TT race and 40th year since his triumphant return.
Just 3,000 of each coin entered circulation on the Isle of Man and we saw unprecedented demand from collectors looking to add the coins to their British Isles collection.
In 2017 a special commemorative £5 coin was issued to celebrate 110 years of the TT. This coin featured the Roman God, Mercury, the Winged God of the Messengers.
Unusually, the coin was re-struck and re-dated in 2018, specially for collectors.
Another Isle of Man £2 coin to grip the attention of collectors isn't actually another TT themed coin, but features three old-style cars racing and was issued in 1998 to celebrate the annual Rally, formerly known as the Manx Trophy Rally.
As with all Isle of Man coins, this coin isn't actually legal tender in the UK, however we were lucky enough to come across this coin in our £2 coin hunt, which just goes to show why you should always be checking your change, as you never know which rare and interesting coins might turn up.
Due to the popularity of the previous motor racing themed coins, we expect that the brand new Isle of Man TT £2 coins featuring Steve Hislop will be very sought-after by collectors.
And, with just 15,000 of each design initially entering circulation on the Isle of Man, Isle of Man based Change Checkers are sure to become the envy of collectors everywhere!
---
Own both Isle of Man TT £2 coins!
Own the Isle of Man TT £2 coin duo in Brilliant Uncirculated condition.
Don't miss out on this opportunity to secure your Isle of Man TT £2 Coin Duo. Click here to secure yours.