Posts Tagged 'magna carta'
Back in November 2014, the Royal Mint unveiled the new themes and designs for all 2015 coins intended for circulation.
As you can imagine, this caused a lot of excitement and we couldn't wait to get our hands on them. In a poll, we asked change checkers to vote which design was their favourite with the clear winner being the 2015 Royal Navy £2.
So where are these 2015 commemorative coins?
The Battle of Britain 50p was released into circulation a few months ago, and a few lucky change checkers have managed to get their hands on them. Others, are still looking but we're sure they'll turn up soon.
The other commemorative coin that has proved to be very popular among collectors was the 2015 Royal Coat of Arms £1. It was revealed in December that the final batch of round £1 coins came off the production line at the Royal Mint, meaning that the only 2016 pound coins available to collectors will be Brilliant uncirculated version of the £1 coin.
It is our understanding that the remaining 2015 commemorative coins will finally be released into circulation in March, so you may be able to find them in your change in just a matter days.
So keep checking your change over the coming weeks – you could be one of the first to find these £2 coins!
---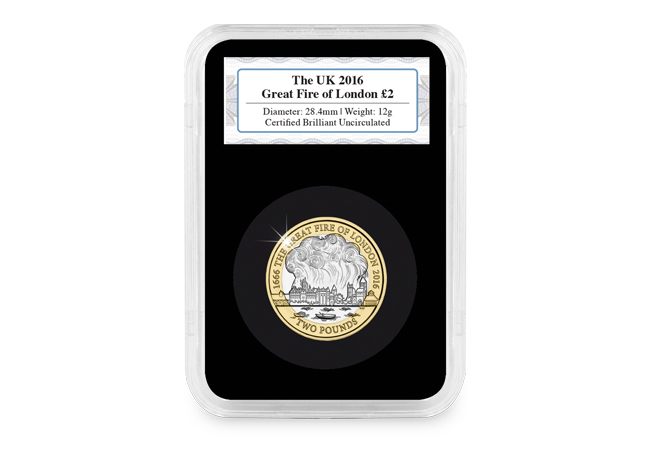 The UK 2016 Certified BU Great Fire of London £2
You can now get ahead with your 2016 collection. Click here to own the brand new 2016 Great Fire of London £2 coin.
It's not often that The Royal Mint commemorate an event which occurred as many as 800 years ago, but the Magna Carta warrants every bit of recognition in this very special anniversary year.
In 1215, after King John violated a number of the ancient laws and customs by which England had been governed, his barons forced him to agree to a new set of rules. They rebelled against excessive taxes, formed an army and captured London. John had no choice but to negotiate. To appease the rebels, he produced the Magna Carta and the Royal Seal was attached on 15th June of that year at Runnymede, near Windsor Castle.
That historic moment is captured on a new £2 coin and features King John holding the Magna Carta and flanked by two barons. Designed by veteran coin artist John Bergdahl, the very distinctive medieval-style lettering is also befitting of the era.
But the edge inscription FOUNDATION OF LIBERTY is the most accurate and succinct description of what the Magna Carta or 'Great Charter' represents.
It is certain that King John had not intended to produce a parchment enshrining the basic tenets of human rights, but the elements of the Magna Carta were just that. For the first time an English king had set detailed limits on royal authority and, crucially, made clear that the king was subject to the law and not above it.
The Magna Carta was arguably the most significant early influence on creating the rule of constitutional law today in the English-speaking world. In fact, it is still cited in many legal cases today – even in America.
The Magna Carta £2 is due to enter general circulation later this year – make sure you keep an eye out for one in your change!