Posts Tagged 'Mary Shelley'
World Book Day is recognised across the globe as an opportunity to celebrate great books and authors. But more excitingly for Change Checkers, it's an opportunity to take a look at which of these great books and authors have been commemorated on UK coins!
In recent years, we've seen some classic British books and authors celebrated on UK coinage, from Jane Austen to Julia Donaldson's much-loved Gruffalo. Take a look below to find out what these coins are and where their designs came from.
Beatrix Potter 50p Series
Beatrix Potter 50p series – Beatrix Potter's The Tale of Peter Rabbit has sold some 150 million copies since its release in 1903. The much-loved children's character was initially featured on a 50p coin in 2016.
First issued as a series of five coins featuring Peter Rabbit and his friends, the 50ps designs by Emma Noble, were taken straight from the illustrations of the original books. These 50p coins started an unprecedented collecting phenomenon and have been so hugely popular the series has been continued throughout 2017 and 2018 with the release of a further eight 50p coins.
To the delight of collectors, a stand-alone Peter Rabbit 50p was issued in collector's quality for 2019. But the question on everyone's lips is, will we see any more Beatrix Potter coins this year?
Shakespeare £2 Set
Shakespeare £2 set – In the 400 years since his death, William Shakespeare has become widely regarded as the greatest writer in British history and the world best dramatist. In 2016 The Royal Mint struck three official £2 coins in honour of the playwright – a first for the UK. Each coin celebrates an aspects of Shakespeare's famous work, tragedies, comedies and histories, all designed by John Bergdahl.
Jane Austen £2
Jane Austen £2 – It might come as a surprise to some collectors that it was only after Austen's death in 1817 that her works were sent out to print. In 2017 The Royal Mint issued a £2 coin to commemorate 200 years since her death; the reverse design, by Dominique Evans, features a portrait of Austen herself and was approved by leading Jane Austen Academic, Professor John Mullan.
Frankenstein £2
Frankenstein £2 – Mary Shelley's novel 'Frankenstein' is widely regarded as the first science-fiction novel. To celebrate 200 years since publication, The Royal Mint issued the Frankenstein £2 coin in 2018. The design, by Royal Mint designer Thomas T. Docherty, portrays ECG monitor style wording of 'Frankenstein'. The coin also features the edge lettering 'A SPARK OF BEING' which is a quote taken from the novel.
Paddington Bear 50ps
Paddington Bear 50ps – Struck to celebrate the 60th Anniversary of the classic book, two Paddington Bear 50p coins were issued in 2018. The design on each coin is derived from the modern film adaptation of the book and shows the much-loved bear at Paddington Station and at Buckingham Palace. Collectors and Paddington fans alike have been thrilled with the detail on the coins, designed by David Knapton, from Paddington's famous duffle coat to the label around his neck that reads 'Please look after this Bear, thank you.'
Excitingly, a further two Paddington 50ps were released in 2019 – Paddington at the Tower and Paddington at St Paul's Cathedral. Will we be lucky enough to see this loveable bear's London adventures continue in 2020?
The Snowman 50p
The Snowman 50p – To celebrate 40 years of Raymond Briggs' classic tale, The Royal Mint issued this particularly special, festive commemorative Snowman 50p in November of 2018. Briggs' characters are brought to life by designer Natasha Ratcliffe as the boy and the snowman soar through the night sky together. The design was approved by Robin Shaw, assistant director of The Snowman and The Snowdog animation, to ensure the detail was perfect.
But the Christmas cheer didn't stop there, as in 2019 a second Snowman 50p was released, designed by Snowman Enterprises themselves to capture the Snowman and James in a wonderful snowy scene. Could their story continue with another Christmas 50p in 2020?
The Nutcracker £5
The Nutcracker £5 – The Nutcracker story is renowned, and just like coins, it has a long history with Christmas. This £5 coin was issued by The Royal Mint to celebrate Christmas 2018; the reverse design by Harry Brockway shows an enchanted Christmas Nutcracker scene. £5 coins are reserved for the most important Royal and Historical anniversaries, which shows the significance of this Nutcracker £5.
The Gruffalo 50p
The Gruffalo 50p – Julia Donaldson's The Gruffalo was first published in 1999 and to celebrate 20 years of the world's best-loved monster, The Royal Mint issued a commemorative 50p, featuring The Gruffalo. The reverse image was designed by Magic Light Pictures themselves and features The Gruffalo as seen in the modern film adaptation. The Gruffalo 50p has seen remarkable popularity since its release and is proving a firm favourite with collectors.
And so collectors were unsurprisingly overjoyed when they heard the news that a second Gruffalo 50p would be released in 2019. This coins features the Gruffalo and Mouse from Julia Donaldson's bedtime classic and makes for the perfect pair with the original Gruffalo coin released earlier that year.
Sir Arthur Conan Doyle 50p
Sir Arthur Conan Doyle 50p – Of course, this list wouldn't be complete without the man who revolutionised the crime genre with his creation of one Britain's best-loved detectives, Sherlock Holmes™. To mark the 160th anniversary of Doyle's birth, The Royal Mint issued a commemorative 50p coin paying homage to the author's legendary works. The reverse has been designed by Stephen Raw and features a silhouette of Sherlock Holmes smoking a pipe, surrounded by a few of the most-famous Holmes story titles.
It's hard to believe we've had all these coin releases celebrating British authors and stories in just the last few years.
What authors and books would you like to see on UK coins in future? Let us know below and comment on what your favourite author, story and coin is!
---
You can now secure some of Britain's Best Loved Coins featuring your favourite authors and book characters in Brilliant Uncirculated condition.
This year celebrates the 200th birthday of one of the most infamous fictional characters in historic literature – Frankenstein's Monster!
With film adaptations across various genres, from the quasi-rock opera The Rocky Horror Picture Show to sci-fi classics like Prometheus, the tale of the dysfunctional Victor Frankenstein and his mad scientific invention is known by all of us in some shape or form.
In the gothic tale – written by Mary Shelley – an obsessed Victor Frankenstein attempts to bring a corpse back to life in his laboratory through mad methods of chemistry, alchemy and a 'flash' of electricity.
To celebrate this important literary bi-centenary The Royal Mint has released a commemorative £2. The reverse features the word 'Frankenstein' in electric gothic font, along with 'Bicentenary of Mary Shelley's The Modern Prometheus' written around the edge.
The edge inscription reads 'A spark of being', the words of Dr Victor Frankenstein when he creates 'creature'.
We haven't seen anything quite like this in a coin design before and since the design was revealed at the start of the year there has been a huge response from excited collectors looking to get their hands on this unusual coin.
What do you think of this new £2 coin? Let us know in the comments below!
---
Commemorate 200 years of Mary Shelley's exceptional novel with the 'Frankenstein' BU £2
This striking £2 coin is now available to add to your collection in Brilliant Uncirculated quality.
Collectors interest is expected to be 'monstrous', so click here to order yours now >>>
The 8th March, is International Women's Day. To celebrate, we take a close look at just some of the incredible women who have been commemorated on our UK coins!
Her Majesty The Queen (1926 – Present)
It's really a no brainer that we're going to start with Her Majesty the Queen as her portrait features on all of our current UK coinage and has featured on no less than 15 commemorative £5 coins and crowns!
Her Majesty Queen Elizabeth II is our longest reigning monarch, the fifth longest reigning monarch worldwide, and our first ruling monarch to have reached her 95th birthday year!
There have been some incredible coins celebrating Her Majesty, including the recently issued 2021 UK 95th Birthday £5, the 2018 65th Coronation Anniversary £5, and even the 1977 Silver Jubilee 25p Crown.
Queen Elizabeth II is arguably the most loved and respected monarch our country has even seen so it's only right on the day we honour the achievements of women throughout history, that we dedicate a portion to Her Majesty.
Diana, Princess of Wales
Diana Frances Spencer married the Prince of Wales in July 1981. Constantly the subject of media frenzy, Diana tragically died in a car crash in Paris in 1997 whilst trying to escape paparazzi. The world was stunned at her tragic death and it triggered grief all around the world.
Diana left a legacy of bravery, courage, and kindness. She played a significant role in banning landmines, setting up and supporting a range of charity operations, and being an active role model for both her children and members of society.
In 1999, to commemorative Lady Diana's life, The Royal Mint issued this £5 featuring her profile on the reverse.
Beatrix Potter (1866 – 1943)
Beatrix Potter truly was a woman ahead of her time. Not only was she an accomplished children's author and illustrator, she was a passionate and knowledgeable farmer and conservationist – long before it became popular.
However, it's fair to say her enchanting tales of countryside characters, including Peter Rabbit and Mrs. Tiggywinkle, skyrocketed her to stardom. And in 2016, Beatrix Potter's life was commemorated on a brand new series of 50p coins.
We've since seen 15 coins celebrating the famous author, including the very latest 2020 Peter Rabbit 50p which was confirmed as the very last UK 50p featuring the cheeky character.
Rosalind Franklin (1920 – 1958)
English chemist, Rosalind Franklin, sits right at the very heart of the story of DNA.
Her ground-breaking research and inspiring work ethic were central to the discovery of the helical structure of DNA, which was later publicised by Watson and Crick.
Tragically, at the age of just 27, Franklin passed away from ovarian cancer, robbing her of the same awards and recognitions that her colleagues were gifted.
But in 2020, to celebrate what would have been her 100th birthday, she also became the second scientist to be celebrated in The Royal Mint's Innovation in Science series.
The reverse design of this coin, by David Knapton, features a depiction of her famous Photograph 51, which enabled her to discover the structure of DNA in her laboratory in Cambridge.
Florence Nightingale (1820 – 1910)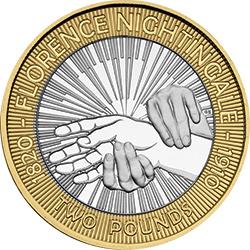 Named after the Italian city in which she was born in 1820, Florence Nightingale is famous for her work in the military hospitals during the Crimean War where she tended to wounded soldiers.
In 1860 she laid the foundation of professional nursing with the establishment of her nursing school at St. Thomas' Hospital in London. Her book 'Notes on Nursing' proved to be influential in changing the way hospitals were run and the role of nurses within them.
Released in 2010 to commemorate 150 years of nursing, the reverse design of this £2 coin, by Gordon Summers, features the image of a nurse taking the pulse of a patient.
Agatha Christie (1890 – 1976)
After the end of the First World War, Christie published her first novel The Mysterious Affair at Styles. This incredibly popular story introduced readers to one of Christie's most famous characters – Belgian detective Hercule Poirot.
Writing well into her later years, Christie wrote more than 70 detective novels as well as short fiction. Her books have been made into films, television, and radio programmes. In 1971, she was made a Dame of the British Empire for her outstanding contribution to literature.
In 2020, to mark 100 years since her first publication, The Royal Mint celebrated the world's best-selling novelist with a new £2 coin.
David Lawrence's design of this coin pays homage to Christie's crime novels, with a piece of jigsaw slotting into place and her signature at the bottom.
---
There really have been some incredible women celebrated on our UK coins and this is just a small selection!
Is there an influential women you'd like to see on our coins in the future? Let us know in the comments below!
Receive new UK coins sent to your door without the hassle of placing orders on the day of release!
Don't miss your chance to get ahead of the crowd and be one of the very first collectors to receive the latest UK new issue coins as soon as possible after their release.
Sign-up to the Change Checker UK New Issue Subscription Service today >>