2020 marked the 75th anniversary of Victory in Europe Day, and the official end of the Second World War.
Following the Allies' acceptance of Nazi Germany's unconditional surrender on the 8th May 1945, the war in Europe had finally come to a close after a long five years of conflict.
Most UK collectors will be familiar with the United Kingdom 75th Anniversary of Victory in Europe Day £2 coin issued earlier this year to commemorate the historic event.
However, Allied Nations across the globe have been commemorating 75 years since the end of the Second World War and this important anniversary has been marked with unique coin issues from some of the world's most renowned Mints.
Coins issued by the Netherlands, Canada, France, and Belgium, in addition to the UK £2, have been brought together for the first time in the remarkable 75th Anniversary of VE Day Allied Nations Coin Pack.
75th Anniversary of VE Day Allied Nations Coin Pack
Featuring FIVE carefully chosen commemorative coins from world renowned Mints and including The Royal Mint's 75th Anniversary of VE Day £2 coin as the centrepiece, this limited edition Commemorative Coin Pack has been released JUST for Change Checkers.
The coins included with this extraordinary set are:
United Kingdom £2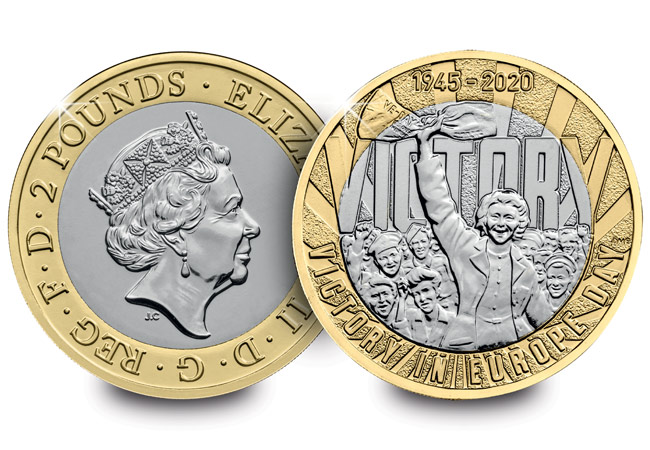 This brand new United Kingdom £2 coin by Royal Mint designer Dominique Evans features a woman holding a newspaper aloft in crowd of celebrating people, set against a backdrop of the word 'VICTORY'. The edge inscription reads 'JUST TRIUMPH AND PROUD SORROW'.
Canada $2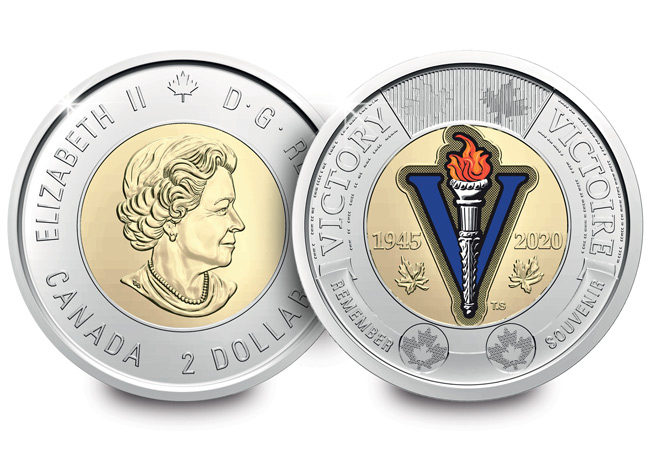 As a tribute to the fallen and a promise to never forget, Canada have issued a commemorative $2 coin marking the 75th anniversary of the end of the Second World War. This coin re-creates the iconic Victory Nickel design on a brand new $2 coin.
Belgium 2.5 Euro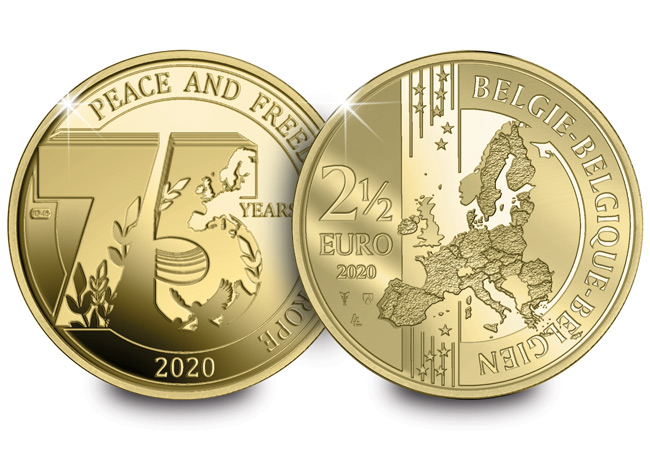 The Royal Mint of Belgium issued this 2.5 Euro coin designed by Luc Luycx to show Europe lit with fireworks in honor of this 75th anniversary. The reverse shows the newly liberated Brussels on 4th September 1944.
This coin is limited to a maximum circulation of 50,000 pieces worldwide.
Netherlands 5 Euro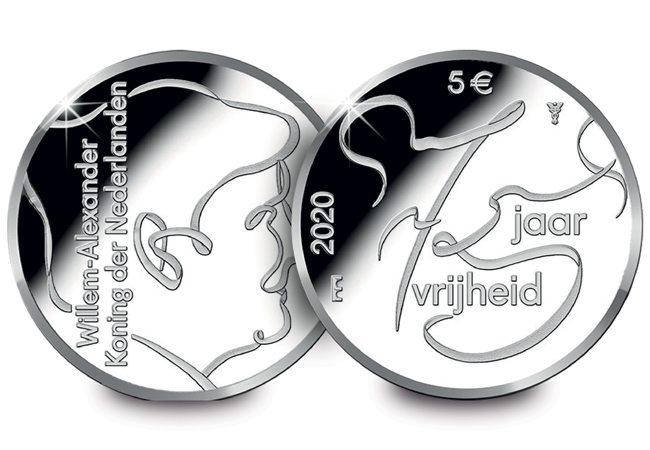 Although part of the Netherlands had already been liberated in 1944, it wasn't until the 5th May 1945 that the whole of the Netherlands was allowed to live in freedom. This 5 Euro is the official commemorative coin to mark such an important moment in history and has been designed by artist Marijke van Warmerdam.
Only 15,000 Silver-Plated pieces are available worldwide!
France 2 Euro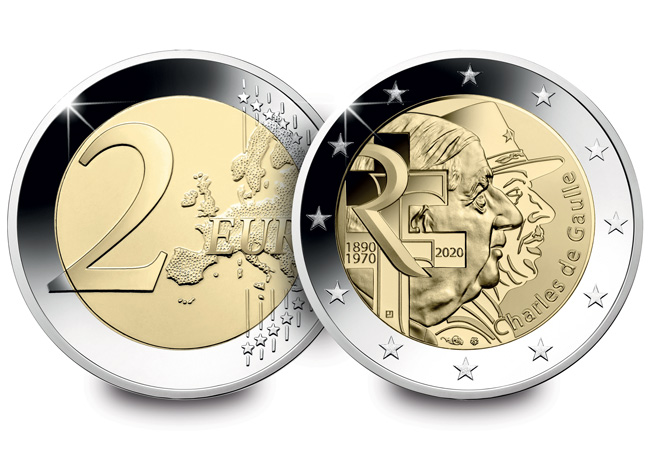 Renowned French army officer and statesman, Charles de Gaulle led the Free French Forces against Nazi Germany in World War II. This 2 Euro coin features two profiles of de Gaulle as both the revered army general during the war, and as President of France during his second term. A Lorraine cross also features on the design as the symbol of free France, chosen by General de Gaulle.
---
All of these incredible coins come presented in the Change Checker 75th Anniversary of VE Day Coin Pack. Which one is your favourite? Let us know in the comments below!
---
Secure the Limited Edition 75th Anniversary of VE Day Coin Pack to your Collection Today!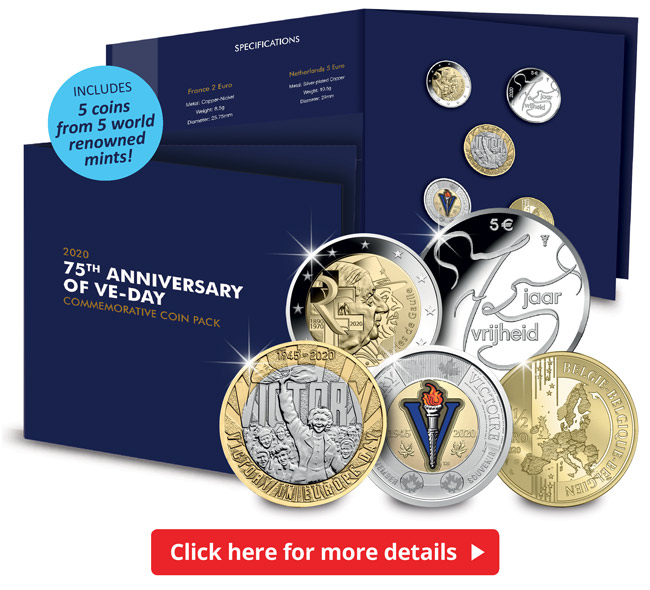 Due to the difficulty of sourcing these coins, we have only a limited number of these extraordinary packs available!
To ensure you don't miss out on this special anniversary year, please secure your Change Checker 75th Anniversary of VE Day Allied Nations Coin Pack here >>
Winnie the Pooh has been on a very big adventure this week, as he appeared on the UK's 50p for the very first time, and has even made the headlines!
Coin collectors and Winnie the Pooh fans alike have been eager to get their hands on the first coin in the series of nine. Whilst we only have the designs for the first three, which will all be released individually this year, Change Checkers have already fallen in love with the series.
The coins have been designed by The Walt Disney Company, having taken inspiration by the original illustrations by E.H Shepard in A. A. Milne's classic story.
*** UPDATE ***
Change Checkers have been voting and the winning Winnie the Pooh 50p design has now been decided!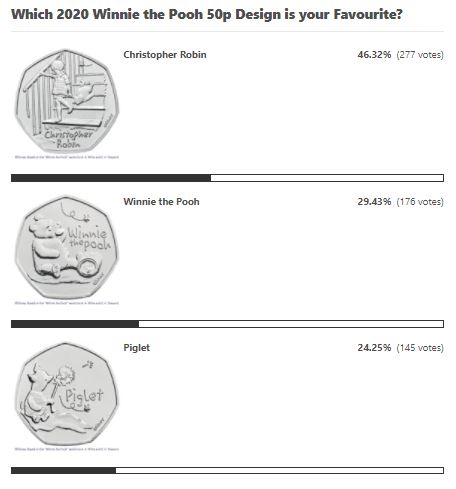 And the Winnie the Pooh coin which comes out on top is actually the Christopher Robin 50p, taking a huge 46% of the votes! This is a sure indication for how popular this coin is going to be with collectors when it's released later this year…
In second at 29% is the main man himself, Winnie the Pooh, closely followed by Piglet at 24%.
More details of the Christopher Robin and Piglet 50p coins will follow when they are individually released, but let us know which one is your favourite in the comments.
---
Secure the 2020 UK Winnie the Pooh 50p for JUST £4.50 (+p&p)
Own the 2020 UK Winnie the Pooh 50p in Brilliant Uncirculated quality by clicking here >>
Peter Rabbit is arguably Beatrix Potter's cheekiest character and he's been one of the most popular and most-loved characters in children's literature since his first creation.
He's featured in books, films and even on the UK's favourite coin, the 50p!
But where did Peter Rabbit's tale begin and how did he end up on FIVE UK 50p coins? In this blog, we run through the exciting tale of the Peter Rabbit 50p series…
Bridging Generations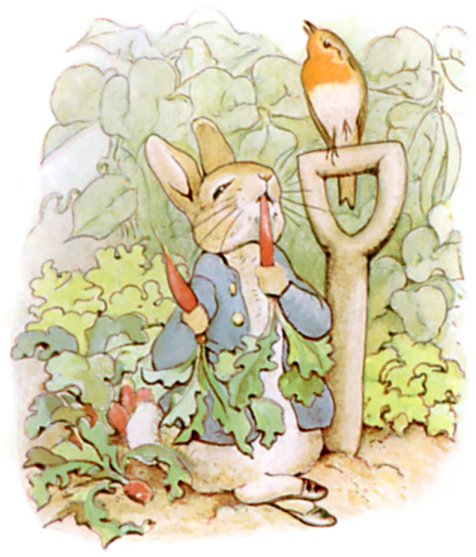 Peter Rabbit first appeared in literature back in 1902, when children's author Beatrix Potter commercially published what was to become her best-seller, The Tale of Peter Rabbit.
The story is centred around Peter, who is far more adventurous than his siblings: Flopsy, Mopsy, and Cotton-tail. Going against his mother's instructions, Peter breaks into Mr. McGregor's garden after being tempted by some delicious looking vegetables… After a close encounter with McGregor, Peter manages to escape, but sadly loses his shoes and iconic blue jacket.
Since 1902, Peter Rabbit has featured in eight books, over 9 tv/film adaptations. and has been made into numerous commemorative souvenirs – including a series of 50p coins!
He's become a household a name across generations and is loved by families up and down the country.
United Kingdom Peter Rabbit 50p Coins
In 2016, to celebrate 150 years since the birth of Peter Rabbit author Beatrix Potter, The Royal Mint issued a series of 50p coins.
2016 Peter Rabbit 50p
The 2016 Peter Rabbit 50p was the first coin to be issued in the series and features a close up portrait of the loveable rabbit with his big whiskers taking centre-stage.
The design, by Emma Noble, uses original illustrations from the books to celebrate Potter's life and works.
9,700,000 of these coins were issued into circulation and proved very popular amongst collectors!
2017 Peter Rabbit 50p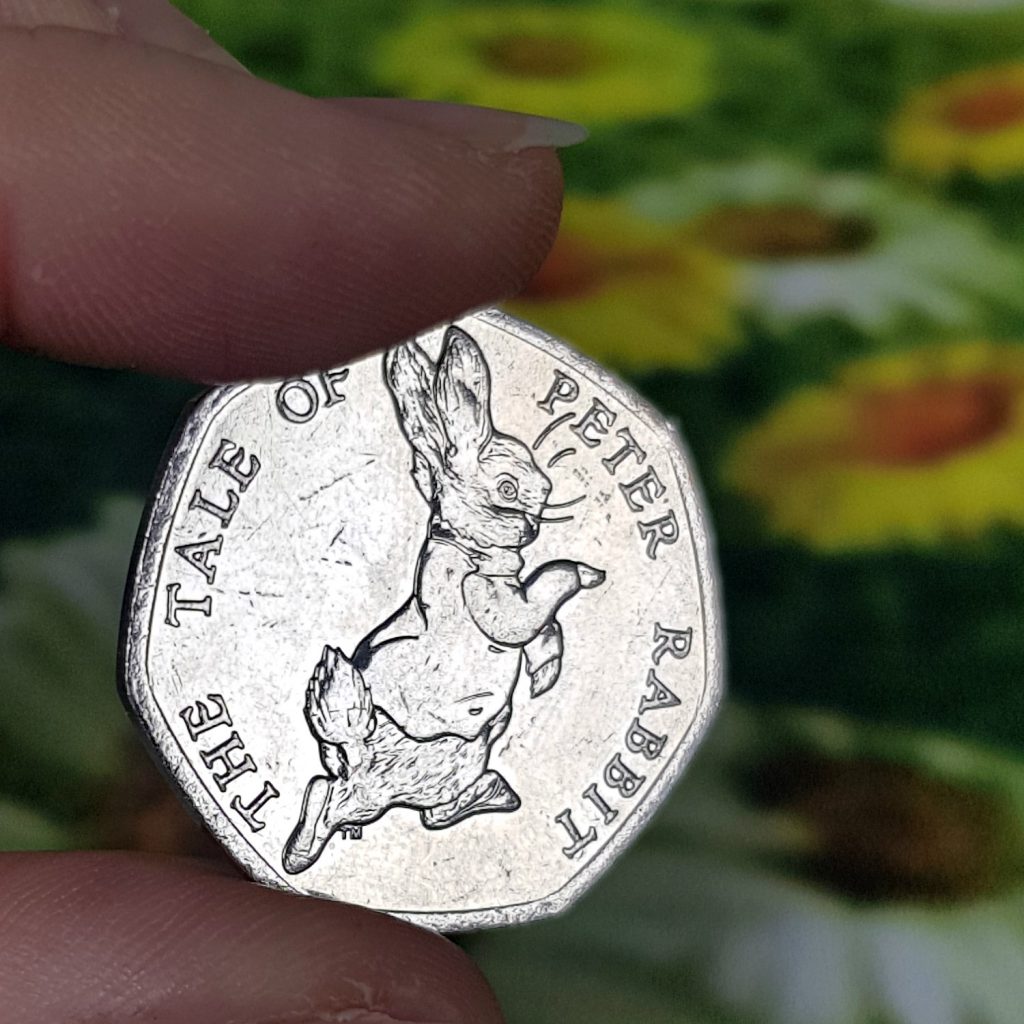 Next up in the series, is the 2017 Peter Rabbit 50p, which is my personal favourite!
Designed by Emma Noble, the coin features Peter Rabbit in his iconic blue jacket in a pose that was to become the emblem of Beatrix Potter's work.
This 50p has a circulating mintage of 19,900,000. Do you have this coin in your collection? Comment below!
2018 Peter Rabbit 50p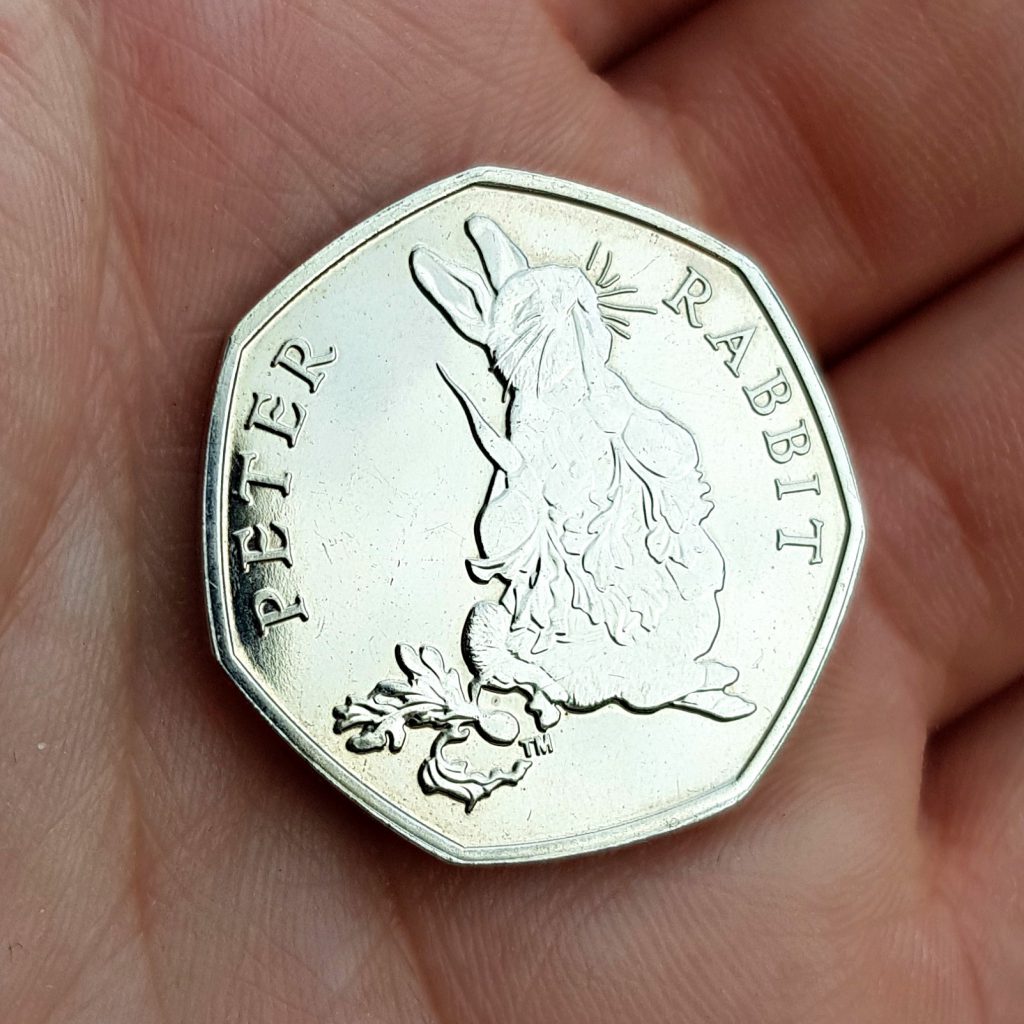 The 2018 Peter Rabbit 50p coin is the third UK coin to feature the much-loved children's character.
Designed by Emma Noble, the reverse features Peter Rabbit munching on radishes and has the joint lowest circulating mintage of all the Beatrix Potter 50p coins.
The 2018 Peter Rabbit and 2018 Flopsy Bunny 50ps have a circulating mintage of just 1,400,000, so if you have this 50p in your collection, consider yourself very lucky!
2019 Peter Rabbit 50p
The tale continued in 2019 with this 50p coin, which is the fourth coin to feature the much-loved Children's character.
Struck by The Royal Mint, the reverse of the coin features an original illustration of Peter Rabbit by Beatrix Potter that has been engraved by Royal Mint coin designer, Emma Noble.
This coin was issued in collector quality only and did not enter general circulation.
2020 Peter Rabbit 50p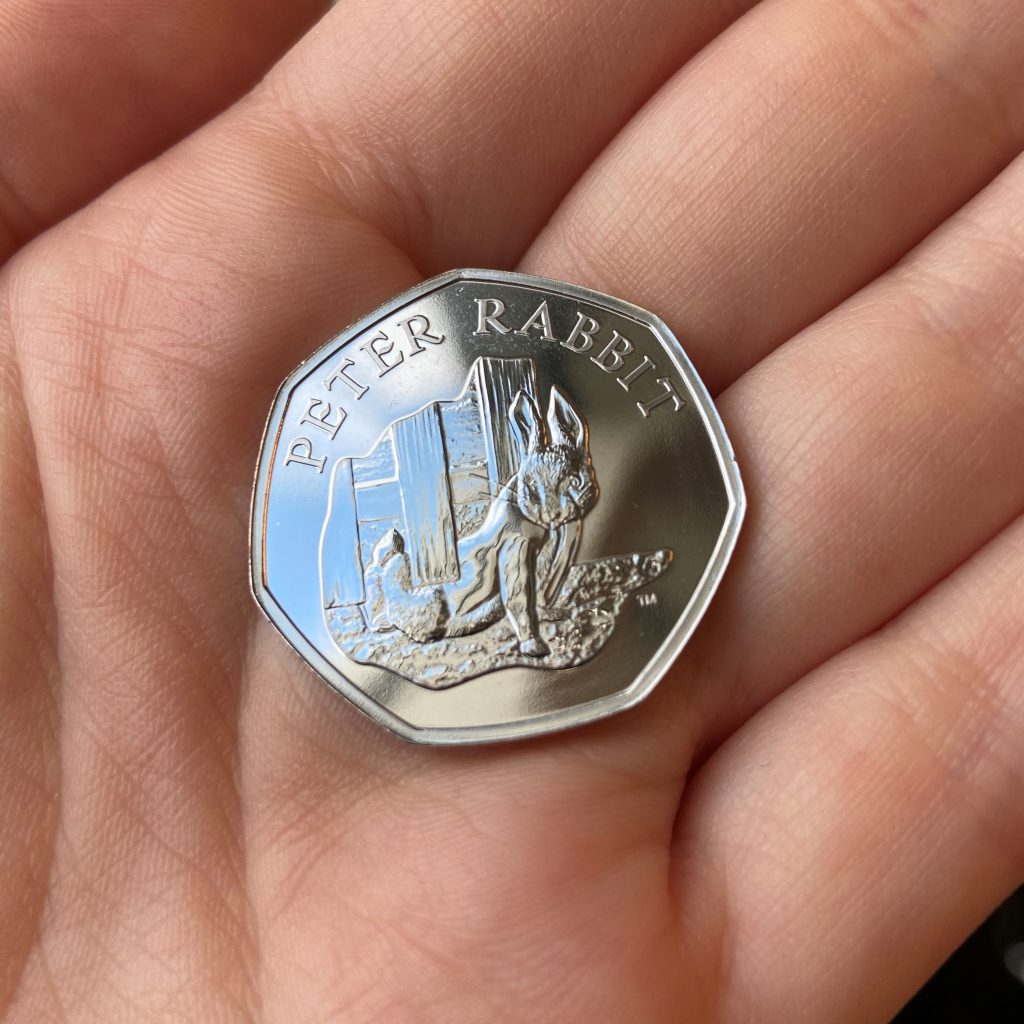 Issued during a world pandemic, this Peter Rabbit 50p is arguably the forgotten coin of 2020.
It was confirmed to be the very last UK Peter Rabbit 50p, sadly bringing his UK 50p tale to an end. Masked by the events of the pandemic, the significance of this coin's issue was missed.
It's reverse features a design of an original Beatrix Potter illustration of Peter Rabbit, scrambling under Mr. McGregor's fence.
It did not enter general circulation and was issued only in collector quality.
---
So, now we've run through all of the UK Peter Rabbit 50p designs, we want to know which is your favourite!
---
Secure the 2017 UK Peter Rabbit 50p to your collection today!
To secure your 2017 UK Peter Rabbit 50p in Brilliant Uncirculated quality for just £4.50 (+p&p), click here >>