Posts Tagged 'rare dollar'
We were recently asked to identify an unusual coin, which on first glance appeared to be a US Trade Dollar from 1885. However, once we started researching this coin, it became obvious that it must have been a fake.
Here's why a genuine 1885 Trade Dollar would be impossible to find…
One of the rarest coins on the planet
Earlier this year, the finest known 1885 Trade Dollar was sold for an eye watering $3.9 million at Heritage Auctions! Whilst this US coin may not be familiar to UK Change Checkers, it is incredibly rare – perhaps one of the rarest coins on the planet.
The US Trade Dollar was designed by William Barber and features Lady Liberty seated on a pedestal of merchandise, facing across the sea and holding an olive branch. On the reverse an eagle holds branches ladon with berries within its talons – an iconic American image. This design remained unchanged besides minor modifications up until the last coin of the series was struck.
Creation of the Trade Dollar
Made from .900 Silver, these coins were struck primarily for trade with Asia and were competing against the other large silver trade coins which had already become popular in the East.
The 1873 Coinage Act made these coins legal tender for payments up to five dollars and many made their way into American commercial channels, despite the majority being sent to Asia.
As their distribution across America became more widespread and the price of silver fell the coins were demonetised, although many 1873 – 1883 Trade Dollars can still be found on the secondary market today and are often sought-after by US collectors.
The greatest numismatic mystery…
In 1878, production of circulation strikes officially stopped. The Philadelphia Mint continued to strike Trade Dollars after this, however the coins were only issued in proof quality for numismatic purposes.
It was initially believed that the final year of production was 1883, however over two decades later, 1884 and 1885 dated Trade Dollars created a sensation when they appeared on the secondary market.
Incredibly, just 10 1884 proof quality Trade Dollars were struck and more astonishing still is that only 5 of these coins were struck in 1885!
Imagine how exciting it would have been to first find out about these secret coins, and how desperate American collectors must have been to get their hands on one!
Lack of documentation means the origins behind their creation still remains one of the greatest numismatic mysteries… It's actually thought that employees from the Philadelphia Mint secretively struck the coins after production was halted.
Sold for $3.9 million!
All 5 coins from 1885 are now accounted for and are owned in private collections, meaning the public rarely get the chance to see these coins exhibited.
A few of the 1885 Trade Dollars have sold at private auction, reaching phenomenal prices.
One of the finest specimens from the Eliasberg Collection appeared at Heritage Auctions this year and sold for $3.9 million!
President of Heritage Auctions, Greg Rohan said, "Owning the finest-known [1885 Trade Dollar] specimen is to own an enduring symbol of numismatic and American history."
So, whilst the 1885 Trade Dollar would be an exceptional coin for any collector to come across, as all 5 1885 Trade Dollars are accounted for, the only explanation for the coin we were asked to look at is that unfortunately it must have been a fake.
It really would be amazing to be able to own a coin as rare as this though! What would you do if you came across such a unique coin in your change?
There are so many fascinating stories about different coins from all around the world and if you have a story about a rare or unusual coin, we'd love to hear it!
---
Discover the coins USA Change Checkers are collecting!
The famous mints in the United States of America, such as in Denver and Philadelphia, have hundreds of years of history producing some of the most collected and sought-after coins in the world, and with this USA coinage pack you can secure a piece of US history.
Click here to order your USA Coin Set for just £10.00 (+p&p).
Every coin tells a story. But few more than America's eight most notorious coins…
The U.S. collectible coin market can be an absolute minefield and is one of the most competitive coin collecting markets in the world.
Some of the most collectible coins date back to the 1800's and are extremely famous. Let me tell you why…
Indian Head Penny (1859-1909)
The Indian Head Penny is famous for celebrating Native Americans, but it actually doesn't show a Native American.
According to legend, designer James B. Longacre used a portrait of his 12 year old daughter, Sarah, wearing a headdress. It is, however, more likely that the portrait was based on a classical Greco-Roman statue Venus Accroupie (Crouching Venus).
Either way, the 'Indian' is not a Native American! The obverse features the head of Lady Liberty wearing a headdress, while the reverse depicts a wreath as well as the words 'One Cent' and a shield in the middle at the top of the coin.
Morgan Silver Dollar (1878-1921)
For the new silver dollar, designer George T. Morgan decided to portray Liberty as a goddess, inspired by Philadelphian school teacher, Anna Williams who had a fair complexion, Grecian nose and golden hair. Morgan eventually persuaded Anna Williams to sit as the model for Liberty for the obverse of the Morgan Silver Dollar.
In 1878 artists' models were considered immoral, therefore, Morgan publicly stated that the model was a statue in a Philadelphia museum. Word soon leaked out, however, and it is rumoured that Williams was fired from her teaching job!
'No Cents' Liberty Head Nickel (1883)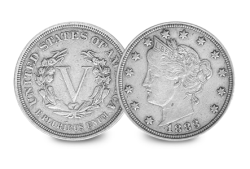 When the new Liberty Head Nickel was issued in 1883, the denomination was nowhere to be seen, instead a large 'V' (Roman '5') was on the reverse.
The coins were the size of the $5 gold coin in circulation at the time which created an opportunity for unscrupulous crooks who came up with a cunning plan to pass them off as $5 by gold plating the new nickels and cutting reeds into the edge by hand. The U.S Mint soon became aware and within a few weeks the design was changed to include the word 'Cents' under the 'V'. The 'No Cents' coins are also known as 'Racketeer' Nickels.
Lincoln Penny (1909)
Designer Victor David Brenner added his 'VDB' initials to the new Lincoln Penny design in 1909 which was issued to commemorate the 100th anniversary of Abraham Lincoln's birth.
While the public generally loved the Lincoln cent when it was first released, they didn't like the prominence of Brenner's initials. The U.S. Mint quickly removed the initials as it appeared as though Brenner was either boasting or advertising. This was the first cent to feature Abraham Lincoln's motto 'In God we trust' on the obverse.
Morgan Dollar (1921)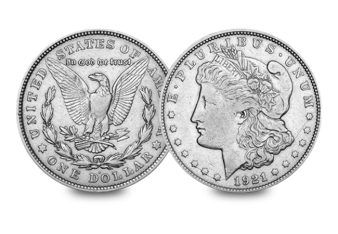 When notorious outlaws Bonnie and Clyde were shot and killed by police in 1934, a 1921 Silver Morgan Dollar was recovered from the jacket of Clyde Barrow among other possessions. The outlaw lovers were believed to have committed 13 robberies among other felonies between 1932 and 1934.
The hunt for the duo captured the nation's imagination during the Great Depression and their fame was heightened by their practice of leaving glamourous photos of themselves at crime scenes.
Even more so now, the 1921 coin is forever associated with Bonnie and Clyde.
Roosevelt Dime (1946)
In 1945 plans were quickly laid for the introduction of a new coin to honour Roosevelt after his passing. The task was assigned to John Ray Sinnock and coinage began in 1946. Controversy soon arose because sculptor Selma Burke claimed that Sinnock had stolen her design without giving her credit, however Sinnock strongly denied this.
In addition, conspiracy theorists claimed that Sinnock's initials 'JS' (at the base of Roosevelt's neck) actually referred to Russian leader Joseph Stalin because of Roosevelt's supposed 'communist' learnings.
Franklin Half Dollar (1948)
The Franklin Half Dollar was designed by John R. Sinnock and his 'JS' initials were again seen by conspiracy theorists as a tribute to Joseph Stalin.
In addition, the crack on the Liberty Bell was controversial, some people saw it as a statement that Liberty in the United States was under threat (despite the fact that the image exactly reflects the bell's appearance).
Finally, what appears to be a small 'o' and large 'F' on the reverse ('oF' in the United States of America) was rumoured to be a mistake and that the Mint would recall all 1948 coins to correct the 'error'.
Anthony Dollar (1979)
The Anthony Dollar was revolutionary – the first circulating coin to feature a historical woman. Susan B. Anthony was an author and protest speaker among other titles but best known as President of the National American Suffrage Association. The coin was also the first small-sized Dollar that was issued for wide circulation.
However, it quickly became notorious – and almost universally rejected – because it was the same colour and about the same size as a quarter. Therefore, it was often mistaken for a Quarter, and the public refused to use it! (Interestingly, it is now a sought-after collector's item.)
For me, one of the best things about coin collecting is the story behind the coin and I'm sure you'll agree that these coins from America have some truly fascinating stories to tell.
---
Discover the coins from the USA
Today you can secure for your collection the coins your fellow American Change Checkers are collecting, from 1 cent to 1 dollar!