The A-Z of Great Britain 10p coins have been a firm favourite with collectors since they were first released in 2018, with 26 Quintessentially British designs capturing the public's imagination.
Unsurprisingly, some designs are proving more popular than others, but which ones are likely to fetch the most on the secondary market?
We've done the hard work for you by taking a look at which A-Z 10p coins are selling for the most on eBay and which ones you should be looking out for.

The Ones to Watch…
If you're lucky enough to have the 'A' for Angel of the North 10p in your collection, you might want to keep hold of it as it currently sells for around £4.20 on the secondary market – over 40 times its face value!
Despite dropping down our August A-Z 10p Scarcity Index, now sitting at the lower half of the index, the 'B' for Bond 10p could still fetch you around £3.90!
The N for 'NHS' 10p has also increased in value on the secondary market, which comes as no surprise as it also climbed to top spot on our Scarcity Index in May. In recent months, perhaps more than ever, the NHS has played a vital role in keeping us safe and this 10p acts as a reminder of the strength, hope and support of our National Health Service.
How Many A-Z 10ps Are Out There?
In 2019 it was confirmed that there were only 220,000 of each individual design released into circulation in 2018. We know that there were 2.1 million coins issued for 2019 but we're yet to find out the individual mintage figures for each design.
When the official figures are released we could well see some of these coins increasing in value on the secondary market due to their low mintage!
These coins are notoriously tricky to find, but have you been lucky enough to come across any in your change? Let us know in the comments below.
---
Own the 2019 Complete Certified Uncirculated A-Z 10p Set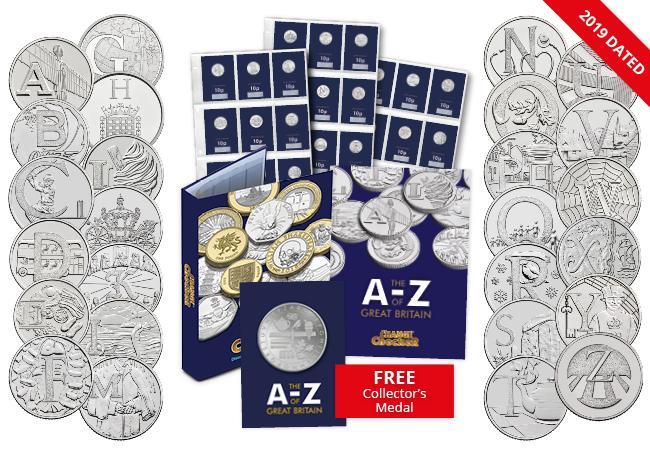 To secure the 2019 Complete Certified Uncirculated A-Z 10p Set, click here
***MINTAGE FIGURE UPDATE***
In 2019 it was revealed that the previous mintage figures of two of the Shakespeare £2 coins weren't correct..
Below are the correct mintage figures for all three of the 2016 Shakespeare £2 coins:
Shakespeare Histories: 5,655,000

Shakespeare Tragedies: 4,615,000
Shakespeare Comedies: 4,355,000
---
It's been confirmed that the Shakespeare £2 coins have been released into circulation, and this is your chance to find one… or all three!
After the exciting news last month that the Peter Rabbit 50ps had been released into circulation in certain parts of England, it seems to be happening again.
Getting your hands on a brand new coin is an achievement, and we're certain these Shakespeare £2 coins will be just as popular as the Beatrix Potter 50p's, so it's best to be quick.
To mark the 400th anniversary of the most influential literary figure in British history, three £2 coins have been released to honour the work of William Shakespeare.
The brand new Shakespeare £2 coins have been amongst the favourites of the coins due for release in 2016 and when the designs were revealed back in November, the Skull design received a lot of attention, not just from collectors.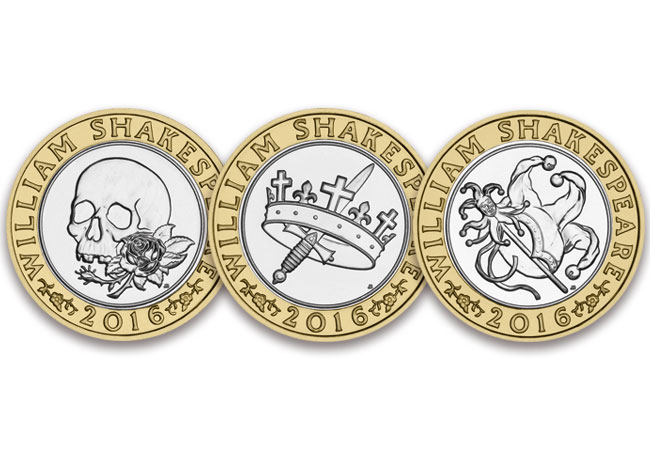 The three different £2 coins honour Shakespeare's tragedies, comedies and historical works and have been released into circulation just in time for the 400th anniversary of his death on the 23nd April 2016.
The coins have gone into the tills at the Royal Shakespeare Company (RSC) Theatre in Stratford-upon-Avon where Hamlet is currently being performed.
Stratford-upon-Avon was where William Shakespeare spent the beginning and end of his life. It is where he was born and bought up, and it also appears it is the place in which he spent the last three years in retirement, with his wife and three children before he died in 1616.
The coins pay tribute to each of Shakespeare's major genres and the reverse designs take inspiration from his most famous plays, including Romeo and Juliet, A Midsummer Night's Dream and Macbeth.
---
If you're interested in coin collecting, our Change Checker web app is completely free to use and allows users to:
– Find and identify the coins in their pocket
– Collect and track the coins they have
– Swap their spare coins with other Change Checkers
Sign up today at: www.changechecker.org/app
One of the most regular questions we get at Change Checker is: "I have a Benjamin Britten 50p – how much is it worth?".
There's no doubt that the Britten 50p was somewhat overlooked when it was first released and it is amongst the slightly more scarce coins in circulation.
If you want a good brilliant uncirculated version of it for your collection, you might expect to pay up to £10 – maybe even a little more.  If you want a normal circulation quality coin – I would hold on.  It will eventually turn up in your change for 50p.
The answer seems reasonable but the enquirer is disappointed.  Very disappointed.
Why?
Well the answer is that they have just seen the exact same coin listed on eBay for over £800.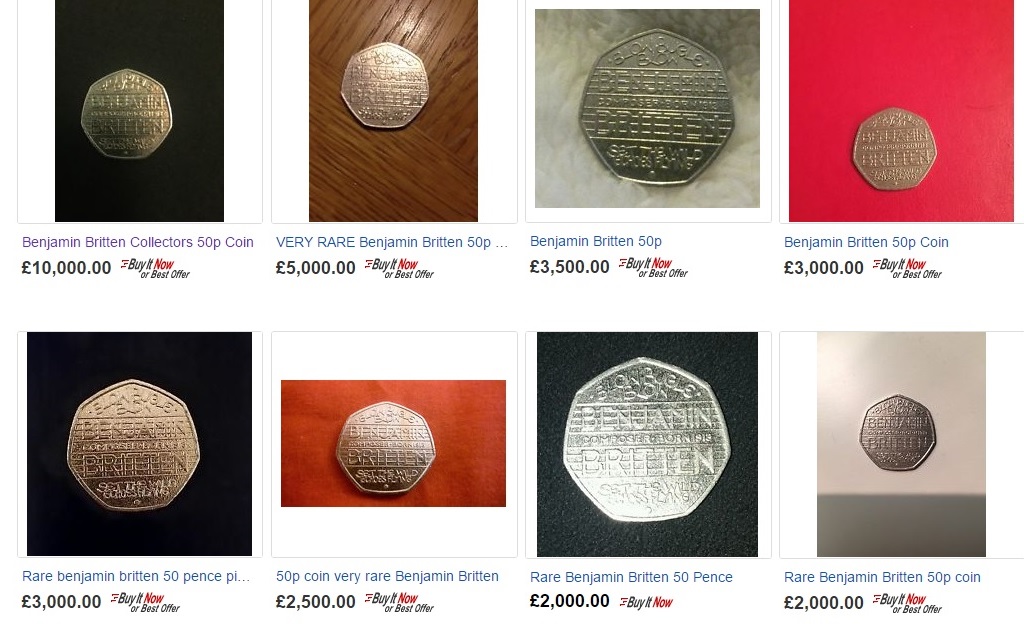 How can this be so?
Sadly, the answer is that eBay is not always a fair indicator of value.  Anyone can list anything.  So if you have a slightly unusual coin – like the Benjamin Britten 50p – list it on eBay for an outrageous price.  Once in a while a naive customer will pay the price – however…
The seller's profit – £799.50.
It's not just Benjamin Britten – there are others… including the 2006 Brunel £2, and the 2014 Trinity House £2.
So "Buyer Beware".  If you want a circulating quality coin, keep your eyes peeled or try swapping with www.changechecker.org.  If you want a mint condition coin be prepared to pay a premium but BUYER BEWARE.
Remember – even the rarest of all circulating 50p coins – 1992/93 EU Presidency – was sold by Change Checker for just £20.
Change Checking is fun.  Make sure it stays that way!
---
Which coins are missing from your collection?