It's been confirmed that the Shakespeare £2 coins have been released into circulation, and this is your chance to find one… or all three!
After the exciting news last month that the Peter Rabbit 50ps had been released into circulation in certain parts of England, it seems to be happening again.
Getting your hands on a brand new coin is an achievement, and we're certain these Shakespeare £2 coins will be just as popular as the Beatrix Potter 50p's, so it's best to be quick.
To mark the 400th anniversary of the most influential literary figure in British history, three £2 coins have been released to honour the work of William Shakespeare.
The brand new Shakespeare £2 coins have been amongst the favourites of the coins due for release in 2016 and when the designs were revealed back in November, the Skull design received a lot of attention, not just from collectors.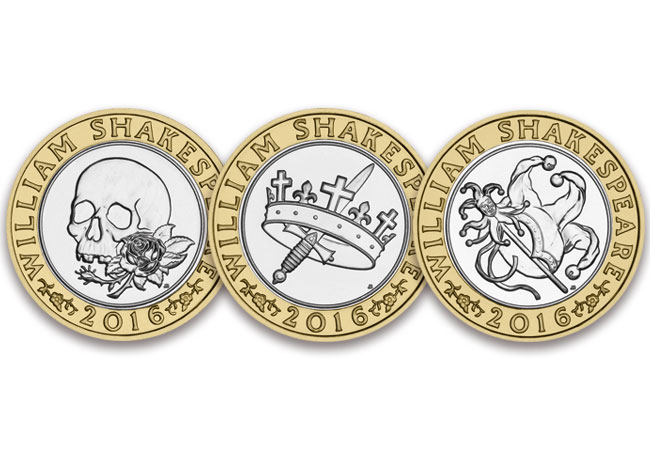 The three different £2 coins honour Shakespeare's tragedies, comedies and historical works and have been released into circulation just in time for the 400th anniversary of his death on the 23nd April 2016.
The coins have gone into the tills at the Royal Shakespeare Company (RSC) Theatre in Stratford-upon-Avon where Hamlet is currently being performed.
Stratford-upon-Avon was where William Shakespeare spent the beginning and end of his life. It is where he was born and bought up, and it also appears it is the place in which he spent the last three years in retirement, with his wife and three children before he died in 1616.
The coins pay tribute to each of Shakespeare's major genres and the reverse designs take inspiration from his most famous plays, including Romeo and Juliet, A Midsummer Night's Dream and Macbeth.
---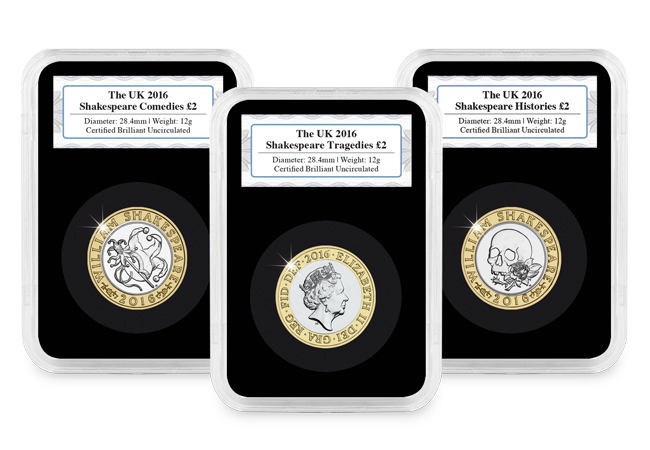 The 2016 Certified BU Shakspeare £2 Three Coin Set
If you can't wait to find these in your change the Brilliant Uncirculated collector versions are available to order here
One of the most regular questions we get at Change Checker is: "I have a Benjamin Britten 50p – how much is it worth?".
There's no doubt that the Britten 50p was somewhat overlooked when it was first released and it is amongst the slightly more scarce coins in circulation.
If you want a good brilliant uncirculated version of it for your collection, you might expect to pay up to £10 – maybe even a little more. If you want a normal circulation quality coin – I would hold on. It will eventually turn up in your change for 50p.
The answer seems reasonable but the enquirer is disappointed. Very disappointed.
Why?
Well the answer is that they have just seen the exact same coin listed on eBay for over £800.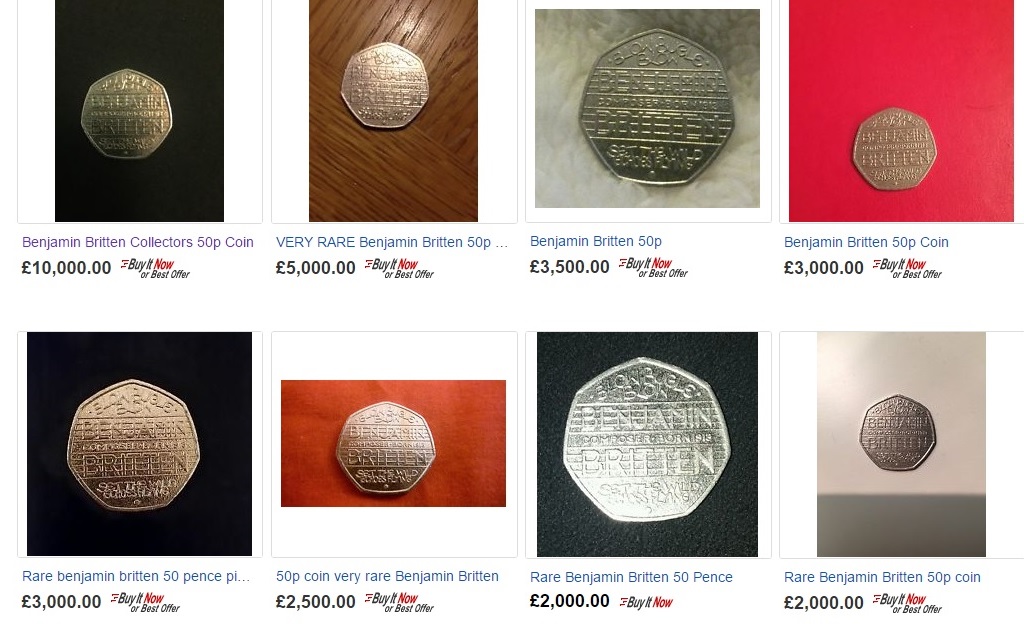 How can this be so?
Sadly, the answer is that eBay is not always a fair indicator of value. Anyone can list anything. So if you have a slightly unusual coin – like the Benjamin Britten 50p – list it on eBay for an outrageous price. Once in a while a naive customer will pay the price – however…
The seller's profit – £799.50.
It's not just Benjamin Britten – there are others… including the 2006 Brunel £2, and the 2014 Trinity House £2.
So "Buyer Beware". If you want a circulating quality coin, keep your eyes peeled or try swapping with www.changechecker.org. If you want a mint condition coin be prepared to pay a premium but BUYER BEWARE.
Remember – even the rarest of all circulating 50p coins – 1992/93 EU Presidency – was sold by Change Checker for just £20.
Change Checking is fun. Make sure it stays that way!
---
Missing any 50ps from your collection?
Coutts – bankers to the Queen – have confirmed coins as the third most lucrative hobby investment over a ten year period.
The Coutts Passion index tracks the rate at which the price of hobby investments has risen, and its increase of 80% between 2005 and 2014 proves that there is money to be made for those who decide to turn their hobby into an investment.
And it's great news for coin collectors, as old coins rank as the 3rd most lucrative hobby. Last year prices for old coins grew at a rate of 9% and over the 10 year period between 2005 and 2014 they have risen a staggering 176%
A spokesman for Stanley Gibbons explained that the enduring popularity of coins is down to their "tangibility and literal link to money, wealth and precious metals". He added: "Unlike other passion assets they are straightforward for storage, servicing and insurance".
Change Checkers will be particularly pleased with the news, given that their hobby is also very affordable.
With coins like the undated 20p and the Kew Gardens 50p which can simply be found in loose change, the return on their investment stands to be even higher in percentage terms!
Classic cars were ranked as the most lucrative investment, and last year a new record was set when a 1962 Ferrari sold for £24m at auction in California. But just in case you don't have millions of pounds lying around, coin collecting is not a bad alternative!
---
The most lucrative 'hobby investments' over 10 years
Classic cars
Old Master and 19th Century art
Old coins
Rare musical instruments
Post-war and contemporary art
Jewellery
Rugs and carpets
Impressionist and modern art
Stamps
Fine wine
Traditional Chinese works
Watches