Posts Tagged 'World War II'
During its lifetime, The Royal Mint has struck coins for over 100 different countries from around the globe.
But do you know the story of how they came to strike Icelandic coinage?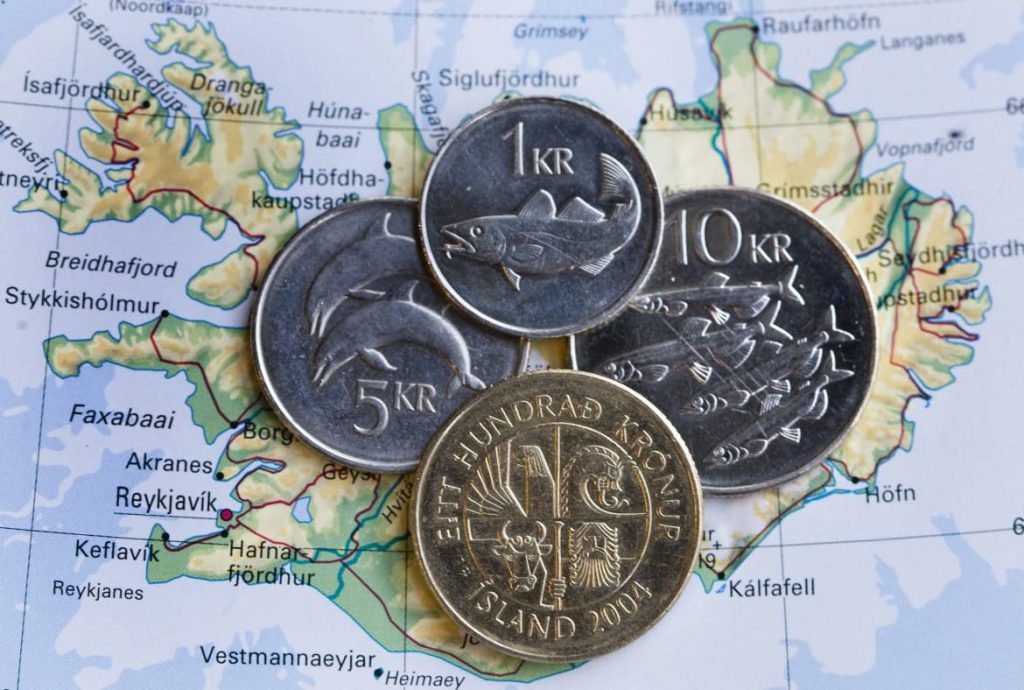 The 'inauguration' of Iceland's coinage
The story of how The Royal Mint came to strike Iceland's coins began in World War Two.
After a night where the windows and roofs of The Royal Mint at Tower Hill had been destroyed by enemy action, the very first British-struck Icelandic coins were born as "a glacial wind whirled round the coining presses to inaugurate this coinage of Iceland" (explained by John Craig, The Deputy Master of The Royal Mint, in his annual report).
Prior to World War II, Iceland was ruled by the Danish crown and Icelandic coins had been struck by The Copenhagen Mint.
But the fall of Denmark into enemy hands during the war meant that Iceland had to look elsewhere for its coinage requirements…
First ever British-struck Icelandic coins
It was in 1940 that The Royal Mint received its first order to strike the five Icelandic denominations from 1 Eyrir (0.01 Krόnur) to 25 Aurar (0.25 Krόnur).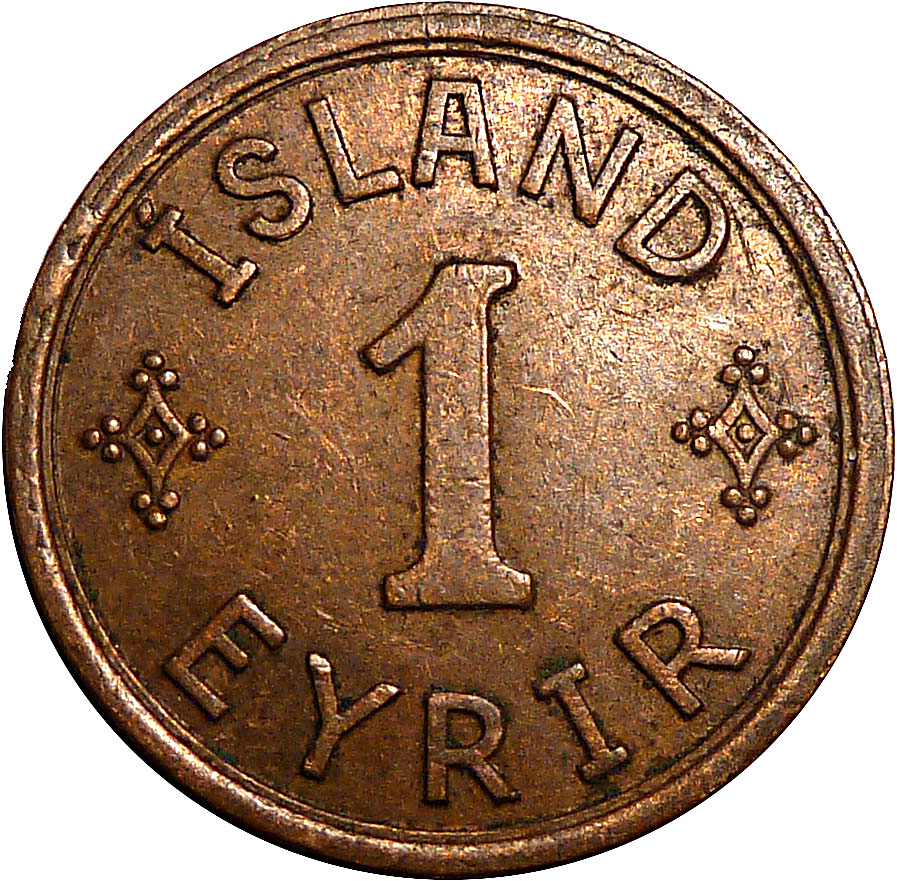 This was soon followed by additional orders for Krόnur and 2 Krόnur coins.
Not only did The Royal Mint experience damages to the building during WWII, but the price of nickel also rose substantially as the metal was in extremely high demand for munitions.
This meant it became necessary to strike the 1942 dated 10 and 25 Icelandic Aurar coins in the 'poor metal' of zinc rather than the now commonly used Cupro-nickel.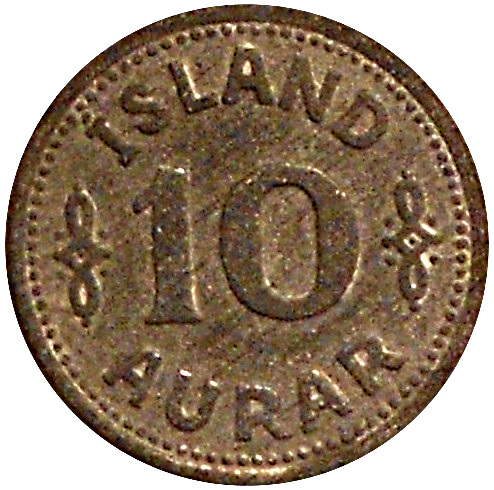 The new coins series
In June 1944 Iceland became a republic. A new series of coins were introduced in 1946, which remained in use for the next 35 years.
A full rendering of the national Coat of Arms appeared on the Krόnur and 2 Krόnur, complete with the bull, eagle, dragon and giant supporters.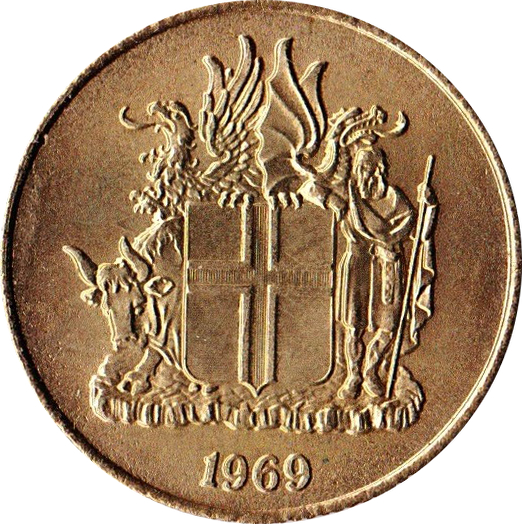 Four new denominations were added in the late 1960s, including the 50 Aurar, 5 Krόnur, 10 Krόnur and 50 Krόnur.
Iceland's first commemorative coins
Iceland's first commemorative coin was struck at The Royal Mint in 1961 – a gold 500 Krόnur marking the 150th anniversary of the birth of the scholar and statements, Jόn Sigurdsson.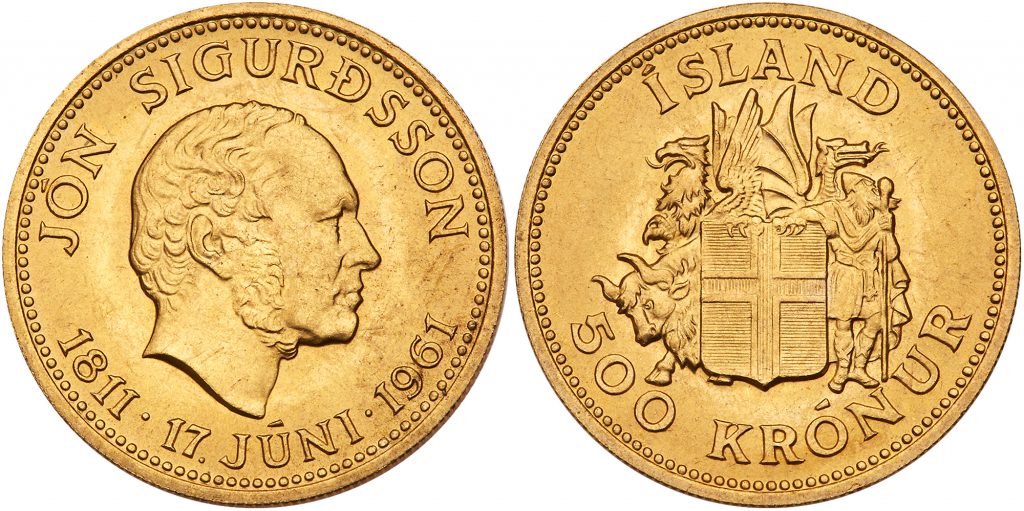 Iceland became a free and sovereign nation in 1918 when the Union Treaty with Denmark came into effect on the 1st December. To commemorate 50 years since this historic moment, a 50 Krόnur coin was issued.
In its first year of issue in 1968, the reverse design of the 50 Krόnur included a representation of the Althing (Parliament) building and carried an inscription marking the 50th anniversary of the achievement of Icelandic national sovereignty.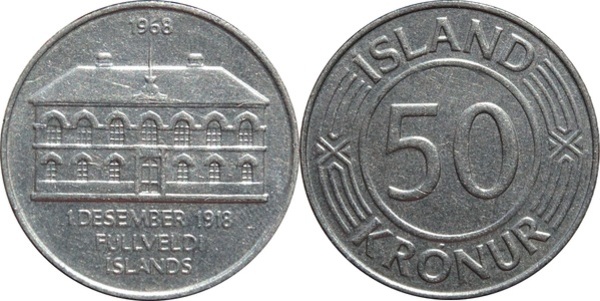 In 1974, The Royal Mint issued a three coin series of gold and silver coins, designed by Throstur Magnusson to commemorate the 1100th anniversary of the settlement of Iceland.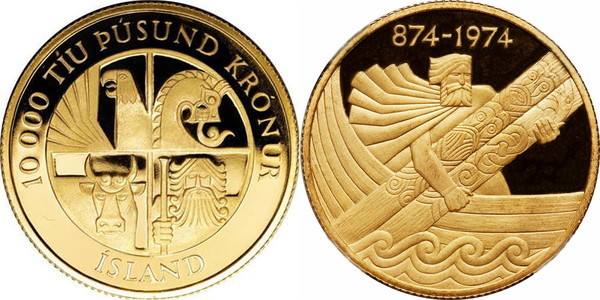 A major reform to Iceland's coinage
The Icelandic financial market suffered hyperinflation in 1981, which was settled by a major reform of the coinage, resulting in a complete redesign and revaluation of the circulating coins.
100 old Krόnur was now worth just 1 new Krόna. As well as 1 and 5 Krόna coins, denominations of 5, 10 and 50 Aurar were also introduced.
The new obverses, in keeping with Magnusson's designs, depicted the traditional protector spirits ("Landvættir") of Iceland.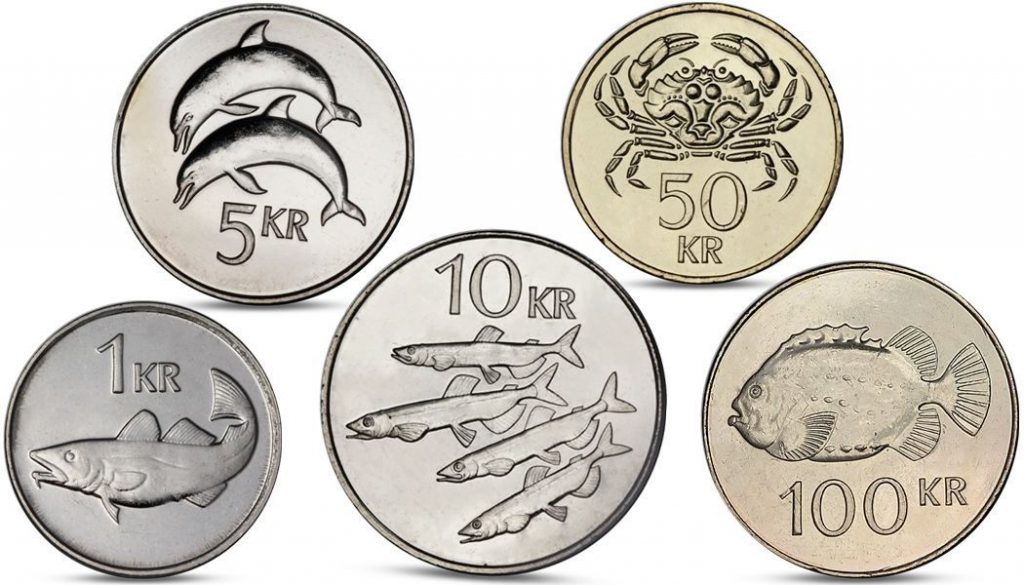 Each reverse portrays a variety of aquatic life, including dolphins, cod and northern shrimp.
As Iceland's economy has been founded on fishing for so long, the pungent smell of fish smelting came to be known as "money smell".
It's great to discover more about different coins from around the world, and I'm sure you'll agree that the stories behind Icelandic coinage are really fascinating.
If you're lucky enough to have come across any Icelandic coins during your trips abroad, let us know in the comments below.
---
If you're interested in coin collecting, our Change Checker web app is completely free to use and allows users to:
– Find and identify the coins in their pocket
– Collect and track the coins they have
– Swap their spare coins with other Change Checkers
Sign up today at: www.changechecker.org/app
We can't wait to bring you the next Change Checker Live Coin Swap and this time we're taking part in something very special…
Join us at Tankfest, the world's biggest and best live display of historic armour, living history and much more on the 28th, 29th and 30th of June at Bovington Tank Museum.
This is going to be one of our most exciting events yet, and in keeping with the military theme, we'll be swapping the brand new 2019 D Day £2 for ANY UK circulation £2 coin you have in your change.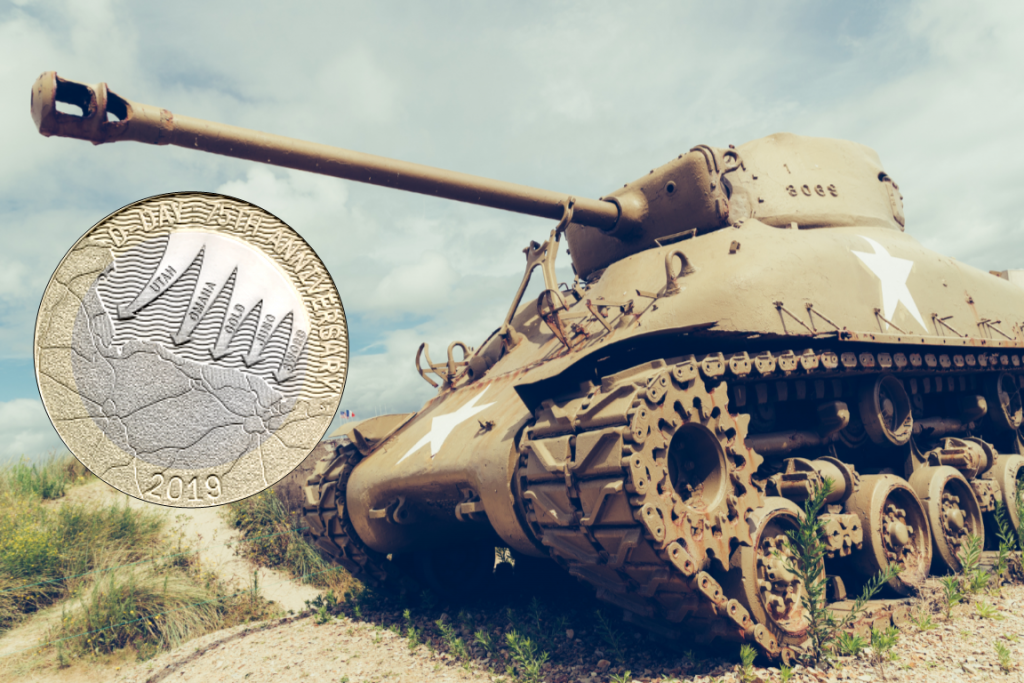 About Tankfest
Tankfest takes place each year at the Bovington Tank Museum, bringing the story of tanks, tank crew and soldiers to life.
The event takes place over three days, with an action packed line up of displays, vehicle rides, living history and more.
Explore the Tank Museum, trade stalls, explosive display arena and living history encampments.
Tickets must be purchased in advance from https://www.tankmuseum.org/whats-on/bovart65569
Live Swap Details
Our next event takes place from Friday 28th to Sunday 30th June at the Tank Museum, Bovington, from 9am to 6pm each day.
Join us there and swap ANY £2 coin for one of the brand new 2019 D Day £2 coins in Brilliant Uncirculated condition!
Please note: Swaps are limited to 1 per person, while stocks last.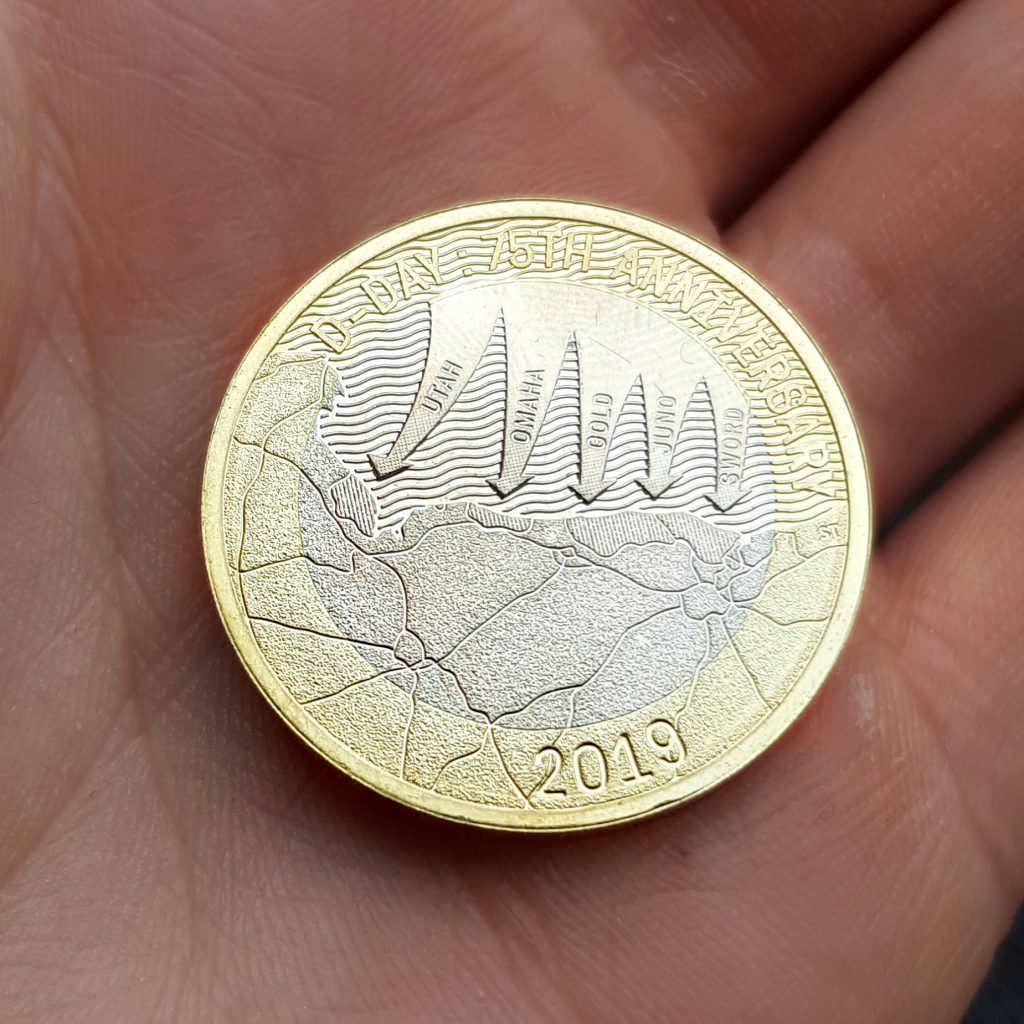 Getting here
There's a number of ways to get to the event:
Road: The Tank Museum, Lindsay Road, Bovington, BH20 6JG
Rail: Nearest station is Wool, Dorset (2.5 miles) – https://www.southwesternrailway.com/
Air: Nearest airport is Bournemouth, Dorset (25 miles) – www.bournemouthairport.com
Sea: Poole, Dorset offers routes from Cherbourg, or Portsmouth from Le Harve, Cherbourg and St Malo – http://www.brittany-ferries.co.uk/
Car parking at Tankfest is free and there is a dedicated taxi/vehicle drop off and pick up point close to the entrance.
We'll be updating you on the exact location of the Change Checker trade stand nearer to the time. Details will also be available here: https://www.facebook.com/events/369694360324649/
FAQ's
Can I swap more than one coin?
Such is the popularity of our Live Coin Swaps and to ensure that it is fair for everybody, we'll be limiting the number of swaps to strictly 1 coin per person.
Will you be doing any more Live Coin Swaps?
That's the plan!
We will be holding more Live Coin Swaps in the future and the plan is to visit a different area of the country each time, giving as many people as possible the opportunity to attend.
We look forward to seeing you there!
---
Secure the D Day £2 for your collection!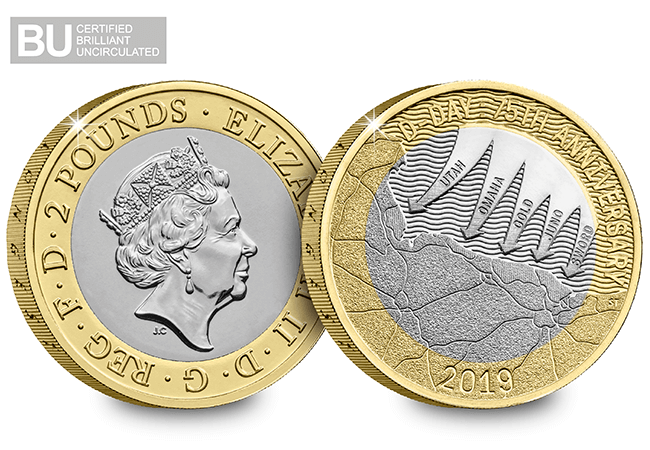 The D Day £2 is now available to purchase individually in Brilliant Uncirculated quality.