The Sir Isaac Newton 50p is one of the most popular 50ps in circulation. Shortly after it was issued in 2017, it ranked as the second rarest 50p in circulation after the Kew Gardens 50p, with a mintage figure of just 1.8 million.
Due to its huge popularity, the following year The Royal Mint announced that collectors would be able to strike their own 2018 dated Sir Isaac Newton 50p at The Royal Mint Experience. The 2018 dated coin became one of the rarest 50ps, as the only way to get one was to strike your own.
What makes this 50p so popular?
The coin's incredibly detailed reverse design by Aaron West is based on elements of Propsition 11, in Book One of Newton's Principia Mathematica. It also pays tribute to the legacy of Sir Isaac Newton, a genius of the Scientific Revolution and one of the most famous figures to ever hold the role of Master of the Mint.
Change Checkers even voted the 2017 Sir Isaac Newton 50p as their all time favourite Queen Elizabeth II circulating 50p in a poll last year.

An interesting error
As if this coin's incredible popularity, intricate design and low mintage figure weren't enough to make it extremely collectible, there's something else you should look out for...
Several collectors have reported finding an error on their 2017 Sir Isaac Newton 50p. The reverse design looks normal, however the obverse appears to have several extra lines across Queen Elizabeth II's portrait.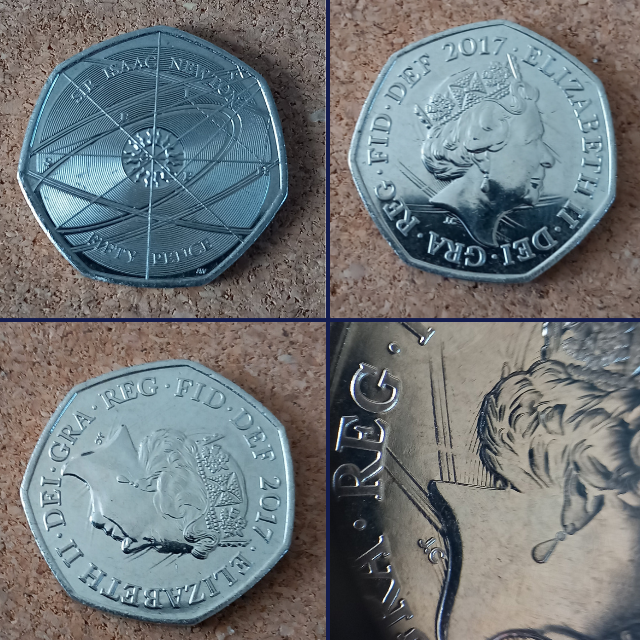 This is thought to be an error caused during the striking process, a result of what is known as a die clash. Interestingly, the extra lines aren't grooves scratched into the surface of the coin, but rather 'whiskers' standing slightly proud of the surface.
How rare is it?
Although we don't know for sure how many of these error coins are in circulation, they're thought to be extremely rare. They've even been listed on the secondary market for more than 100 times face value!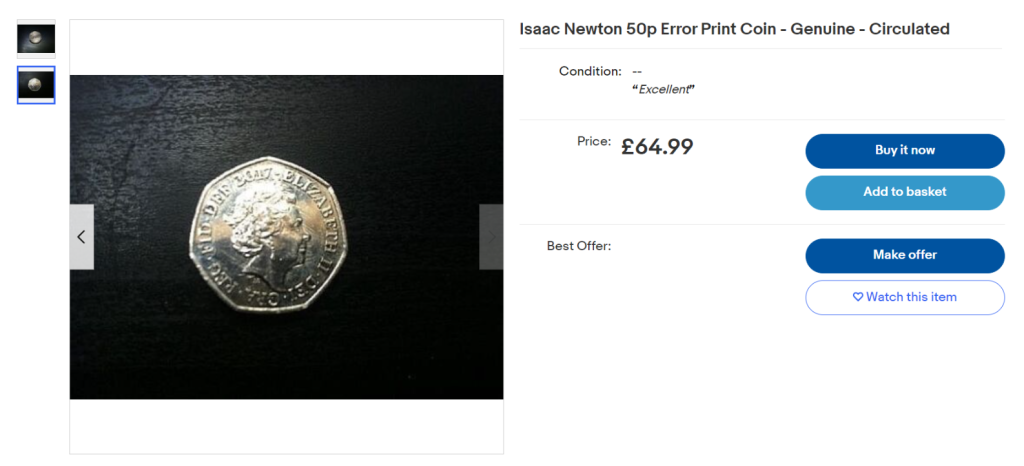 Always make sure you're careful buying coins on the secondary market to avoid being overcharged.
Have you ever found an error coin in your change? Or perhaps you have this one? Let us know in the comments below!
Guarantee all new UK coins for you collection
Join the Change Checker UK CERTIFIED BU Subscription Service and receive the very latest UK coins sent to you door without the hassle of placing orders on the day of release!
Since the passing of Queen Elizabeth II in September 2022, there's been a huge shake up in the numismatic world. Not only have collectors been rushing to secure the very last coins featuring the late Queen, but wanting to be the first to own new coins bearing King Charles III's effigy.
Here are some tips to guide you in building your King Charles III coin collection.
1. Use cash
It may seem obvious, but the best way to increase your chances of finding a King Charles coin in your change is to use cash. And where possible, ask for your change to be given in the denominations you're interested in.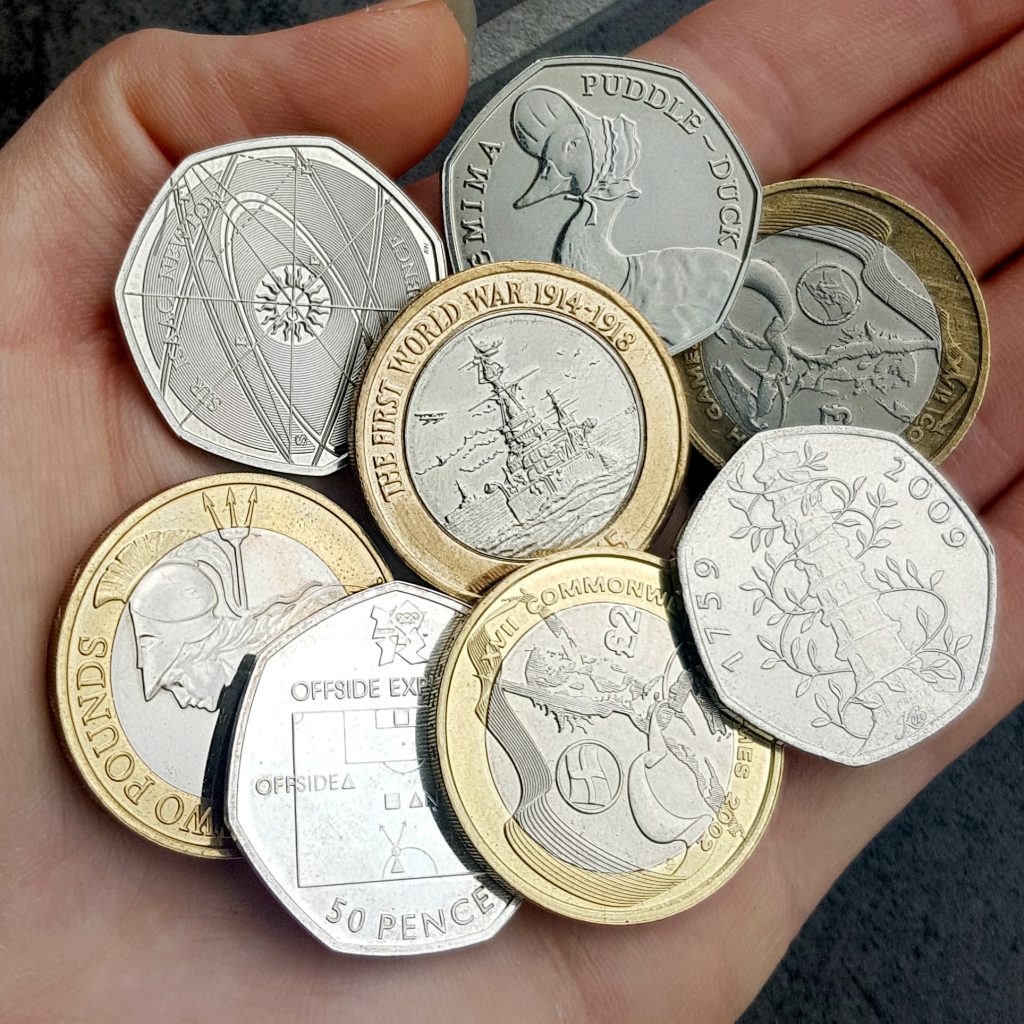 For example, if you're looking for the Queen Elizabeth Memorial 50p, which is the first coin to enter circulation featuring the King on the obverse, ask for your change in 50ps.
2. Look closely
Make sure you're looking closely at the coins in your change to check whether you have a commemorative coin, especially one featuring His Majesty.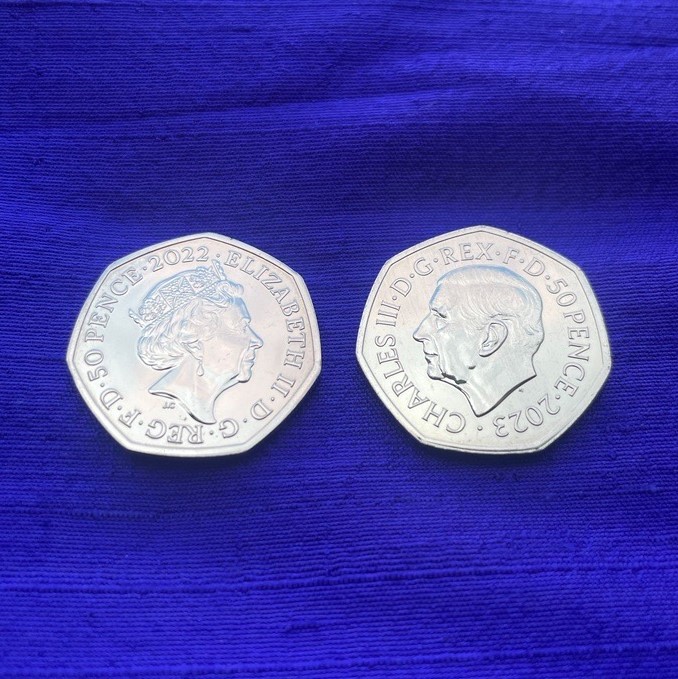 The most obvious difference will be the effigy on the obverse of the coin. But it's also a good idea to familiarize yourself with the reverse designs of commemorative coin so you know what you're looking out for.
3. Do your research
The best way to identify coins you've found in your change is by using our Change Checker Web App.
Simply select the denomination, year and obverse monarch of the coin you've found to view all the possible coins it could be. You'll find information like mintage figures and facts about the theme or designer.
You can also find much more information about your coin on our blog.
4. Check our scarcity index
Something else you'll find on our web app is where each coin ranks on our scarcity index.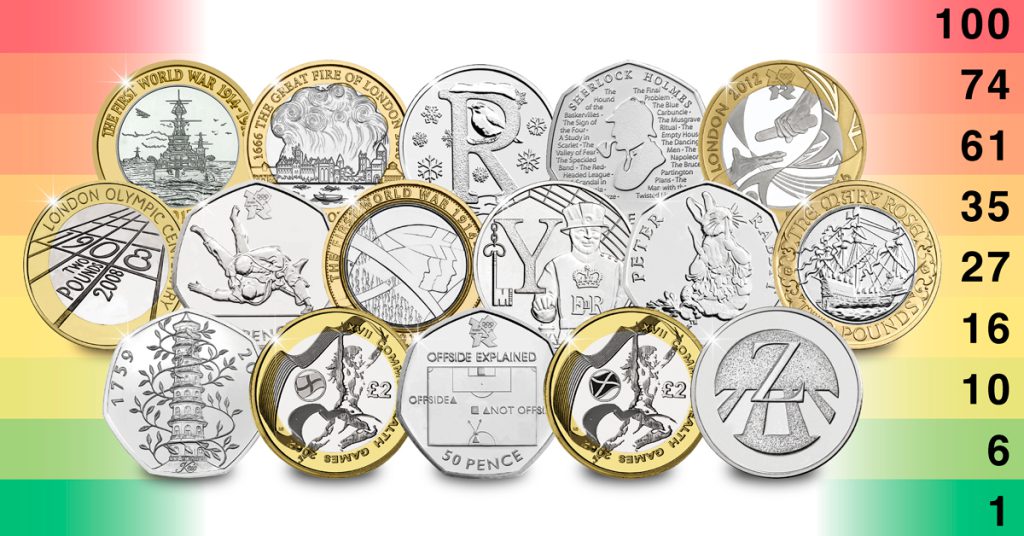 We combine mintage figures with how often a coin has been listed in collections to determine how scarce and sought after each coin is. Our scarcity index is updated quarterly as there can be some pretty big shake ups in the rankings.
5. Swap with others
If you're looking for a specific coin and aren't having any luck finding it in your change, you can use the swap centre on our web app or our Facebook community group to swap coins with other collectors.

Who knows, someone else might just have the coin you're looking for!
Happy Hunting!
So there you have it, 5 tips you can use to start collecting King Charles III coins!
You may already have an impressive collection including some new King Charles coins. If so, post a photo of yours on social media and tag us, we'd love to see them!
Receive new UK coins without the hassle of placing orders on the day of release!
The force is strong with this one…
On May 4th, the FIRST EVER UK Star Wars™ 50p was announced as part of a brand new UK 50p series! Considering the huge popularity of the Star Wars franchise and the fact that these will be the FIRST EVER UK Star Wars™ 50ps, they're sure to be highly sought after.
What we know so far about the UK Star Wars™ 50ps…
According to the latest Royal Proclamation, the series will include 4 brand new UK 50ps celebrating the original Star Wars™ trilogy. The reverse designs will feature depictions of:
R2-D2 and C-3PO
Darth Vader and Emperor Palpatine
Luke Skywalker and Princess Leia
Han Solo and Chewbacca
All of the reverse designs will include the inscription 'STAR WARS' and feature Martin Jennings' UK King Charles III effigy on the obverse.
---
Which design are you most excited for? Let us know >>
---
As soon as more details are revealed about these coins, including the designs and when you can get your hands on them, we'll update Change Checkers!
A worldwide phenomenon
Since the release of Star Wars: Episode IV – A New Hope in 1977, the epic franchise has taken the world by storm. The Star Wars™ films, television series and video games all helped to create an all-encompassing fictional universe, amassing one of the largest fan bases in the world.
It's also one of the highest grossing media franchises of all time.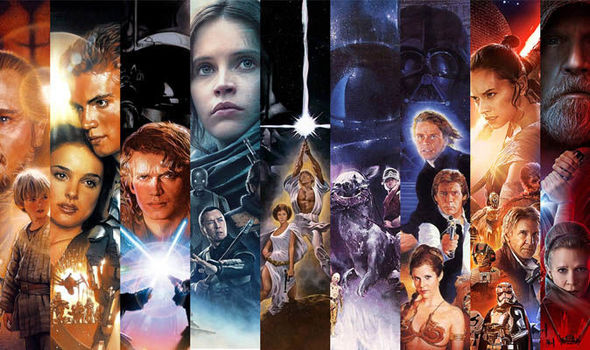 Sign up for priority updates