Exciting news! The Royal Mint have revealed the latest mintage figures for 2019 coins!
Three 50p coins entered circulation in 2019 and collectors across the nation have been debating how rare each one might be.
What's more, we were all eagerly awaiting the reveal of the mintage figures for the 2019 A-Z 10p coins.
But now the official figures have been revealed and it looks like there are some particularly rare ones we should be looking out for…
The Rarest A-Z 10p Coins!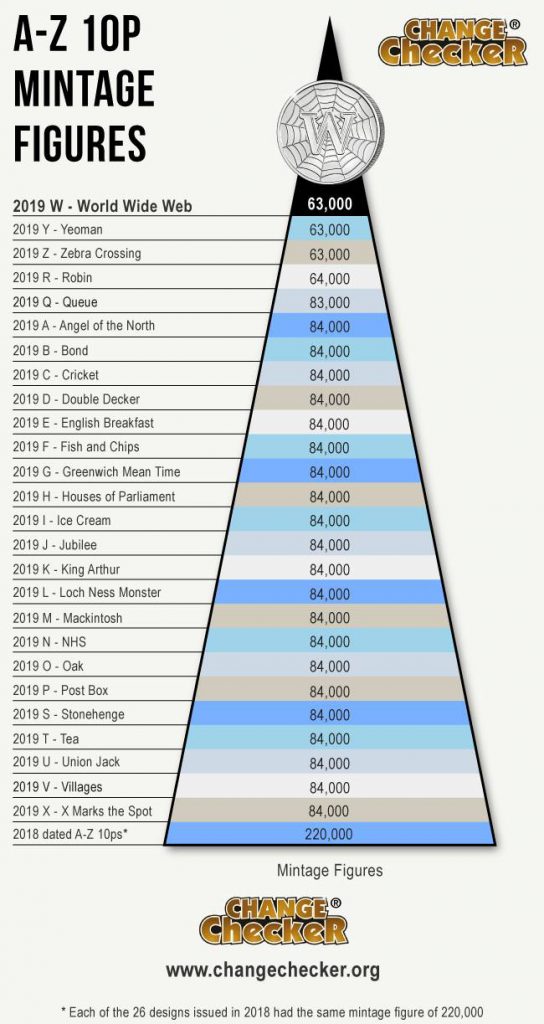 Whilst each of the 2018 dated A-Z 10p coins had the same mintage of 220,000, this year the mintages are varied among the designs!
Collectors who have managed to find the 2019 dated Q, W, Y, Z, and R 10p coins will be delighted to see that these have a lower mintage than the other 21 designs from that year.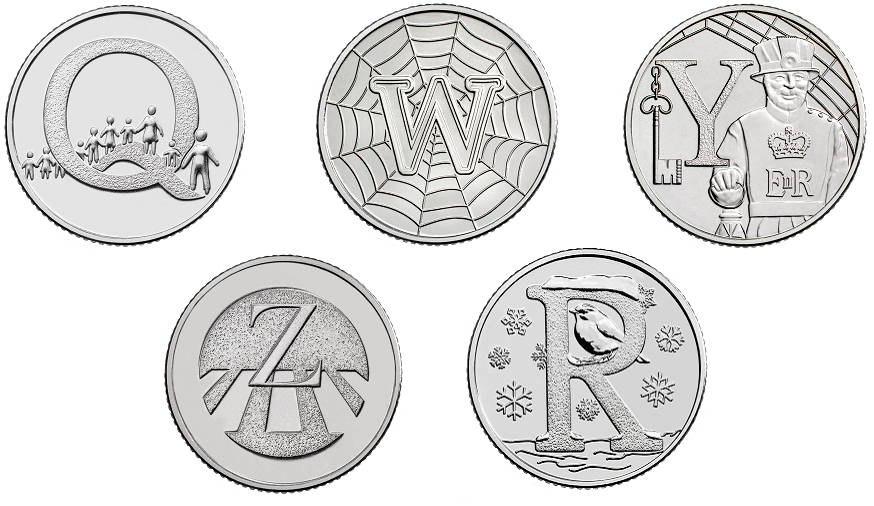 The 2019 World Wide Web, Yeoman Warders and Zebra Crossing 10p coins all have a mintage of JUST 63,000! When you compare that to the rarest 50p in circulation, the Kew Gardens 50p, which has a circulating mintage of 210,000, it puts into perspective just how rare these 10p coins are.
When you combine the 2018 and 2019 mintages for these coins, it confirms that a total of 283,000 of each design has entered circulation.
The other 10p coins to look out for are the Robin and Queuing 10p, with a 2019 mintage of 64,000 and 83,000 respectively.
Are you lucky enough to have these coins in your change? Let us know in the comments below!
50p Mintage Update

Sherlock and Paddington Join the Chart!
The Paddington Bear coins are some of the most popular 50ps in recent years and collectors have been waiting to find out just how rare they are.
It's now been confirmed that 9,001,000 of each 2019 design (Paddington at the Tower and Paddington at St. Paul's Cathedral) were issued into circulation.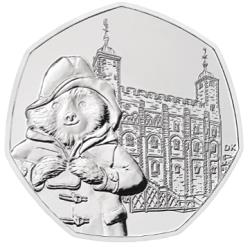 Whilst these coins aren't exactly rare, they are certainly a collector favourite, with children, parents, and 50p collectors alike all wanting to find all four coins from the series in their change. Have you got these coins in your collection? Let us know in the comments below!
The mintage figure for the 2019 Sherlock Holmes 50p has also been confirmed. 8,602,000 of these 50p coins, celebrating the 160th anniversary of the birth of author Sir Arthur Conan Doyle, were struck for circulation.
What about the Olympic 50ps?
In 2012, the release of the Olympic 50p series kick started a collecting frenzy across the nation.
It's estimated that around 75% of these coins have been removed from circulation by collectors which means they are incredibly sought-after, especially considering these 50ps have some of the lowest mintage figures in circulation…
Many of the Olympic 50ps have a mintage less than 2,000,000 with the rarest (the Olympic Football 50p) having a mintage of just 1,125,500.
Taking these rare 50ps into consideration, the 2018 Peter Rabbit and Flopsy Bunny coins would sit in joint sixth position, below the Kew Gardens, Football, Wrestling, Judo and Triathlon 50ps.
£2 Coin Update
As well as updating the 50p mintage figures, The Royal Mint also revealed that no £2 coins were issued into circulation in 2019.
There have been no new £2 coins issued into circulation since 2016, which may in part be due to the introduction of the new 12-sided £1 coin in 2017.
It was recently confirmed that The Royal Mint has no plans to strike any £2 coins for circulation for the next 10 years, so unfortunately, there may not be any mintage updates for this denomination for a while.
No 1p or 2p coins entered circulation in 2018 either, perhaps suggesting it's time we question what the future has in store for our beloved coppers.
---
Have you been lucky enough to find any of these coins in your change? It's always exciting when new mintage figures are revealed and your realise just how rare the change in your pocket really is!
We'll be updating the Change Checker Scarcity Index this month and it will be exciting to see how these new figures impact the index.
---
If you're interested in coin collecting, our Change Checker web app is completely free to use and allows users to:
– Find and identify the coins in their pocket
– Collect and track the coins they have
– Swap their spare coins with other Change Checkers
Sign up today at: www.changechecker.org/app
The A-Z of Great Britain 10p coins have been a firm favourite with collectors since they were first released in 2018, with 26 Quintessentially British designs capturing the public's imagination.
Unsurprisingly, some designs are proving more popular than others, but which ones are likely to fetch the most on the secondary market?
We've done the hard work for you by taking a look at which A-Z 10p coins are selling for the most on eBay and which ones you should be looking out for.

The Ones to Watch…
If you're lucky enough to have the 'A' for Angel of the North 10p in your collection, you might want to keep hold of it as it currently sells for around £4.20 on the secondary market – over 40 times its face value!
Despite dropping down our August A-Z 10p Scarcity Index, now sitting at the lower half of the index, the 'B' for Bond 10p could still fetch you around £3.90!
The N for 'NHS' 10p has also increased in value on the secondary market, which comes as no surprise as it also climbed to top spot on our Scarcity Index in May. In recent months, perhaps more than ever, the NHS has played a vital role in keeping us safe and this 10p acts as a reminder of the strength, hope and support of our National Health Service.
How Many A-Z 10ps Are Out There?
In 2019 it was confirmed that there were only 220,000 of each individual design released into circulation in 2018. We know that there were 2.1 million coins issued for 2019 but we're yet to find out the individual mintage figures for each design.
When the official figures are released we could well see some of these coins increasing in value on the secondary market due to their low mintage!
These coins are notoriously tricky to find, but have you been lucky enough to come across any in your change? Let us know in the comments below.
---
Own the 2019 Complete Certified Uncirculated A-Z 10p Set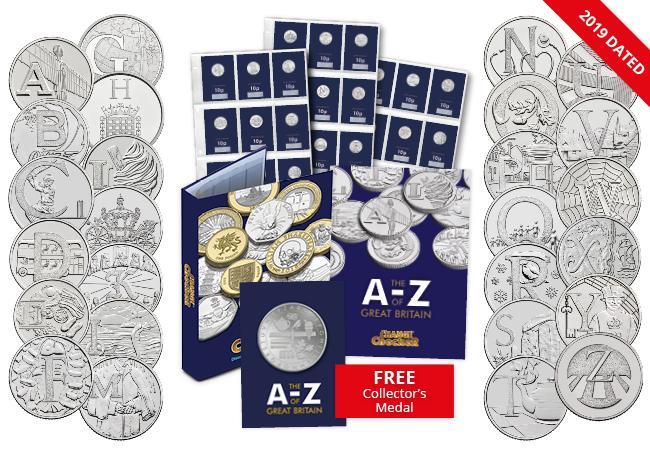 To secure the 2019 Complete Certified Uncirculated A-Z 10p Set, click here
It's time to get creative as we challenge Junior Change Checkers to design their very own A-Z 10p!
In 2018, the surprise release of 26 commemorative 10p coins celebrating the A-Z of Great Britain caused quite the stir in the collecting world and have since kick started a nation wide coin hunt!
These sought-after coins have proved incredibly tricky to hunt down, but have certainly caught the imagination of the British public with their unique designs.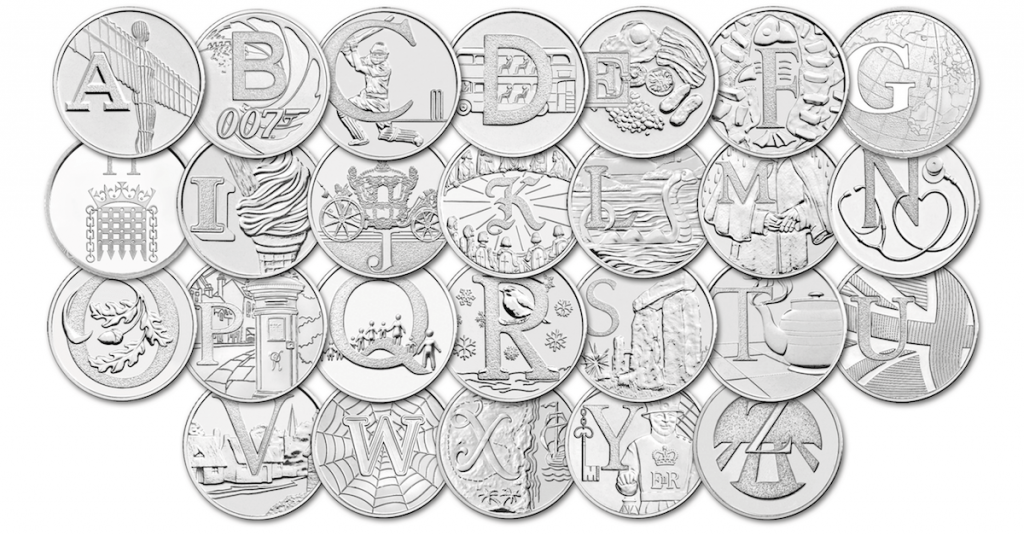 And so now we're calling all our Change Checker Juniors to have a go at designing their very own A-Z 10p.
We'll be turning the TOP 5 designs into virtual 10p coin animations, so stay tuned to see if your design is selected!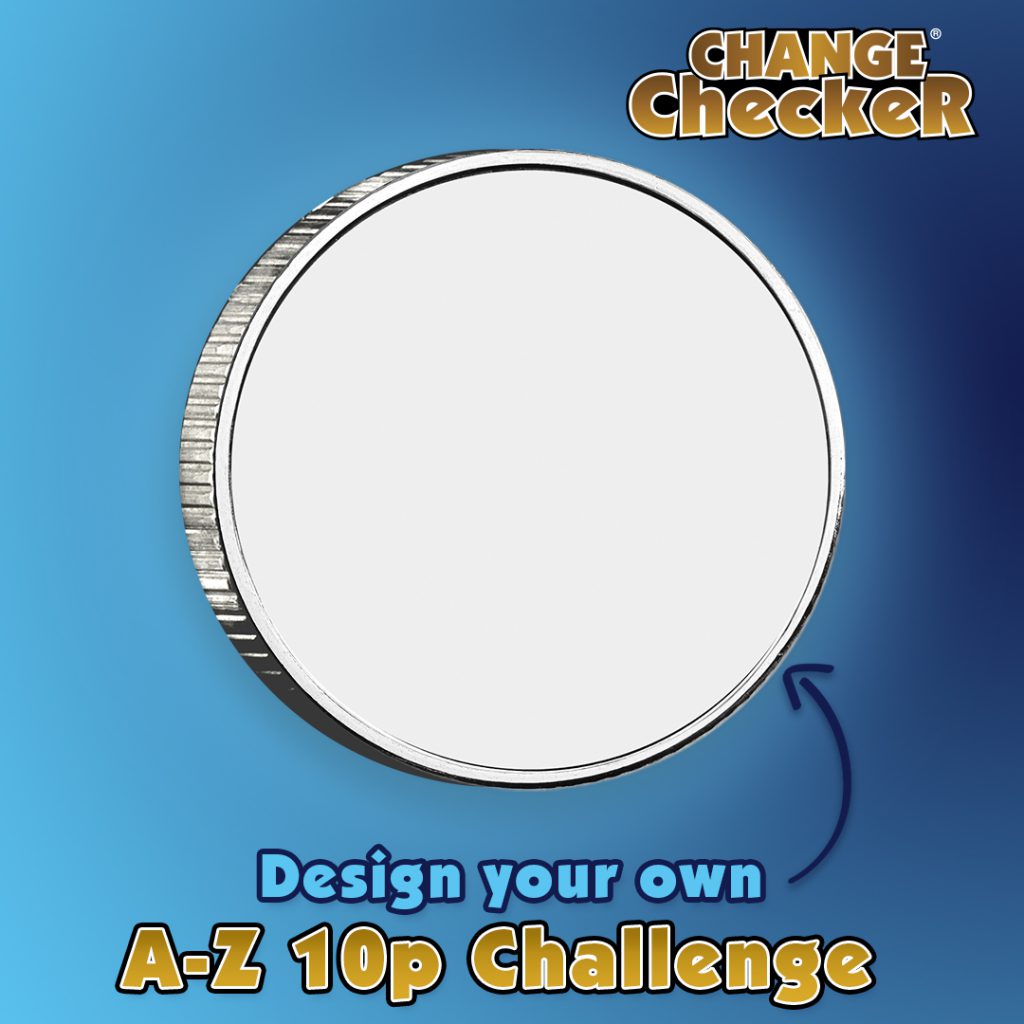 If you'd like to get involved, all you need to do is follow these simple steps:
1. Download this PDF and print it out.
2. Create your A-Z 10p design and fill in the details on the page. You can take inspiration from the UK 10ps listed on our web app!
3. Photograph your design.
4. Post a photo of your design in the comments on this Facebook post [link]
The TOP 5 designs will be brought to life in an animation and featured in a Change Checker video, which will be available to watch on the 13th June.
Entries close at 9am on Tuesday 9th June, so don't delay!
Best of luck and happy designing!
---
If you're interested in coin collecting, our Change Checker web app is completely free to use and allows users to:
– Find and identify the coins in their pocket
– Collect and track the coins they have
– Swap their spare coins with other Change Checkers
Sign up today at: www.changechecker.org/app