Change Checkers have been speculating whether there are two different design variations of the 2015 Navy £2 coin that was released into circulation a couple of months ago.
This coin has already caused a stir in the collecting world as we revealed it was one of the rarest £2 coins with just 650,000 struck for circulation.
The original Navy £2 design (above) shows the coin without any markings on the top right of the mast, but we've seen a few £2's out there that look like they have a flying flag.
As you can see from the two coins pictured above, the coin on the right looks like it has a flying flag on the mast whereas the first coin is free from any markings.
So are there two different designs?
No – The Royal Mint strike up to 5 billion coins a year and from time to time cracks in the die can cause pools of metal to form on the coin.
It just so happens that this bit of metal has caused the markings on these coins to look like a flying flag on the ship fueling speculation that two different variations were struck.
Well done to the eagle-eyed change checkers out there who spotted differences between the coins. It's the little details like these that make collecting so interesting so remember to always check your change carefully.
Have you checked your Navy £2?
Let us know via Facebook, Twitter or leave us a comment below.
The £2 coin that commemorates the Royal Navy's efforts in World War One has just become one of the rarest UK coins in circulation.
The Royal Mint have confirmed that just 650,000 2015 Navy £2 coins have been struck for circulation, kicking the 2002 Commonwealth Games England £2 out of its 3rd place position.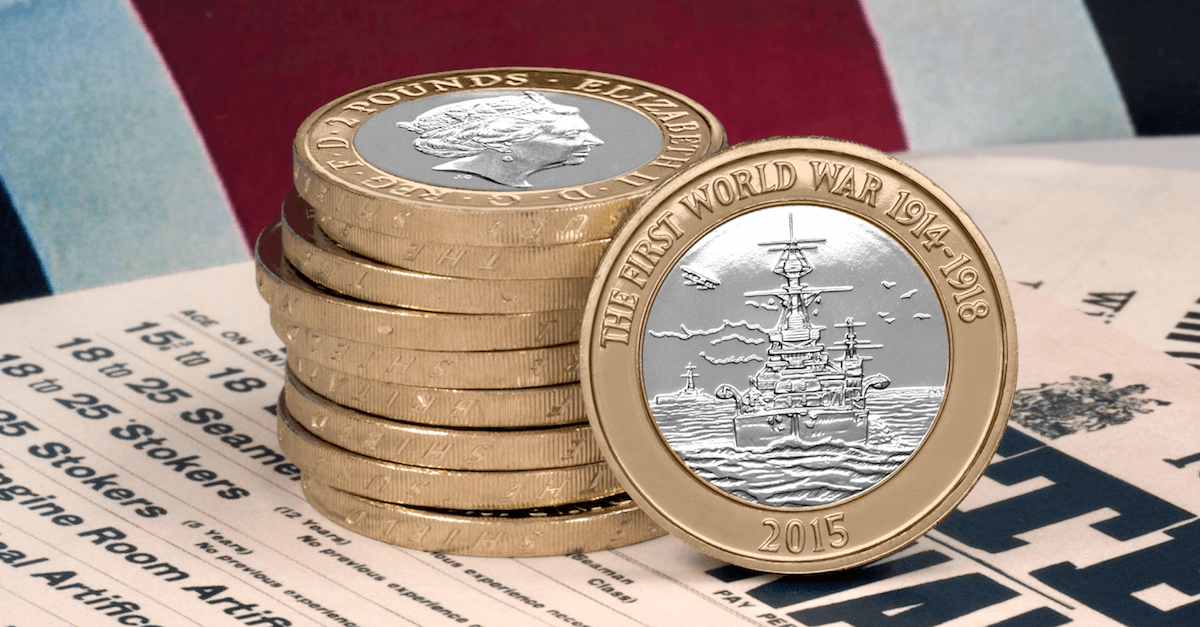 Not only is the Navy £2 coin now the third rarest £2 coin in circulation, it is also the 4th rarest UK coin to date. Click here for the complete Change Checker Guide to UK Coin mintages.
The coin that features a battleship design by military artist David Rowlands and the 5th portrait of Her Majesty Queen Elizabeth II, is sure to become extremely sought after.
When it comes to collecting, there is one fact which is always inevitable – the rarest coins are always in highest demand.
So the next time you're flicking through your coins, remember – all coins are not created equal!  There are some you should count yourself lucky to have, and if you come across the 2015 Navy £2 – it might just be worth hanging on to it!
---
Find, Collect and Swap all of the UK commemorative coins you find in your change for free on the Change Checker app.
Visit www.changechecker.org to give it a go
Back in November 2014, the Royal Mint unveiled the new themes and designs for all 2015 coins intended for circulation.
As you can imagine, this caused a lot of excitement and we couldn't wait to get our hands on them. In a poll, we asked change checkers to vote which design was their favourite with the clear winner being the 2015 Royal Navy £2.
So where are these 2015 commemorative coins?
The Battle of Britain 50p was released into circulation a few months ago, and a few lucky change checkers have managed to get their hands on them. Others, are still looking but we're sure they'll turn up soon.
The other commemorative coin that has proved to be very popular among collectors was the 2015 Royal Coat of Arms £1. It was revealed in December that the final batch of round £1 coins came off the production line at the Royal Mint, meaning that the only 2016 pound coins available to collectors will be Brilliant uncirculated version of the £1 coin.
It is our understanding that the remaining 2015 commemorative coins will finally be released into circulation in March, so you may be able to find them in your change in just a matter days.
So keep checking your change over the coming weeks – you could be one of the first to find these £2 coins!
---
The UK 2016 Certified BU Great Fire of London £2
You can now get ahead with your 2016 collection. Click here to own the brand new 2016 Great Fire of London £2 coin.