There's been some exciting news for 10p coin hunters today, as The Royal Mint has announced that 2.1 million new 2019 dated A-Z of Great Britain 10p coins will be released into circulation from today.
Since the initial surprise release of 2.6 million quintessentially British themed 10p coins back in March 2018, the British public have been head over heels for these wonderful little coins and yet, despite another 2.6 million A-Z 10ps entering circulation last year, they still remain incredibly hard to come across in your everyday change.
In fact, a question I'm asked most days by Change Checkers is 'Where are all the A-Z 10ps?'
We've even held our own Change Checker live events to help collectors kick start their collection, as the coins are proving so hard to find.
Whilst there are 5.2 million A-Z 10p coins in circulation, we can assume that there are 200,000 coins per design, which actually makes each individual coin rarer than the UK's scarcest 50p, the Kew Gardens.
However, we have noticed more Change Checkers adding these coins to their collection, and based on this data we've been able to put together an A-Z 10p Scarcity Index to show you which coins are currently most sought-after.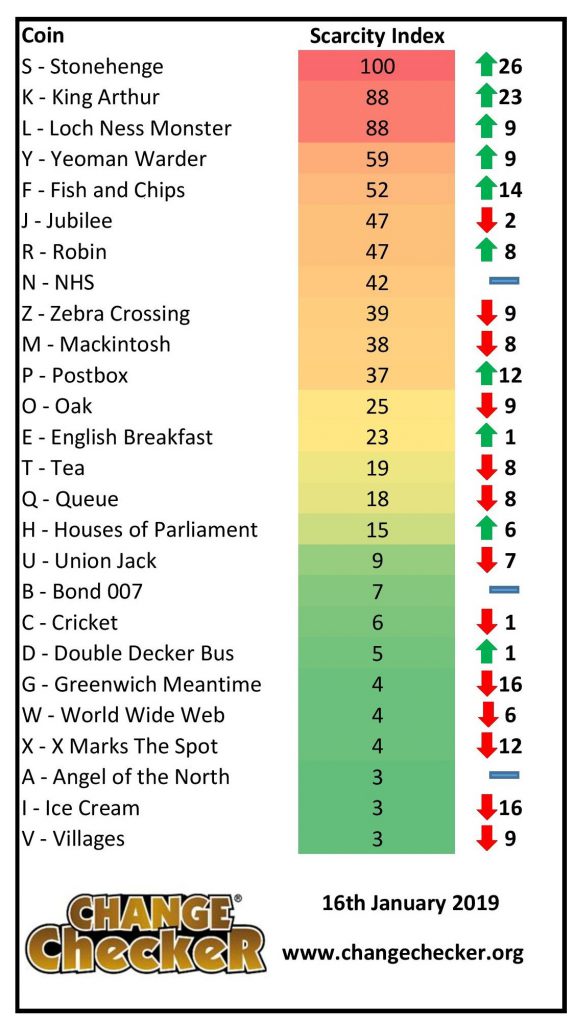 Now that The Royal Mint will be releasing a further 2.1 million coins in to circulation, chances are that more collectors are likely to come across these coins
I for one am certainly incredibly excited about the chance to find these coins in my change and build up the whole collection from A-Z and there will of course be collectors looking to complete a set of both year dates.
Have you found any of the 2018 A-Z 10p coins, and will you be looking out for the new 2019 coins? Let us know in the comments below!
---
Reserve your 2019 A-Z 10p set!
Complete your A-Z 10p set with the 2019 Complete Certified Uncirculated coins.
26 new UK commemorative 10p coins are being released into circulation…TODAY! 
We get excited when 1 new coin is announced, so imagine the scenes at Change Checker HQ when The Royal Mint announced that they would be releasing 26 (yes 26!!) brand new commemorative 10p coins!
The coins will each feature a different letter from A-Z and each letter will celebrate a different Great British icon.
Click here for all the details you need to know
Will we find the A-Z 10p coins in our change?
The circulating coins will be distributed through The Post Office network from the first week of March.  They will be distributing the coins through normal transactions so you'll be able to find these coins in your change throughout the month.  It is unlikely that most Post Offices will be willing to simply swap a 10p coin.
The Royal Mint will also release additional coins in relevant locations across the UK throughout 2018.
How many coins are being made?
Initially, more than 2.6 million circulating 10p coins have been struck across the 26 designs and more coins will continue to be struck throughout the year to meet the demand from The Post Office, banks and cash centres.
How scarce are the A-Z 10p coins?
We expect these coins to be very collectible. Take a look at past history and you'll see that over 75% of the 2012 Olympic 50p coins have now been taken out of circulation.
With more coins to be released, and some letters likely to be more popular than others, it's impossible to determine an accurate scarcity for these coins at the moment.
We will release the first A-Z of Great Britain 10p Scarcity Index early April when we have collected vital information from our web app and Swap Centre.
Scarcity Index updates will continue to be released throughout the year to ensure you have access to the most accurate scarcity ratings for your 10p coins.
Who designed the A-Z 10p coins?
The coin designs were created by a whole team of people, including Royal Mint designers. Each design had to be approved by Her Majesty The Queen.
Can I collect and swap these coins online?
Yes.  You can find, collect and swap your coins online with the free Change Checker web app: www.changechecker.org/10pApp.
---
The Complete CERTIFIED Early Strike A-Z 10p Set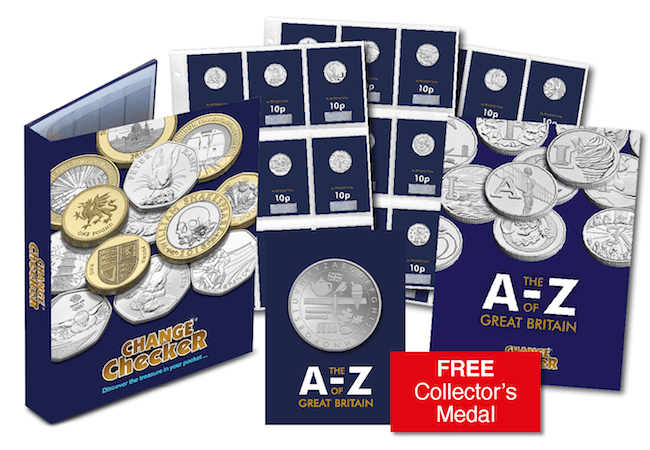 Can't wait to find all 26 in your change? Click here to secure them in Change Checker CERTIFIED EARLY STRIKE quality now >>