Whilst we're busy celebrating the 50th anniversary of the 50p coin here in the UK, celebrations are also taking place half a world away as Australia marks 50 years since the introduction of the 12-sided 50 cent coin this year.
First issued in 1969 as a replacement for the round 50 cent, the new 12-sided design has since become Australia's most distinctive decimal coin.
Australia's first 50 cent
In 1966, as part of the changeover to decimal currency, Australia introduced the round 50 cent, which was made up of 80% silver and 20% copper. This high silver content soon meant that the coin was actually worth more than its face value and so was withdrawn from circulation and replaced with the new 12-sided cupro-nickel design in 1969.
Although the coin was withdrawn from circulation, many millions are thought to have been hoarded by the Australian public and can now be seen listed on eBay for upwards of 10 times the original face value.
Celebrating 50 years since the 12 sided 50 cent
To celebrate the significant anniversary of the introduction of the 12-sided 50 cent, The Royal Australian Mint have released a special commemorative coin set, featuring a Gold-Plated 50 cent coin in celebration of the golden anniversary year.
But the special Gold-Plated coin within this set isn't the only thing which makes it unique…
This set actually showcases the five effigies of Her Majesty the Queen that have featured on Australia's 50 cent coins since 1969.
Arnold Machin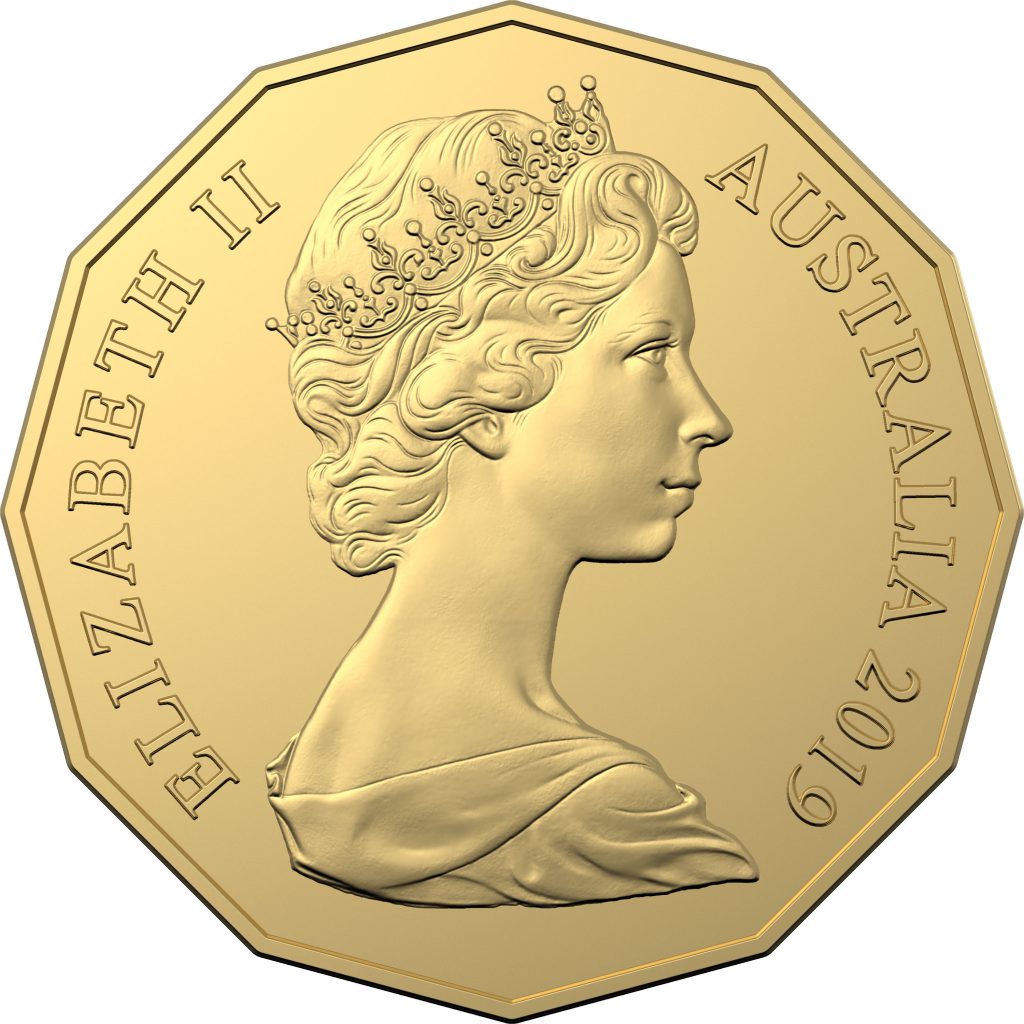 The Gold-Plated 50 cent coin features the very first effigy of Her Majesty the Queen to be used on a 50 cent coin.
Designed by British artist and sculptor Arnold Machin, and approved in 1964, this effigy was first used on the Australian round 1966 50 cent coin, meaning it preceded the first use of this portrait on UK coins in 1968.
This portrait featured on Australia's coinage from 1966 to 1984.
Raphael Maklouf
Raphael Maklouf's portrait of Queen Elizabeth II was chosen from 17 artists invited by the British Royal Mint to replace Arnold Machin's portrait.
Unlike the previous portraits of Her Majesty, Maklouf's design featured the Queen wearing a necklace and earrings. The designer's initials 'RDM' can be seen at the Queen's neck.
This portrait featured on Australia's coinage from 1985 to 1997.
Ian Rank-Broadley
The next portrait of Queen Elizabeth was introduced following a competition to redesign the obverse of the UK's 1997 Golden Wedding Crown. Ian Rank-Broadley's submission was of such a high standard that it led to a redesign of the obverse for all UK circulation coins in 1998.
It was introduced on Australia's coinage, including the 50 cent coin, the following year.
This portrait featured on Australia's coinage from 1999 to 2018.
Vladimir Gottwald
Amongst the designs submitted into the competition to redesign the obverse of the UK's 1997 Golden Wedding Crown was Vladimir Gottwald's portrait of the Queen.
Gottwald's design was approved as a one-off use to commemorate the Royal visit in 2000, making him the first Australian designer to have his portrait on the obverse of an Australian coin since the 1910-1936 effigy of King George V.
This portrait featured on the Australian 50 cent for one year only in 2000.
Jody Clark
Jody Clark's portrait of Her Majesty the Queen has featured on UK coins since 2015, but it wasn't until 2018 that an adapted version of this coin was introduced on Australia's coinage.
Unlike the UK version, this adaptation features Queen Elizabeth's shoulders, as well as the Victorian coronation necklace.
You might recognise this most recent portrait from British Isles coinage, in particular the highly popular Isle of Man TT £2 coins.
Limited edition set
Just 20,000 of this prestigious set have been minted, making it significantly collectable and ideal for numismatists.
It's truly fascinating to take a look at the different coinage from countries across the world and the milestone moments in their numismatic history.
I'm sure you'll agree that this set is a fantastic way for Australia to celebrate this significant anniversary.
---
Own the LIMITED EDITION Gold Plated 50 cent
You can now secure these coins within a bespoke presentation pack, perfect to display and protect these unique coins, which are sure to be snapped up by collectors.
I can't help but get a bit excited at this time of year, and now that my Change Checker Advent calendar is counting down to Christmas, I really can't wait for the big day!
But what's got me even more excited is to see how Santa's little elves have been busily working away this year to release the most wonderfully festive coins in time for Christmas.
From all across the world we've seen renowned Mints issue beautiful Christmas coins that would take pride of place in any collection and I for one would certainly treasure forever (here's hoping there's one for me under the tree this year!).
I've put together a list of some of my favourite 2018 Christmas coins from around the world that I'd like to share with you, starting of course with the UK Nutcracker £5.
2018 UK Nutcracker £5
We all know that £5 coins are the ultimate collector's piece, so I really enjoyed seeing this year's festive £5, the Nutcracker.
The 2018 Christmas £5 coin features a magical design of an enchanting Nutcracker scene, by acclaimed engraver, Harry Brockway. According to legend, 'Nutcracker' represents strength and power and serves as a guardian – the perfect protector to watch over your family this Christmas time.
This is actually only the second time ever that The Royal Mint has released a Christmas £5 coin, and I'm sure that collectors will want to stay on top of this new tradition and make sure they don't miss any of these coins for their collection, starting with last year's Christmas Tree £5.
2018 UK The Snowman 50p
I love The Snowman Christmas story and so it came as no surprise to me to see that this coin was a favourite this year, with both Silver Proof and Gold versions completely SELLING OUT on the first day of issue! 
Issued by The Royal Mint to celebrate the festive season, The Snowman 50p marks the 40th anniversary of the publication of Raymond Briggs' much-loved festive tale and was designed by Natasha Ratcliffe to depict the boy and the snowman flying through the night sky above Brighton Pier.
The Isle of Man has previously issued Christmas 50ps featuring The Snowman and these now sell for £100's on the secondary market, which I'm sure would have added to the collectability of this first ever UK Christmas 50p.
2018 Isle of Man Wren £2
You might be familiar with the Isle of Man Christmas 50p coins, but this Christmas a very special £2 coin has been issued featuring a festive wren design.
Hunt the Wren, as it is known on the island has become one of the most popular yet more unusual Manx traditions in practice today, although it actually dates back to Pagan times! This year, the Boxing Day tradition has been celebrated on a £2 coin and only a limited quantity of these coins will enter circulation on the Isle of Man.
Typically, the mintages for Isle of Man coins are much lower than UK coins, with none of the previous Manx Christmas 50ps exceeding 30,000!
2018 Canada 3D Snowball Fight 50 Cents
We all love a snowball fight! Chances are though that in the UK we won't see quite as much snow (if any) this year as Canada. But don't despair, as this wonderful Canadian 50 Cent coin allows you to bring to life the magic of a snowball fight on an innovative 3D coin! 
The Royal Canadian Mint is renowned for their forward thinking technology, and this Christmas they have used lenticular printing to create artist Tony Bianco's fun-filled design with an illusion of depth, which actually appears to move as the coin is viewed from different angles – so watch out for those snowballs!
It really put a smile on my face when I came upon this coin in my research, and with a mintage of just 20,000 I'm sure Canadian Change Checkers will be eager to add this coin to their collection.
2018 Australia Looney Tunes Christmas Star Shaped $1
When it comes to dressing the Christmas tree this year, I'm sure Australian Change Checkers will be thrilled with this exquisite star shaped 99.99% Pure Silver $1 coin, which comes with protective casing that can be hung as a decoration.
The Perth Mint has produced some fantastic star shaped Christmas coins over the past few years and this year's coin is no exception. One of the best known animated characters of all time, Buggs Bunny and his girlfriend Lola are celebrated in colour printing for this vibrant and festive Looney Tunes design.
This coin is actually legal tender in Tuvalu (a small island off Australia), but I certainly wouldn't be spending it if I found one in my stocking!
2018 New Zealand Disney Silver $1
2018 must be the year for animated characters, as the new $1 from New Zealand features the iconic Mickey Mouse and his friends for this Disney Christmas themed 999 Fine Silver coin.
This is the fifth annual release from the New Zealand Mint and has been so incredibly popular this year that it has in fact sold out completely! Although with such an appealing theme and a very low mintage of just 10,000 this comes as no surprise to me.
Like the Australian Christmas coin, this $1 also comes in a special presentation case to be hung as a decoration – just imagine creating your very own tree filled with international Christmas coins!
I'm sure you'll agree that wherever you are in the world, there's something extra special about a Christmas coin which brings everyone together at this time of year. Whether or not you're a dedicated collector, or simply enjoy Christmas collectables, these coins are impossible to resist!
---
Secure the perfect numismatic gift this Christmas! 
With Christmas just around the corner, check out our charming selection of festive commemoratives that could make the perfect gift for friends or family, or as a special Christmas treat for yourself… we won't tell if you don't.
HRH Prince Harry launched the very first Invictus Games at Queen Elizabeth Olympic Park, London in 2014, showcasing the incredible power of sport to inspire recovery and rehabilitation, and increase respect for those who have served their country.
The Games have installed a real sense of belonging for all, and as the international adaptive multi-sport event makes its way 'down under' to Sydney, Australia,  something extra special will be happening this year for the Invictus Games to mark the fourth year running.
Because to commemorate this special event, The Royal Australian Mint have released a limited quantity of commemorative $2 AUD coins into circulation in Australia.
This $2 coin features a competitor in a wheelchair, with the words "Invictus Games" on the reverse. Taken from the Latin word for 'unconquered', 'Invictus' captures the spirit of the games and the competitors who won't be defined by their injuries or disabilities.
2.3 million of these coins have been released over the past few months, meaning that they should be in the pockets of Australian change collectors by the time the games take place in October.
Invictus Games Sydney 2018 Chief Executive Officer Patrick Kidd OBE says:
"These coins are a fitting tribute to the men and women who serve and have served in our Defence forces and their families. The picture on the coin celebrates the unconquered spirit that this community displays each and every day and that you will all witness when these Games come to Sydney in October."
Over 500 competitors from 18 nations will compete in 11 different sports during the Games, including:
Archery
Athletics
Indoor Rowing
Jaguar Land Rover Driving Challenge
Powerlifting
Road Cycling
Sailing
Sitting Volleyball
Swimming
Wheelchair Basketball
Wheelchair Rugby
Will any of you change checkers be heading 'down under' to watch the Games this October? Or if you have any Aussie friends, make sure they keep an eye out for the coin in their change!
---
Secure your Invictus Games $2!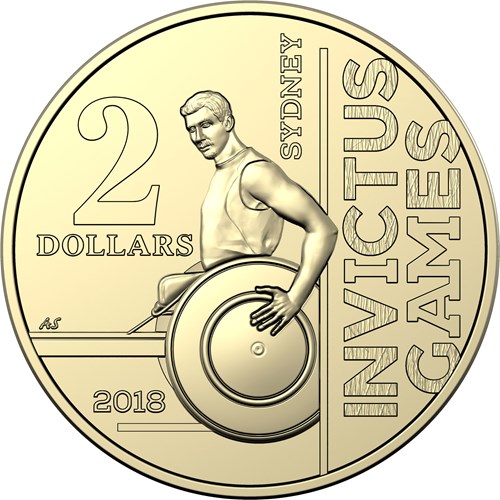 We've managed to get hold of 125 coins for UK collectors so you can now own this fantastic $2 coin from Australia, representing triumph over adversity.