The withdrawal date for the current paper £10 note is in less than one week's time on Thursday 1st March.
The paper 'Series E' note has been in circulation, in some form, for the past 26 years. So, I thought it would be interesting to take a look back at the history of the £10 note and our journey begins 259 years ago in 1759…

In a recent poll conducted on our Facebook page, 40% of you said that you still have paper £10 notes. Although you can still exchange them at the Bank of England after the cut-off date, I would suggest exchanging them before the withdrawal date.
Some retailers, banks and building societies may still accept these notes; however this is at their discretion. To save yourself any potential hassle, once you've added one to your collection, go and spend or swap your notes at the bank.
---
The Change Checker Banknote Collecting Pack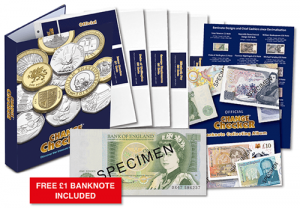 The brand new Official Change Checker Banknote Collecting Pack is the perfect way for any change checker to start collecting banknotes or display an already growing collection.
To help get you started, this pack includes an original £1 banknote, issued more than 35 years ago, in mint uncirculated condition… absolutely FREE.
Don't miss out on this brand new Banknote collecting pack, start your collection today >>
The Bank of England officially revealed the new £10 polymer banknote in a ceremony at Winchester Cathedral – the burial place of Jane Austen, on the 200th anniversary of her death.
What does it look like?
The new £10 note features a portrait image of Jane Austen (commissioned by her nephew James Edward Austen Leigh in 1870), alongside the famous quotation from her novel Pride and Prejudice: 'I declare after all there is no enjoyment like reading!"
Jane Austen's writing table – the central design in the background is inspired by the 12 sided writing table, and writing quills, used by Jane Austen at Chawton Cottage.​ An illustration of Miss Elizabeth Bennet undertaking "The examination of all the letters which Jane had written to her" from a drawing by Isobel Bishop (1902-1988) is also featured.
There is also an image of Godmersham Park, the home of Edward Austen Knight (Jane Austen's brother). It is believed that she visited the house often and it was the inspiration for a number of Jane Austen's novels.
When can I find one in my change?
The new note entered circulation on 14th September this year and around 55% of £10 banknotes in circulation are made from polymer.
Will I still be able to spend my current £10 notes?
Yes you will, but only up until 1 March 2018. As with the old paper £5 notes, the £10 note will eventually cease to be legal tender – but you will still be able to exchange them at the Bank of England.
What will happen to the paper £10 notes once they're no longer legal tender?
There are approximately 359,000,000 paper ten pound notes in circulation, but the Bank of England does have a plan for them.
Once the Bank of England start to withdraw the paper £10 notes from circulation, they will be recycled.
In the early 2000s, the Bank of England introduced a new way to get rid of its old notes – by recycling them with a composting treatment similar to that used with food waste.
This recycling method was put into place for all paper-note waste in 2011, using them as a soil improver for agriculture.
What should I look out for on the new polymer £10 banknotes?
When the new polymer £5 note was released in September 2016, serial numbers became the talk of a nation. The first prefixes I considered were JA01, JA75 (Jane Austen's birth year) and JA17 (the year of Jane Austen's death). However, whilst these will likely become popular with collectors in the future, it could be many years before notes with these serial numbers enter circulation due to the huge amount of possible combinations that would come before 'JA'. Click here to find out what else you should be looking for on these banknotes >>
So the new era of Plastic Banknotes is officially upon us! What do you make of the new Polymer banknotes?
---
Mark the 200th anniversary of Jane Austen's death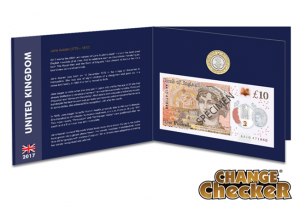 To celebrate such an inspirational female figure, the Royal Mint and the Bank of England have chosen to honour her on a brand new £2 coin and £10 banknote.
Click here to own the 2017 Jane Austen £2 Coin and £10 Banknote Pack today >>
Last year it came to light that the new plastic fivers are actually made using tallow, a substance produced from animal fat.
The news sparked an online petition calling for the Bank of England to stop using tallow in the production of the notes, which has since attracted more than 130,000 signatures. You can read more about this in our previous blog.
However, yesterday the Bank of England confirmed "that it would be appropriate to keep the £5 polymer note in circulation and to issue the £10 polymer note as planned, in September."
The Bank said it undertook a careful review of options, including destroying current notes in circulation, reprinting the notes without the tallow additive and delaying the planned introduction of polymer £10 notes but concluded that taking action would be too costly and could put the efficiency of the counterfeit measures at risk.
So do you think the Bank of England's decision to stick with the plastic notes despite the animal fat concerns is a good or bad idea?
Let us know in our poll: