First Trust Bank, one of four main banks in Northern Ireland, will become the first Northern Ireland-based bank to end the practice of printing its own-denomination banknotes. The bank revealed it will scrap its own banknotes next year and switch to dispensing Bank of England notes from its ATM network.
Although the UK has a vast variety of different notes in circulation, The Bank of England is the only bank to issue notes for England and Wales, while there are seven different banks in Scotland and Northern Ireland that currently produce their own notes.
The decision is thought to be an economic issue and means that all existing First Trust banknotes will not be able to be used for payments from midnight on 30th June 2022. They can however be exchanged for Bank of England banknotes, or other sterling banknotes of equivalent value at Post Offices up until 30th June 2024.
Why do Scotland and Northern Ireland issue their own banknotes?
The UK has a vast variety of different notes in circulation and although those of us living in England and Wales don't see many, there are three different banks in Scotland and four in Northern Ireland that currently produce their own notes.
In fact the tradition of printing banknotes was considered the norm centuries ago as most of the UK's banks produced their own banknotes. However over time they weren't all doing it responsibly and were not able to back the notes up with actual assets. The law changed in the 1840's in England and Wales so all production of banknotes was moved to The Bank of England bar Scotland who argued for an exception as they were not having the same issues. The Bank Notes Act of 1928 allowed banks in Northern Ireland to produce their own notes.
For people living in Scotland and Northern Ireland, the banknotes are part of the furniture and a part of their cultural identity that usually feature local landmarks and historical figures. These issuing banks have also considered the notes as part of their marketing as customers are seeing the name of their banks in their hands as they spend cash.
Can you spend Scottish and Northern Irish banknotes in England?
Yes. The notes are legal currency and backed with physical assets with the Bank of England so can technically be accepted anywhere in the UK. However, the problems come as shops are not always overly familiar with all the different types of notes and may not be sure on how to check them for counterfeiting so don't like to accept them.
Is this the beginning of the end for Northern Irish and Scottish banknotes?
The decision is scrap the printing of banknotes at First Trust Bank is thought to be an economic issue and comes as other Northern Ireland banks prepare for the change over to modern Polymer notes in the very near future. The update is needed in order to produce counterfeit resilient notes to protect against forgery and ensure the security of circulating notes. But this costly change could be too much for First Trust handle.
There are also a lot fewer of these notes changing hands and with the increasing use of digital payment methods and mobile technology, it could be the reasoning behind the decision to scrap the notes.
The other three Northern Irish banks are currently in various stages of issuing their own polymer £5, £10 and £20 notes and it is clear that Scotland are completely committed to keeping their own notes as Clydesdale Bank was the first bank in the UK to issue a Polymer note back in 2015.
Buying and selling coins on the secondary market can be a bit of a minefield and excessive coin prices on eBay can leave collectors confused as to how much these sought-after coins are really selling for.
So we've simplified the process for you by sharing our UPDATED Change Checker eBay Tracker and Valuation Index for the Top 9 coins and banknotes …
Valuation Index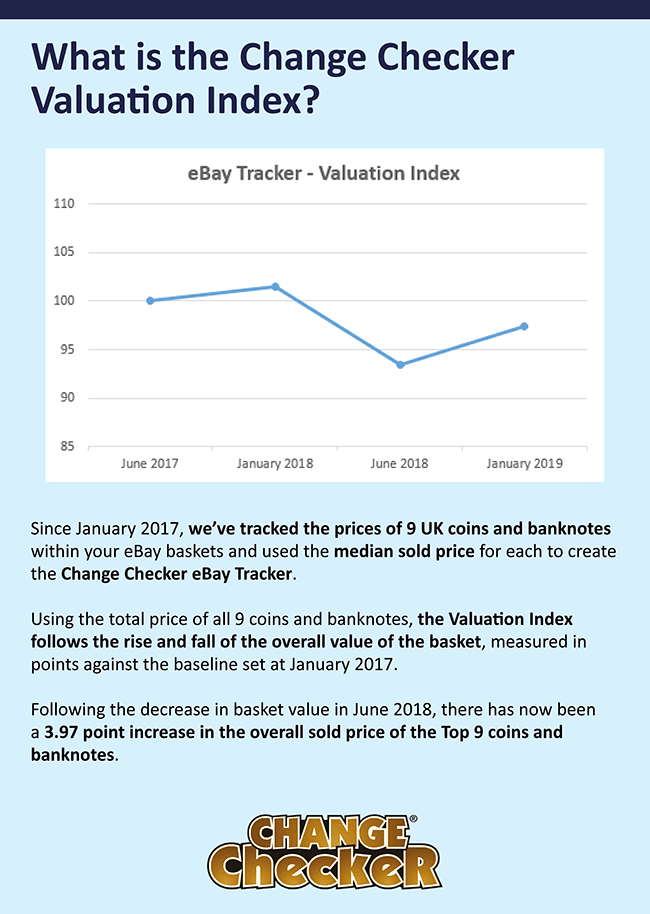 Find out which coins and notes have been the key movers and shakers in the updated eBay Tracker below.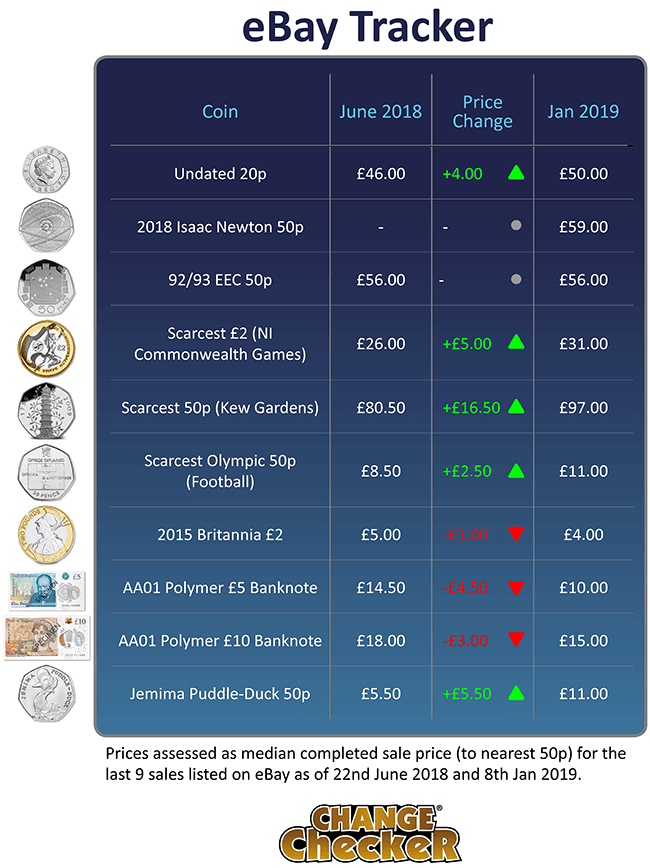 There has been an overall increase in the price of our Top 9 most sought-after coins and notes, with the most notable increase going to the Jemima Puddle Duck 50p, which has jumped from an average sold price of £5.50 in June to £11.00 in January!
After dropping 19% last year, the Olympic Football 50p has now rocketed up by 29% and is also currently selling at £11.00. The Commonwealth Games Northern Ireland £2 and the Undated 20p have also seen improvement since June, with the £2 increasing by 20% to a phenomenal £31.00 and the 20p now selling for £50.00 on average.
Of course the highest selling coin of our Top 9 is the highly sought-after Kew Gardens 50p. This coin remains king, selling for an incredible £97.00, which is a 20% increase on June's figures. There has been a lot of excitement regarding the 2019 re-issued Kew Gardens 50p coin which has led to increased press coverage of this coin, which could be a factor in the higher prices people are willing to pay to get hold of one for their collection.
You'll notice with this update that the Inverted Effigy £2 has been removed and this is due to the fact that the rarity of this coin means very few are available and the prices are volatile. This combined with the fact that we have not been able to find 9 of these coins sold in a qualifying period means that it has been removed and replaced with the 2018 Sir Isaac Newton 50p.
Could this newcomer be the rarest coin on the eBay Tracker?
This newcomer to the eBay Tracker was only available at The Royal Mint Experience as a Strike Your Own Sir Isaac Newton 50p coin and the mintage figures are unknown, but due to the short time frame and visitor numbers, there could well be substantially less than 210,000 of these coins struck, meaning the 2018 Sir Isaac Newton 50p coin could very possibly have a lower mintage figure than even the Kew Gardens 50p! And this is certainly reflected in the price people are willing to pay for the coin, with an average sold price of £59.00.
Whilst the average sold price for the 92/93 EEC 50p remains unchanged at £56.00, the 2015 Britannia is the only coin in our Top 10 to have decreased in value since June, with a decrease of 20% meaning the average sold price is now £4.00.
Both banknotes in our Top 10 have also taken a hit, with the AA01 Polymer £5 slipping from £14.50 to £10.00 and the AA01 Polymer £10.00 from £18.00 to £15.00. However we must remember that this is still double the face value of the £5 note and 1.5X face value for the £10, which certainly isn't a bad profit to be made!
So now that you're up to date with our latest eBay Tracker, will you be selling any of the coins in your collection or will you continue to save them? Let us know in the comments below.
How does the eBay Tracker work?
The Change Checker eBay Tracker takes the last 9 sold prices achieved on eBay and gives the median price achieved (rounded to the nearest 50p). By taking the median, rather than an average, we avoid skewing created by one or two excessive prices achieved.
Please note that the Change Checker eBay Tracker is only ever designed to be a guide as to prices achieved on eBay. Prices may vary depending on collector demand and the quality of the coin being sold. It does not provide any guarantee as to future values of coins.
---
If you're interested in coin collecting, our Change Checker web app is completely free to use and allows users to:
– Find and identify the coins in their pocket
– Collect and track the coins they have
– Swap their spare coins with other Change Checkers

Sign up today at: www.changechecker.org/app
In their search to find a suitable candidate to feature on Britain's new polymer £50 note, the Bank of England has received over 175,000 nominations, including the late Baroness and former Prime Minister, Margaret Thatcher.
Some 800 of the names put forward are actually eligible to become the new face of the £50 note, with the Bank of England requiring the notable person to be real, deceased and have contributed in some way to UK science.
So does Margaret Thatcher fit the bill?
Most famed as Britain's first female Prime Minister and the UK's longest-serving leader of the 20th century during her time as Conservative Party leader from 1979 until 1990, what many people may not know is that Margaret Thatcher's early career was actually in the field of science, as she worked as a research chemist.
In fact, for a period of time she worked for J Lyons, creating emulsifiers for ice-cream and developing the much-loved soft scoop!
However, it was during her later political career that people started to think of Maggie as cold and frosty, as her nickname 'The Iron Lady' suggests. Her uncompromising political style made her one of the most controversial political figures in British history.
Considering her degree in chemistry and following her famous work with ice-cream, you can certainly agree that she has contributed to the UK field of science, but would you like to see her on the new polymer £50 note?
The Bank of England has published a list of names nominated in the first week of the selection process, as a preliminary stage of identifying eligible names for consideration.
Initial speculation seems to favour Professor Stephen Hawking, Alan Turing, Ada Lovelace and Rosalind Franklin as suggestions for the new note, however other more unusual names also made the list, including Will Hay (comedy actor/amateur astronomer) and Roger Bannister (first runner to achieve a four-minute mile).
You have up until the 14th of December to continue nominating characters via The Bank of England's website. We don't yet know when the chosen notable person will be announced or when the new note will be released, other than it will be after the new £20 polymer note featuring JMW Turner which will be released in 2020.
So would you like to see Margaret Thatcher on the new polymer £50 note? Change Checkers voted in our poll on Facebook and the results are in: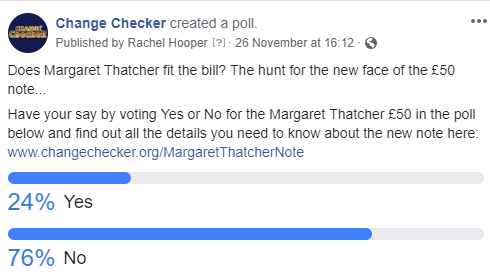 It's clear that Maggie isn't a favourite to feature on the new £50 note, but who from the scientific community would you like to see on the note? Let us know in the comments below.
---
If you're interested in coin collecting, our Change Checker web app is completely free to use and allows users to:
– Find and identify the coins in their pocket
– Collect and track the coins they have
– Swap their spare coins with other Change Checkers
Sign up today at: www.changechecker.org/app