In their search to find a suitable candidate to feature on Britain's new polymer £50 note, the Bank of England has received over 175,000 nominations, including the late Baroness and former Prime Minister, Margaret Thatcher.
Some 800 of the names put forward are actually eligible to become the new face of the £50 note, with the Bank of England requiring the notable person to be real, deceased and have contributed in some way to UK science.
So does Margaret Thatcher fit the bill?
Most famed as Britain's first female Prime Minister and the UK's longest-serving leader of the 20th century during her time as Conservative Party leader from 1979 until 1990, what many people may not know is that Margaret Thatcher's early career was actually in the field of science, as she worked as a research chemist.
In fact, for a period of time she worked for J Lyons, creating emulsifiers for ice-cream and developing the much-loved soft scoop!
However, it was during her later political career that people started to think of Maggie as cold and frosty, as her nickname 'The Iron Lady' suggests. Her uncompromising political style made her one of the most controversial political figures in British history.
Considering her degree in chemistry and following her famous work with ice-cream, you can certainly agree that she has contributed to the UK field of science, but would you like to see her on the new polymer £50 note?
The Bank of England has published a list of names nominated in the first week of the selection process, as a preliminary stage of identifying eligible names for consideration.
Initial speculation seems to favour Professor Stephen Hawking, Alan Turing, Ada Lovelace and Rosalind Franklin as suggestions for the new note, however other more unusual names also made the list, including Will Hay (comedy actor/amateur astronomer) and Roger Bannister (first runner to achieve a four-minute mile).
You have up until the 14th of December to continue nominating characters via The Bank of England's website. We don't yet know when the chosen notable person will be announced or when the new note will be released, other than it will be after the new £20 polymer note featuring JMW Turner which will be released in 2020.
So would you like to see Margaret Thatcher on the new polymer £50 note? Change Checkers voted in our poll on Facebook and the results are in: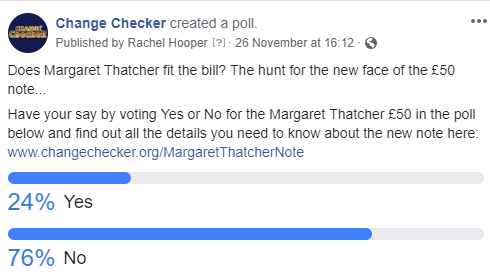 It's clear that Maggie isn't a favourite to feature on the new £50 note, but who from the scientific community would you like to see on the note? Let us know in the comments below.
---
If you're interested in coin collecting, our Change Checker web app is completely free to use and allows users to:
– Find and identify the coins in their pocket
– Collect and track the coins they have
– Swap their spare coins with other Change Checkers
Sign up today at: www.changechecker.org/app
This weekend, the Bank of England confirmed that the £50 note will remain part of UK currency and a new batch will be issued after the £20 note in 2020 following a public nomination process to select potential characters to appear on it.
In keeping with the new £5 and £10 polymer notes, the £50 will also be printed on thin, flexible plastic polymer material, making them cleaner, safer and stronger.
In September 2016, the first polymer £5 note featuring Winston Churchill entered circulation in the UK. Its success lead to the Jane Austen £10 polymer note being released the following year and plans for the first polymer £20 note featuring artist JMW Turner to be issued in 2020. It will be down to the public to decide who should appear on the new £50 notes, so who would you nominate?
The £50 note was first introduced in 1981 and there are now 330 million in circulation, totalling a combined value of £16.5 billion!
Recently there have been fears that £50 notes are being used for criminal activity such as tax evasion and are rarely used for standard purchases. However, the Treasury has said that this new batch of polymer notes has been designed to be more secure and harder to forge, meaning that they are here to stay.
They will also be more durable and environmentally friendly than their predecessors, lasting roughly 2.5 times longer than paper notes.
Sarah John, the Bank's Chief Cashier, said: "I'm very excited to be starting the process of introducing a new £50 note. At the Bank, we are committed to providing the public with high quality notes they can use with confidence. Moving the £50 note onto polymer is an important next step to ensure that we can continue to do that."
What are your thoughts on the £50 note and who would you like to see feature on the next polymer batch? Let us know in the comments below!
---
If you're interested in coin collecting, our Change Checker web app is completely free to use and allows users to:
– Find and identify the coins in their pocket
– Collect and track the coins they have
– Swap their spare coins with other Change Checkers

Sign up today at: www.changechecker.org/app
Ulster Bank has recently revealed plans to print an innovative, new design for vertical banknotes which will be entering circulation in Northern Ireland next year.
This turn of events breaks the mould for UK currency, with the Bank of England first issuing banknotes in 1694 to a landscape rather than portrait alignment.
Whilst the banks of Northern Ireland have traditionally issued their own money, only once before has a note like this ever been printed in the UK, during 1999 when The Northern Bank issued a vertical polymer note to mark the millennium.
It featured an illustration of the Space Shuttle on one side and stopped being issued in 2008 when they reverted to the standard landscape paper notes, however the note can still be used today.
Ulster Bank plans to follow in the steps of the Bank of England by replacing their current paper currency with polymer £5 and £10 notes.
However, this new design goes to the next level, not only updating the material but also changing the entire orientation of the note.
Northern Ireland's new banknotes will be based on the theme "living in nature" with Strangford Lough in County Down and Brent Geese featuring on the £5 note and Lough Erne in County Fermanagh, the Irish hare and Guelder-rose shrubs featuring on the £10.
Switzerland's first vertical banknotes entered circulation in 1995 and for the past two years have won the "Bank Note of the Year Award" as voted for by members of The International Bank Note Society (IBNS).
Earlier this year Canada introduced their first ever vertical banknotes, hoping to create more space for a bigger image and to set it apart from existing polymer bills. Their 10 dollar note is currently nominated for Banknote of the Year 2018.
Bermuda, Israel, Venezuela, Argentina and Cape Verde are among other countries to use vertical banknotes in their currency.
These banknotes may be easier to use at cash and vending machines and may make it clearer to see the notes in your wallet, but what are your thought on this change in design and would you like the Bank of England to follow suit? Let us know in the comments below!
---
Secure your Official Change Checker Banknote Collecting Pack!

If you're interested, our Official Change Checker Banknote Collecting Pack is the perfect way for any change checker to start collecting decimal banknotes or display an already growing collection.
To help you start your banknote collection, this pack includes an original £1 banknote, issued more than 35 years ago, in mint uncirculated condition… absolutely FREE.
Click here to find out more about the Official Change Checker Banknote Collecting Pack >>