This morning The Bank of England revealed Alan Turing as the new face of the £50 banknote, which will be released into circulation in 2021.
In their search to find an eminent British scientist to feature on the £50 note, a total of 227,299 nominations were sent to The Bank of England. 989 eligible characters were narrowed down to a shortlist of just 12 before Turing was finally selected.
Codebreaker Alan Turing will be on Britain's new 50-pound currency https://t.co/PcmHWkqre3

— TIME (@TIME) July 15, 2019
Other candidates included Rosalind Franklin, Stephen Hawking, Ernest Rutherford and Mary Anning to name a few.
The Bank's chief cashier, Sarah John said, "The strength of the shortlist is testament to the UK's incredible scientific contribution. The breadth of individuals and achievements reflects the huge range of nominations we received for this note and I would like to thank the public for all their suggestions of scientists we could celebrate."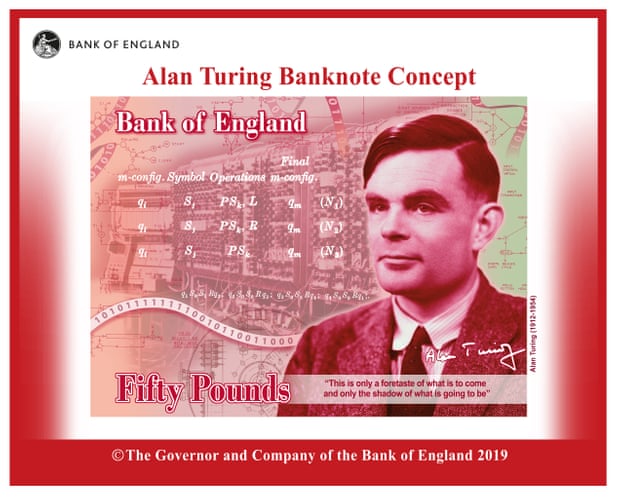 About Alan Turing
Alan Turing is perhaps best known for his outstanding code-breaking which was vital to the Allied victory in WWII.
However, he was also considered a pioneer in computer sciences and the development of the early computer. His work has had an enormous impact on our lives today.
The Bank of England governor, Mark Carney said, "Alan Turing was an outstanding mathematician whose work has had an enormous impact on how we live today. As the father of computer science and artificial intelligence, as well as [a] war hero, Alan Turing's contributions were far ranging and path breaking. Turing is a giant on whose shoulders so many now stand."
Sadly, in 1952 he was prosecuted for homosexual acts and died in 1954 from cyanide poisoning. It was determined that his death was an act of suicide.
The new note
Next year the new £20 polymer note will be issued, featuring British Artist, JMW Turner.
This will be the third UK banknote to be made from polymer and will be swiftly followed by the new £50 note in 2021, thus completing the UK's changeover to plastic banknotes.
These notes are more durable, secure and environmentally friendly than paper notes.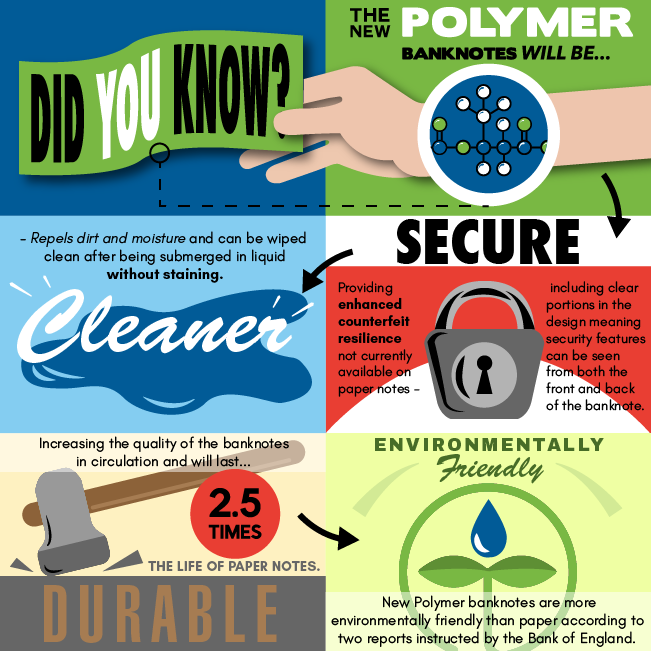 The future of cash
There have been debates in recent years as to whether or not Britain should become a cashless society.
The rise of card and electronic payments means that many see cash as becoming obsolete, with the 1p and 2p coins at the heart of the debate.
In addition to this, the validity of the £50 note has also been questioned, as it is rarely used in everyday payments and is widely thought of as being used by criminals.
The good news for Change Checkers is that the Treasury have confirmed that cash will be around for years to come.
And, with the introduction of the new Alan Turing £50 note in 2021, I think it's fair to say that cash is still king.
---
If you're interested in coin collecting, our Change Checker web app is completely free to use and allows users to:
– Find and identify the coins in their pocket
– Collect and track the coins they have
– Swap their spare coins with other Change Checkers
Sign up today at: www.changechecker.org/app
We're excited to present your latest eBay Tracker and Valuation Index for the Top 10 UK coins and banknotes!
The secondary market can be a bit of a minefield, but if you've found a rare coin or banknote and want to work out how much it might be worth, we've done the hard work for you…
eBay Tracker
Find out which coins and notes have been the key movers and shakers in the updated eBay Tracker below.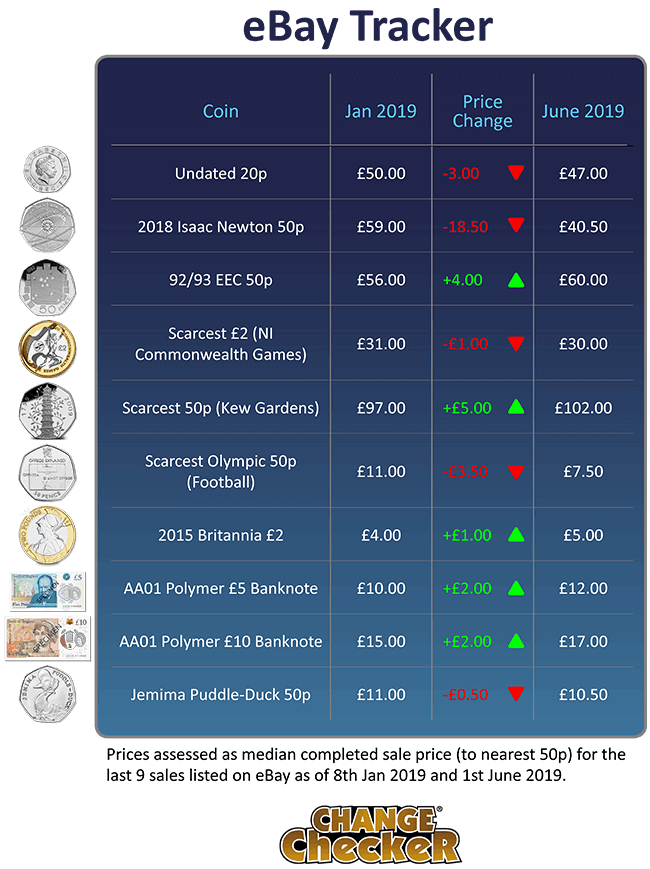 The most notable increase from the last update goes (unsurprisingly) to the Kew Gardens 50p, which has increased in price on the secondary market by £5 and is currently selling for around £102 on eBay – more than 200 times its face value!
Whilst many collectors were concerned that the 2019 Brilliant Uncirculated re-issue of this 2009 coin would make it less collectable, it seems that in fact the opposite has happened and the reinvigorated hype surrounding the UK's rarest 50p in circulation has led to an increase in demand for the coin, meaning collectors are willing to pay more to get their hands on one.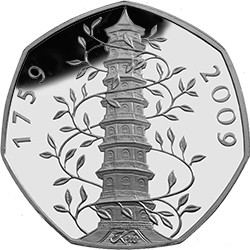 Other increases to mention are the AA01 serial number polymer banknotes, as both the £5 and £10 notes have increased by £2 since the last update, which is a 20% increase on January's figures for the £5 and 11% for the £10 note.
Overall there has been a decrease in value for the Top 10 coins and banknotes and this is mostly due to the 2018 Sir Isaac Newton 50p, which has dropped by 32% on January's figures and is currently selling for £40.50.
This coin was issued as a 'Strike Your Own Coin' from The Royal Mint Experience in 2018 and due to the short time frame it was available for, the number of coins struck could be really low, meaning it may well be very rare.
However the mintage figures for this coin haven't been revealed by The Royal Mint yet, so we don't know exactly how many were struck. When the official figures are released we could well see this coin increase in value on the secondary market.
Valuation Index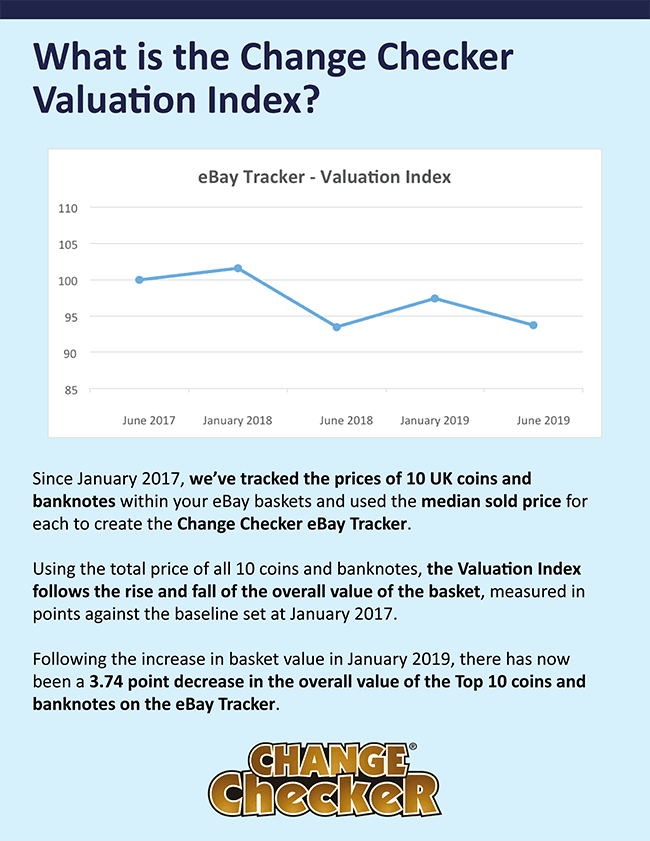 My coin isn't on the eBay Tracker
The eBay Tracker follows the movements of the Top 10 UK coins and banknotes, however if your coin doesn't appear on the tracker you can use our 6 point guide to help determine realistic a value for your coin.
So now that you're up to date with our latest eBay Tracker, will you be selling any of the coins in your collection or will you continue to save them? Let us know in the comments below.
How does the eBay Tracker work?
The Change Checker eBay Tracker takes the last 9 sold prices achieved on eBay and gives the median price achieved (rounded to the nearest 50p). By taking the median, rather than an average, we avoid skewing created by one or two excessive prices achieved.
Please note that the Change Checker eBay Tracker is only ever designed to be a guide as to prices achieved on eBay. Prices may vary depending on collector demand and the quality of the coin being sold. It does not provide any guarantee as to future values of coins.
---
If you're interested in coin collecting, our Change Checker web app is completely free to use and allows users to:
– Find and identify the coins in their pocket
– Collect and track the coins they have
– Swap their spare coins with other Change Checkers
Sign up today at: www.changechecker.org/app
First Trust Bank, one of four main banks in Northern Ireland, will become the first Northern Ireland-based bank to end the practice of printing its own-denomination banknotes. The bank revealed it will scrap its own banknotes next year and switch to dispensing Bank of England notes from its ATM network.
Although the UK has a vast variety of different notes in circulation, The Bank of England is the only bank to issue notes for England and Wales, while there are seven different banks in Scotland and Northern Ireland that currently produce their own notes.
The decision is thought to be an economic issue and means that all existing First Trust banknotes will not be able to be used for payments from midnight on 30th June 2022. They can however be exchanged for Bank of England banknotes, or other sterling banknotes of equivalent value at Post Offices up until 30th June 2024.
Why do Scotland and Northern Ireland issue their own banknotes?
The UK has a vast variety of different notes in circulation and although those of us living in England and Wales don't see many, there are three different banks in Scotland and four in Northern Ireland that currently produce their own notes.
In fact the tradition of printing banknotes was considered the norm centuries ago as most of the UK's banks produced their own banknotes. However over time they weren't all doing it responsibly and were not able to back the notes up with actual assets. The law changed in the 1840's in England and Wales so all production of banknotes was moved to The Bank of England bar Scotland who argued for an exception as they were not having the same issues. The Bank Notes Act of 1928 allowed banks in Northern Ireland to produce their own notes.
For people living in Scotland and Northern Ireland, the banknotes are part of the furniture and a part of their cultural identity that usually feature local landmarks and historical figures. These issuing banks have also considered the notes as part of their marketing as customers are seeing the name of their banks in their hands as they spend cash.
Can you spend Scottish and Northern Irish banknotes in England?
Yes. The notes are legal currency and backed with physical assets with the Bank of England so can technically be accepted anywhere in the UK. However, the problems come as shops are not always overly familiar with all the different types of notes and may not be sure on how to check them for counterfeiting so don't like to accept them.
Is this the beginning of the end for Northern Irish and Scottish banknotes?
The decision is scrap the printing of banknotes at First Trust Bank is thought to be an economic issue and comes as other Northern Ireland banks prepare for the change over to modern Polymer notes in the very near future. The update is needed in order to produce counterfeit resilient notes to protect against forgery and ensure the security of circulating notes. But this costly change could be too much for First Trust handle.
There are also a lot fewer of these notes changing hands and with the increasing use of digital payment methods and mobile technology, it could be the reasoning behind the decision to scrap the notes.
The other three Northern Irish banks are currently in various stages of issuing their own polymer £5, £10 and £20 notes and it is clear that Scotland are completely committed to keeping their own notes as Clydesdale Bank was the first bank in the UK to issue a Polymer note back in 2015.