Paddington Bear has been all over the news this week as the release of two brand new 2019 UK 50p coins won over the hearts of the nation.
Coin collectors and fans of the bear have been really eager to get their hands on the first coin in the 2019 series which has been released this week, and are looking forward to later in the year when the second coin will be released.
This dynamic duo follows up the hugely popular pair of 50p coins from last year.
In 2018 two Paddington 50p coins were issued to mark the 60th anniversary of Paddington's first appearance in Michael Bond's classic childhood tale.
So, now that we've seen the designs for all 4 coins, which Paddington 50p is your favourite?
*** UPDATE ***
Change Checkers have been voting and the winning Paddington 50p design has now been decided!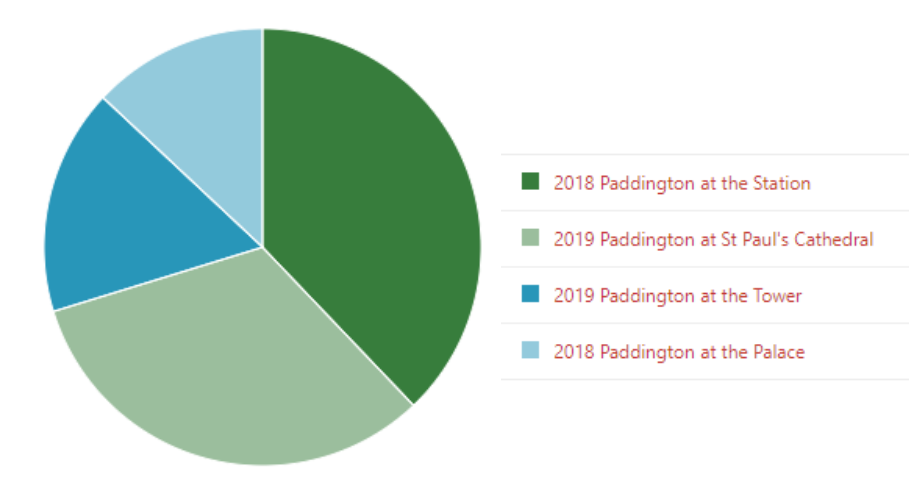 And the Paddington coin which comes out on top is actually the 2018 Paddington at the Station 50p, taking 38% of the votes!
A very close second at 32% is the soon to be released Paddington at St Paul's 50p. I'm sure Change Checkers will be keen to get their hands on this coin when it is released next month.
You can find out all the details about each of the Paddington 50ps below and let us know which one is your favourite in the comments.
2018 Paddington at the Station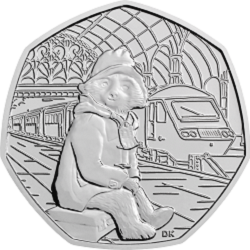 This is the first UK 50p coin ever to feature Paddington Bear!
In 2018, The Royal Mint released this brand new 50p coin to celebrate the 60th anniversary of Paddington Bear featuring in Michael Bond's much-loved book, 'A Bear Called Paddington'.
The coin's design by David Knapton is based on the modern adaptation from the CGI-live action movie, featuring Paddington on his suitcase in front of the station, wearing the famous tag around his neck, which reads 'Please look after this bear. Thank you.'
2018 Paddington at the Palace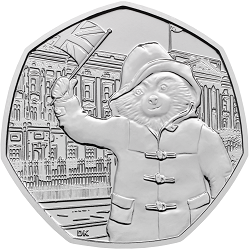 Much to the delight of both coin collectors and Paddington fans, a second coin was issued as part of the 2018 Paddington 50p series.
This coin features Paddington Bear outside Buckingham palace, waving his Union Jack flag.
The always polite Paddington Bear has always been a family favourite and this coin pays tribute to the bear from Darkest Peru.
2019 Paddington at the Tower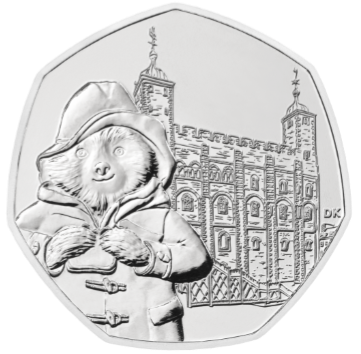 Paddington's London adventure continues into 2019 as two new UK Paddington 50p coins will be issued this year.
This is the first coin in the 2019 series, which has been released in August and will start circulating in our UK change based on demand.
Paddington can be seen outside the Tower of London (former home of The Royal Mint). David Knapton's design beautifully captures the day this very British bear brought marmalade sandwiches with him on a trip to the Tower – an iconic image I'm sure you'll agree.
2019 Paddington at St Paul's Cathedral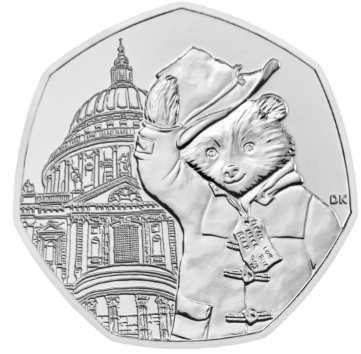 Whilst we know the design for this final coin in the 2019 Paddington series, we'll have to wait a little while until the coin is released on the 12th September.
I'm sure collectors will be really keen to add this 2019 coin to their Paddington collection and continue his exploration around some of London's most famous landmarks!
This coin shows the bear outside St Paul's Cathedral and is inspired by Bond's final book, "Paddington at St Paul's" which was published last year to celebrate the 60th anniversary.
With four beautiful Paddington 50p coins to choose from, it'll certainly be hard to pick a favourite, but we're looking forward to seeing which design comes out on top when Change Checkers vote in our poll!
---
Secure your Collecting Pack for the BRAND NEW 2019 Paddington 50p coins!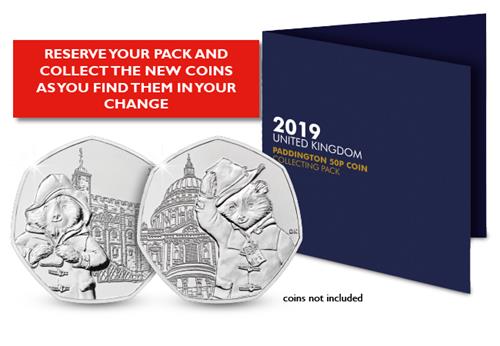 Own the Change Checker Coin Collecting pack for JUST £3.99 (+p&p) to house both brand new 2019 Paddington™ 50p coins as you find them in your change.