Posts Tagged 'Charles Dickens'
Could your Charles Dickens £2 really be worth a fortune?
Every keen collector knows that it is worthwhile paying close attention to the small details of your coins – it's the only way you can ever hope to spot an error. However, it's also important to know when you have a genuine rarity (and when you don't). There are a few stories which crop up more often than others, and one of them is the elaborated value of the Charles Dickens £2. So hopefully this post will help dispel some of the myths about the coin.
The Charles Dickens £2 coin was issued by The Royal Mint in 2012 to commemorate the 200th anniversary of one of Britain's most famous and beloved writers. The design features Dickens' recognisable profile crafted from the titles of his most famous works and is a favourite amongst collectors.
But recently, a number of stories have been popping up regarding the 'errors' people have noticed, such as fading dots around the centre part, upside down edge lettering and misspelling of the edge inscription. In fact, some of these coins have even been listed on eBay for thousands of pounds, leaving Change Checkers wondering "how much is the Charles Dickens' £2 coin actually worth?"
But before you get too excited and consider putting your Charles Dickens up for sale, let's take a look at what these 'errors' really mean…
Disappearing dots
This has also been found on many other £2 coins so is not exclusive to the Dickens coin, where the dots that should that go all around the silver centre of the coin suddenly disappear. Unfortunately this wouldn't actually add any value to the coin, as it is simply caused by the mass production process, where millions of coins are being struck at once and the dies get worn down. It's difficult to ensure all coins look exactly the same considering the millions of coins that are struck at one time, but we definitely feel that variations like this makes collecting more exciting.
Upside down lettering
Upside down lettering is very common on bi-metallic coins and can be seen on many of the £2 coins you find in your change. Again, this isn't actually an error, but a variation to look out for on your coins. It happens during the minting process, when the edge lettering is applied before the obverse and reverse of the coin has even been struck. This then explains why some coins can end up with the edge lettering appearing upside down.
Misspelled edge inscription
Many people have noticed that there is a 'miss spelled' WILL on the edge inscription of their Charles Dickens £2 coin. This is actually caused by a worn out die, where the end of the L has been worn down to look like an I. This is a common variation amongst coins and can also be seen on the 2005 Gunpowder plot £2, which now has many variations of edge inscription due to the worn out R appearing as a P.
The Charles Dickens £2 coin actually only ranks as 'common' on our Scarcity Index, however it's fascinating to hear about the different variations people have noticed on their coins and looking out for these makes for great coin collecting!
Unfortunately, people listing coins like this on eBay hoping for elaborate amounts are usually just chancers looking for a quick buck and rarely mean the coin is actually an error.
It's the differences caused by human error, such as a wrong date or design or even the wrong metal used that are a lot more sought after and would likely have added value for your coin – so be sure to keep a look out for these!
---
If you're interested in coin collecting, our Change Checker web app is completely free to use and allows users to:
– Find and identify the coins in their pocket
– Collect and track the coins they have
– Swap their spare coins with other Change Checkers

Sign up today at: www.changechecker.org/app
The withdrawal date for the current paper £10 note is in less than one week's time on Thursday 1st March.
The paper 'Series E' note has been in circulation, in some form, for the past 26 years. So, I thought it would be interesting to take a look back at the history of the £10 note and our journey begins 259 years ago in 1759…

In a recent poll conducted on our Facebook page, 40% of you said that you still have paper £10 notes. Although you can still exchange them at the Bank of England after the cut-off date, I would suggest exchanging them before the withdrawal date.
Some retailers, banks and building societies may still accept these notes; however this is at their discretion. To save yourself any potential hassle, once you've added one to your collection, go and spend or swap your notes at the bank.
---
The Change Checker Banknote Collecting Pack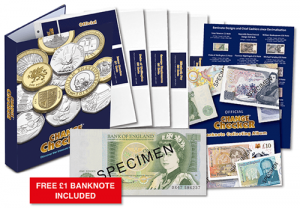 The brand new Official Change Checker Banknote Collecting Pack is the perfect way for any change checker to start collecting banknotes or display an already growing collection.
To help get you started, this pack includes an original £1 banknote, issued more than 35 years ago, in mint uncirculated condition… absolutely FREE.
Don't miss out on this brand new Banknote collecting pack, start your collection today >>
The Royal Mint have released many commemorative coins in the past few years and one recurring theme is prominent literary figures.
Tonight is Burns Night, a night when many people around the world will remember one of the world's most famous poets, Robert Burns.
So naturally, I thought this was a great opportunity to take a look back at some of the recent circulation coins that have celebrated some of Britain's best loved literary heroes.
Robert Burns (1759 – 1796)
Robert Burns was a Scottish poet and lyricist who is widely regarded as one of the great literary figures in British history.
Burns night is celebrated each year with a traditional Haggis supper on his birthday, 25th January, and is more widely observed in Scotland than the official national day, St Andrew's Day.
The reverse design of this £2 coin features an extract from Auld Lang Syne, Burns' most famous work.
Find out more about this coin here  >>
William Shakespeare (1564 – 1616)

William Shakespeare is the most influential literary figure in British history and his works are an important part of Britain's cultural heritage.
This coin is one of three that celebrate William Shakespeare's life work and commemorates the 400th anniversary since his death. This coin takes inspiration from Shakespeare's famous tragedies and features a skull and a rose and was designed by John Bergdahl.
The other two coins in the series celebrate Shakespeare's most famous 'Comedies' and 'Histories', taking inspiration from 'A Midsummer Nights Dream'  and 'Macbeth', respectively.
Charles Darwin (1809 – 1882)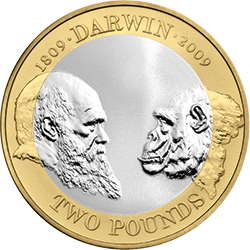 Charles Darwin was a British scientist who laid the foundations of the theory of evolution and transformed the way we think about the natural world.
His book On the Origin of the Species was extremely controversial as it made it seem possible that humans evolved from apes, and contradicted the widely held Orthodox Church theory of creation at the time.
The reverse design by Suzie Zamit features a profile portrait of Darwin facing a chimpanzee and is a favourite amongst collectors.
Add this coin to your collection today >>
Charles Dickens (1812 – 1870)

Charles Dickens is much loved for his great contribution to classic English literature.
His enchanting stories, vivid characters and depiction of Victorian life are widely acknowledged across the world by critics and scholars alike and his novels and short stories continue to be widely popular.
The reverse design of this £2 coin by Matthew Dent features Dickens' recognisable profile crafted from the titles of his most famous works.
Beatrix Potter (1866 – 1943)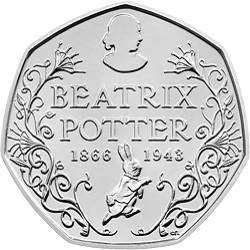 To celebrate the 150th anniversary of the birth of Beatrix Potter, The Royal Mint released this 50p to celebrate Beatrix herself.
Designed by Emma Noble, the coin includes elements that celebrate Beatrix as the artist behind some of the best-loved characters in children's literature along with the nostalgic font used for the inscription.
Along with this 50p The Mint have also released a further 7 Beatrix Potter coins, featuring many of our favourite characters from her beloved stories, including Peter Rabbit, Tom Kitten and Jemima Puddle-Duck.
The popularity of both the 2016 and 2017 Beatrix Potter 50p series has been astounding and introduced many thousands more people to the world of change collecting.
Own the complete 2017 Beatrix Potter collection today >>

Jane Austen (1775 – 1817)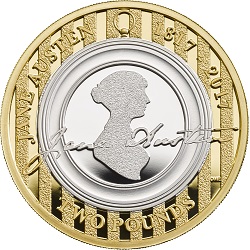 Jane Austen is one of the best-loved English novelists from the 19th century. Her novels were revolutionary and from her first novel, 'Sense and Sensibility', readers began a love affair with her fiction that has lasted two centuries.
Designed by Dominique Evans, a portrait of Jane Austen features on this £2 coin, released in 2017, to mark 200 years since her death.
Interestingly, with the introduction of both this coin and the new polymer £10 note, Jane Austen became the first person ever, aside from the reigning monarch, to feature on both a UK coin and UK banknote at the same time.
Mary Shelley (1797 – 1851)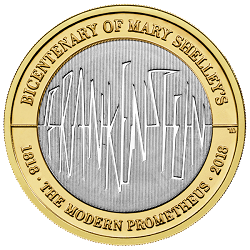 This £2 coin was issued by The Royal Mint to celebrate the 200th anniversary of the publication of Mary Shelley's famous novel Frankenstein; or, The Modern Prometheus.
Whilst on holiday in Geneva Mary Shelley and her poet friends, including Lord Byron and future Husband Percy Shelley, decided to have a competition to see who could write the best horror story. Out of this Mary Shelley created Frankenstein, a story about a scientist's scary act at playing God and creating life. It went on to become one of the best loved gothic novels.
The reverse of this gothic coin was designed by Thomas Doherty and features the words 'Frankenstein' in an electric gothic font