The Polymer banknotes are still catching the headlines this week after a £5 note was found with a mysterious secret message.
Two different people, who thought they had found the rare Jane Austen £5 note worth more than £20,000, have come forward so far.
The message on the banknote stated 'Look for serial number AL22171910' instead of a classic quote from Pride and Prejudice, Emma or Mansfield Park.
However, artist Graham Short's gallery have denied the stunt is anything to do with them.
Four special £5 notes, engraved with a tiny portrait of author Jane Austen, were put into circulation by Mr Graham Short late last year and could fetch more than £20,000 at auction.
So could it be another Willy Wonka style golden ticket hunt?
Both findings have sparked theories of a copycat engraver offering clues to find other valuable notes – but it could just be someone creating a bit of mischief.
Just one fiver worth more than £20K left to find…
There is still one engraved fiver in circulation left to find by specialist micro-engraver Graham Short. Mr Short came up with the idea of engraving a 5mm portrait of Pride and Prejudice author Jane Austen on the transparent part of the new plastic £5 notes,  to mark the 200th anniversary of one of the best-loved English novelists this year.
The first of four notes featuring art by specialist micro-engraver Graham Short was found in a cafe in South Wales on 5th December while another was found the same month inside a Christmas card in Scotland. The third £5 note was found by a mystery old lady in Eniskillen in Northern Ireland who has donated it to charity.
So that means there is just one more rare £5 note left to find with the handiwork of Birmingham micro-artist Graham Short. It was spent somewhere in England back in December so for those hunting down the last remaining fiver, the serial number to look out for is AM 32 885554.
In other  news… the Bank of England considers the use of Palm Oil
The Bank of England have been considering the use of palm oil as a replacement to animal fat in their polymer banknotes after complaints from vegans and religious groups.
The news that the polymer fiver contained animal fat sparked an online petition last year, calling for the Bank of England to stop using tallow in the production of the notes, which has since attracted more than 136,000 signatures.
However, in February, the Bank of England confirmed that it would stick with animal fat despite the concerns. In a statement, the Bank of England said  "it would be appropriate to keep the £5 polymer note in circulation and to issue the £10 polymer note as planned, in September."
Palm oil is a type of edible vegetable oil that is derived from the palm fruit. However, switching from the animal fat derivative may prove difficult and is likely to spark protests from environmentalists unless the palm oil can be sustainably sourced.
The Bank of England is now undertaking a consultation to seek the views of the public on options for the future composition of polymer notes, namely the next £20 note and future reprints of the £5 and £10.
Who will feature on the new £20 polymer banknote?
The new £20 polymer banknote is due to enter circulation in 2020 and will feature J.M.W. Turner. Click here to find out more about the £20 note.
The £20 note will be the third banknote made from Polymer, following on from the £5 note featuring Winston Churchill and the £10 note featuring Jane Austen. The £50 note will remain in circulation with the same design and there are currently no plans for them to be issued in polymer.
Time and again we hear from people with various serial numbers asking how much their £5 notes are worth, so we thought we would address some of the myths about the £5 polymer banknote.
The rare £5 note with serial number AK47 that 'sold' for over £80,000 on eBay!
Notes with the serial number AK47 have been particularly popular thanks to the machine gun connotations.  Back in 2016, news emerged that a £5 banknote with the prefix Ak47 had fetched a winning bid of £80,100 on the online market place eBay. The seller must have been overjoyed with the jackpot amount but it turned out the buyer had no intention of paying up.
As much as we love the design of the new fiver, there is no way we would pay anywhere near £80,000 for it, no matter what serial number it had.
Or the fivers with a James Bond theme?
Described as an "AK37 007 James Bond Bank of England Polymer £5 note" in a lovely condition, this banknote sold for £5,000.
Although there must be plenty of James Bond fanatics out there, we can think of so many other items of James Bond memorabilia that fans could spend £5,000 on! And realistically, if you had the choice, which would you prefer to spend £5K on?
What about the AA01 banknotes?
When they were first released, the new polymer banknotes created a collecting storm. In fact I'm almost certain that every single person in the country checked their new note at some point to see if they were lucky enough to find one with the prefix AA01.
Although a banknote with the prefix AA01 might be worth slightly over face value to someone who is genuinely interested, we must remember that 1 million AA01 banknotes were printed. So as much as I wish it could be true, reality check – don't expect a big payout if you do find one.
And the upside down fiver?
There were countless stories and accounts of plastic banknotes fetching eye-watering sums of money after the launch, but one eBay seller took things a step further when he listed his 'upside down' banknote.
Although the seller stated in the description that the listing was a joke, he still received lots of serious questions about the note.
However…
Do look out for these £5 notes worth more than £20,000 in circulation! If you come across a fiver with a micro-engraved portrait of either Jane Austen or Harry Kane, whatever you do, do NOT spend it.

Micro-engraver Graham Short has created special £5 notes, engraved with tiny portraits. The first set features author Jane Austen and more recently notes featuring Harry Kane have been  put into circulation and could be worth more than £20,000. In fact, Graham Short's work has an insurance valuation of £50,000 so these £5 notes will give you an extra £49,995 of value if you find one…
Serious Collectors: What to look for…
Collecting banknotes is a serious hobby that many thousands of people all over the world enjoy.
There are many ways of assembling collections of banknotes,  for example banknotes that feature famous people (scientists, writers or politicians) or banknotes with historical context such as those from a certain era.
Generally collecting banknotes is not about the serial number it possesses, instead the chief cashier is of most interest, particularly on UK banknotes.  This is where real rarities can be found –  in the form of Chief Cashier signatures.
Banknote designs rarely change but on average cashiers change every 5 or 6 years with some in the position for as little as 3 years.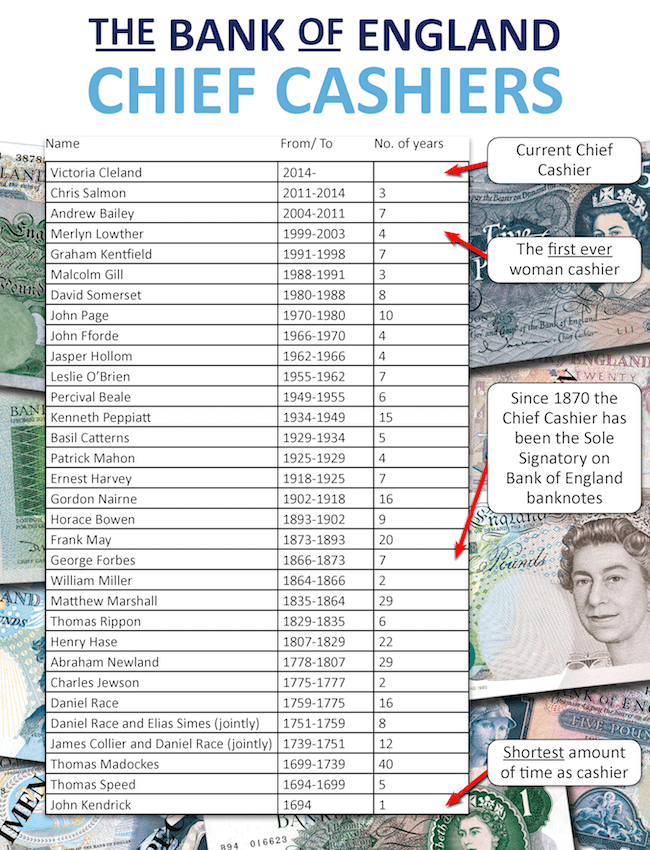 These £5 polymer banknotes will always be considered the 'first' polymer banknotes regardless of what serial number they hold and importantly uncirculated notes or those in good condition will also always be more sought after.
So if you are genuinely interested in collecting banknotes, the chief cashier is what you should really be looking for.
---
If you're interested in coin collecting, our Change Checker web app is completely free to use and allows users to:
– Find and identify the coins in their pocket
– Collect and track the coins they have
– Swap their spare coins with other Change Checkers

Sign up today at: www.changechecker.org/app
It came to light earlier this week that the new plastic fivers that entered circulation to much fanfare in September, are actually made using tallow, a substance produced from animal fat.
The news sparked an online petition calling for the production process behind the notes to be changed and so far it has attracted more than 116,000 signatures.
The Bank of England has also received angry calls from vegans and vegetarians to cease the use of these banknotes immediately and change the substance used in the production of currency that they have to use in everyday life.
The petition was started by Doug Maw who states that the animal fat contained in the £5 notes is unacceptable to millions of vegans, vegetarians, Hindus, Sikhs, Jains and many others in the UK.
This news has also been taken extremely seriously by a Hindu temple in Leicester who have urged worshippers not to give new five pound notes in donations.
So how many cows will actually need to be sacrificed to make all these new fivers?
VICE have put together a 'very precise calculation' of how many animals will be slaughtered in order to make the 329 million banknotes likely to be in circulation by the time the paper banknotes have been phased out!
Any guesses?
The answer: Just over half of one cow.
So will next year's new £10 note be vegan?
Most likely.
Mark Carney, Governor of the Bank of England has stated that they are treating concerns about traces of tallow in the new polymer banknote with the utmost seriousness but also that the bank did not know about the issue when the it signed the contract for the notes.
Innovia, the company who make the polymer are already working towards potential solutions for the tallow substance which is also used in household items such as candles and soap.