Posts Tagged 'Coin Collector'
The dawn of a new monarchy is upon us, and with King Charles III at the helm, history is being written before our very eyes. 
And as the Coronation date nears, it's beginning to hit home how momentous the occasion will be. To celebrate, the Isle of Man have issued The National Anthem Coronation 50p Coin Set. And they've been fully approved by the King himself.
Let us guide you through these remarkable 50p coins and how you can secure them for your collection…
All five 50ps have been designed by Tom Meek. They feature famous lines from the National Anthem, alongside two different heraldic beasts on each coin.
These ancestral and heraldic beasts watched over Her Majesty the Queen during her unprecedented reign and will now do the same for King Charles III.
The 10 beasts featured on these new 50ps comprise of 'The Lion of England', 'The White Greyhound of Richmond', 'The Yale of Beaufort', 'The Red Dragon of Wales', 'The White Horse of Hanover', 'The White Lion of Mortimer', 'The Unicorn of Scotland', 'The Griffin of Edward III', 'The Black Bull of Clarence' and 'The Falcon of the Plantagenets'.
Together, representing strength, purity and power, these beasts are the perfect choice for such a significant new 50p coin collection. Each 50p is struck to a Brilliant Uncirculated quality and features the brand new British Isles portrait of His Majesty by Glyn Davies.
Can I find these 50ps in my change?
If you're living on the Isle of Man, then yes!
Just 2,500 of each of these new coins will enter circulation on the Isle of Man. When you compare that to the mintage figures for UK coins (our rarest 50p in circulation has a mintage of 210,000), you'll realise just how few of these coins are actually out there. This is certain to increase the collectability even more.
Isle of Man Coins – worth keeping an eye on?
Isle of Man coins are worth keeping an eye on. They typically have lower mintage figures due to the smaller population of just 84,000. This means that their coins are particularly sought-after amongst collectors.
They have issued some very popular coins in recent years including Peter Pan 50ps and the annual TT £2s to name just a couple that have piqued the interest of collectors.
But this is why they're worth looking out for. More often than not, their mintage figures are MUCH LOWER than UK coins, making them especially sought-after by collectors.
So, what does this mean for collectors?
Previous Isle of Man issues have been incredibly popular with coin collectors, so demand is already set to be high for these new 50ps.
And, given the significance of this event, I'm sure that 50p collectors will be quick to snap these ones up!
This NEW 50p set is surely a MUST-HAVE for any serious coin collector, so if you'd like to secure one for your collection for JUST £34.95 (+p&p) then click here >>>
The new Coronation National Anthem 50ps are struck to an unblemished Brilliant Uncirculated finish.
What's more, your coins will come protectively housed in a specifically designed bespoke presentation pack.
Legendary British king and wielder of sword Excalibur, King Arthur features on brand new UK £5 coin!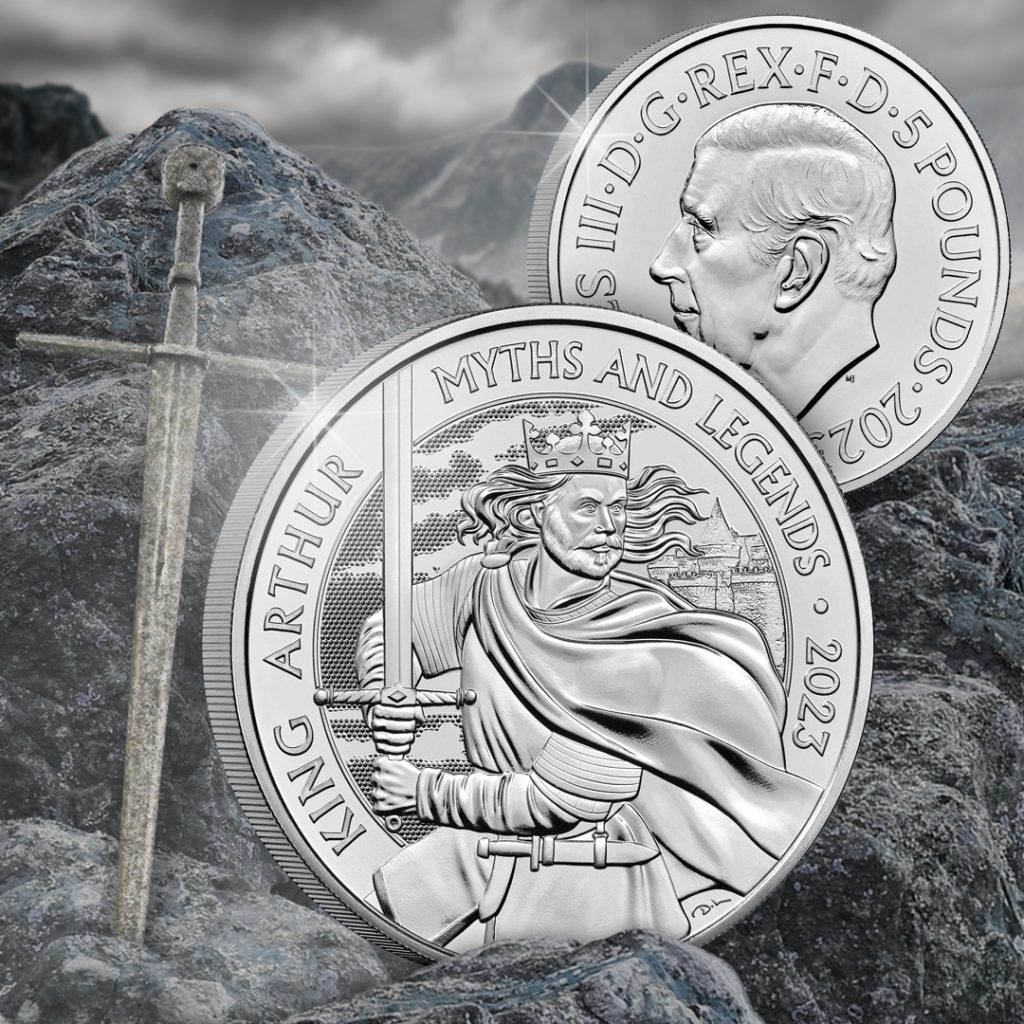 The 2023 UK King Arthur £5 coin has been issued as part of a new coin series of Myths and Legends. And, as one of the first King Charles III coin series, it's sure to get collectors talking!
The design
David Lawrence, renowned for detailed £5 coin designs, shows King Arthur poised with the Excalibur sword in hand – the perfect tribute to a legendary figure!
Get your hands on one in Brilliant Uncirculated quality here >>
The design has previously been struck on a 2023 1oz Silver coin, pictured below. But, can you spot the differences?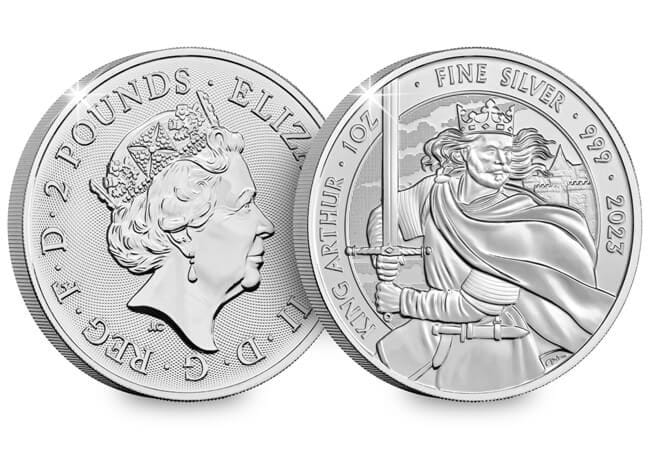 Not only do the metal, denomination and inscription differ, but the 1oz Silver coin also features Queen Elizabeth II's effigy! A dual portrait pair such as this is exciting news for both Queen Elizabeth II and King Charles III collectors!
Start your Myths and Legends £5 collection by securing the 2023 UK King Arthur CERTIFIED BU £5 here >>
The mythology of King Arthur
So, why have The Royal Mint dedicated a new £5 coin to King Arthur? Well, Arthurian mythology is still a topic of interest in the 21st century, despite the legend originating in the 9th-10th centuries!
Many historians have tried to prove whether or not the legend of Arthur was king of England, with history professor Ronald Hutton speaking to BBC's History Extra in 2020 about how we can be certain of one thing. '[T]he battle of Mount Badon, which is recorded in both of our earliest texts as one of Arthur's greatest victories.'
But, even if King Arthur is just a myth, his legendary tale is nothing short of entertaining!
He has been portrayed as a noble knight who wielded a magical sword, Excalibur. The sword itself is surrounded by mythology, with the a 15th century text (Le Morte d'Arthur) stating that whoever pulls the sword out of a stone is the rightful king of England!
And in 1938, author T. H. White wrote a much-loved children's novel titled The Sword in the Stone! White's story also features mythological wizard, Merlin, who guides young Arthur along his journey to becoming England's rightful king.
Therefore, with the legend of King Arthur engrained in British history, it's only fitting that The Royal Mint have struck a brand new coin to celebrate him!
Add the 2023 UK King Arthur CERTIFIED BU £5 to your collection >>
2023 UK King Arthur CERTIFIED BU £5
Kickstart your King Charles III £5 collection with the brand new King Arthur £5, struck to a Brilliant Uncirculated quality! Simply click here to order yours for £12.99 (+p&p) >>
Marking 100 years since the incredible discovery of Tutankhamun's tomb, The Royal Mint have issued a brand-new UK £5!
Laura Clancy's striking portrait of Tutankhamun's gold mask is spectacular on this highly detailed coin, complete with his royal headdress.
Collectors and historians alike are sure to be impressed by this design, as this iconic Egyptian discovery is marked on a UK coin!
Order your BRAND NEW 2022 UK Discovery of Tutankhamun CERTIFIED BU £5 here >>
The Discovery
In 1922, British Egyptologist Howard Carter dared to explore a neglected stairway within the Valley of the Kings. And, as the world would later learn, one of his biggest discoveries lay at the bottom. Can you just imagine the excitement Carter and his team felt at the time?
The burial chamber of Tutankhamun had been untouched for over 3000 years, until the door was opened in February 1923. Ever since this historic discovery, the world has been intrigued by artefacts found in the tomb.
So, I'm sure you'll agree, it's only fitting that this Egyptian discovery is marked on a UK £5 coin by The Royal Mint!
Order your BRAND NEW 2022 UK Discovery of Tutankhamun CERTIFIED BU £5 here >>
Her Late Majesty Queen Elizabeth II's Portrait
The 2022 UK Tutankhamun £5 is one of the last UK coins featuring Her Late Majesty Queen Elizabeth II's portrait. Find out more what happens to UK coinage now on our blog >>
As demand for coins with Her Majesty's portrait has surged since the news of her passing, I'm anticipating this coin to be highly sought-after.
So, make sure you secure your 2022 UK Discovery of Tutankhamun CERTIFIED BU £5 today by heading to our Change Checker shop!
Order your BRAND NEW 2022 UK Discovery of Tutankhamun CERTIFIED BU £5 here >>