Posts Tagged 'Coin Collector'
An elusive British book character has finally made his way out of the forest and onto a UK 50p coin, making his debut appearance especially for collectors!
After months of anticipation, The Royal Mint has now released the brand new Gruffalo® 50p in celebration of the 20th anniversary of Julia Donaldson's classic children's Tale.
The Gruffalo has sold over 13.5 million copies worldwide and is adored by children and families across the globe, who I'm sure will now be delighted to see this character (terrible tusks and all) immortalised on a UK 50p coin for the very first time.
The reverse design by Magic Light Pictures beautifully captures the mysterious and unusual beast, described in Donaldson's book as having 'two large, curved horns at the top of his head' and 'an enormous, poisonous wart on the end of his wet nose.'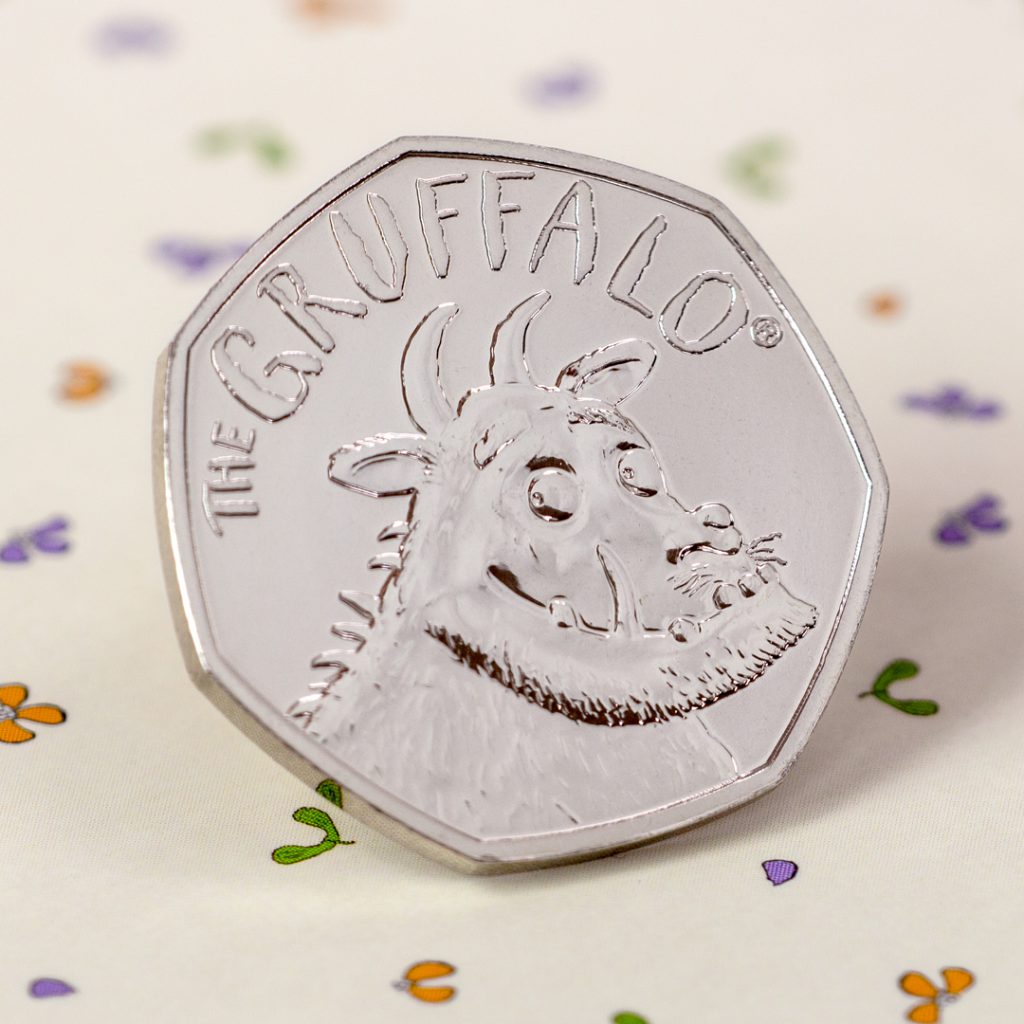 Since the release of the first Beatrix Potter 50p coins in 2016 – a collecting sensation, appealing to not just dedicated collectors, but the wider public and fans of the children's stories too – classic book and film characters have been a real favourite theme for 50p coins.
The release of The Snowman 50p last Christmas created a flurry of excitement as collectors and lovers of the story rushed to add this coin to their collection, and I wouldn't be surprised if the latest fictional character to take to our UK coinage becomes the next must-have coin.
The Gruffalo® 50p is available in Brilliant Uncirculated and Silver Proof quality, with the silver coin featuring colour printing to really bring the orange eyed monster to life. Just 25,000 colour printed silver coins are available and after the sell-out success of the silver Snowman 50p, collectors looking to secure this coin will want to act quick!
From publication of The Gruffalo in 1999 to the film adaptation, to the west-end theatre production and now to the 50p coin, the adoration for this endearing character amongst children and adults alike makes the 20th anniversary of the Gruffalo a wonderful occasion to celebrate.
---
Own the coin in superior Brilliant Uncirculated quality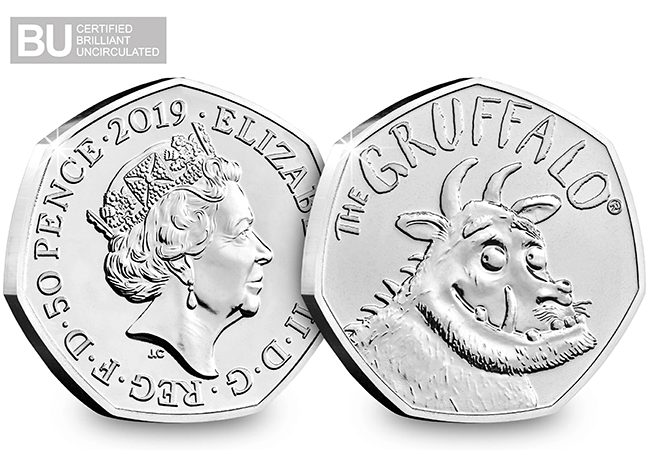 This is the first time the Gruffalo has featured on official UK coinage and serious collectors will want to guarantee themselves one for their collection.
A Stephen Hawking 50p has just been announced and this new coin for 2019 is set to be out of this world!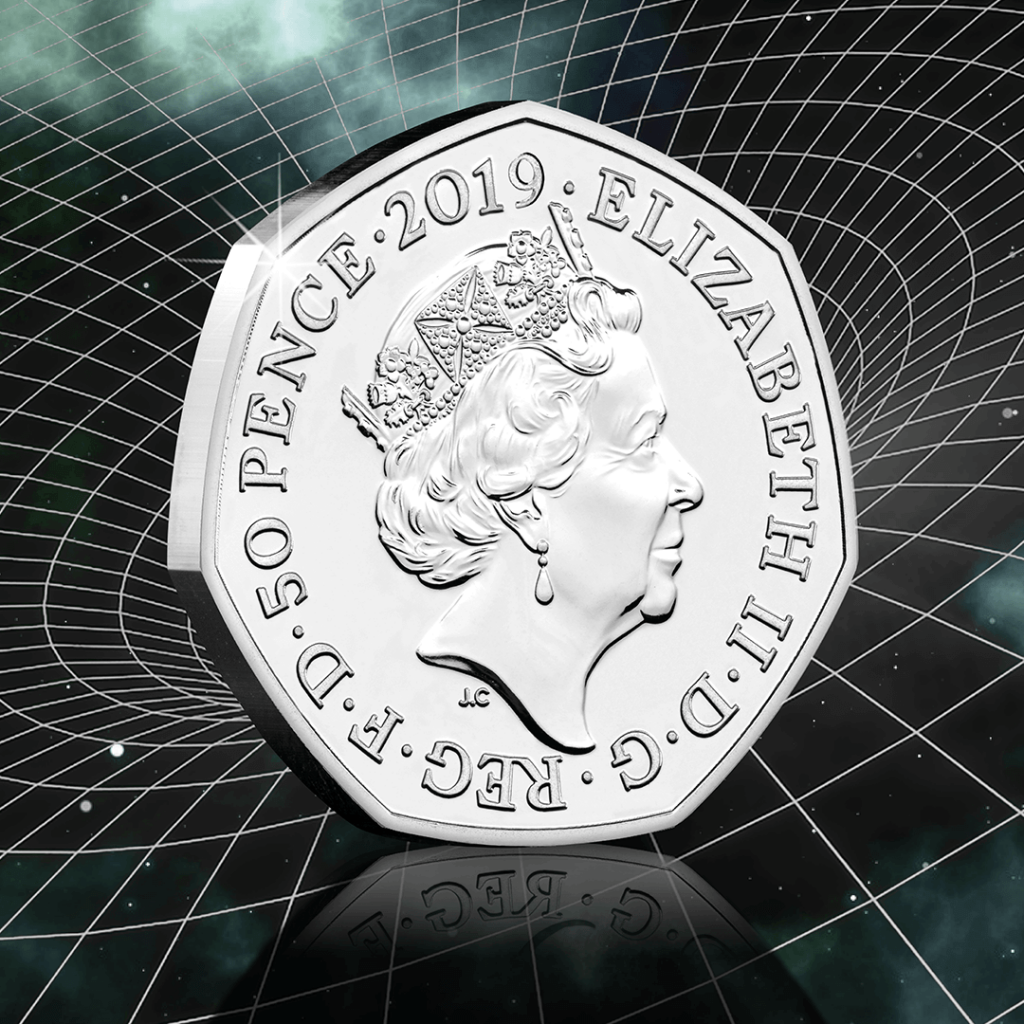 The latest Royal Proclamation has revealed that a brand new 50p coin will be issued by The Royal Mint this year, celebrating the life of one of the world's most acclaimed physicists and ambassadors for science – Stephen Hawking.
The 50p design will feature a stylized depiction of a black hole with the inscription "STEPHEN HAWKING" and the entropy equation.
As a great innovator in his field and one of the most famous British scientists of modern times, it seems a fitting tribute that a new coin should be issued featuring Stephen Hawking.
His breakthrough ideas on the workings of the universe can be seen as a significant contribution to humanity, making the complexities of physics relatable for the everyday person.
Interestingly, Stephen Hawking could become one of only three people in British history to be commemorated on a coin within a year of their death, alongside Winston Churchill and the Queen Mother.
Although all the details have not been released yet and the actual design is still top secret, it seems likely that the Stephen Hawking 50p coin will be hugely popular with the British public.
Stay up to date with all the latest Stephen Hawking news…
Fill in your details below to be kept up to date with all the latest news about the Stephen Hawking 50p coin and be the first to find out when it becomes available.
---
If you're interested in coin collecting, our Change Checker web app is completely free to use and allows users to:
– Find and identify the coins in their pocket
– Collect and track the coins they have
– Swap their spare coins with other Change Checkers
Sign up today at: www.changechecker.org/app
As today is Random Acts of Kindness day, I've decided to take a look and some of the most random, weird and wonderful coins issued from all around the world.
Whilst these coins haven't entered circulation, I'm sure you will agree that they are works of art from truly innovative Mints. It's been really exciting to discover the unique coins different countries have to offer, so take a look at the designs below to see some of the fascinating coins international mints have produced.
Germany's see through 5 Euro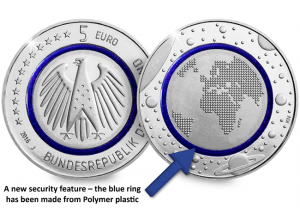 Developed by Dr Peter Huber and Günther Waadt, this unusual coin is a first of its kind. Released in 2016, the see through coin features a blue plastic ring in the middle and has been named 'Blue Planet Earth'.
Not only is the blue ring easy to identify and authenticate by the naked eye, it is made of polymer plastic which behaves like a form of insulation between the pieces of two different metals and will be easy for cash machine to recognize whether it is real or fake.
A German Minting Technology team has spent a decade developing this new security feature. In fact, it's the first coin to be made from a combination of metal and plastic materials which are rumoured to change colour when exposed to UV light.
In 2017, five more coins were created to reflect Earth's climatic zones with the use of a different coloured plastic polymer ring to represent each zone. The series will continue releasing one coin per year until 2021.
Canada's 3D Snowball Fight 50 Cents
We all love a snowball fight and this wonderful Canadian 50 Cent coin allows you to bring to life the magic of a snowball fight on an innovative 3D coin!
The Royal Canadian Mint is renowned for their forward thinking technology, and in 2018 they used lenticular printing to create artist Tony Bianco's fun-filled design with an illusion of depth, which actually appears to move as the coin is viewed from different angles – so watch out for those snowballs!
It really put a smile on my face when I came upon this coin in my research, and with a mintage of just 20,000 I'm sure those few Canadian Change Checkers who were lucky enough to add this coin to their collection will really treasure this coin.
Palau's Bottle Top Coin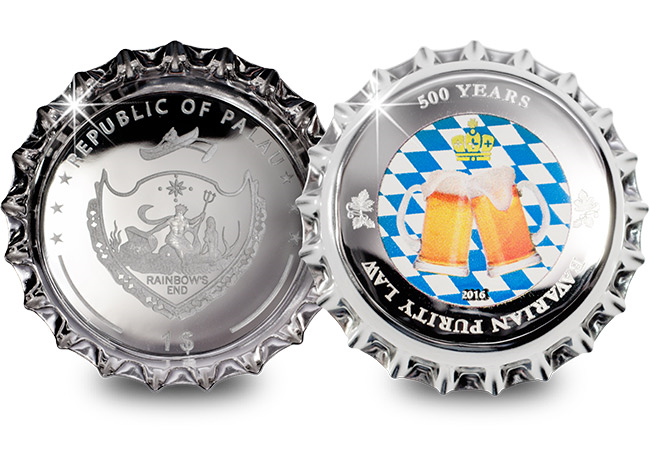 This is the world's first ever 'beer bottle top-shaped' legal tender coin. Issued in 2016 to honour the 500th Anniversary of the Bavarian Purity Law – the enactment by Duke Wilhelm IV of Bavaria in 1516 states that only 4 ingredients can be used to produce the beer and even provides a restriction on pricing.
Whether you're a beer lover or coin enthusiast – or both – I'm sure you'll agree that this unusual coin is a fitting tribute to this landmark occasion in the history of brewing.
The obverse of the crown-cap-shaped coin shows the coat of arms of the issuing state below an outrigger canoe. Whilst the reverse shows two toasting beer mugs and a crown.
Nauru's First Issue of the Euro 10 Dollars
This unique and incredibly intricate ten dollar coin was issued in Nauru (a tiny island in Micronesia, northeast of Australia) in 2002 to commemorate the first Euro coinage.
The unusual coin is shaped as a map of Europe and has been struck in .999 pure silver.
On the obverse you can see the Bank of Nauru's coat of arms and on the reverse is a gold plated Euro coin and the words '2002 – FIRST ISSUE OF THE EURO'.
Chad's Earth Meteorite Gold Proof 3000 Francs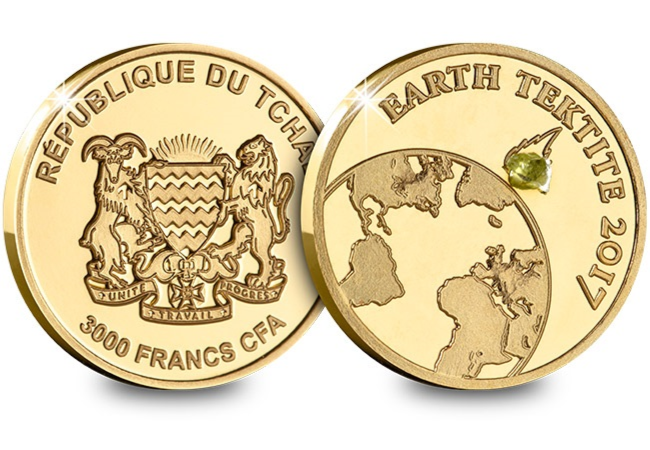 Within this Pure Gold Proof coin, issued in Chad in 2017, is a Moldavite Tektite gemstone – unique evidence of what can happen on the incredibly rare occasion that a meteorite hits the Earth.
These gemstones can only be found at five locations on Earth, and throughout the Middle Ages, they were highly prized and strictly reserved for those born of royal blood and nobility.
Struck from 0.5g of pure Gold, this coin is what is known as 'small' Gold – a collecting craze that is proving to be extremely popular among collectors worldwide, making this already very unique coin even more special.
With so many fascinating coins issued around the world, you don't have to look far to find inspiration for your international collection. What do you think about the coins above and have you found any weird and wonderful coins for yourself?
---