Posts Tagged 'Coin Collector'
In September 2011, the fourth Commonwealth Youth Games were hosted on the Isle of Man and to commemorate this sporting event, Pobjoy Mint issued a new £2 coin on behalf of the Isle of Man Treasury.
This £2 coin featured the official Commonwealth Youth Games Mascot, Tosha the Cat and the official logo of the games.
But what makes this £2 coin so special?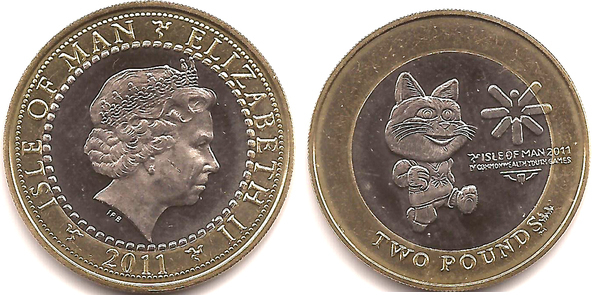 The name 'Tosha', meaning 'first' in Manx Gaelic is fitting considering this was the first time the games were held on the island. However, even though this significant sporting event and the fun design representing it would make this coin a great find for collectors, the popularity of the Tosha Cat £2 on the secondary market remains a force to be reckoned with…
The rise of the Tosha Cat £2
So how did this £2 coin come to be so popular?
Whilst rarity is normally a large factor in how collectable a coin is, mintage figures for British Isles coins are notoriously hard to track down and this coin is no exception. No one actually knows the true mintage figure, so it can't be said how rare the coin is, although we do know that British Isles coins typically have lower mintages than UK coins due to the smaller population.
One thing we do know for certain is that the Isle of Man Tosha Cat £2 is definitely sought-after amongst collectors.
Although the Tosha Cat £2 was issued in 2011, it wasn't until it was posted on Facebook coin groups in 2018 that the price started skyrocketing on the secondary market. In fact, in 2018 this coin became 'Coin of the Year' on Facebook coin groups, and this is where it really found its success.
Following the Facebook hype surrounding the Tosha £2, eBay bidding wars began. At a time when the Kew Gardens was selling for around £80 on eBay, this coin was regularly selling for double that!
Listed for thousands of pounds on eBay!
In fact, listings on eBay continue to regularly exceed £100 and even go up to thousands of pounds for this Isle of Man coin!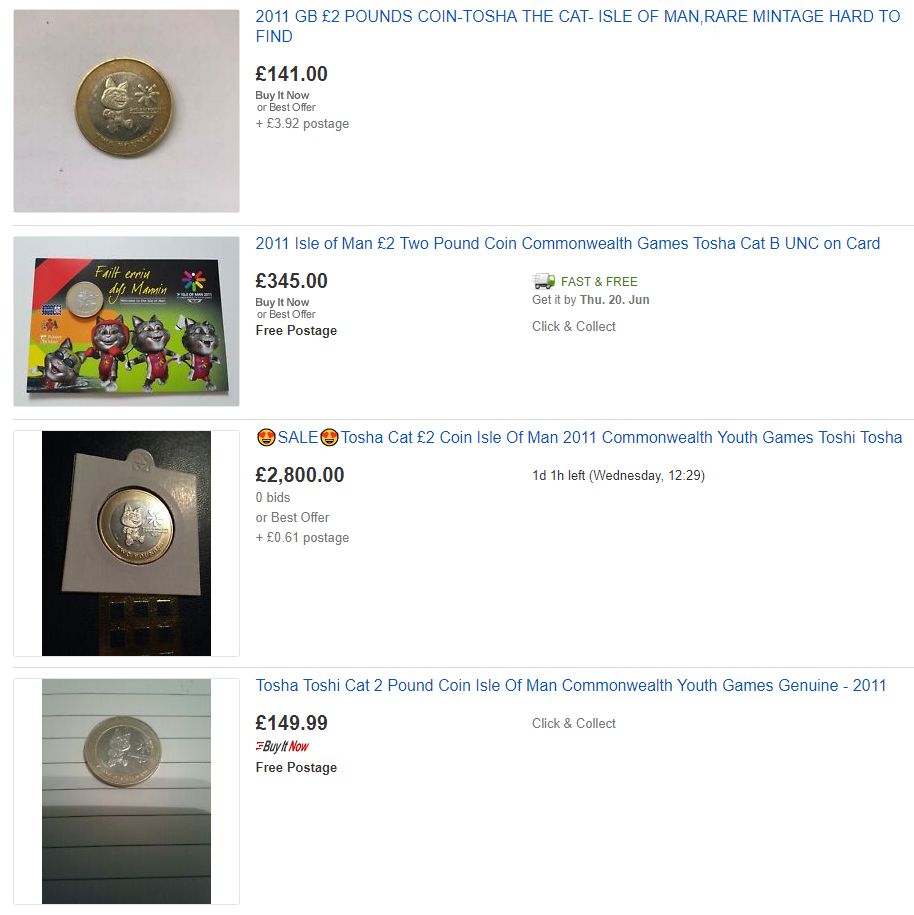 Although the coin may not actually sell for such eye watering amounts, a quick check of the recent 'sold' listings shows that some collectors are willing to pay more than 50 times face value to own this coin!
More commonly the coin sells for around £12, which is still an impressive 6 times its face value.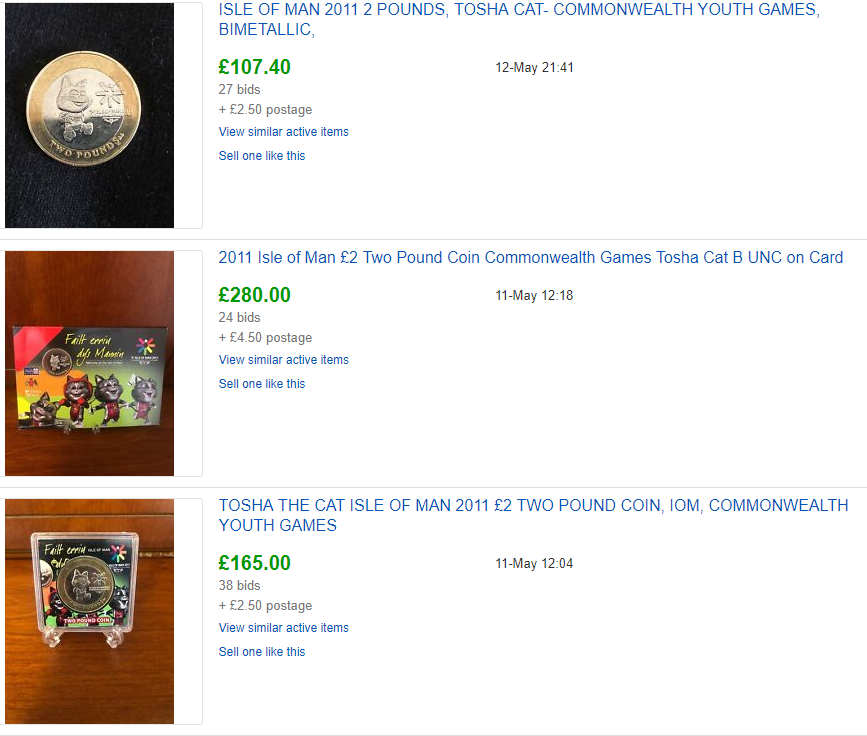 Beware of Fakes!
As is the story with the Kew Gardens 50p, the popularity of this coin has unfortunately led to fakes being produced and sold on the secondary market, taking advantage of unsuspecting collectors who would be willing to pay well over face value to own the coin.
If you're looking to secure the Isle of Man Tosha Cat £2 for your collection, it's certainly worth doing your research, buying/swapping from a reputable seller (look for eBay feedback or successful swaps on Facebook groups) and checking the images of the coin to make sure it looks legitimate.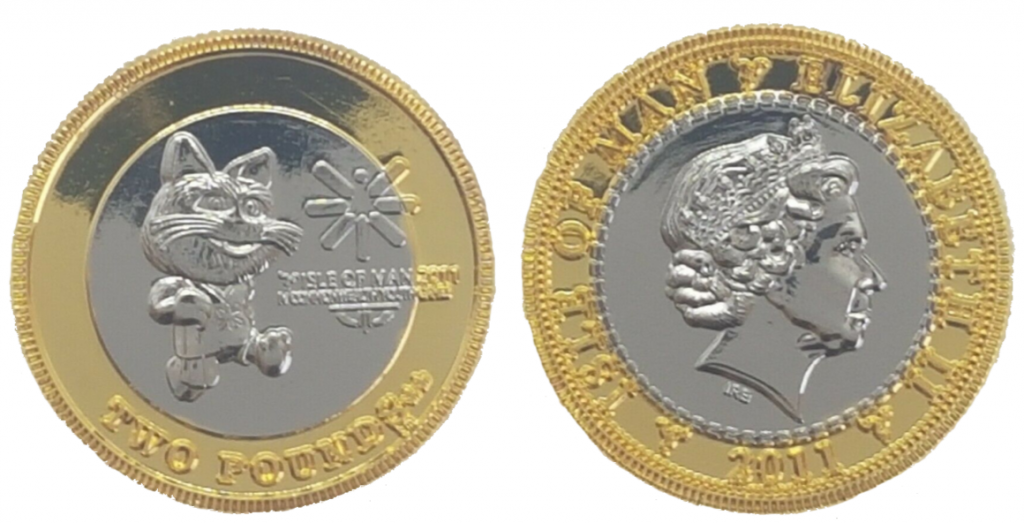 The image above gives you an idea of what a fake Tosha Cat £2 coin may look like.
Fake coins will be overly shiny, the strike will be much less defined and the coin may well weigh less than the standard 12g £2 coin.
Popular Isle of Man Coins
The Isle of Man has released some fantastic coins over the years, including the much-loved Christmas 50ps, TT race coins and most recently, this year's hugely popular release of the Peter Pan 50ps.
As the Isle of Man has some wonderful coin designs and really exciting collecting opportunities, you can see why more and more UK collectors are turning their attention to British Isles coins. But do you have any in your collection?
---
Own both 2019 Isle of Man TT £2 coins!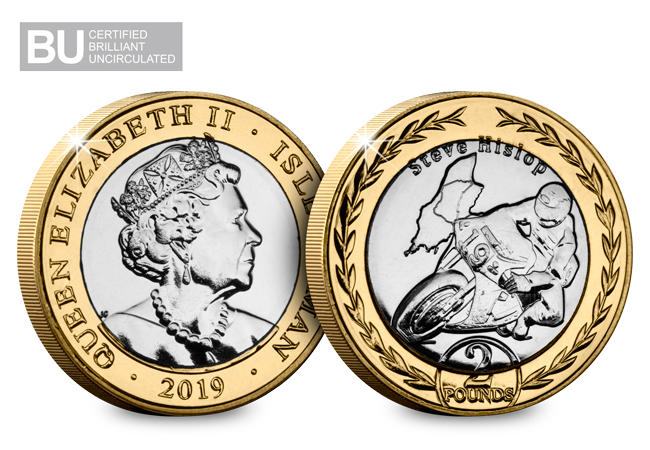 If you're interested in collecting Isle of Man coins, you'll love the 2019 Isle of Man TT £2 coin duo, which is now available in Brilliant Uncirculated condition.
Every coin tells a story. But few more than America's eight most notorious coins…
The U.S. collectible coin market can be an absolute minefield and is one of the most competitive coin collecting markets in the world.
Some of the most collectible coins date back to the 1800's and are extremely famous. Let me tell you why…
Indian Head Penny (1859-1909)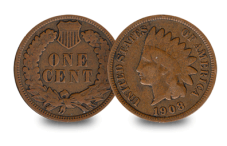 The Indian Head Penny is famous for celebrating Native Americans, but it actually doesn't show a Native American.
According to legend, designer James B. Longacre used a portrait of his 12 year old daughter, Sarah, wearing a headdress. It is, however, more likely that the portrait was based on a classical Greco-Roman statue Venus Accroupie (Crouching Venus).
Either way, the 'Indian' is not a Native American! The obverse features the head of Lady Liberty wearing a headdress, while the reverse depicts a wreath as well as the words 'One Cent' and a shield in the middle at the top of the coin.
Morgan Silver Dollar (1878-1921)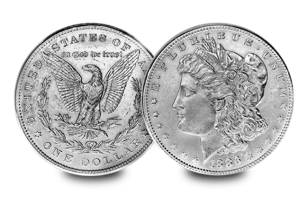 For the new silver dollar, designer George T. Morgan decided to portray Liberty as a goddess, inspired by Philadelphian school teacher, Anna Williams who had a fair complexion, Grecian nose and golden hair. Morgan eventually persuaded Anna Williams to sit as the model for Liberty for the obverse of the Morgan Silver Dollar.
In 1878 artists' models were considered immoral, therefore, Morgan publicly stated that the model was a statue in a Philadelphia museum. Word soon leaked out, however, and it is rumoured that Williams was fired from her teaching job!
'No Cents' Liberty Head Nickel (1883)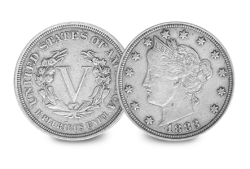 When the new Liberty Head Nickel was issued in 1883, the denomination was nowhere to be seen, instead a large 'V' (Roman '5') was on the reverse.
The coins were the size of the $5 gold coin in circulation at the time which created an opportunity for unscrupulous crooks who came up with a cunning plan to pass them off as $5 by gold plating the new nickels and cutting reeds into the edge by hand. The U.S Mint soon became aware and within a few weeks the design was changed to include the word 'Cents' under the 'V'. The 'No Cents' coins are also known as 'Racketeer' Nickels.
Lincoln Penny (1909)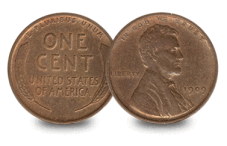 Designer Victor David Brenner added his 'VDB' initials to the new Lincoln Penny design in 1909 which was issued to commemorate the 100th anniversary of Abraham Lincoln's birth.
While the public generally loved the Lincoln cent when it was first released, they didn't like the prominence of Brenner's initials. The U.S. Mint quickly removed the initials as it appeared as though Brenner was either boasting or advertising. This was the first cent to feature Abraham Lincoln's motto 'In God we trust' on the obverse.
Morgan Dollar (1921)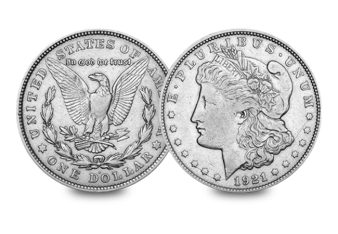 When notorious outlaws Bonnie and Clyde were shot and killed by police in 1934, a 1921 Silver Morgan Dollar was recovered from the jacket of Clyde Barrow among other possessions. The outlaw lovers were believed to have committed 13 robberies among other felonies between 1932 and 1934.
The hunt for the duo captured the nation's imagination during the Great Depression and their fame was heightened by their practice of leaving glamourous photos of themselves at crime scenes.
Even more so now, the 1921 coin is forever associated with Bonnie and Clyde.
Roosevelt Dime (1946)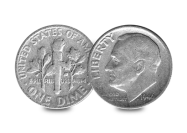 In 1945 plans were quickly laid for the introduction of a new coin to honour Roosevelt after his passing. The task was assigned to John Ray Sinnock and coinage began in 1946. Controversy soon arose because sculptor Selma Burke claimed that Sinnock had stolen her design without giving her credit, however Sinnock strongly denied this.
In addition, conspiracy theorists claimed that Sinnock's initials 'JS' (at the base of Roosevelt's neck) actually referred to Russian leader Joseph Stalin because of Roosevelt's supposed 'communist' learnings.
Franklin Half Dollar (1948)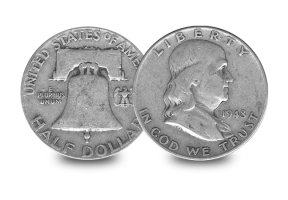 The Franklin Half Dollar was designed by John R. Sinnock and his 'JS' initials were again seen by conspiracy theorists as a tribute to Joseph Stalin.
In addition, the crack on the Liberty Bell was controversial, some people saw it as a statement that Liberty in the United States was under threat (despite the fact that the image exactly reflects the bell's appearance).
Finally, what appears to be a small 'o' and large 'F' on the reverse ('oF' in the United States of America) was rumoured to be a mistake and that the Mint would recall all 1948 coins to correct the 'error'.
Anthony Dollar (1979)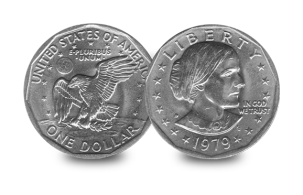 The Anthony Dollar was revolutionary – the first circulating coin to feature a historical woman. Susan B. Anthony was an author and protest speaker among other titles but best known as President of the National American Suffrage Association. The coin was also the first small-sized Dollar that was issued for wide circulation.
However, it quickly became notorious – and almost universally rejected – because it was the same colour and about the same size as a quarter. Therefore, it was often mistaken for a Quarter, and the public refused to use it! (Interestingly, it is now a sought-after collector's item.)
For me, one of the best things about coin collecting is the story behind the coin and I'm sure you'll agree that these coins from America have some truly fascinating stories to tell.
---
Discover the coins from the USA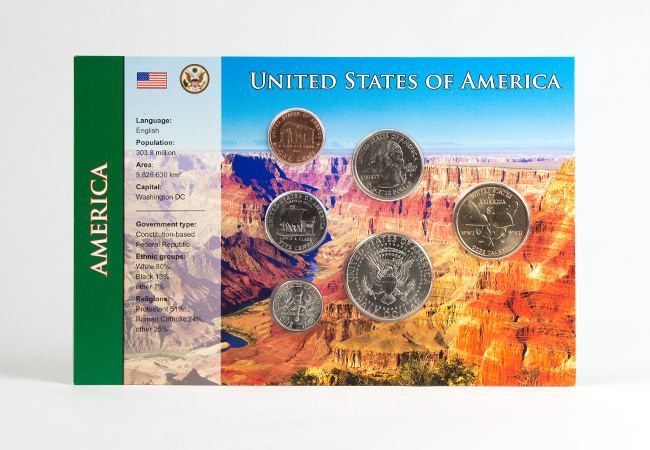 Today you can secure for your collection the coins your fellow American Change Checkers are collecting, from 1 cent to 1 dollar!
The wait is finally over and it is with great excitement that we can reveal the brand new Isle of Man Peter Pan 50p coins to you all…
These amazing coins have been developed in partnership with Great Ormond Street Hospital Children's Charity to celebrate 90 years since Peter Pan author, J.M. Barrie, gifted all future rights in Peter Pan to them.
Our friends at the Westminster Collection say, "It has been an honour working with this fantastic charity to create the WORLD'S FIRST Peter Pan 50ps, and for every coin sold a donation will go directly to GOSH Charity to support the hospital's most urgent needs: fund support services, pioneering research, equipment and refurbishment."
Peter Pan remains one of the most cherished and loved children's stories of all time and as such demand for these new 50p coins is expected to be extremely high.
Whether you're an avid 50p collector, a Peter Pan fan, or just a big kid at heart, I'm sure these coins are bound to sweep you off your feet.
The Official Peter Pan 50p Coin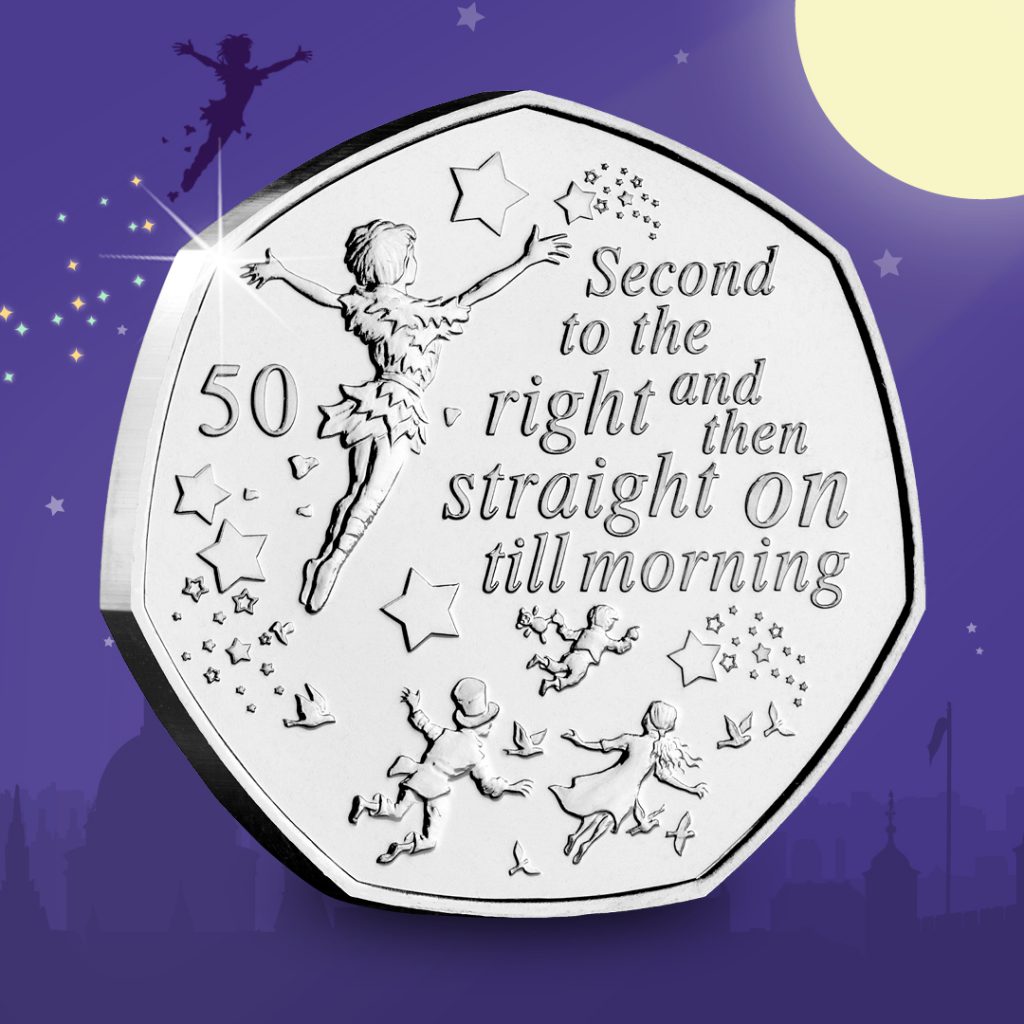 The brand new Peter Pan 50p features an engraving of David Wyatt's illustration from the Oxford University Press edition of Peter Pan, alongside a well-known and much loved quote from the book.
This is the first time ever that Peter Pan has featured on a 50p coin and I'm sure that this magical design will go down a treat with collectors, especially following the popularity of previous book character coins.
The COMPLETE Peter Pan 50p Set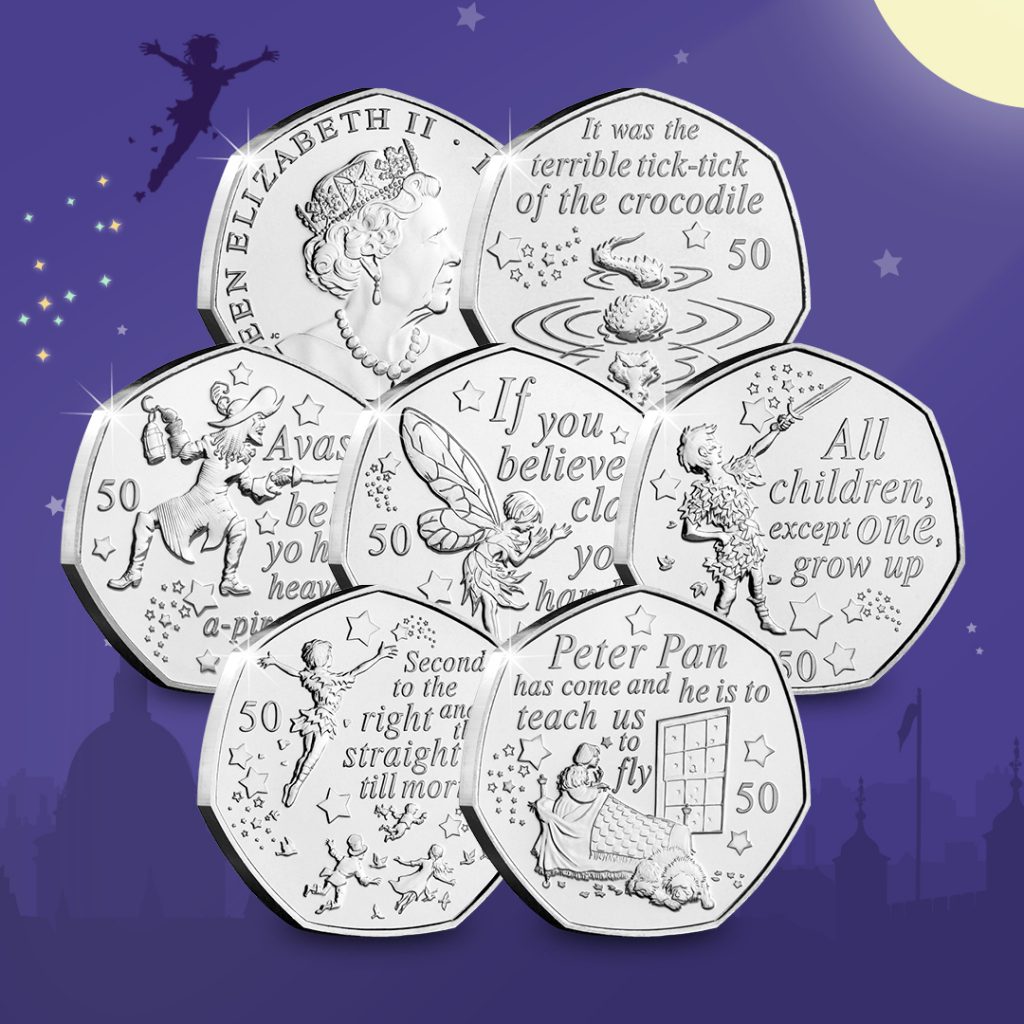 Six coins have been created in total, each featuring a different quote and an accompanying specially commissioned design showcasing one of David Wyatt's stunning illustrations from the Oxford University Press edition of Peter Pan.
Each coin is dedicated to a favourite character from the book, including Peter Pan, Captain Hook, Tick-Tock the Crocodile, Tinkerbell, Wendy and Nana.
Whilst I'm sure you'll agree each design is truly beautiful, my personal favourite has got to be Tinkerbell! Let me know in the comments below which design you prefer.
But these coins aren't just available in Brilliant Uncirculated quality; they will in fact be available in a range of other finishes too…
The Silver Proof Peter Pan 50p Coins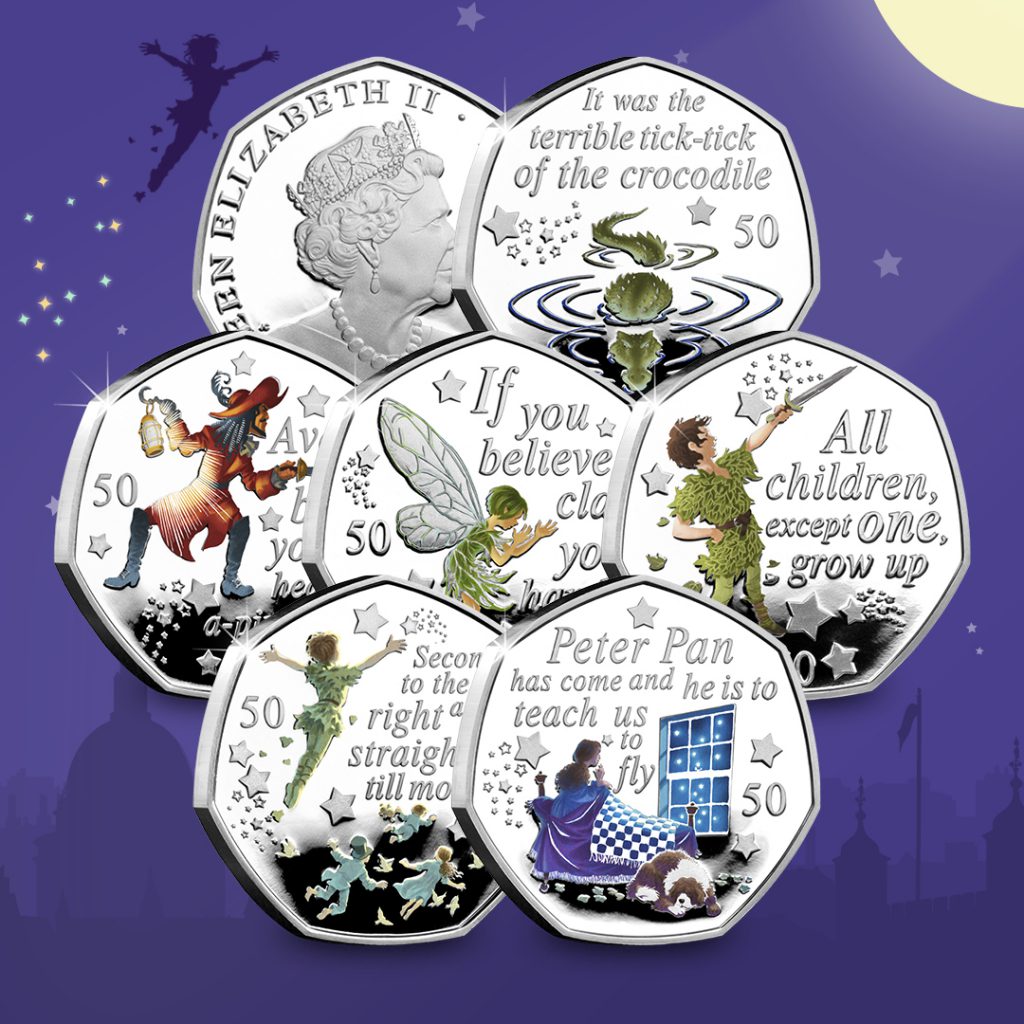 Struck in Sterling Silver to an immaculate Proof Finish, these coins feature an impressive full-colour illustration of the stunning designs, really bringing the magic of the story to life.
Silver Proof 50p's are amongst the most sought-after new issues around and with JUST 10,000 of the individual Peter Pan Silver Proof 50p and JUST 1,995 of the Silver Proof set available worldwide, a sell-out is expected.
The Gold Proof Peter Pan 50p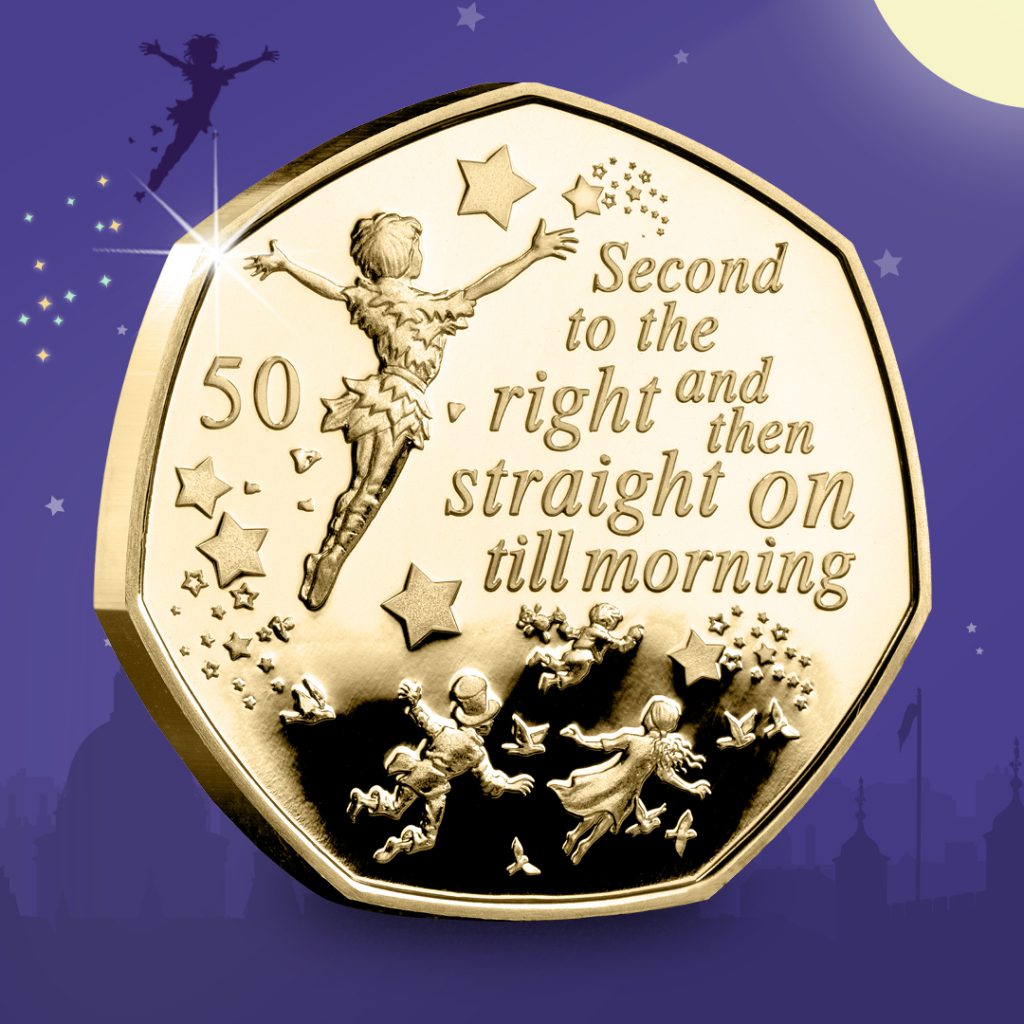 This is the crème de la crème of the range you could say…
Struck from 22 Carat Gold to a perfect Proof Finish, JUST 500 lucky collectors worldwide will be able to own this prestigious new coin.
New Gold Proof 50p's have a strong sell-out history and high demand is expected for the Gold Proof Peter Pan 50p.
The British Isles really have had some fantastic releases recently and I must say that these coins from the Isle of Man have got to be some of my favourites! But what do you think about these coins? Let us know in the comments below!
---
Add the 2019 Peter Pan 50p coins to your collection!

These beautiful new coins are now available to add to your British Isles collection, starting from £6.25 for the individual Peter Pan coin in Brilliant Uncirculated quality and £37.50 for the Brilliant Uncirculated set.
If you'd like to take a piece of magic home with you, click here to order your Peter Pan 50p coins.