We were recently asked to identify an unusual coin, which on first glance appeared to be a US Trade Dollar from 1885. However, once we started researching this coin, it became obvious that it must have been a fake.
Here's why a genuine 1885 Trade Dollar would be impossible to find…
One of the rarest coins on the planet
Earlier this year, the finest known 1885 Trade Dollar was sold for an eye watering $3.9 million at Heritage Auctions! Whilst this US coin may not be familiar to UK Change Checkers, it is incredibly rare – perhaps one of the rarest coins on the planet.
The US Trade Dollar was designed by William Barber and features Lady Liberty seated on a pedestal of merchandise, facing across the sea and holding an olive branch. On the reverse an eagle holds branches ladon with berries within its talons – an iconic American image. This design remained unchanged besides minor modifications up until the last coin of the series was struck.
Creation of the Trade Dollar
Made from .900 Silver, these coins were struck primarily for trade with Asia and were competing against the other large silver trade coins which had already become popular in the East.
The 1873 Coinage Act made these coins legal tender for payments up to five dollars and many made their way into American commercial channels, despite the majority being sent to Asia.
As their distribution across America became more widespread and the price of silver fell the coins were demonetised, although many 1873 – 1883 Trade Dollars can still be found on the secondary market today and are often sought-after by US collectors.
The greatest numismatic mystery…
In 1878, production of circulation strikes officially stopped. The Philadelphia Mint continued to strike Trade Dollars after this, however the coins were only issued in proof quality for numismatic purposes.
It was initially believed that the final year of production was 1883, however over two decades later, 1884 and 1885 dated Trade Dollars created a sensation when they appeared on the secondary market.
Incredibly, just 10 1884 proof quality Trade Dollars were struck and more astonishing still is that only 5 of these coins were struck in 1885!
Imagine how exciting it would have been to first find out about these secret coins, and how desperate American collectors must have been to get their hands on one!
Lack of documentation means the origins behind their creation still remains one of the greatest numismatic mysteries… It's actually thought that employees from the Philadelphia Mint secretively struck the coins after production was halted.
Sold for $3.9 million!
All 5 coins from 1885 are now accounted for and are owned in private collections, meaning the public rarely get the chance to see these coins exhibited.
A few of the 1885 Trade Dollars have sold at private auction, reaching phenomenal prices.
One of the finest specimens from the Eliasberg Collection appeared at Heritage Auctions this year and sold for $3.9 million!
President of Heritage Auctions, Greg Rohan said, "Owning the finest-known [1885 Trade Dollar] specimen is to own an enduring symbol of numismatic and American history."
So, whilst the 1885 Trade Dollar would be an exceptional coin for any collector to come across, as all 5 1885 Trade Dollars are accounted for, the only explanation for the coin we were asked to look at is that unfortunately it must have been a fake.
It really would be amazing to be able to own a coin as rare as this though! What would you do if you came across such a unique coin in your change?
There are so many fascinating stories about different coins from all around the world and if you have a story about a rare or unusual coin, we'd love to hear it!
---
Discover the coins USA Change Checkers are collecting!
The famous mints in the United States of America, such as in Denver and Philadelphia, have hundreds of years of history producing some of the most collected and sought-after coins in the world, and with this USA coinage pack you can secure a piece of US history.
Click here to order your USA Coin Set for just £10.00 (+p&p).
As today is Random Acts of Kindness day, I've decided to take a look and some of the most random, weird and wonderful coins issued from all around the world.
Whilst these coins haven't entered circulation, I'm sure you will agree that they are works of art from truly innovative Mints. It's been really exciting to discover the unique coins different countries have to offer, so take a look at the designs below to see some of the fascinating coins international mints have produced. 
Germany's see through 5 Euro
Developed by Dr Peter Huber and Günther Waadt, this unusual coin is a first of its kind. Released in 2016, the see through coin features a blue plastic ring in the middle and has been named 'Blue Planet Earth'.
Not only is the blue ring easy to identify and authenticate by the naked eye, it is made of polymer plastic which behaves like a form of insulation between the pieces of two different metals and will be easy for cash machine to recognize whether it is real or fake.
A German Minting Technology team has spent a decade developing this new security feature. In fact, it's the first coin to be made from a combination of metal and plastic materials which are rumoured to change colour when exposed to UV light. 
In 2017, five more coins were created to reflect Earth's climatic zones with the use of a different coloured plastic polymer ring to represent each zone. The series will continue releasing one coin per year until 2021.
Canada's 3D Snowball Fight 50 Cents
We all love a snowball fight and this wonderful Canadian 50 Cent coin allows you to bring to life the magic of a snowball fight on an innovative 3D coin! 
The Royal Canadian Mint is renowned for their forward thinking technology, and in 2018 they used lenticular printing to create artist Tony Bianco's fun-filled design with an illusion of depth, which actually appears to move as the coin is viewed from different angles – so watch out for those snowballs!
It really put a smile on my face when I came upon this coin in my research, and with a mintage of just 20,000 I'm sure those few Canadian Change Checkers who were lucky enough to add this coin to their collection will really treasure this coin.
Palau's Bottle Top Coin
This is the world's first ever 'beer bottle top-shaped' legal tender coin. Issued in 2016 to honour the 500th Anniversary of the Bavarian Purity Law – the enactment by Duke Wilhelm IV of Bavaria in 1516 states that only 4 ingredients can be used to produce the beer and even provides a restriction on pricing.
Whether you're a beer lover or coin enthusiast – or both – I'm sure you'll agree that this unusual coin is a fitting tribute to this landmark occasion in the history of brewing. 
The obverse of the crown-cap-shaped coin shows the coat of arms of the issuing state below an outrigger canoe. Whilst the reverse shows two toasting beer mugs and a crown.
Nauru's First Issue of the Euro 10 Dollars
This unique and incredibly intricate ten dollar coin was issued in Nauru (a tiny island in Micronesia, northeast of Australia) in 2002 to commemorate the first Euro coinage.
The unusual coin is shaped as a map of Europe and has been struck in .999 pure silver.
On the obverse you can see the Bank of Nauru's coat of arms and on the reverse is a gold plated Euro coin and the words '2002 – FIRST ISSUE OF THE EURO'.
Chad's Earth Meteorite Gold Proof 3000 Francs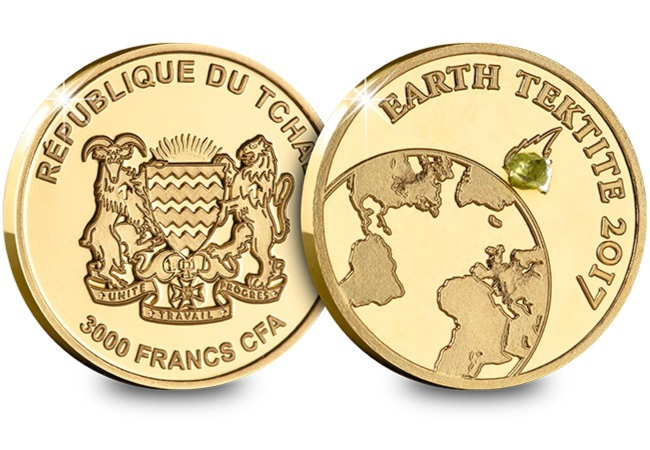 Within this Pure Gold Proof coin, issued in Chad in 2017, is a Moldavite Tektite gemstone – unique evidence of what can happen on the incredibly rare occasion that a meteorite hits the Earth.
These gemstones can only be found at five locations on Earth, and throughout the Middle Ages, they were highly prized and strictly reserved for those born of royal blood and nobility.
Struck from 0.5g of pure Gold, this coin is what is known as 'small' Gold – a collecting craze that is proving to be extremely popular among collectors worldwide, making this already very unique coin even more special.
With so many fascinating coins issued around the world, you don't have to look far to find inspiration for your international collection. What do you think about the coins above and have you found any weird and wonderful coins for yourself? 
---
We've been admiring US coinage recently and if you've read our previous blog detailing the series that half of American collected, you'll be very excited to hear that starting from 2019, the United States Mint will begin minting and issuing the American Innovation $1 Coin Act – a brand new coin series honouring American innovation.
This latest numismatic programme looks set to follow on from the success and popularity of the US Territories Quarters series mentioned above, which not only kick started coin collecting in America, but worldwide!
Each coin represents its own state and will be released in the order that its respective state was ratified in the Constitution of the United States and admitted to the Union.
Released over a 14 year period, these coins will all bear an obverse with the Statue of Liberty and the inscriptions of "$1" and "In God We Trust". The reverse images will be representative of a significant innovation, an innovator/group of innovators from each of the 50 states, the District of Columbia and the territories of the US. The reverse designs will be selected by the Secretary of the Treasury after consultation with each Governor, chief executive and the U.S Commission of Fine Arts.
Most excitingly, the first introductory coin is set to be released later this year! The reverse of this coin will be inscribed with "United States of America" and "American Innovators," and it will include a representation of President George Washington's signature on the first U.S. patent.
Following this introductory coin, the rest will be released at a rate of 4 coins per year.  Just like the US State Quarters Series, The American $1 coins are expected to rapidly become one of the most widely collected series. But will you be collecting these new US $1 coins? Let us know in the comments below!
_________________________________________________________________________________________________________________________________
Start collecting US coins today!
Start your very own journey into US coin collecting with the US State Quarters that Half of America Collected…