Posts Tagged 'Fifty Pence'
The UK's incredibly popular Beatrix Potter 50p coins are to be followed up by two new Paddington Bear 50 pence coins.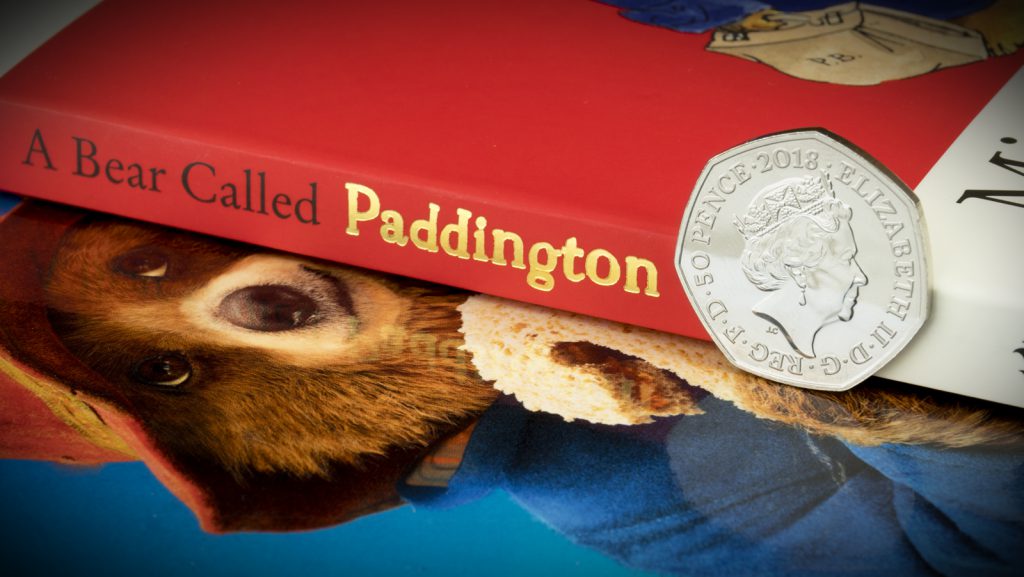 According to the Royal Proclamation, published on 9 February, there will be two new coins:
– Paddington Bear sitting on a suitcase in front of Paddington Station
– Paddington Bear waving a Union Flag outside Buckingham Palace
It's expected the coins will enter circulation later this year with commemorative collector's edition available in Brilliant Uncirculated, Silver and Gold being made available.
Of course fans of the movie Paddington 2, will remember a 50p coin playing an important part in his adventure.
Not the first time Paddington has appeared on a coin
In fact it's not the first time that Paddington Bear has appeared; he featured on 1 crown (25p) coins from both Isle of Man and Gibraltar – now listed for as much £30 on eBay.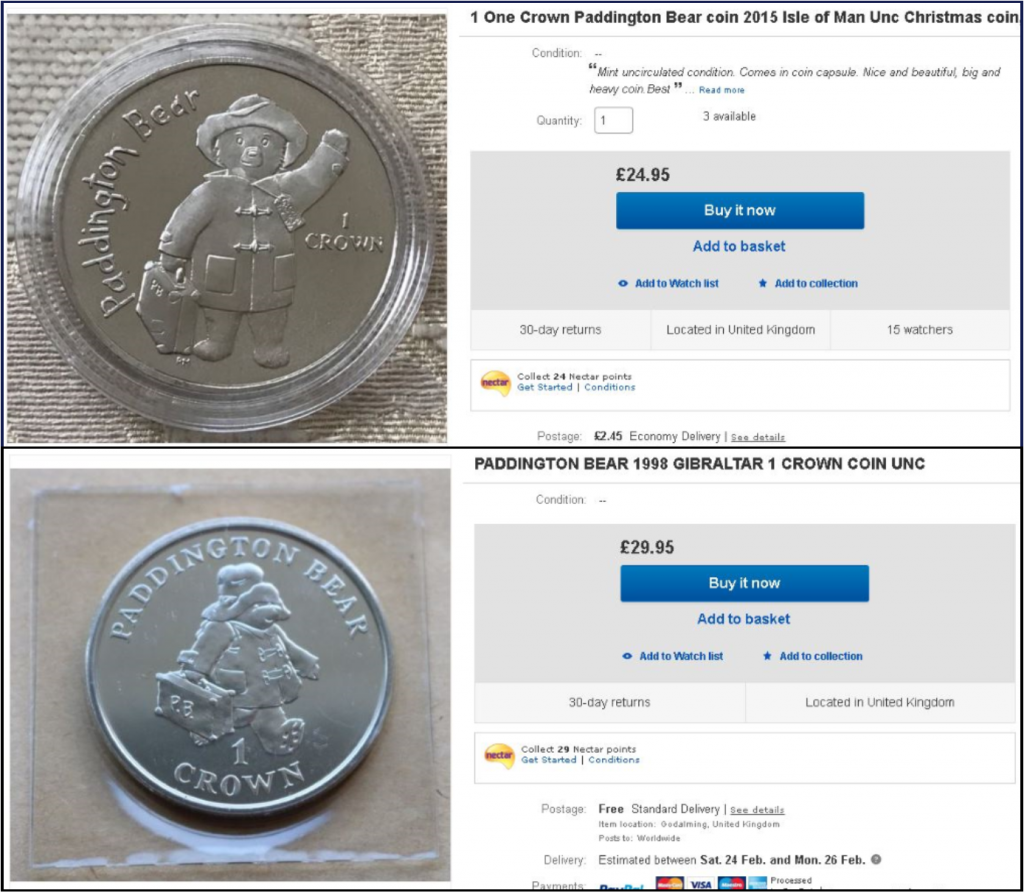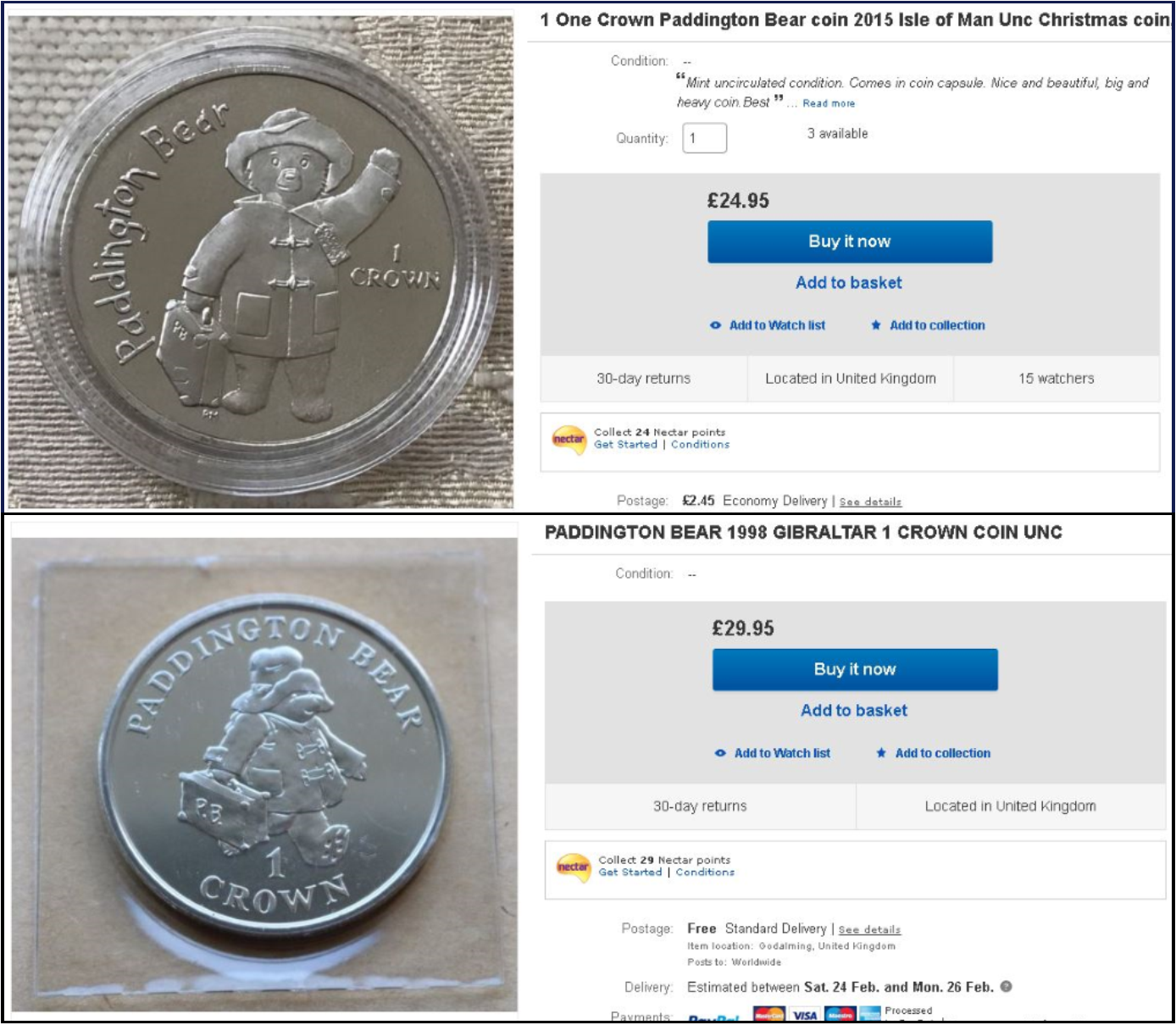 The next Beatrix Potter collecting craze?
Although all the details have not been released yet and the actual designs are still top secret, it seems likely that the Paddington 50p coins will be as popular with the British public as Peter Rabbit and friends have proved over the last three years.

————
Stay up to date with all the latest Paddington news…
Fill in your details below to be kept up to date with all the latest news about the Paddington Bear 50p coins.
After the unbelievable success of the 2016 and 2017 Beatrix Potter 50p series, many people would've been hoping for, perhaps even anticipating, more coins in 2018.
Well, I'm delighted to tell you that another four Beatrix Potter designs have just been announced by The Royal Mint!
The best news is that the 2018 Peter Rabbit 50p is available to order in BU quality TODAY!
So, without further ado, let's take a look at the delightful characters that'll grace the 2018 Beatrix Potter 50p series:
Peter Rabbit

This is the third Peter Rabbit 50p to be released by The Royal Mint and is the only character to feature in each of the Beatrix Potter series.
The 2018 design show an iconic image of Peter Rabbit munching on radishes, the reason for his near-miss in Mr Mcgregor's garden!
Flopsy Bunny

Flopsy Bunny is the next character in the 2018 series. She is, in fact, married to Benjamin Bunny who featured in the 2017 series.
The design for Flopsy Bunny places the little rabbit centre stage, with Flopsy characteristically dressed in her little jacket.
The Tailor of Gloucester

The Taylor of Gloucester coin features an iconic image from the book. One of the helpful little mice sits crossed legged on a reel or skein of 'twist', complete with miniature spectacles and newspaper.
Mrs Tittlemouse
Mrs Tittlemouse carries the basket she uses to gather her dinner. The finest of details, like the mouse's tiny whiskers and beady eye, have been captured on the coin's small surface.
The reverse of all the 2018 Beatrix Potter 50p coins have been designed by Emma Noble who's designs have featured on a number of other Royal Mint coins.
So, if you're looking forward to collecting these fantastic new coins, let us know by leaving a comment on this blog.
---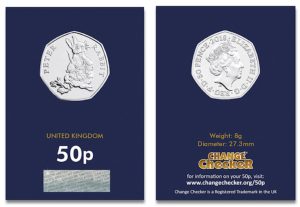 Avoid the long wait to find this coin in your change by securing the Brilliant Uncirculated issue today for just £3.99 (+p&p) >>
I am contacted many times each day by Change Checkers asking, "How much is my coin worth?".
In truth, the value of a coin is simply what a collector is willing to pay. However, I cannot deny that certain coins do regularly command many times more than face value when sold on auction sites.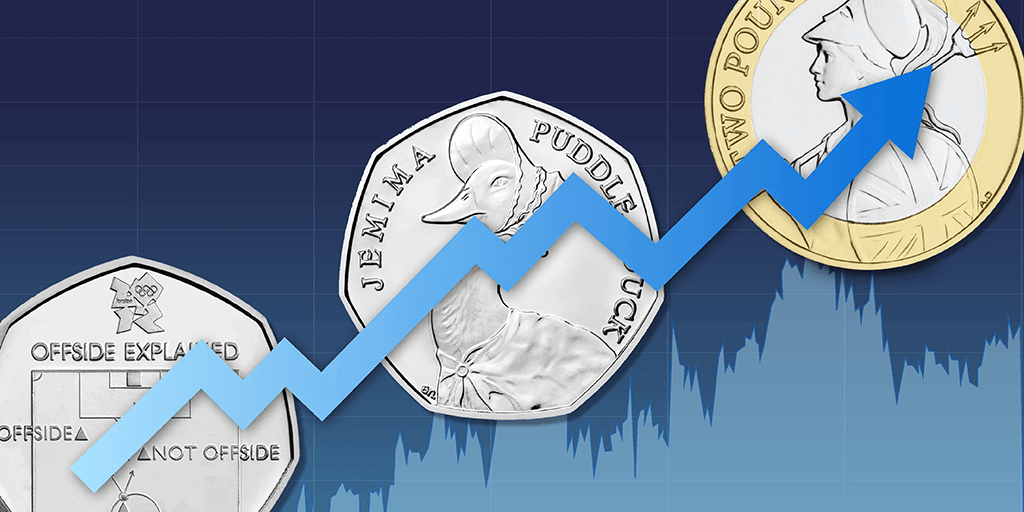 There is a lot of misinformation reported in the press regarding coin valuations. News outlets regularly report common coins being worth many thousands of pounds, simply because somebody has listed it for an extortionate amount of money.
In reality, nobody is ever going to pay thousands of pounds for a circulation Benjamin Britten 50p (despite it being a lovely coin!).
To help determine a realistic price for some of the most sought after UK circulation coins, I'm delighted to introduce the Change Checker eBay Tracker, which compares the median price paid for recent completed eBay sales for 10 of the UK's most popular coins and banknotes.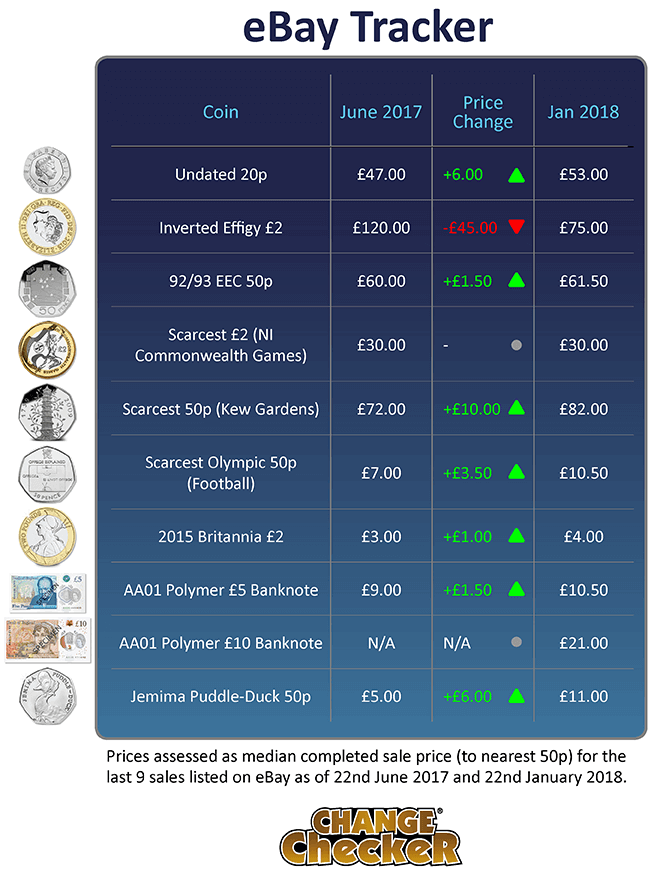 As you may expect, with the high levels of press coverage surrounding circulating coins and banknotes, prices have generally increased over the period.
The Kew Gardens 50p will now set you back £82, £10 more than 6 months ago. The Jemima Puddle-Duck 50p has more than doubled in its selling price and the Olympic Football 50p is now regularly purchased for over £10.
The AA01 serial numbered polymer £10 banknotes are selling for £21 and it'll be very interesting to see if this level on interest continues during the next 6 months.
How does the eBay Tracker work?
The Change Checker eBay Tracker takes the last 9 sold prices achieved on eBay and gives the median price achieved (rounded to the nearest 50p). By taking the median, rather than an average, we avoid skewing created by one or two excessive prices achieved.
Please note that the Change Checker eBay Tracker is only ever designed to be a guide as to prices achieved on eBay. Prices may vary depending on collector demand and the quality of the coin being sold. It does not provide any guarantee as to future values of coins.
---
Change Checker eBay Tracker updates
The next update will be released in June 2018, so if you'd like to be kept informed with any Change Checker eBay Tracker news, just fill in your details in the form below.