Posts Tagged 'Fifty Pence'
I am contacted many times each day by Change Checkers asking, "How much is my coin worth?".
In truth, the value of a coin is simply what a collector is willing to pay. However, I cannot deny that certain coins do regularly command many times more than face value when sold on auction sites.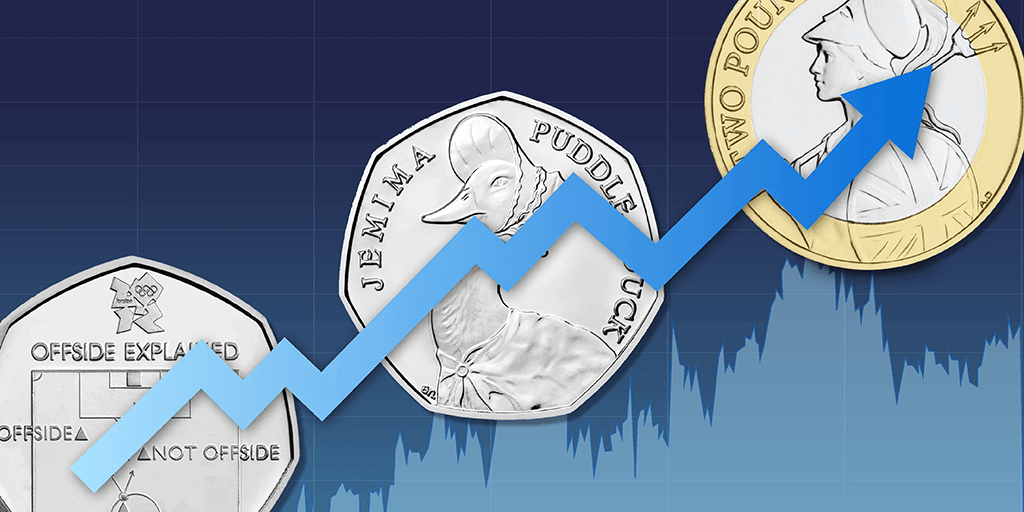 There is a lot of misinformation reported in the press regarding coin valuations. News outlets regularly report common coins being worth many thousands of pounds, simply because somebody has listed it for an extortionate amount of money.
In reality, nobody is ever going to pay thousands of pounds for a circulation Benjamin Britten 50p (despite it being a lovely coin!).
To help determine a realistic price for some of the most sought after UK circulation coins, I'm delighted to introduce the Change Checker eBay Tracker, which compares the median price paid for recent completed eBay sales for 10 of the UK's most popular coins and banknotes.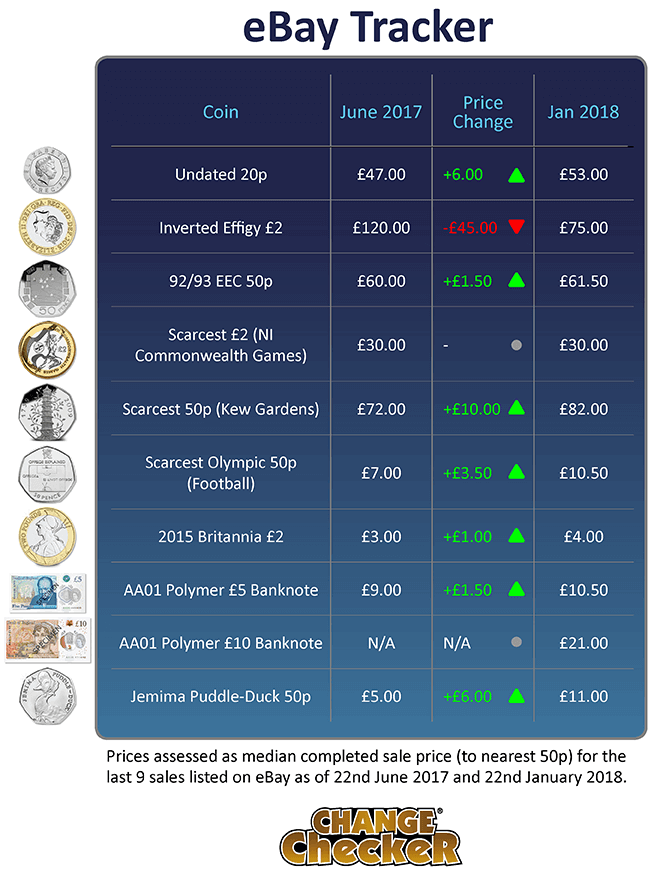 As you may expect, with the high levels of press coverage surrounding circulating coins and banknotes, prices have generally increased over the period.
The Kew Gardens 50p will now set you back £82, £10 more than 6 months ago. The Jemima Puddle-Duck 50p has more than doubled in its selling price and the Olympic Football 50p is now regularly purchased for over £10.
The AA01 serial numbered polymer £10 banknotes are selling for £21 and it'll be very interesting to see if this level on interest continues during the next 6 months.
How does the eBay Tracker work?
The Change Checker eBay Tracker takes the last 9 sold prices achieved on eBay and gives the median price achieved (rounded to the nearest 50p). By taking the median, rather than an average, we avoid skewing created by one or two excessive prices achieved.
Please note that the Change Checker eBay Tracker is only ever designed to be a guide as to prices achieved on eBay. Prices may vary depending on collector demand and the quality of the coin being sold. It does not provide any guarantee as to future values of coins.
---
Change Checker eBay Tracker updates
The next update will be released in June 2018, so if you'd like to be kept informed with any Change Checker eBay Tracker news, just fill in your details in the form below.
The Royal Mint have released many commemorative coins in the past few years and one recurring theme is prominent literary figures.
Tonight is Burns Night, a night when many people around the world will remember one of the world's most famous poets, Robert Burns.
So naturally, I thought this was a great opportunity to take a look back at some of the recent circulation coins that have celebrated some of Britain's best loved literary heroes.
Robert Burns (1759 – 1796)
Robert Burns was a Scottish poet and lyricist who is widely regarded as one of the great literary figures in British history.
Burns night is celebrated each year with a traditional Haggis supper on his birthday, 25th January, and is more widely observed in Scotland than the official national day, St Andrew's Day.
The reverse design of this £2 coin features an extract from Auld Lang Syne, Burns' most famous work.
Find out more about this coin here  >>
William Shakespeare (1564 – 1616)

William Shakespeare is the most influential literary figure in British history and his works are an important part of Britain's cultural heritage.
This coin is one of three that celebrate William Shakespeare's life work and commemorates the 400th anniversary since his death. This coin takes inspiration from Shakespeare's famous tragedies and features a skull and a rose and was designed by John Bergdahl.
The other two coins in the series celebrate Shakespeare's most famous 'Comedies' and 'Histories', taking inspiration from 'A Midsummer Nights Dream'  and 'Macbeth', respectively.
Charles Darwin (1809 – 1882)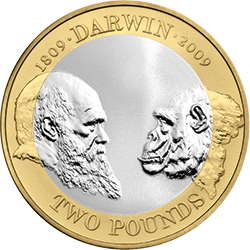 Charles Darwin was a British scientist who laid the foundations of the theory of evolution and transformed the way we think about the natural world.
His book On the Origin of the Species was extremely controversial as it made it seem possible that humans evolved from apes, and contradicted the widely held Orthodox Church theory of creation at the time.
The reverse design by Suzie Zamit features a profile portrait of Darwin facing a chimpanzee and is a favourite amongst collectors.
Add this coin to your collection today >>
Charles Dickens (1812 – 1870)

Charles Dickens is much loved for his great contribution to classic English literature.
His enchanting stories, vivid characters and depiction of Victorian life are widely acknowledged across the world by critics and scholars alike and his novels and short stories continue to be widely popular.
The reverse design of this £2 coin by Matthew Dent features Dickens' recognisable profile crafted from the titles of his most famous works.
Beatrix Potter (1866 – 1943)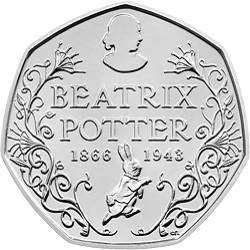 To celebrate the 150th anniversary of the birth of Beatrix Potter, The Royal Mint released this 50p to celebrate Beatrix herself.
Designed by Emma Noble, the coin includes elements that celebrate Beatrix as the artist behind some of the best-loved characters in children's literature along with the nostalgic font used for the inscription.
Along with this 50p The Mint have also released a further 7 Beatrix Potter coins, featuring many of our favourite characters from her beloved stories, including Peter Rabbit, Tom Kitten and Jemima Puddle-Duck.
The popularity of both the 2016 and 2017 Beatrix Potter 50p series has been astounding and introduced many thousands more people to the world of change collecting.
Own the complete 2017 Beatrix Potter collection today >>

Jane Austen (1775 – 1817)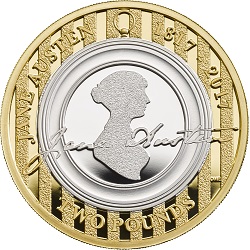 Jane Austen is one of the best-loved English novelists from the 19th century. Her novels were revolutionary and from her first novel, 'Sense and Sensibility', readers began a love affair with her fiction that has lasted two centuries.
Designed by Dominique Evans, a portrait of Jane Austen features on this £2 coin, released in 2017, to mark 200 years since her death.
Interestingly, with the introduction of both this coin and the new polymer £10 note, Jane Austen became the first person ever, aside from the reigning monarch, to feature on both a UK coin and UK banknote at the same time.
Mary Shelley (1797 – 1851)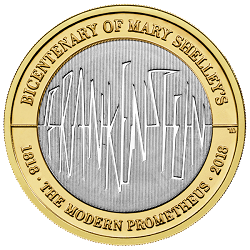 This £2 coin was issued by The Royal Mint to celebrate the 200th anniversary of the publication of Mary Shelley's famous novel Frankenstein; or, The Modern Prometheus.
Whilst on holiday in Geneva Mary Shelley and her poet friends, including Lord Byron and future Husband Percy Shelley, decided to have a competition to see who could write the best horror story. Out of this Mary Shelley created Frankenstein, a story about a scientist's scary act at playing God and creating life. It went on to become one of the best loved gothic novels.
The reverse of this gothic coin was designed by Thomas Doherty and features the words 'Frankenstein' in an electric gothic font
The mintage figures for the 2017 UK base metal 50p coins have been released but that'll have to wait a minute… there's some even more exciting news!
The Royal Mint have announced that there will be a 2018 Sir Isaac Newton 50p coin but the ONLY place you'll be able to get your hands on one of these is The Royal Mint Experience in Llantrisant, Wales! Interestingly, these 2018 dated coins will not be released into circulation.
Anybody visiting The Mint will get to strike a 2018 Sir Isaac Newton 50p coin but this will only be for a short period of time and subject to availability.
We're predicting that due to the short time frame and visitor numbers, there could well be substantially less than 210,000 of these coins struck, meaning the 2018 Sir Isaac Newton 50p coin could well have a lower mintage figure than even the Kew Gardens 50p!
2017 UK Base Metal Mintage Figures
Early on Christmas Eve morning The Royal Mint released the mintage figures for the 2017 UK base metal commemorative coins. What immediately caught our eye was the surprisingly low number of Sir Isaac Newton 50p coins that had been struck.
At just 1.8 million the Sir Isaac Newton 50p coin has a lower mintage than the 2016 Jemima Puddle-Duck coin. Making it the SECOND LOWEST UK circulation 50p coin behind Kew Gardens (excluding the Olympic 50p range).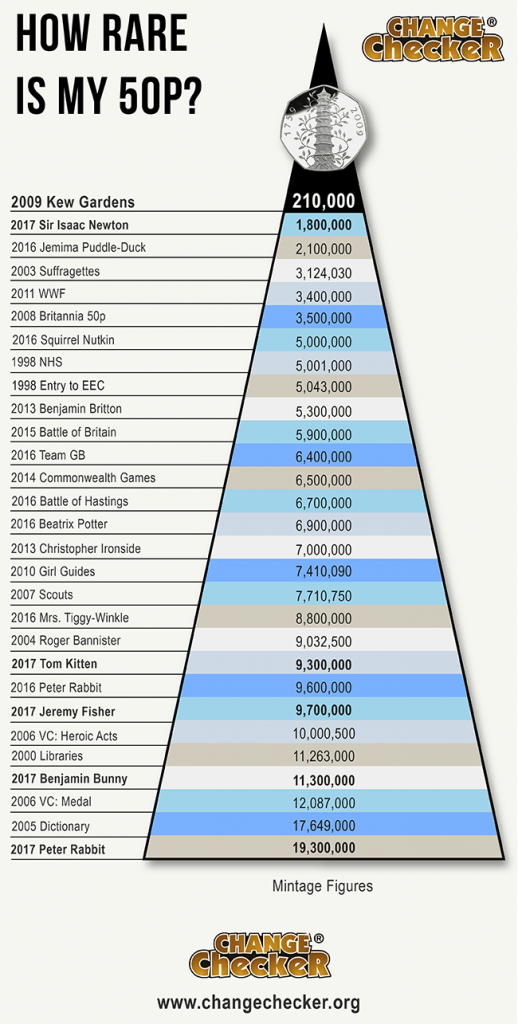 Granted it is someway behind Kew Gardens, which has a mintage figure of just 210,000, but it is the only other UK commemorative circulation 50p coin with a mintage under 2 million.
Good news for Beatrix Potter Fans
Unlike the 2016 Beatrix Potter 50p coins, the good news is that all the 2017 coins have a consistent mintage figure. In 2016 the Jemima Puddle-Duck 50p had a substantially lower mintage figure than the other coins from the series making it very hard for Change Checkers to complete their sets.
All 4 of the 2017 Beatrix Potter coins have a mintage of at least 9.3 million meaning there shouldn't be any problems completing your 2017 sets.
It's going to be interesting to see how these new mintage figures affect our Change Checker Scarcity Index update, due at the end of January.
What about the 2017 £2 coins?
As yet, we are still waiting for the mintage figures for the 2017 Jane Austen and 2017 First World War Aviation £2 coins to be released. We'll be sure to update you as soon as anything is announced.
---
Own the 2017 UK Isaac Newton CERTIFIED BU 50p
This special 50p coin commemorates the legacy of Sir Isaac Newton, genius of the Scientific Revolution and one of the most famous figures to ever hold the role of Master of the Mint.
Designed by Aaron West, the reverse of this striking coin is based on elements of Proposition 11, in Book One of Newton's Principia Mathematica. Whilst the obverse features the Jody Clark portrait of Her Majesty the Queen.
This specially struck 50p coin comes securely encapsulated and as a Change Checker CERTIFIED BRILLIANT UNCIRCULATED issue, you'll know your coin will be protected forever and guaranteed by its Certified Hologram.