Posts Tagged 'Five Pound Coins'
This year, Queen Elizabeth II will celebrate her 95th birthday – making her the first ruling monarch in British history to reach this milestone!
In celebration of this incredible royal event, a brand new UK £5 coin has JUST been released!
Designed by heraldic artist, Timothy Noad, the coin features the Royal Cypher 'EIIR' and the quote, "MY HEART AND MY DEVOTION" a nod to part of her 1957 Christmas broadcast, which was the first to be televised.
We also see the date of Her Majesty's birth and the year 2021, highlighting the remarkable 95th anniversary year.
To secure this brand new 2021 UK Queen Elizabeth 95th Anniversary £5 for JUST £10.99 (+p&p) simply click here >>
This coin was first issued as part of the 2021 Annual Coin Set and has already been proving incredibly popular with collectors.
And when you consider the popularity of previous coins celebrating Her Majesty, we're expecting demand for this coin to be high…
2016 UK Queen Elizabeth II 90th Birthday £5
To celebrate the 90th Birthday of Her Majesty Queen Elizabeth II The Royal Mint issued a new commemorative £5 coin.
This coin features a design by Christopher Hobbs, depicting nine roses, inspired by Her Majesty's love of flowers – one for each decade of Her Majesty's life.
You'll notice the flowers in the wreath are each different to the next one. As this was such a personal occasion, Hobbs chose to move away from heraldic flowers and to use a more natural floral image instead.
The obverse features the fifth portrait of Her Majesty the Queen, designed by Royal Mint engraver Jody Clark.
Excitingly for collectors, Change Checker has a limited number of Official 2016 UK Queen's 90th Birthday £5 BU packs remaining. To secure yours for JUST £30.00 (+p&p) click here >>
2006 UK Queen Elizabeth II 80th Birthday £5
This coin was issued in 2006 to commemorate Her Majesty's 80th birthday. The reverse design by Danuta Solowiej-Wedderburn features three trumpeters with trumpet banners accompanied by the inscription Vivat Regina (long live the Queen) and the anniversary dates.
This £5 coin is the fourth rarest £5 (as of the latest mintage update in 2013) and it is incredibly popular with collectors!
Change Checker has very limited stock remaining of this coin. To secure one for your collection, click here >>
2012 UK Diamond Jubilee £5
In 2012, the Queen celebrated her Diamond Jubilee having reached 50 years on the throne.
This is the first coin ever struck to commemorate a Diamond Jubilee – there were no special coins for Queen Victoria's in 1897. The obverse features a new portrait of Her Majesty crowned and wearing the robes of the Order of the Garter, created especially for the Diamond Jubilee by Ian Rank-Broadley.
Also designed by Ian Rank-Broadley, the obverse features a portrait of the young Queen Elizabeth just as she appeared in her first portrait with the Latin words DIRIGE DEUS GRESSUS MEOS (May God Guide My Steps).
If you don't have this coin in your collection yet, Change Checker has strictly limited stock remaining. Secure yours here >>
2002 UK Golden Jubilee £5
In 2002, to mark the 50th anniversary of the Queen's accession to the throne, the Royal Mint produced this £5 coin.
On one side appears an unusual bust portrait of the Queen wearing the robes of state. The dramatic impact of this motif are heightened by the absence of any inscription other than the value in small lettering around the foot.
The reverse design, as with the original Coronation crown of 1953 features the Queen on horseback. The Latin motto AMOR POPULI PRAESIDIUM REG(inae) meaning 'The love of the people is the Queen's protection' was last used on the coinage of Charles I.
You can add this coin to your collection here >>
1993 UK 40th Anniversary of the Coronation £5
This £5 coin was issued to mark 40 years since the Queen's coronation in 1953.
The obverse features the original portrait by Mary Gillick placed in a circle surrounded by eight mounted trumpeters of the Household Cavalry separated by swords and sceptres.
The reverse features the Crown of St Edward which was used at the Coronation, set within 40 radiating trumpets.
The words FAITH AND TRUTH I WILL BEAR UNTO YOU, from the Coronation oath, are inscribed at the top, with the double dates 1953 and 1993 appearing at the foot.
Change Checker has limited stock remaining of this coin. Secure one for your collection here >>
Vote for your favourite!
In celebration of the release of the brand new 2021 UK Queen Elizabeth II 95th Birthday £5, we want you to vote for your favourite coin commemorating Her Majesty.
Have your say:
Results will be revealed next Monday!
Secure the 2021 UK Queen Elizabeth II 95th Birthday £5
Secure the brand new 2021 UK Queen Elizabeth II 95th Birthday £5 for JUST £10.99 (+p&p) here >>
Your coin will come in superior Brilliant Uncirculated quality presented in official Change Checker packaging.
We're often asked by Change Checkers what can they collect once they've completed their collections of 50ps, £1s and £2s.
Quite simply, there's only one answer. £5 coins. These are my reasons why:
1. A Treasure Hunt
In the past, collectors were able to get £5 coins from banks and post offices, but nowadays some of the older designs are like gold-dust. And more often than not, new UK £5 issues are snapped up by collectors on release, so it can be quite a challenge tracking down every single one for a complete collection. You can source online, in auctions and of course from Change Checker! We've built up some superb stock over the years which we are now making available to collectors.
2. When less is more
In this case – interest. It's obvious that popular coin issues create instant and on-going demand for a coin, but the same can be said for 'less interesting' coin designs. Let me explain…
This may come as a surprise, but a coin that is issued with a less interesting theme or design and is not initially popular with collectors, can be a real hidden gem for coin collections. This is because the less coins that are sold, the lower the final number of units that are available to future collectors.
But whilst most collectors would shy away from unpopular themes, it is these very coins that are likely to become the most sought after in years to come. And the 2011 Prince Philip £5 coin is a prime example…
Back in 2011 a UK £5 coin was issued by The Royal Mint in celebration of the 90th birthday of Prince Philip.
The coins design featured a specially commissioned portrait of Philip by Mark Richards FRBS. Just 18,730 of these coins were struck in Brilliant Uncirculated presentation packs making it one of the rarest £5 coins ever.
And because of this, the coin is extremely sought after by collectors and is virtually impossible to get hold of on the secondary market.
3. Only available for a limited time
As you probably already know, coins with a lower mintage are often the most sought-after by collectors in years to come. And the coins with popular themes are timeless pieces of numismatic history that only become more and more desireable as time passes.
£5 coins are only available for a limited time and when you add to this the intense interest in the event the coin is commemorating (usually important royal events), you have a hugely collectable coin, sought after by collectors from all over the world.
4. Historically valuable
One of the key points Change Checkers look out for when deciding which coins to add to their collection, is the possibility that the value of that coin will increase and we've seen it happen many times before with circulation coins. The Kew Gardens 50p for example.
One thing you can be sure of though is the historical interest of £5 coins will be worth more to future generations than the £5 face value now. When you take all the above points into account, there is no doubt that the importance of £5 coins ensures the coins remain sought-after and collectable.
So do you have any £5 coins in your collection? Let us know via Facebook, Twitter or leave a comment below!
Interested in finding out if you own one of the rarest £5 coins? Click here to find out more>>
---
Exclusive £15 SAVING – Own the FIRST EVER UK £5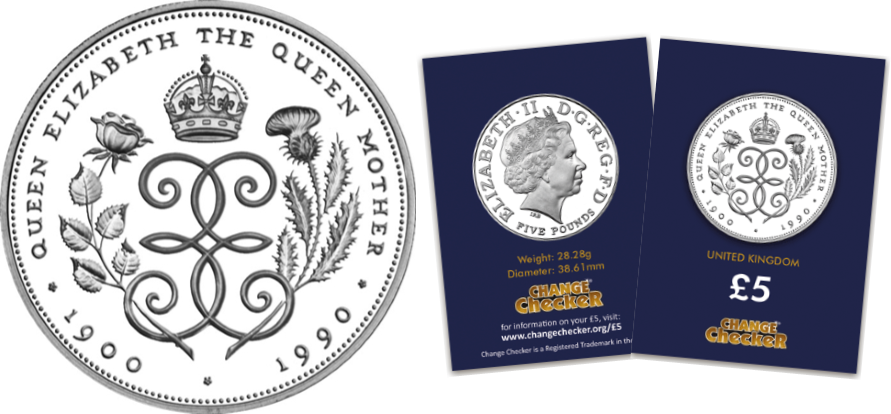 The UK's FIRST EVER £5 coin was fittingly issued to celebrate the 90th birthday of Queen Elizabeth, the Queen Mother. 
A limited number of these are available to our collectors at the exclusive discounted price of JUST £9.99 (+p&p) – that's a £15 SAVING.
Click here to secure your Queen Mother 90th Birthday £5 for just £9.99 (+p&p)