The 2020 George III £5 was issued as part of the Annual Coin Set on the 1st January and today the coin has been individually released.
King George III was the first king of the United Kingdom (which was officially formed in 1800) and to this day remains the longest reigning king in British History, reigning for an astonishing 59 years.
Throughout his reign, Britain fought in wars against France and America and from these wars the country emerged as a world power.
And so, in this anniversary year marking 200 years since his death, it seems only fitting that a brand new United Kingdom George III £5 coin should be issued.
2020 King George III £5 Coin
This is the first time George III has been celebrated on modern UK coinage and the stunning design explores the multifaceted nature of Britain's longest reigning king.
Designed by renowned Royal Mint designer, Dominique Evans, the famous Bull's Head portrait of George III is shown in a crowned cartouche, with the royal residence and his place of death, Windsor Palace, to the left and the King's Observatory, which was founded by King George, to the right.
Click here to secure this coin for your collection!
Our Top Three George III Coins
But of course this is not the first time that King George has featured on UK coinage…
Throughout his reign from 1760 – 1820, the portrait of the king featured on the obverse design of Britain's circulating coins.
We've taken a look at what we feel are three of the most interesting coins issued during his reign and the stories behind them.
1819 Sovereign
The very first gold Sovereign was struck during Henry VII's reign in 1489, when the king ordered The Royal Mint to produce "A new money of gold."
Originally Sovereigns were circulating coins accepted in Britain and elsewhere in the world, however it is now a bullion coin and is sometimes mounted in jewellery.
Many recent Sovereigns feature the well-known design of Saint George and the Dragon on the reverse, along with the initials (BP) of the designer, Benedetto Pistrucci.
Now you might have heard of the 1819 Sovereigns already, and that's because these coins are renowned for being exceptionally rare.
Remarkably, only 3,574 Sovereigns were minted during 1819 – struck on five separate occasions, between August and November 1819.
These coins were minted using gold provided by private merchants.
200 years after they were struck, it's thought that potentially only ten of these Sovereigns are known to still exist.
Unsurprisingly, these coins sell for astonishing prices at auction, with the highest quality 1819 Sovereign known to exist achieving a price of £186,000 in 2013.
Cartwheel Penny
During the 18th century, the practice of melting down official copper coins and making lightweight forgeries had become so widespread that it prompted industrialist Matthew Boulton to offer a solution.
He proposed that each coin should actually be made to contain its value in copper, the quality should be improved by using a retaining collar during striking (to give a perfectly round coin) and thick raised borders would prevent them wearing so easily.
In 1797 Boulton was awarded a contract to supply 480 tonnes of pennies, each weighing one ounce and these were the very first British coins to be minted by steam power.
The George III Cartwheel Penny was also Britannia's debut appearance on the penny – a position she held until decimalisation in 1971.
Because of their large size, Boulton's coins soon earned the nickname 'cartwheels'.
It is highly unusual for a low denomination to have such a substantial size and weight, and unsurprisingly they are in high demand from collectors for their status as Britain's heaviest ever penny.
Eighteen Pence
In 1797, after a failed French invasion caused financial panic, British gold and silver coins disappeared from circulation, hoarded out of fear.
With so much coinage withdrawn from circulation, The Royal Mint found itself in a vulnerable position with a limited ability to issue coins.
Incredibly, this lead to the extremely unusual situation where the Bank of England acted as a substitute for The Royal Mint by issuing an emergency currency.
Technically speaking, these emergency issues were not coins but tokens.
This is also the reason why they issued very unusual denominations, including the eighteen pence piece.
These tokens were issued for just 7 years until they were eventually withdrawn from circulation in 1817, by which time a massive silver recoinage had been undertaken.
So now you know the stories behind some of the most acclaimed coins issued during the reign of George III, how does the brand new 2020 £5 coin compare? And will you be adding it to your George III collection?
---
Secure your 2020 George III £5 Coin
The 2020 George III £5 Coin is now available to purchase individually in superior Brilliant Uncirculated quality.
Whilst we're busy celebrating the 50th anniversary of the 50p coin here in the UK, celebrations are also taking place half a world away as Australia marks 50 years since the introduction of the 12-sided 50 cent coin this year.
First issued in 1969 as a replacement for the round 50 cent, the new 12-sided design has since become Australia's most distinctive decimal coin.
Australia's first 50 cent
In 1966, as part of the changeover to decimal currency, Australia introduced the round 50 cent, which was made up of 80% silver and 20% copper. This high silver content soon meant that the coin was actually worth more than its face value and so was withdrawn from circulation and replaced with the new 12-sided cupro-nickel design in 1969.
Although the coin was withdrawn from circulation, many millions are thought to have been hoarded by the Australian public and can now be seen listed on eBay for upwards of 10 times the original face value.
Celebrating 50 years since the 12 sided 50 cent
To celebrate the significant anniversary of the introduction of the 12-sided 50 cent, The Royal Australian Mint have released a special commemorative coin set, featuring a Gold-Plated 50 cent coin in celebration of the golden anniversary year.
But the special Gold-Plated coin within this set isn't the only thing which makes it unique…
This set actually showcases the five effigies of Her Majesty the Queen that have featured on Australia's 50 cent coins since 1969.
Arnold Machin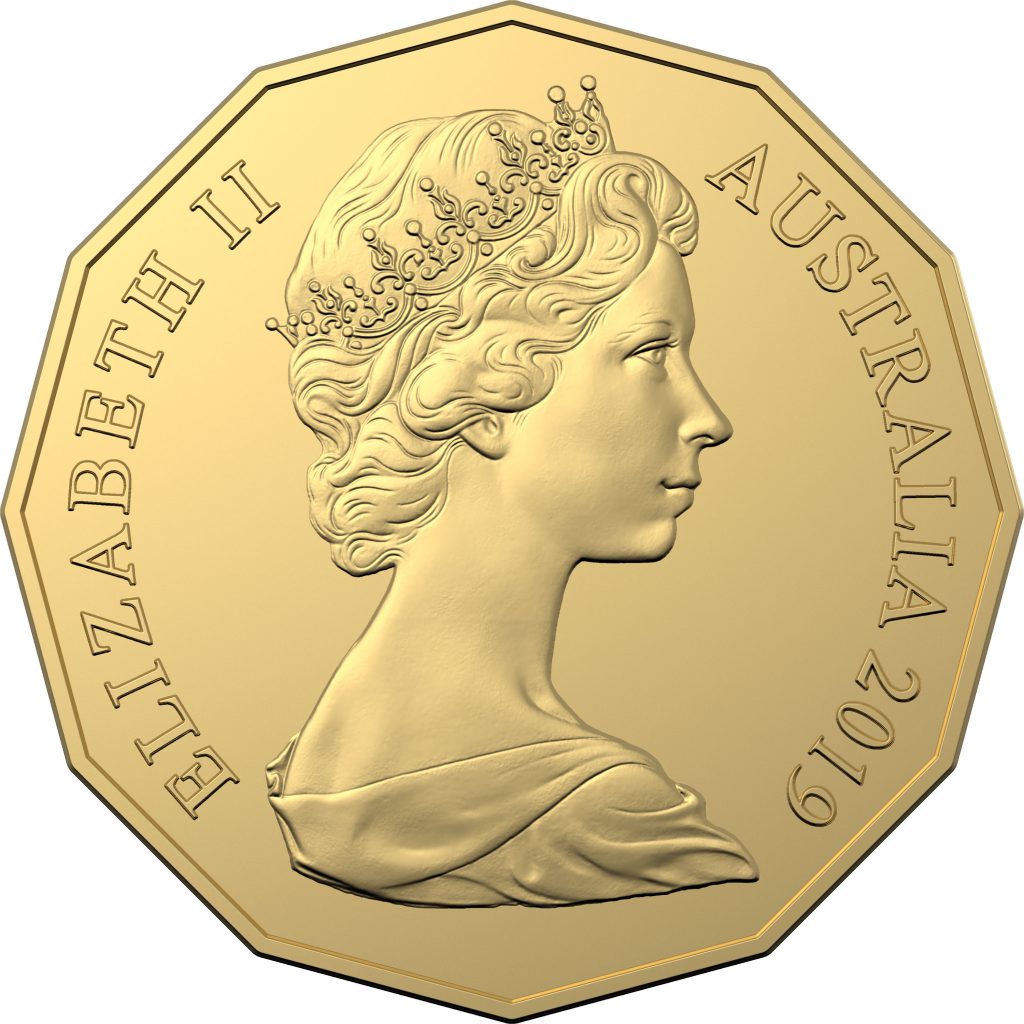 The Gold-Plated 50 cent coin features the very first effigy of Her Majesty the Queen to be used on a 50 cent coin.
Designed by British artist and sculptor Arnold Machin, and approved in 1964, this effigy was first used on the Australian round 1966 50 cent coin, meaning it preceded the first use of this portrait on UK coins in 1968.
This portrait featured on Australia's coinage from 1966 to 1984.
Raphael Maklouf
Raphael Maklouf's portrait of Queen Elizabeth II was chosen from 17 artists invited by the British Royal Mint to replace Arnold Machin's portrait.
Unlike the previous portraits of Her Majesty, Maklouf's design featured the Queen wearing a necklace and earrings. The designer's initials 'RDM' can be seen at the Queen's neck.
This portrait featured on Australia's coinage from 1985 to 1997.
Ian Rank-Broadley
The next portrait of Queen Elizabeth was introduced following a competition to redesign the obverse of the UK's 1997 Golden Wedding Crown. Ian Rank-Broadley's submission was of such a high standard that it led to a redesign of the obverse for all UK circulation coins in 1998.
It was introduced on Australia's coinage, including the 50 cent coin, the following year.
This portrait featured on Australia's coinage from 1999 to 2018.
Vladimir Gottwald
Amongst the designs submitted into the competition to redesign the obverse of the UK's 1997 Golden Wedding Crown was Vladimir Gottwald's portrait of the Queen.
Gottwald's design was approved as a one-off use to commemorate the Royal visit in 2000, making him the first Australian designer to have his portrait on the obverse of an Australian coin since the 1910-1936 effigy of King George V.
This portrait featured on the Australian 50 cent for one year only in 2000.
Jody Clark
Jody Clark's portrait of Her Majesty the Queen has featured on UK coins since 2015, but it wasn't until 2018 that an adapted version of this coin was introduced on Australia's coinage.
Unlike the UK version, this adaptation features Queen Elizabeth's shoulders, as well as the Victorian coronation necklace.
You might recognise this most recent portrait from British Isles coinage, in particular the highly popular Isle of Man TT £2 coins.
Limited edition set
Just 20,000 of this prestigious set have been minted, making it significantly collectable and ideal for numismatists.
It's truly fascinating to take a look at the different coinage from countries across the world and the milestone moments in their numismatic history.
I'm sure you'll agree that this set is a fantastic way for Australia to celebrate this significant anniversary.
---
Own the LIMITED EDITION Gold Plated 50 cent
You can now secure these coins within a bespoke presentation pack, perfect to display and protect these unique coins, which are sure to be snapped up by collectors.
It's every Change Checker's dream to find a significant coin which is worth a fortune. And they don't come any more significant than the Edward VIII Sovereign which has just smashed an auction record and netted £516,000.
The incredibly rare 1937 dated gold 'proof' coin is the only single example available to collectors anywhere in the world. It was struck ahead of the King's Coronation, however following the scandal which predicated Edward's abdication from the throne in 1936, the coins became redundant and cemented their place in collecting folklore.
His left-facing portrait; the same as his predecessor George V, also represents a unique deviation from a tradition which started in the 17th century under Charles II who wished to be facing the opposite way to Oliver Cromwell.
"In the world of coins, it's the coin's story that makes it important and this coin has the most fantastic story" said winning bidder Mr Jordan Lott of Regal Rare Coins in Chester.
After a tense battle in the Baldwin's auction room and some fierce bidding, the coin eventually reached a winning bid of £430,000 and with fees included this took the total price to £516,000.
It was money which Mr Lott was happy to pay; "I was the first to bid and I was determined to be the last. I would have paid another £50,000 to make sure I got it."
The price is the highest ever recorded for a sovereign coin struck by the Royal Mint in the UK and possibly the best example of the numismatic significance of British coins in the collecting world.