Posts Tagged 'guernsey coins'
It's beginning to look a lot like Christmas as Guernsey release a brand new set of Christmas Pantomime 50p coins!
These fantastic new coins feature designs based on five beloved Pantomimes which are sure to take you to a whole new world as you experience the magic of the theatre brought to life on a 50p coin.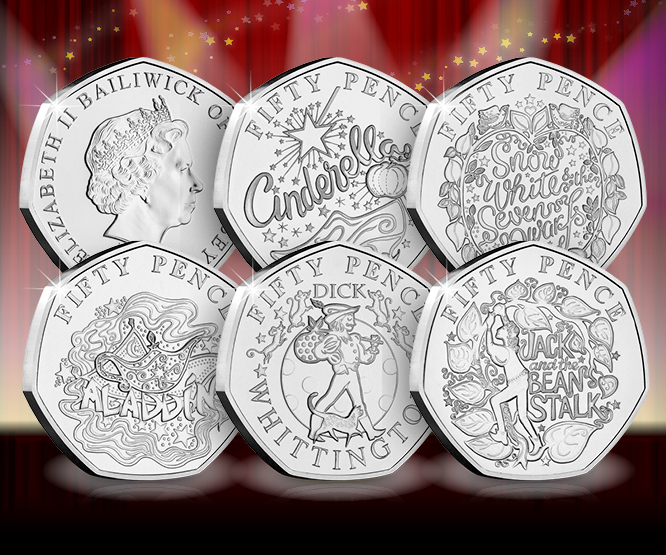 Complete BU Set
Whilst 4,000 of each design will be entering circulation, they will only be released in Guernsey and you can bet your bottom dollar that any lucky Guernsey Change Checkers coming across these coins will be sure to hold on to them.
Unfortunately we don't all have a Fairy Godmother who can wave a magic wand and make these coins appear in our UK change (but wouldn't that be nice!).
However, the complete set is now available to purchase in Brilliant Uncirculated quality here.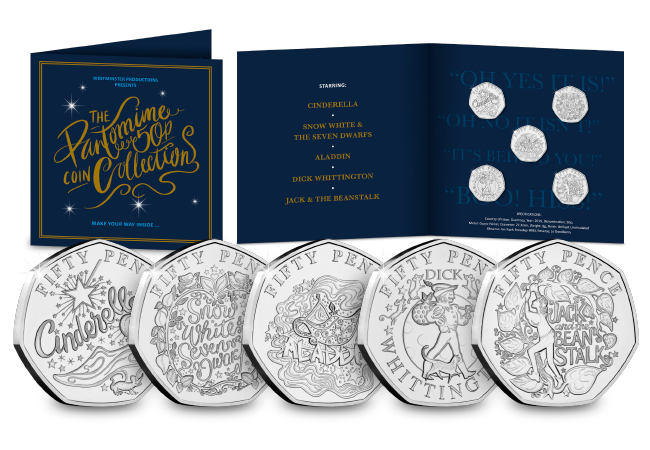 Authorised by the Guernsey Treasury and fully approved by Her Majesty the Queen, the set includes some of the most loved pantomime themes:
Aladdin
Cinderella
Snow White
Jack and the Beanstalk
Dick Whittington
Silver Proof Set
But that's not all… As if by magic, these coins have been brought to life in vibrant colour for the Silver Proof Pantomime 50p coin set.
Each beautiful coin is struck from Solid Silver and features selective colour printing to capture the fun of the theatre.
Only 2,019 of the Guernsey Silver Christmas Pantomime 50p sets are available and we all know how quickly Silver 50p coins sell out – the Silver Gruffalo 50p sold out within the first day of launch and had an edition limit of 25,000!
This stunning set is now available to purchase here.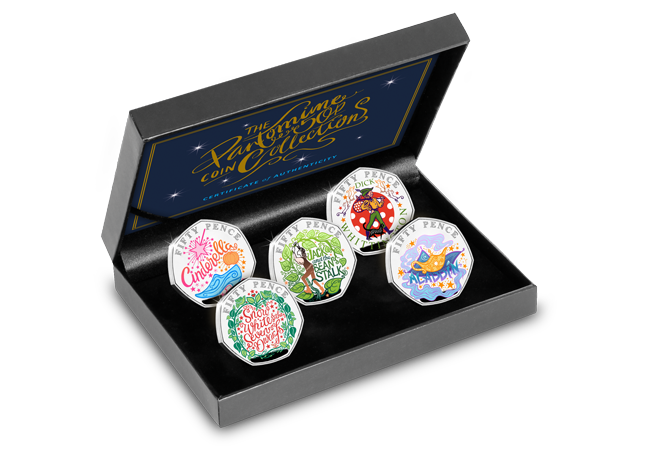 The first Guernsey Christmas coins
Did you know that Guernsey has never released a Christmas coin before? This is bound to make these Christmas Panto 50ps particularly special for coin collectors.
However it's fair to say that Christmas themed coins make an envious addition to anyone's collection, with the numerous festive 50ps from the Isle of Man proving to be incredibly popular.
One of the most-loved Christmas themes to feature on a coin has got to be the Snowman.
In 2003, the first coin to feature the Snowman was issued by the Isle of Man and had a tiny mintage of just 10,000.
Although not many of these coins are available on the secondary market, if you did want to add one to your collection, you'd be looking at parting with a minimum of £200!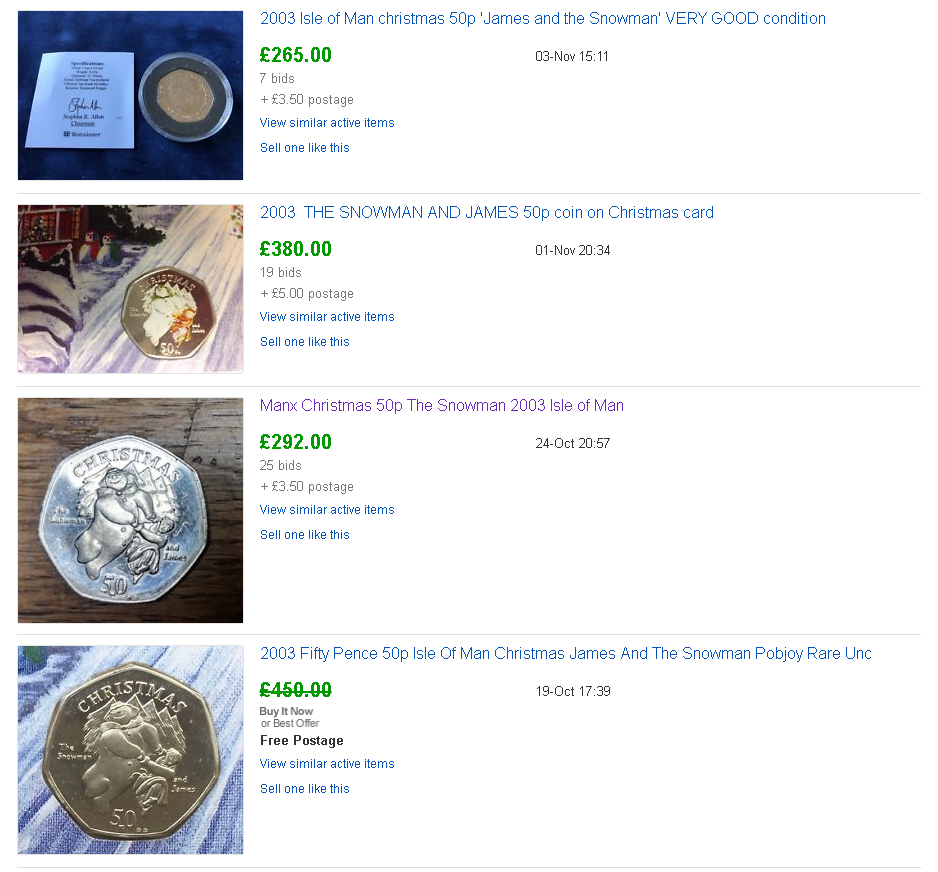 The Snowman has since featured on a number of Isle of Man Christmas coins, and even made his first appearance on a UK coin last year.
Just 20,000 issued for circulation
With such a wonderful Christmas theme and the fact that just 4,000 of each Panto 50p will initially be released into circulation in Guernsey, these coins are sure to follow in the Snowman's footprints and be incredibly sought-after.
But it's not just the theme which makes these coins so special…
Mintage figures for Isle of Man 50ps have never exceeded 30,000, and as the new Guernsey coins have a combined mintage of just 20,000 I'm sure you'll agree that they are bound to be hugely collectable!
Guernsey mintage figures are known for being much smaller than the UK, which is down to their much smaller population of just over 63,000.
Vote for your favourite!
Pantomime has a long theatrical history and is especially popular during the festive period. So now it's time to get the show started and celebrate with the fantastic new Christmas Pantomime 50p set from Guernsey.
We'd love to hear which of these coins is your favourite, so let us know by voting in the poll below!
---
Secure your Brilliant Uncirculated Christmas Pantomime Set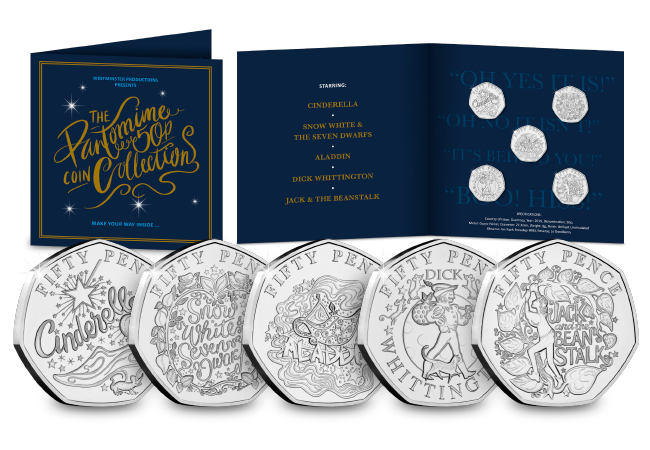 Celebrate the Christmas season with five brand new Brilliant Uncirculated Pantomime 50ps from Guernsey.
With just over a month to go until the official 50th anniversary of the 50p coin, celebrations have now hit Jersey and Guernsey as the British Crown Dependencies mark this monumental numismatic milestone.
As the world's first seven-sided coin, the 50p caused quite a stir when it was first issued in 1969, however it has since become one of the most popular and highly collected coins in circulation, both across Britain and its Crown Dependencies.
To celebrate the 50th Anniversary, a unique pair of Jersey and Guernsey 50p coins have been specially re-issued this year.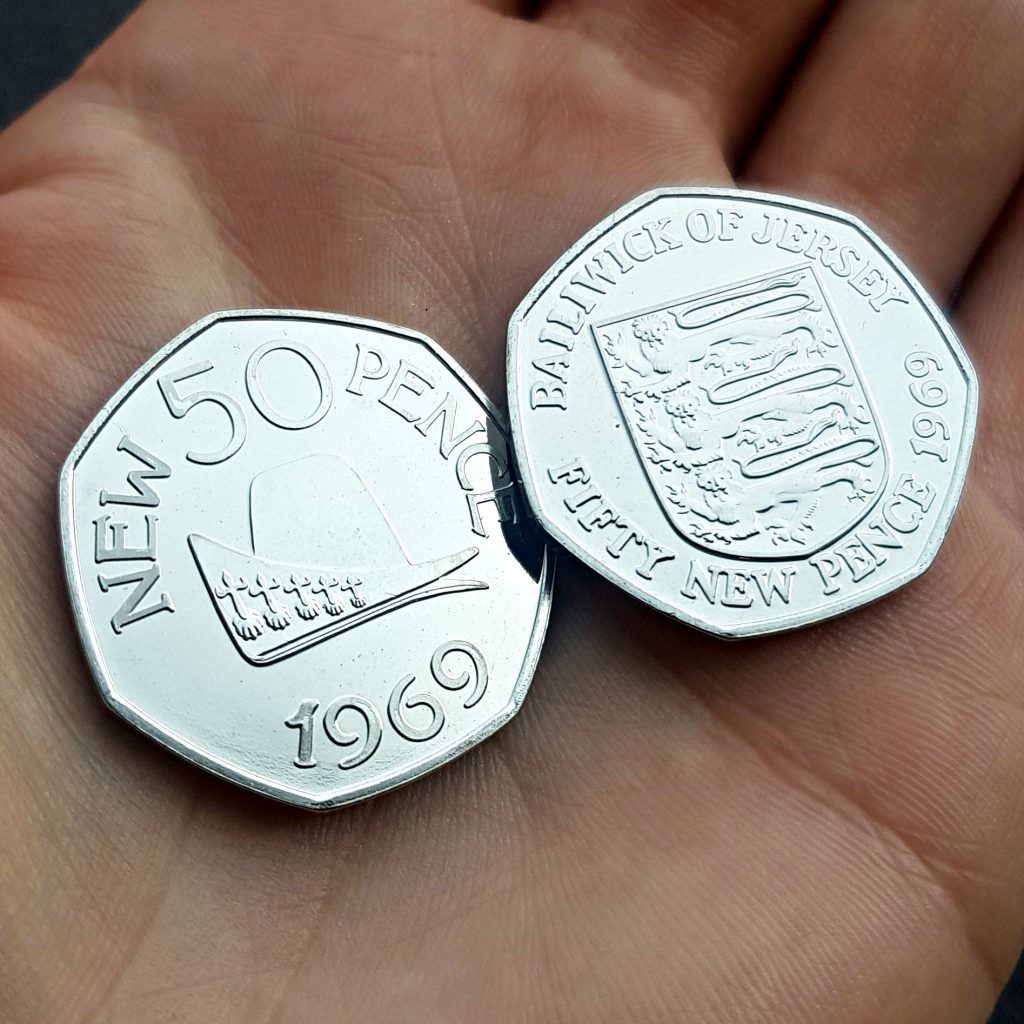 This set includes re-issued versions of the 1969 Ducal Cap 50p from the Bailiwick of Guernsey and the 1969 Coat of Arms from the Bailiwick of Jersey. These were the first 50p coins issued in the British Crown Dependencies and the pair have now been re-struck with the 2019 year date in Brilliant Uncirculated quality for collectors.
Whilst Jersey and Guernsey coins aren't legal tender in the UK, they have a history of becoming highly collectable due to their low mintage figures…
Guernsey 50p Mintage Figures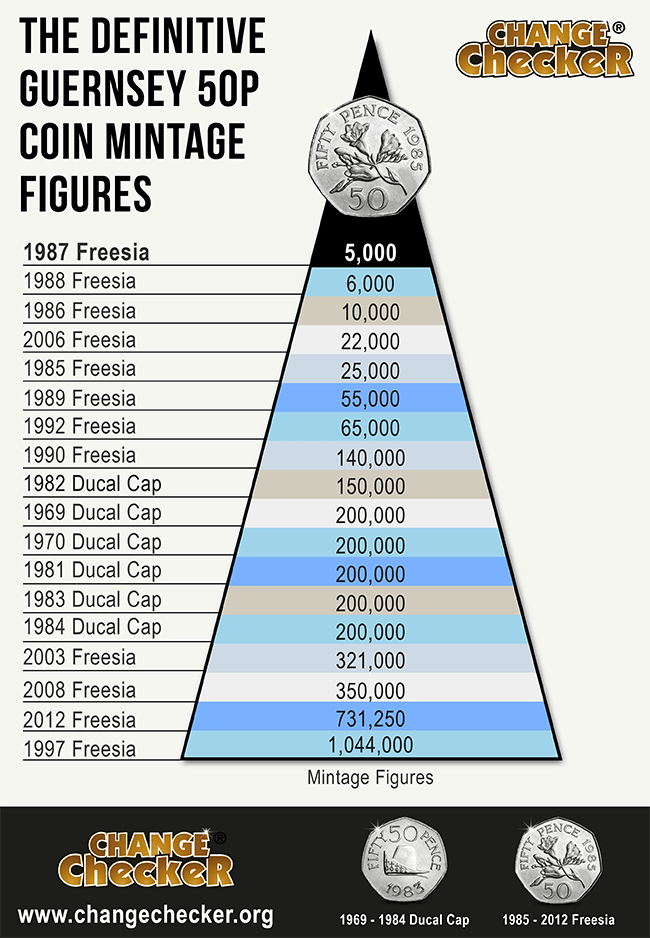 Two definitive 50p coin designs have been issued in Guernsey since decimalisation – The Ducal Cap and Freesia Flowers.
The 1969 Ducal Cap 50p has been re-issued in the smaller specification for the 50th Anniversary of the 50p.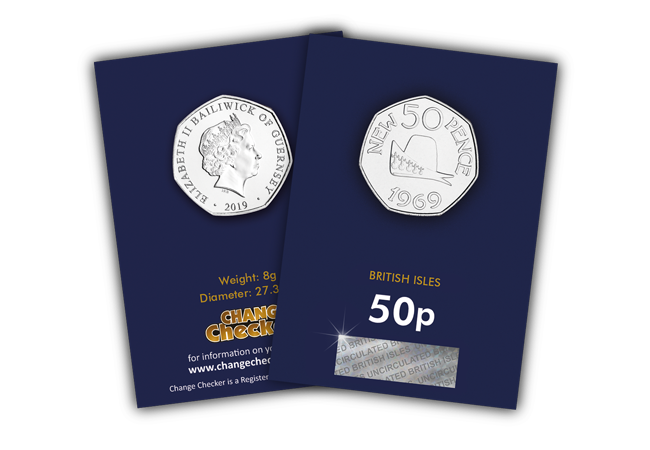 Anthony Wagner's design features the Ducal Cap of the Duke of Normandy on the reverse.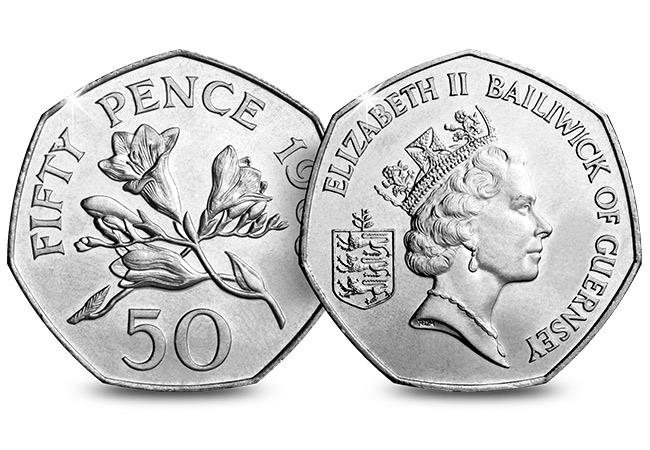 Unlike UK coins, the obverse of the Guernsey Freesia Flowers 50p feature the Guernsey Coat of Arms, which includes three lions next to Queen Elizabeth II's portrait. This makes the 50p particularly distinguishable.
Whilst Guernsey coins aren't legal tender in the UK, they do turn up in our change from time to time. And if you're lucky enough to come across one, make sure you check to see if you've been able to find Guernsey's rarest definitive 50p – the 1987 Freesia Flowers.
A tiny 5,000 Freesia Flowers 50ps were released in 1987 – that means there's only enough for roughly 8% of the population of Guernsey to own one of these coins each!
Jersey 50p Mintage Figures
Two definitive 50p coin designs have also been issued in Jersey since decimalisation – the Shield and Grosnez Castle.
The 1969 Shield 50p has been re-issued in the smaller specification for the 50th Anniversary of the 50p.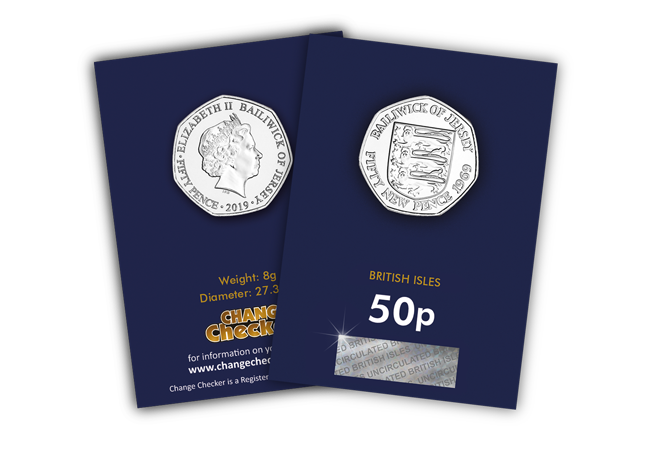 George Kruger Gray's design features three lions on a shield on the reverse. The obverse features Arnold Machin's portrait of Her Majesty the Queen.
Again, these coins aren't legal tender in the UK, so if you do find one in your change it would have found its way to you by accident, perhaps due to a holiday maker spending it by mistake.
Whether you find yourself checking your change in Jersey or the UK, you'll want to keep a watchful eye on any Grosnez Castle 50ps that you might be lucky enough to find, as one year in particular is very rare…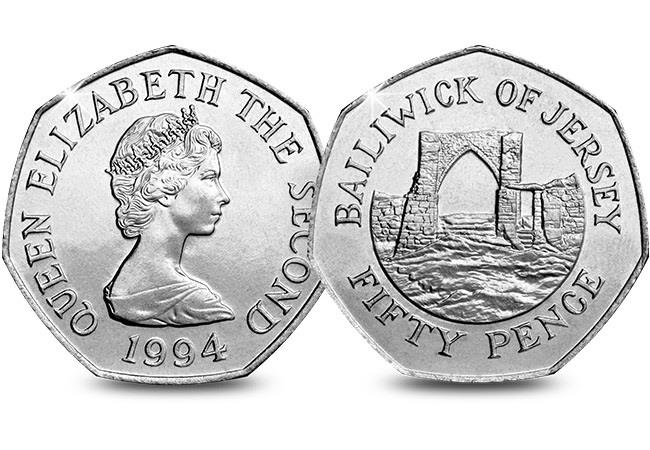 Just 10,000 Grosnez Castle 50ps were issued in 2003 – compare that to the 23,583,000 Britannia 50ps released in the UK in 2003 and you'll appreciate just how rare this coin really is!
Have you been lucky enough to come across any Jersey or Guernsey 50ps, either in circulation in the UK or when you've been on holiday to the British Isles? And will you be securing the special 50th Anniversary pair to mark this milestone moment?
---
Own the BRAND NEW 50th Anniversary of the 50p Pair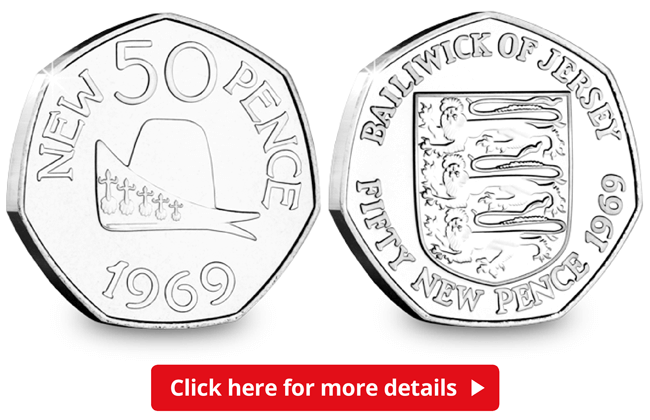 This unique pair of 50p coins includes Jersey and Guernsey's first year of issue designs 50ps from 1969 – re-issued with the 2019 year date!
Coins from Crown dependencies and overseas British territories can sometimes make an unexpected appearance in our change.
Sure, this can be an annoyance as technically the coins are not legal tender in the UK, but from a collecting point of view, new and interesting designs are always a bonus!
In our latest coin hunt competition, we went head to head with 10 YouTube Coin Hunters for a 50p coin hunt and it was amazing to see how many of the teams stumbled across coins that shouldn't be in our change…
Here are some of the unexpected coins we came across:
2012 Bailiwick of Jersey 50p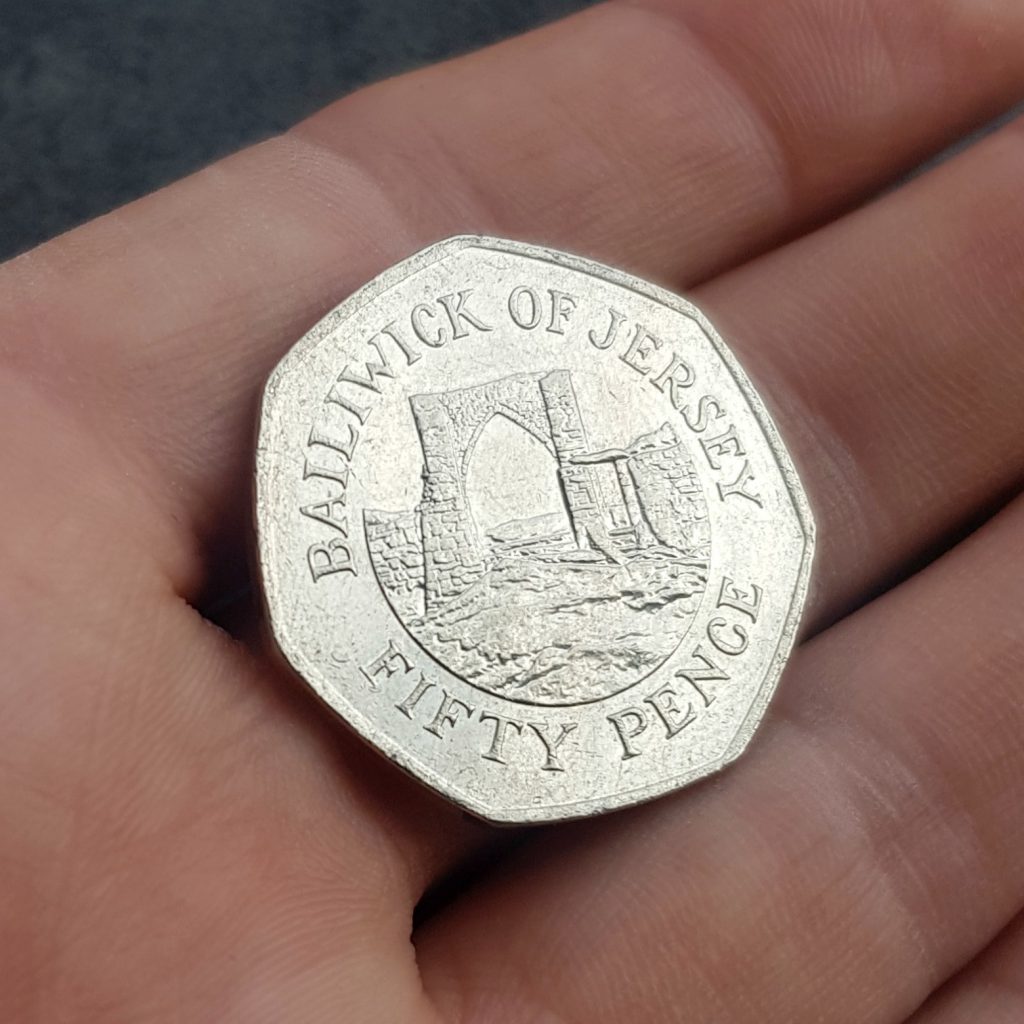 Yasmin and I were lucky enough to come across this 2012 Bailiwick of Jersey 50p in our coin hunt.
The coin features Jersey's Grosnez Castle on the reverse surrounded by the lettering 'Bailiwick of Jersey'. The obverse features the Arnold Machin engraving of Queen Elizabeth II.
Interestingly, 2012 dated Bailiwick of Jersey 50p coins were also struck in 2013 and 2014, giving this particular coin a total mintage of 365,000.
Jersey's coinage is not legal tender in the rest of the UK, but the lower mintage figures of the island's coins compared to the UK makes them particularly scarce and collectible, so it was a great surprise to find a Jersey coin amongst our 50ps!
Jersey's coin mintages are significantly lower because of their smaller population of only 100,000.
2012 Guernsey Freesia Flowers 50p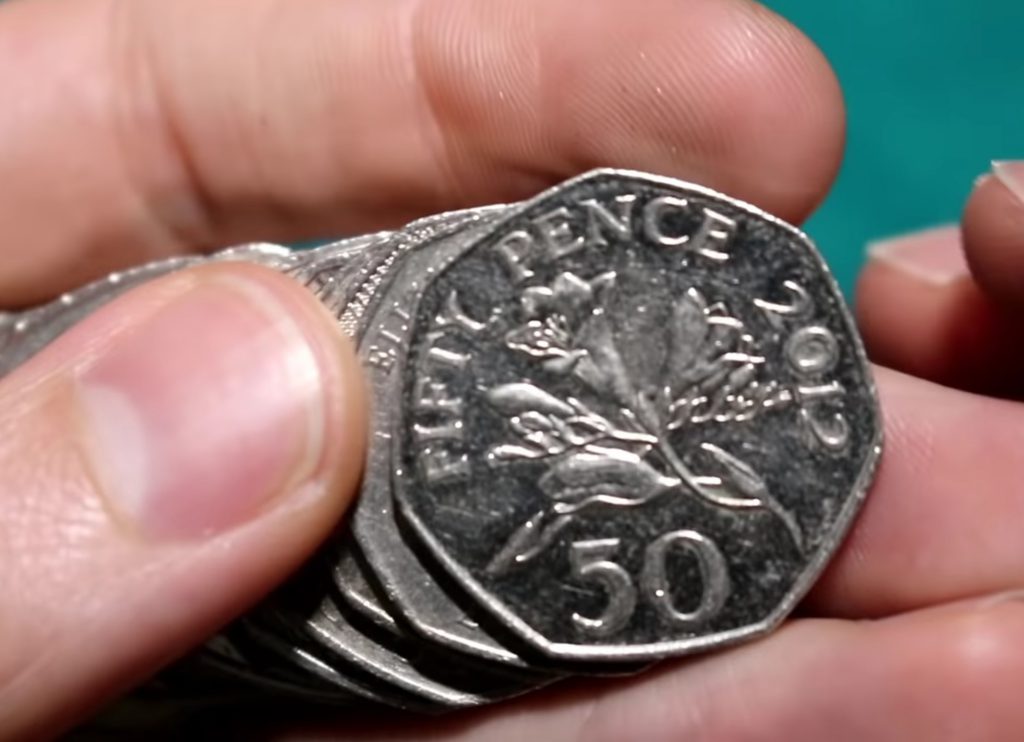 During his coin hunt, Christopher Collects managed to find a 2012 Freesia Flowers coin from Guernsey.
This beautiful 50p features two crossed freesia flowers on the reverse design, however it is the obverse design which is particularly special.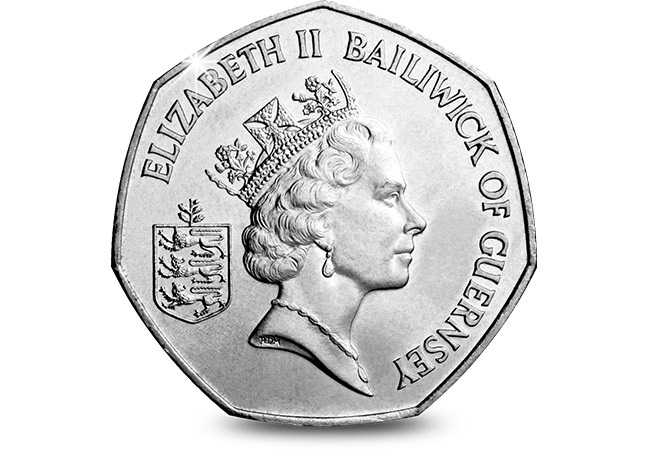 The obverse features Raphael Maklouf's portrait of Queen Elizabeth II with the lettering 'Bailiwick of Guernsey' above, and also a small Guernsey Coat of Arms to the left.
This addition on the obverse makes the Guernsey 50p stand out when compared to UK 50p coins.
We don't know the mintage figures for this coin, however it will likely be fairly low when compared to UK figures, due to Guernsey's smaller population.
2018 Isle of Man Imperial State Crown 50p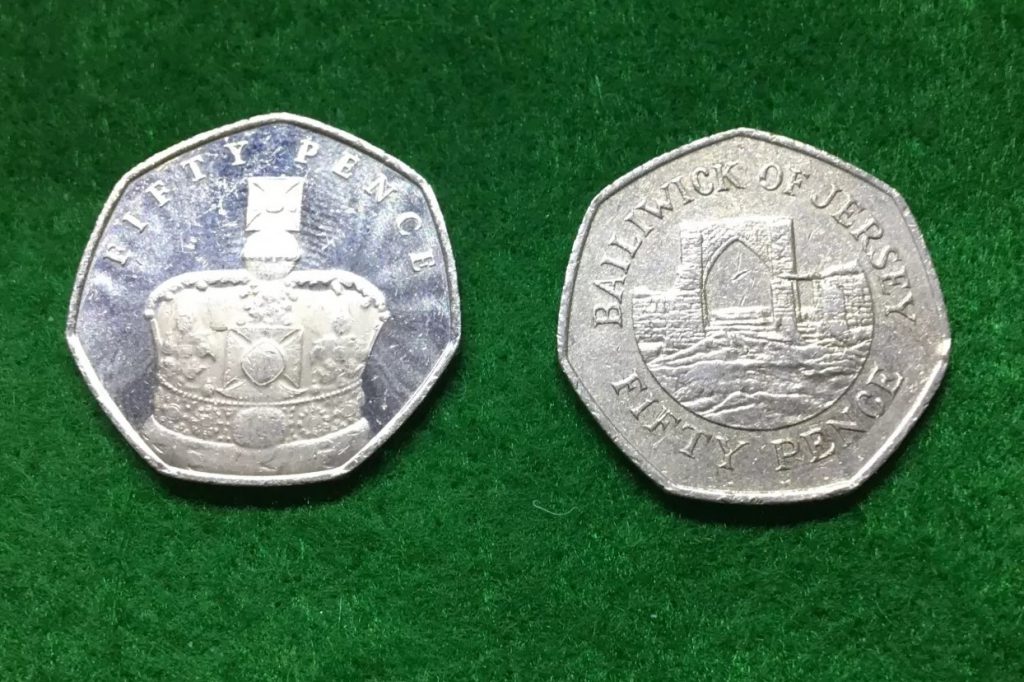 Coin Cupboard was very lucky and also found a Bailiwick of Jersey 50p, as well as an Imperial State Crown 50p from the Isle of Man.
The Imperial State Crown 50p was issued in 2018 as part of a five coin set celebrating the Sapphire Coronation Anniversary of Her Majesty Queen Elizabeth II.
A limited number of each coin entered circulation on the Isle of Man, although we don't know the exact mintage figure for this coin.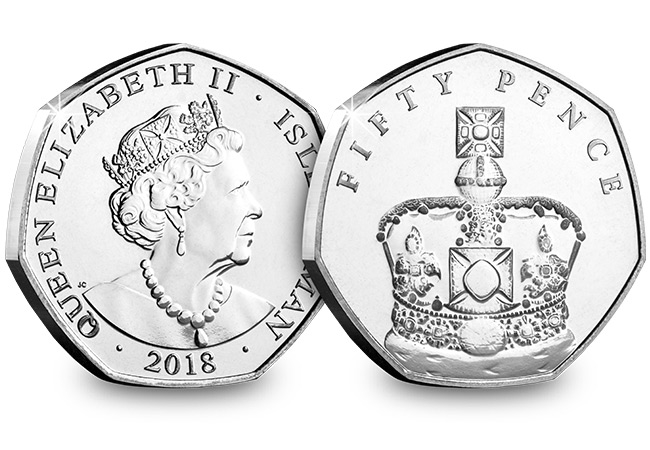 The reverse design shows the Coronation Crown and the obverse features Jody Clark's most recent portrait of the Queen which, unlike UK coins, includes her shoulders.
1999 East Caribbean States 1 Dollar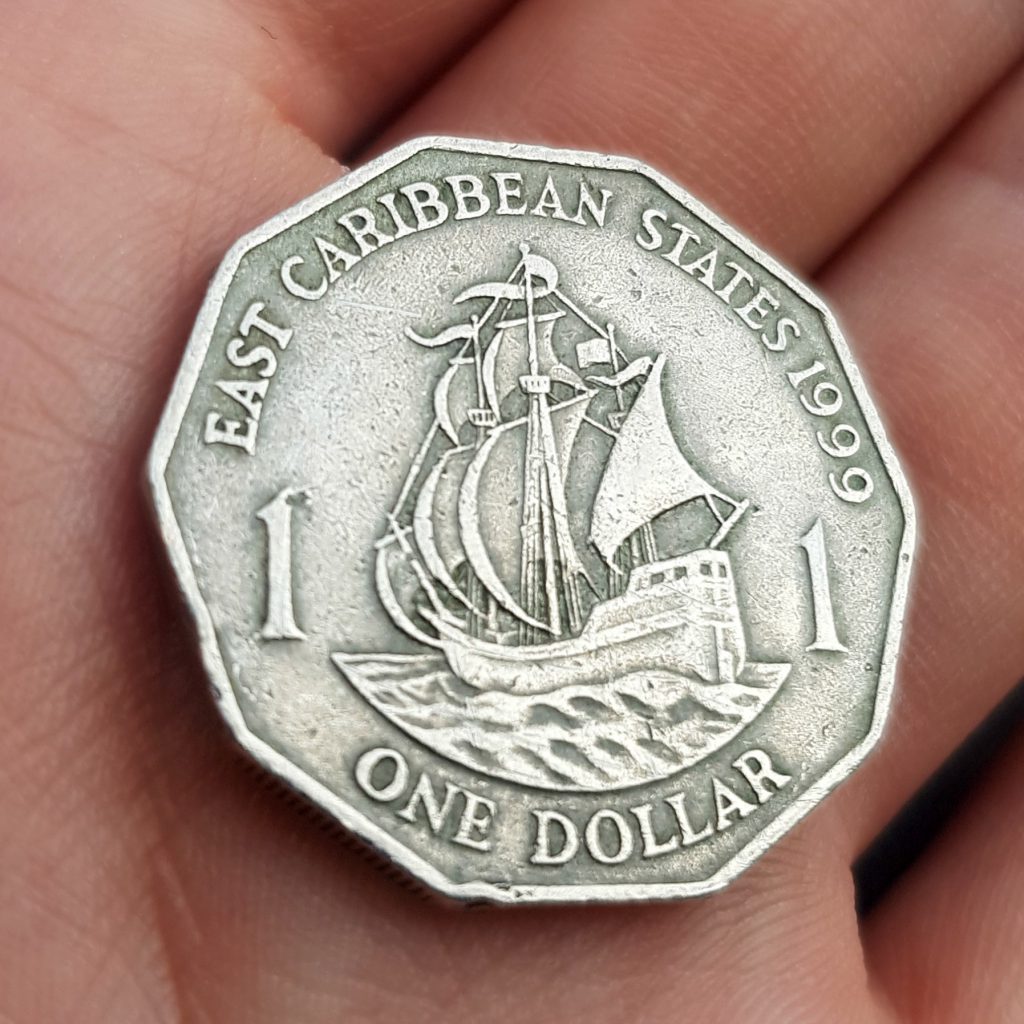 Whilst you might expect a few British Isles coins to turn up every now and again, we certainly weren't expecting to find this coin in our 50p bank bag!
In fact, both team Change Checker and Dom Collects came across one of these unusual coins in our change.
This 1 dollar was issued from 1989 to 2000 in the Eastern Caribbean States, but how did it find its way into our UK change?
As a British Overseas Territory, the East Caribbean States currency features the portrait of Her Majesty Queen Elizabeth II on the obverse.
This, along with the coin's size which is very close to the UK 50p, means it has managed to get mixed up with UK change and passed off as a 50p.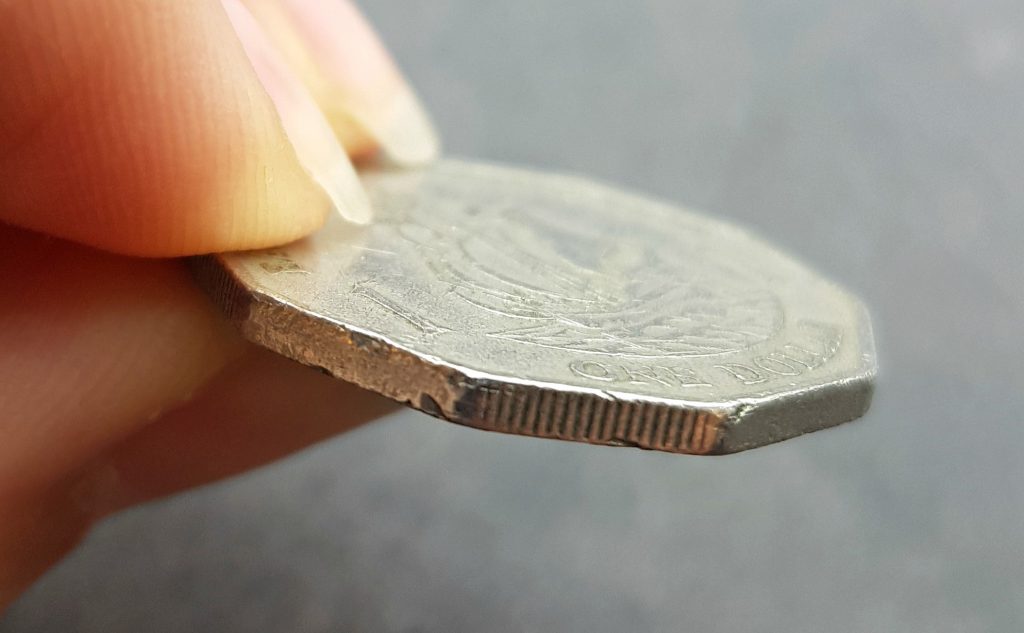 However, there is one very significant difference between this coin and a 50p, and that's the shape. The East Caribbean States dollar is actually decagonal (10 sided) and features milling along every other edge of the coin.
You can imagine just how surprising it was to come across this coin in the middle of our 50p hunt, and how unusual still that we weren't the only team to find one!
It just goes to show how many fascinating coins find their way into our change and why it's always worthing checking to see if you've found a coin which was intended for circulation in the UK.
---
Secure your Guernsey Freesia Flowers 50p coin today!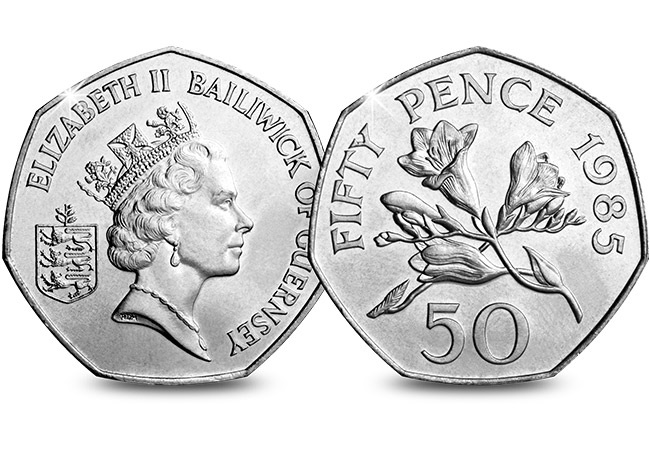 You can now secure the Guernsey Freesia Flowers 50p for your British Isles collection.