Posts Tagged 'Jane Austen'
The Royal Mint have released many commemorative coins in the past few years and one recurring theme is prominent literary figures.
Tonight is Burns Night, a night when many people around the world will remember one of the world's most famous poets, Robert Burns.
So naturally, I thought this was a great opportunity to take a look back at some of the recent circulation coins that have celebrated some of Britain's best loved literary heroes.
Robert Burns (1759 – 1796)
Robert Burns was a Scottish poet and lyricist who is widely regarded as one of the great literary figures in British history.
Burns night is celebrated each year with a traditional Haggis supper on his birthday, 25th January, and is more widely observed in Scotland than the official national day, St Andrew's Day.
The reverse design of this £2 coin features an extract from Auld Lang Syne, Burns' most famous work.
Find out more about this coin here  >>
William Shakespeare (1564 – 1616)

William Shakespeare is the most influential literary figure in British history and his works are an important part of Britain's cultural heritage.
This coin is one of three that celebrate William Shakespeare's life work and commemorates the 400th anniversary since his death. This coin takes inspiration from Shakespeare's famous tragedies and features a skull and a rose and was designed by John Bergdahl.
The other two coins in the series celebrate Shakespeare's most famous 'Comedies' and 'Histories', taking inspiration from 'A Midsummer Nights Dream'  and 'Macbeth', respectively.
Charles Darwin (1809 – 1882)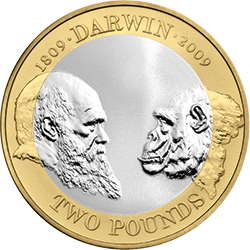 Charles Darwin was a British scientist who laid the foundations of the theory of evolution and transformed the way we think about the natural world.
His book On the Origin of the Species was extremely controversial as it made it seem possible that humans evolved from apes, and contradicted the widely held Orthodox Church theory of creation at the time.
The reverse design by Suzie Zamit features a profile portrait of Darwin facing a chimpanzee and is a favourite amongst collectors.
Add this coin to your collection today >>
Charles Dickens (1812 – 1870)

Charles Dickens is much loved for his great contribution to classic English literature.
His enchanting stories, vivid characters and depiction of Victorian life are widely acknowledged across the world by critics and scholars alike and his novels and short stories continue to be widely popular.
The reverse design of this £2 coin by Matthew Dent features Dickens' recognisable profile crafted from the titles of his most famous works.
Beatrix Potter (1866 – 1943)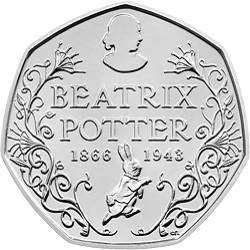 To celebrate the 150th anniversary of the birth of Beatrix Potter, The Royal Mint released this 50p to celebrate Beatrix herself.
Designed by Emma Noble, the coin includes elements that celebrate Beatrix as the artist behind some of the best-loved characters in children's literature along with the nostalgic font used for the inscription.
Along with this 50p The Mint have also released a further 7 Beatrix Potter coins, featuring many of our favourite characters from her beloved stories, including Peter Rabbit, Tom Kitten and Jemima Puddle-Duck.
The popularity of both the 2016 and 2017 Beatrix Potter 50p series has been astounding and introduced many thousands more people to the world of change collecting.
Own the complete 2017 Beatrix Potter collection today >>

Jane Austen (1775 – 1817)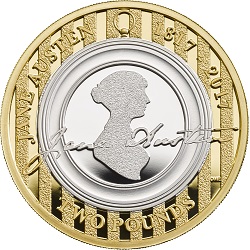 Jane Austen is one of the best-loved English novelists from the 19th century. Her novels were revolutionary and from her first novel, 'Sense and Sensibility', readers began a love affair with her fiction that has lasted two centuries.
Designed by Dominique Evans, a portrait of Jane Austen features on this £2 coin, released in 2017, to mark 200 years since her death.
Interestingly, with the introduction of both this coin and the new polymer £10 note, Jane Austen became the first person ever, aside from the reigning monarch, to feature on both a UK coin and UK banknote at the same time.
Mary Shelley (1797 – 1851)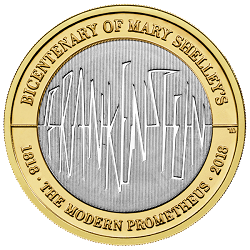 This £2 coin was issued by The Royal Mint to celebrate the 200th anniversary of the publication of Mary Shelley's famous novel Frankenstein; or, The Modern Prometheus.
Whilst on holiday in Geneva Mary Shelley and her poet friends, including Lord Byron and future Husband Percy Shelley, decided to have a competition to see who could write the best horror story. Out of this Mary Shelley created Frankenstein, a story about a scientist's scary act at playing God and creating life. It went on to become one of the best loved gothic novels.
The reverse of this gothic coin was designed by Thomas Doherty and features the words 'Frankenstein' in an electric gothic font
It has been an incredibly busy year for change checkers; during 2017 we've seen many fantastic new coin releases, the withdrawal of a coin in circulation since 1983 and also the introduction of a brand new banknote. Not forgetting the first ever Change Checker Scarcity Index and two Live Coin Swaps.
To help you relive all the highlights from the past 12 months we've put together a special Change Checker 2017 Review timeline. Enjoy!

Change Checkers are often asking me, "when will the 2017 coin designs be released into general circulation?" 
So, I have compiled a list below showing which coins are now available in your change and those that are still to be released.
The list will be updated as soon as we get confirmation from The Royal Mint that any new coins have entered circulation.
2017 circulation coin release dates
WWI Aviation £2: A small amount released in September (Duxford Airshow), full release TBC
Jane Austen £2: A small amount released in July (Winchester Cathedral), full release  TBC
Peter Rabbit 50p: September 2017
Jeremy Fisher 50p: TBC
Tom Kitten 50p: December 2017
Benjamin Bunny 50p: December 2017
Sir Isaac Newton 50p: June 2017
It's worth noting that coins are only released into general circulation as and when they are required by the banks.
If you find yourself asking, "When are the 2017 coins released into circulation?", this is the place to check!
If you find any of the 2017 coins in your change, especially those that are still to be released into circulation, we'd love to hear from you.
You can send us an email to info@changechecker.org or visit our Facebook, Twitter or Instagram page.