Posts Tagged 'king charles iii'
It's an exciting time in the collecting world, with many 'firsts' to look forward to as we enter a new era of King Charles III coinage.
From the first ever King Charles III portrait featuring on our coins, to the UK's first ever Coronation 50p, there's already been some remarkable milestones celebrated on the coins you can find in your change.
These issues will undoubtedly become increasingly sought-after in years to come. But demand for King Charles III coins is already proving to be high!
In August, the Isle of Man released the FIRST King Charles III Decimal Coin Set – including all seven of their decimal coins, which lucky islanders will be able to find in their change.
Isle of Man Manx Wildlife Set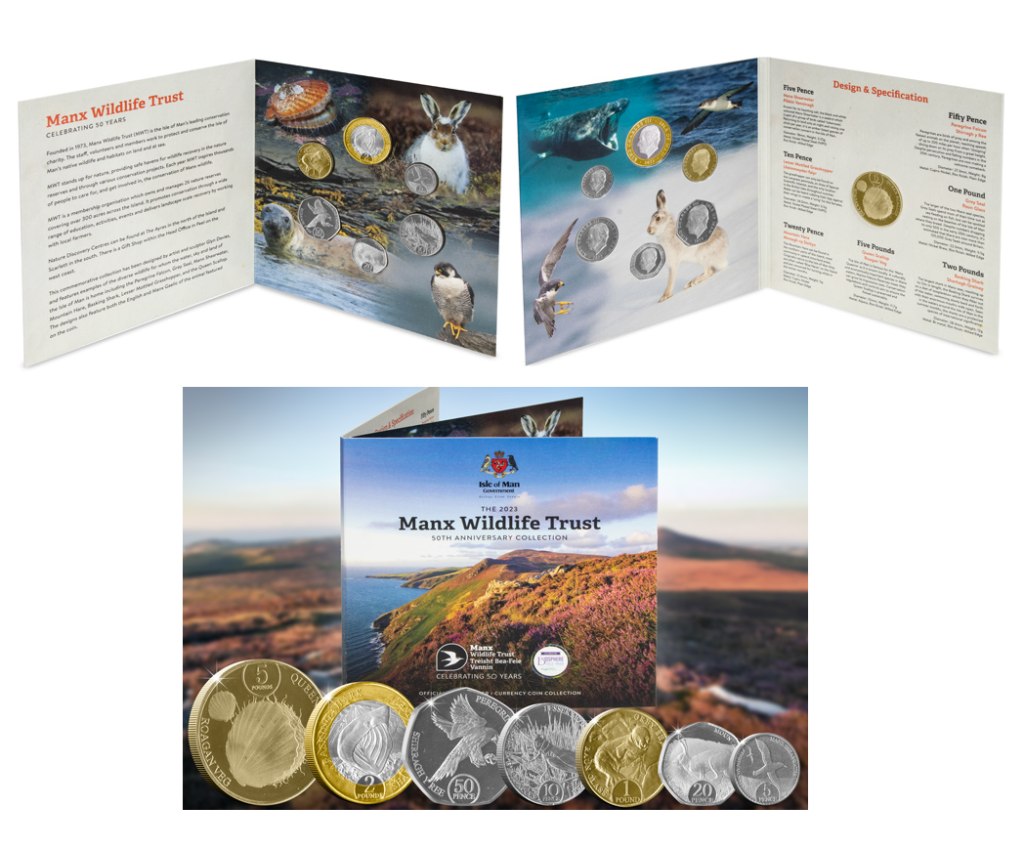 I knew these coins would be popular, but I was shocked at just how quickly we sold through our allocation… In fact, all our stocks had completely sold out in just a few days!
Popularity for the first full King Charles III coin set has certainly got us thinking about what could lie ahead for UK coins and just how high the demand might be when we start to see more King Charles coins released.
So far, the 2022 Memoriam 50p and 2023 Coronation 50p have found their way into our change and we released collector maps for both so that Change Checkers can track where across the country these coins are being found.
If you're lucky enough to have found the new Coronation 50p in your change, make sure you add it to our map here >>
In the meantime, I (like many other collectors) am eagerly awaiting the chance to find more King Charles III coins in my change and build up a new collection.
For almost 70 years, our definitive and commemorative coins have featured the Queen's portrait, but with a new era of King Charles III coinage upon us, the collecting race begins once again!
---
Own the Queen Elizabeth II LAST Definitive Coin Set
2022 marked the final year of Her Majesty's reign and, as such, these 2022 dated definitives coins were the last ever to be issued with the Queen's portrait on the obverse.
We have limited stocks available, so don't miss the chance to secure yours for just £35 (+p&p) here >>
Today, 5 million King Charles III Coronation 50ps entered circulation and we want to know where you've seen one! Click here to let us know and view our interactive Collector Map >>
Issued to commemorate the Coronation of King Charles III, the Coronation 50p is only the second 50p to enter circulation featuring the King on the obverse.
Uncrowned portrait
Unlike the collector version of the Coronation 50p, which features a special crowned portrait of the King on the obverse, the version entering circulation will feature the standard uncrowned portrait by Martin Jennings.
Typically, male monarchs don't wear crowns on UK coinage, however as a special issue for the Coronation, the collector versions of the Coronation 50p and £5 both feature His Majesty wearing the Tudor Crown.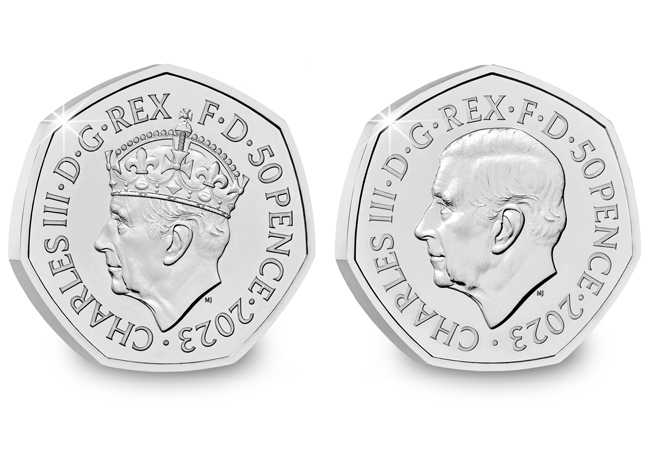 The circulation version of the Coronation 50p will feature the uncrowned portrait of King Charles – the same one that has appeared on all UK commemorative coins issued since the portrait was announced.
So, the hunt is on to find a Coronation 50p in your change with the uncrowned portrait and keep it next to your crowned collector version.
If you don't already have the Coronation 50p in your collection, you can get yours in Brilliant Uncirculated quality here >>
The second EVER King Charles III circulating 50p
Back in December 2022, 4.9 million Queen Elizabeth II Memoriam 50ps entered circulation. As it was the first ever circulating coin to bear the King's portrait, collectors raced to find it in their change.
We asked you to help us hunt down the first King Charles III 50p by entering your postcode into our map as soon as you found it. 113 locations were recorded on our collector map all the way from Inverness to Penzance, but it turned out the place where you're most likely to find the first King Charles 50p in your change was Newcastle!
Have you found the Coronation 50p in your change?
Let us know where you found the Coronation 50p in your change and we'll plot it on our collector map! Simply enter the first part of your postcode below and click submit!
As entries come in, we'll populate our collector map to show you exactly where you can find the Coronation 50p in your change:
Best of luck tracking down the new 50ps!
Don't miss out on securing the crowned collector version of the Coronation 50p, click here to get yours >>
Good news Change Checkers – your latest eBay Tracker and Valuation Index is here!
Whilst the secondary market can be a bit of a minefield, we've put together an easy way for you to see how much the Top 10 UK coins and banknotes are selling for right now.
eBay Tracker
Find out which coins and notes have been the key movers and in our latest eBay Tracker update.
After a spike in selling prices in our last update in January 2023, most likely due to the new King Charles III coins, things are starting to level out again. Although there has been an overall decrease in prices, there are still some noteworthy changes since our previous update.
Olympic Football 50p
The coin that's seen the biggest increase is the Olympic Football 50p. The Olympic 50ps have long been favourites amongst collectors, but did you know that only 1,125,500 Football fifty pence pieces entered circulation? It's definitely the rarest Olympic 50p to look out for and tops our chart as having the smallest mintage figure, which means it is even harder to find than the other Olympic 50ps.
With a design explaining the hotly debated offside rule, it definitely sparked discussion among collectors and football fans alike.
Kew Gardens 50p
Released by The Royal Mint in 2009 to celebrate the 250th anniversary of the Royal Botanic Gardens at Kew, the striking design of this 50p, by Christopher Le Brun RA, features the famous Chinese Pagoda at Kew, entwined by a decorative leafy climber.
In 2014, The Royal Mint revealed that only 210,000 Kew Gardens 50p coins had been struck, making it the scarcest UK coin in circulation. And nearly 10 years later, people are still willing to pay hefty sums to get their hands on one. Some have sold on the secondary market for nearly £200!
Valuation Index
Since coins bearing King Charles III's effigy began circulating, collectors have been keen to complete their Queen Elizabeth II collections.
This is reflected in the coins and bank notes being sold on the secondary market, some still selling for several times their face value.
Undated 20p
Considered by some the holy grail of change collecting, the undated 20p is being snapped up for a pretty penny recently.
These illusive coins have sold on the secondary market for more than 25 times their value! It's not known how many are in circulation, but most serious collectors have it on their wish lists.
---
My coin isn't on the eBay Tracker
The eBay Tracker follows the movements of the Top 10 UK coins and banknotes, however if your coin doesn't appear on the tracker you can use our 6 point guide to help determine the realistic value for your coin.
How does the eBay Tracker work?
The Change Checker eBay Tracker takes the last 9 sold prices on eBay and gives the median price achieved (rounded to the nearest 50p). By taking the median, rather than an average, we avoid skewing figures with one or two excessive prices.
Please note that the Change Checker eBay Tracker is only ever designed to be a guide as to prices achieved on eBay. Prices may vary depending on collector demand and the quality of the coin being sold. It does not provide any guarantee as to future values of coins.
---
If you're interested in coin collecting, our Change Checker web app is completely free to use and allows users to:
– Find and identify the coins in their pocket
– Collect and track the coins they have
– Swap their spare coins with other Change Checkers
Share, learn & swap with the Change Checker Community
Join the only official Change Checker Facebook group today >>