Posts Tagged 'numismatics'
Each year, collectors eagerly anticipate the arrival of the The Royal Mint's Annual Set.
These coins commemorate some of the key anniversaries of the year ahead and it means we get treated to FIVE brand new coin designs!
With some momentous anniversaries coming up this year, the issues in the 2022 Annual Set are some of the MOST poignant yet.
So, let's kick off the year with the coins we've all been waiting for, the 2022 Annual Set.
Platinum Jubilee 50p
Kicking things off with a UK FIRST, is the brand new 2022 Platinum Jubilee 50p.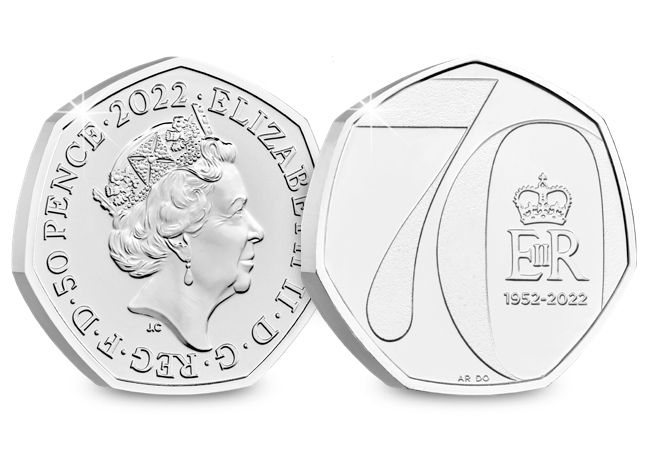 Her Majesty Queen Elizabeth II is the United Kingdom's longest reigning monarch, with an incredible 70 years of service to the crown.
In tribute to this record-breaking achievement, The Royal Mint have issued the UK's very first royal 50p!
Designed by Osborne Ross, the coin features a slick reverse design that shows the number 70, the royal cypher and the years that span her reign so far.
Her Majesty's fifth portrait, by Jody Clark, also features on the obverse of this coin.
What an incredible anniversary for Her Majesty to be celebrating this year and I'm sure you'll agree that this stunning 50p is a wonderful tribute to her.
The UK's VERY FIRST Royal 50p will be issued individually in just two days' time, on the 6th January. This version will feature a special obverse design not found in the Annual Set… Stay tuned to find out more!
Commonwealth Games 50p
The Commonwealth Games was first held in 1930 and with the exception of wartime (1942 and 1946) has taken place every four years since then!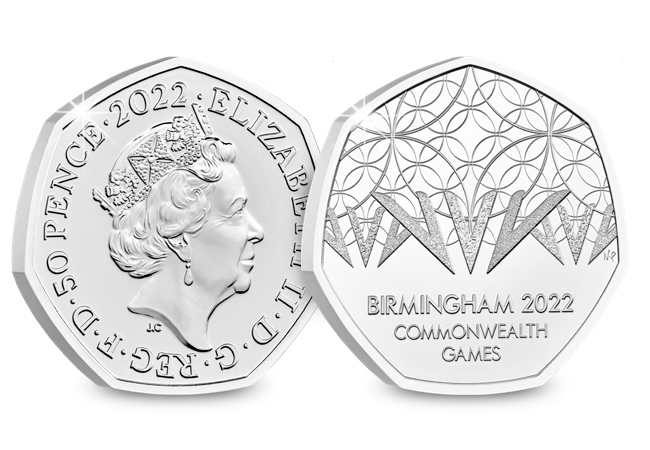 In the entire 92-year history, 2022 marks only the third time that England has played host to the games! So to mark the occasion, The Royal Mint has issued this brand new 50p.
Featuring a design by Royal Mint designer Natasha Preece, this 50p represents the essence of Birmingham 2022 with a striking geometric design.
We think it's the perfect tribute to Birmingham hosting the games for the very first time and a great way to wish all of the athletes good luck.
Alexander Graham Bell £2
Alexander Graham Bell was a Scottish-born inventor, scientist, and engineer who patented the first practical telephone.
In the 100th anniversary year since his passing, The Royal Mint have issued this brand new £2 coin.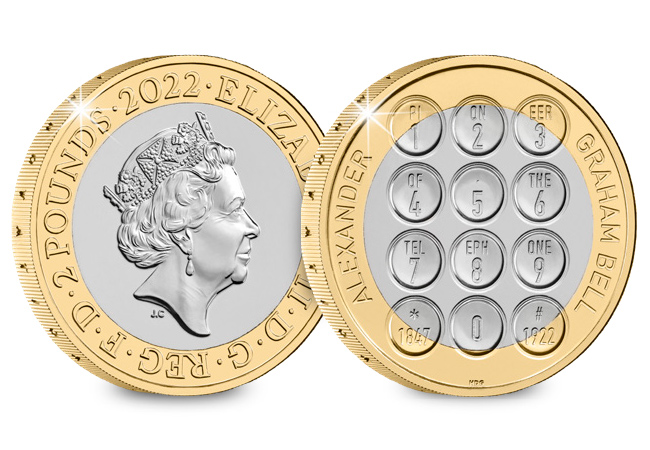 The coin features a design showing the dial of a push-button phone, alongside the words 'pioneer of the telephone' inscribed into the buttons.
It's hard to image a life without our phones, but before Bell's work, it was a complete unknown.
It was back in 1871 that Bell first started work on his harmonic telegraph, which allowed multiple messages to be transmitted over a wire at the same time.
And in 1876, he made his very first telephone call to Thomas Watson and was then granted his telephone patent.
The design of this coin perfectly celebrates all of Bell's achievements in making real-time long-distance communication possible.
Dame Vera Lynn £2
In 2020, we received the sad news that Dame Vera Lynn had sadly passed away. The iconic wartime singer was famous for boosting the morale of British troops during WWII.
Coined as the forces sweetheart, her renditions of We'll Meet Again, The White Cliffs of Dover and I'll Be Seeing You, became synonyms with wartime.
Dame Vera Lynn played such a key role during wartime that Buckingham Palace sent a private message of condolence to her family.
And in 2022, to commemorate her life and achievements, The Royal Mint commemorates her on a brand new £2 coin.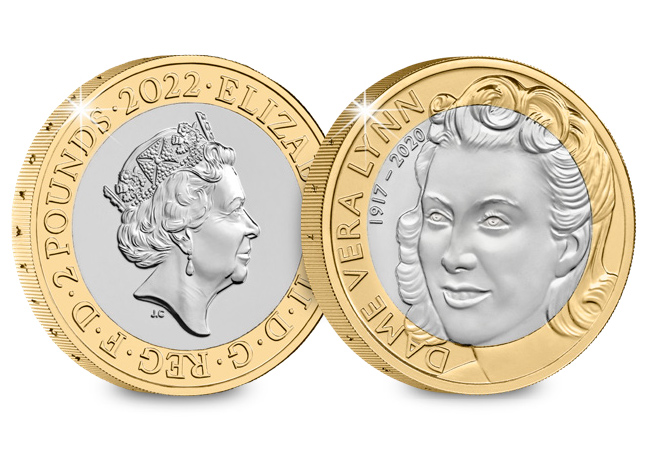 Designed by The Royal Mint design team, this £2 features a detailed portrait of Dame Vera Lynn as she appeared during the height of her fame.
The popularity of her songs has carried across generations. In 2020, her songs still spoke to the nation with a similar level of emotion as they did in 1940 – a testament to her charm, skill, and beautiful voice.
Platinum Jubilee £5
In this very special anniversary year for Her Majesty, we have been treated to not one but TWO Platinum Jubilee coins.
This £5, designed by John Bergdahl features a stunning reverse design. The royal mantle appears as a surround, as it was used on the coinage of William IV!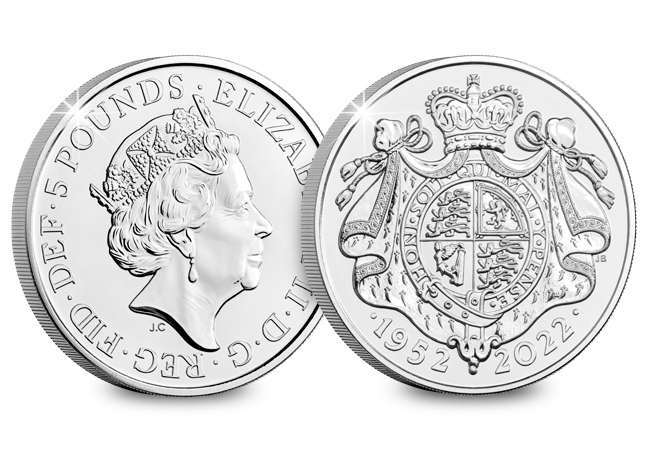 Inheriting the throne at the age of just 25, Her Majesty Queen Elizabeth II has remained a national constant as head of state since 6 February 1952.
Since then, the nation has watched her grow from a young queen to the much-loved monarch that she is today.
The dates 1952-2022 feature on the reverse design, in a poignant tribute to her incredible 70 years of service to the crown.
---
I'm sure you'll agree that this year's Annual Coin Set is the most impressive to date.
With some incredible anniversaries and events coming up this year, there's no doubt these coins will be in high demand with collectors.
Don't forget, the UK's VERY FIRST Royal 50p will be issued individually in just two days' time (6th January) – stay tuned to find out more!
---
Secure the most sought-after Annual Set to date!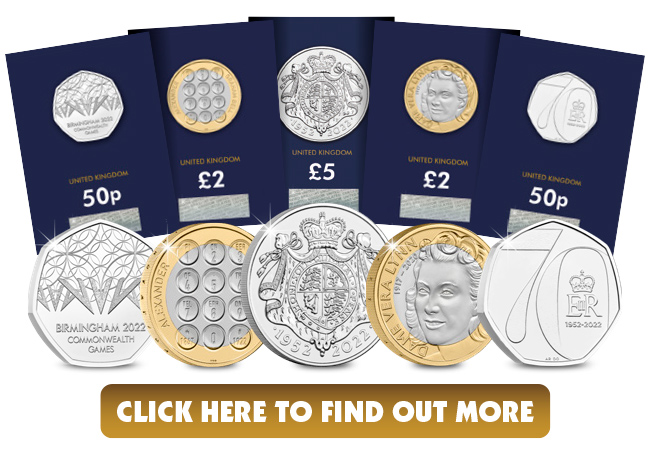 To ensure you don't miss out on adding all FIVE coins for your collection for JUST £40.00 (+p&p), simply click here >>
Each coin has been struck to a superior Brilliant Uncirculated quality and protectively encapsulated in official Change Checker packaging, housed in a Display Page ready to slot into your Change Checker Album.
Did you know that the Isle of Man was the first place in the world where a woman could vote in national elections?
In fact, it was in 1881 that women householders were given the vote – 47 years ahead of the UK!
This momentous event has now been commemorated on a unique four-coin £2 set issued by the Isle of Man to commemorate 140 years since the campaign for women's suffrage on the island.
The coin set features the names of the four pioneering women who first cast their vote on the Isle of Man, and show the voters names documented as Eliza Jane Goldsmith, Catherine Callow, Esther Kee and Margaret Kelvin.
Limited Availability
This special commemorative £2 set will be on sale for JUST TWO WEEKS, meaning availability is extremely limited and you'll need to order fast to avoid disappointment.
What's more, coins from the Isle of Man are particularly sought-after due to their much lower mintage figures compared to UK counterparts and with such a significant topic being celebrated, demand for the new coins is set to be incredibly high.
In celebration of these remarkable coins being issued on the Isle of Man, sets were presented to the President of Tynwald and Speaker of the House of Keys! Tynwald extended suffrage to women who owned land in 1881, 37 years before Westminster did the same.
Your 2021 Isle of Man Women's Suffrage £2 Set has been struck to a Brilliant Uncirculated quality and come protectively encapsulated in Official Change Checker packaging, certified to guarantee each coin's superior quality.
Remember, you have just TWO WEEKS to be one of the lucky collectors to order this set, so don't miss your chance to own yours for just £34.99 (+p&p). Click here to add these remarkable coins to your collection >>
These coins are so popular that not only have they featured on the Isle of Man Government Release but BBC news even reported on them!
The 2021 Isle of Man Women's Suffrage £2 Set is sure to be popular with collectors and with news articles reporting on the significance of these coins, I don't expect them to be around for long…
Don't miss out! There's just two weeks to secure your Isle of Man Women's Suffrage £2 Set for JUST £34.99 (+p&p) >>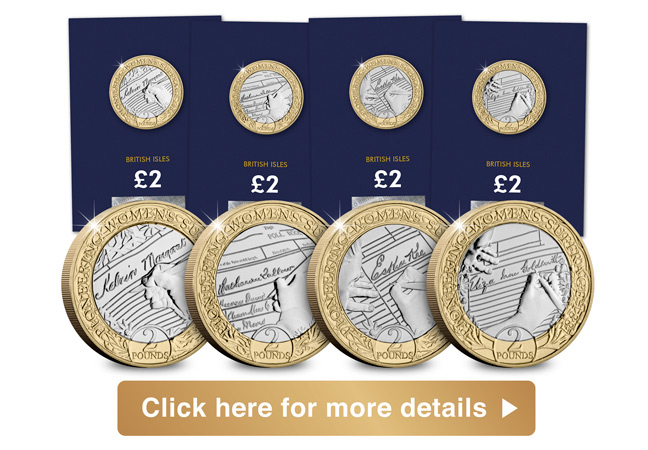 ---
If you're interested in coin collecting, our Change Checker web app is completely free to use and allows users to:
– Find and identify the coins in their pocket
– Collect and track the coins they have
– Swap their spare coins with other Change Checkers
Sign up today at: www.changechecker.org/app
British group, The Who were amongst the most popular and influential bands of the 1960s and '70s. Key to defining the mod genre and originating the 'rock opera' both in Britain and worldwide, The Who are without a doubt Music Legends.
Which is why Change Checker is head-bangingly excited to reveal that The Who can now add a brand new UK £5 coin to their impressive collection of accolades.
Designed by artist, Henry Gray to include a Union flag, mod logo and Rickenbacker guitar within a Tommy inspired pinball table, this superb new coin acts as a nod to one of the band's most famous creations.
Celebrating The Who's rock and roll story, the dynamic £5 coin is set to prove a real hit with collectors and music fans alike.
To secure this coin for your collection for JUST £10.99 (+p&p), click here >>
Mod-Rock Legends
Among the most popular and influential bands of the 1960s and '70s, The Who were key to defining the mod genre and originated the 'rock opera' both in Britain and worldwide.
Despite having an early influence from the American Rhythm and Blues genre, The Who's move towards a new style of British rock allowed them to reject any form of pretension when dealing with teenage frustrations.
The WHO's undeniable popularity, which spans across generations, has granted them numerous awards and they even reached the Grammy Hall of Fame for their single "My Generation" and the albums Tommy and Who's Next.
Perfectly meeting the description of Music Legends, The Who now become the fourth issue in The Royal Mint's incredibly popular £5 series, with this brand new issue.
2020 UK Bowie £5
The third coin in the Music Legend series celebrates the icon that is David Bowie.
The coin, by Jody Clark, features a design which pays tribute to Bowie's Aladdin Sane era. It depicts the music legend transitioning between his various personas, set against his iconic 'BOWIE' font and featuring the world-famous lightning bolt that Bowie sported as his alter ego, Ziggy Stardust.
Encapsulating everything Bowie stood for; transformation, non-conformism, and vibrancy, this £5 coin pays the perfect tribute to one of the UK's biggest Music Legends of all time.
Bowie's songs depicted the ups and downs being an outsider: an alien, a misfit, or even a faraway astronaut! His music appealed to all, with a blend of rock, cabaret, jazz and soul. It was this eclectic mix of style and honest charm that defined him as one of the greatest music legends of the 20th century.
During Bowie's vibrant career, he released 27 studio albums, 128 singles, and 72 music videos. Some of his most famous works include Space Oddity (1969), Life on Mars? (1971), Heroes (1977), and Ashes to Ashes (1980).
Sadly, in 2016 David Bowie passed away just two days after his birthday, leaving behind a legacy of nonconformist music and style.
And, in 2020 his legacy lives on, with the release of this £5.
2020 UK Elton John £5
The second coin in the Music Legends series was released earlier this year, celebrating Sir Elton John, who has been delighting his fans for more than half a century.
Since his very first self-titled album in 1970, Elton John has sold in excess of 300 million records worldwide.
Some of his chart-topping hits include, 'Can You Feel the Love Tonight?', 'Don't Go Breaking My Heart', 'Candle in the Wind', and 'I'm Still Standing'.
He also found success on Broadway, composing for Billy Elliot (2008), which went on to win 10 Tony Awards.
As recognition of his contribution to music, Sir Elton John was knighted in 1998 and in 2020 he was celebrated on a £5 for the first time.
The reverse design of this £5 coin, by Bradley Morgan Johnson represents Elton John's I'm Still Standing era. Speaking of the design, Johnson said, "I'm Still Standing was one of [his] favourite childhood pop tracks" and you can definitely see the influence this song has on the design of this coin.
My favourite feature of this coin design, is that Sir Elton John himself approved it. By owning this coin, you really are in possession of some huge music legend memorabilia.
If you would like to secure the 2020 Elton John £5 to your collection, click here >>
2020 Queen £5 Coin
The very first £5 coin in the Music Legends series was released earlier this year, celebrating one of Britain's most iconic and influential bands ever, Queen.
Formed in London, 1970, Queen instantly rocked the nation and became a British icon, creating unique and timeless songs which are still loved to this day.
As of 2005, Queen's albums have spent the equivalent of 26 years in the UK Album Charts! (According to the Guinness Book of World Records).
The design of this £5 coin by Chris Facey, showcases the iconic instruments of all four founder members of the band: Brian May's Red Special guitar, John Deacon's Fender Precision Bass™, Roger Taylor's Ludwig™ bass drum, and Freddy Mercury's Bechstein™ grand piano.
Band members Brian May and Roger Taylor have officially approved the design of this coin and alongside the fact that this coin is full of numismatic firsts, this coin has already proved incredibly popular with collectors:
The first-time ever Queen have featured on a coin worldwide
The first-time ever a British band has been celebrated on UK coinage
The first coin to be issued in the new series celebrating British Music Legends.
If you would like to add the 2020 UK Queen £5 in Brilliant Uncirculated quality, then click here!
I'm sure you're just as excited as we are by this brand new £5 coin and the continuation of the Music Legends £5 Series.
Which coin is your favourite in the series? Let us know in the comments!
---
Secure the brand new The Who £5 today!
As you would expect with a coin this exciting your brand new UK £5 has been struck to superior Brilliant Uncirculated quality and protectively encapsulated in official Change Checker packaging to preserve its quality forever.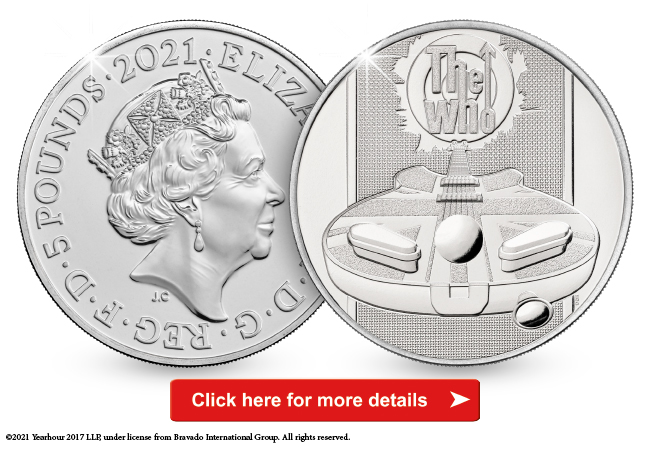 Add this coin, celebrating one of the world's most-famous music groups, to your collection right now by clicking here >>