2023 sees the return of one of the most captivating and empowering sporting events in the world. And to celebrate England's incredible team of Lionesses, The Royal Mint have struck a brand new UK £5 coin.
The Lionesses' journey so far
Since their first international match in 1972, the England women's football team has gone from strength to strength.
The rising popularity of women's football reached new heights in 2022 when England became European Champions. The dynamic squad, including the likes of Beth Mead, Fran Kirby and Ella Toone, took home the trophy after their unforgettable win against Germany.
This year, the Lionesses embark on their biggest competition to date, and to commemorate the event, the Pride of England £5 has been struck.
Three lions on the coin…
The 2023 UK Pride of England £5 proudly celebrates the team and their successes with a design by sculptor Norman Sillman. Three emblematic lions can be seen on the reverse design, representing the nation's heraldic history.
The design may look familiar, and that's because these heraldic lions also appeared on UK £1 coins in 1997. In fact, they date back to Richard the Lionheart who used three golden lions on a scarlet background as a powerful symbol of the English throne.
A must have for football fans
Demand for this coin is sure to be huge, as it not only appeals to coin collectors, but will also be highly sought after by British sport enthusiasts and football fans. The 2023 UK Pride of England £5 is the perfect keepsake for those who appreciate the rich history and cultural impact of women's football.
A history of football coins
2022 UK FA Cup £2
The FA Cup £2 was issued to mark 150 years of the FA Cup. The reverse design by Matt Dent and Christian Davies featured the famed FA Cup trophy, representing one of the greatest football knockout tournaments in the world.
This coin proved incredibly popular with collectors, with the limited edition specifications selling out at The Royal Mint within just hours of release.
2011 Olympic Football 50p
Released as part of the Royal Mint's 2012 Olympic 50p series, this coin was dedicated to football.
It was possibly the most publicised Olympic 50p, as it features the hotly debated offside rule in the form of a simple diagram. Designer Neil Wolfson chose the image to represent the sport and provoke discussion.
Secure your 2023 UK Pride of England Certified BU £5
Your 2023 UK Pride of England £5 coin is presented in official Change Checker packaging, so it's safely preserved for generations to come. Secure yours >>
After a year long wait the highly anticipated 2020 Tokyo Games have commenced and to celebrate Change Checker has a numismatic challenge for you to take part in!
In 2012, the Olympic Games were hosted in London and to mark the occasion The Royal Mint issued 29 50p coins, each depicting a design of a different sport.
So, we're challenging Change Checkers to hunt down the Olympic 50ps to see if you can complete a collection of all 29 coins.
It won't be easy, as it's estimated that 75% of these coin have been removed from circulation by collectors, but by checking your change and swapping with other collectors, it's definitely possible to find the complete set.
Sports Edition 50p Collecting Pack
To kickstart your collection, you can now get your hands on the Change Checker Sports 50p Collecting Pack, including space for all 29 coins as you find them in your change!
What's more, we'll even include a mystery Olympic 50p to get your collection started and you'll receive a Change Checker Completer Medal too!
The set comes housed in a Change Checker Album, with pages and a title card telling you all you need to know about these coins.
These really were the 50ps that kick-started the nation's love of collecting and with such amazing designs, many of which were created by members of the public, you can see why these coins are so well-loved!
They have some of the lowest mintage figures of all the UK 50p coins, with the Football 50p in particular, having a mintage of JUST 1,125,500.
When you consider the popularity and mintage figures of these coins, it really is an exciting challenge to try and collect all 29 designs. What's more, with the Tokyo Games having just begun, it really is the perfect chance to see how many you can find.
---
How many will you collect? Best of luck Change Checkers!
Don't forget to check back in with us to tell us how you're getting on in the challenge!
---
Secure your Sports Edition 50p Collecting Pack today!
Kick-start your Olympic 50p collection with the Change Checker Sports 50p Collecting Pack for JUST £19.99 (+p&p).
Your pack includes an official Change Checker Album, ID cards for all of the London 2012 50p coins, pocket pages, and the Sports Edition Title page.
Excitingly, you'll also receive a mystery London 2012 50p to house in your album PLUS a special Sports Edition Medal.
To take part in the challenge and to secure your Change Checker Sports Edition 50p Collection, simply click here >>
HRH Prince Harry launched the very first Invictus Games at Queen Elizabeth Olympic Park, London in 2014, showcasing the incredible power of sport to inspire recovery and rehabilitation, and increase respect for those who have served their country.
The Games have installed a real sense of belonging for all, and as the international adaptive multi-sport event makes its way 'down under' to Sydney, Australia,  something extra special will be happening this year for the Invictus Games to mark the fourth year running.
Because to commemorate this special event, The Royal Australian Mint have released a limited quantity of commemorative $2 AUD coins into circulation in Australia.
This $2 coin features a competitor in a wheelchair, with the words "Invictus Games" on the reverse. Taken from the Latin word for 'unconquered', 'Invictus' captures the spirit of the games and the competitors who won't be defined by their injuries or disabilities.
2.3 million of these coins have been released over the past few months, meaning that they should be in the pockets of Australian change collectors by the time the games take place in October.
Invictus Games Sydney 2018 Chief Executive Officer Patrick Kidd OBE says:
"These coins are a fitting tribute to the men and women who serve and have served in our Defence forces and their families. The picture on the coin celebrates the unconquered spirit that this community displays each and every day and that you will all witness when these Games come to Sydney in October."
Over 500 competitors from 18 nations will compete in 11 different sports during the Games, including:
Archery
Athletics
Indoor Rowing
Jaguar Land Rover Driving Challenge
Powerlifting
Road Cycling
Sailing
Sitting Volleyball
Swimming
Wheelchair Basketball
Wheelchair Rugby
Will any of you change checkers be heading 'down under' to watch the Games this October? Or if you have any Aussie friends, make sure they keep an eye out for the coin in their change!
---
Secure your Invictus Games $2!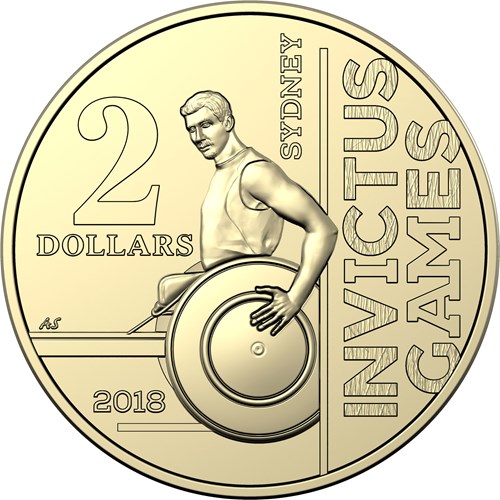 We've managed to get hold of 125 coins for UK collectors so you can now own this fantastic $2 coin from Australia, representing triumph over adversity.