Posts Tagged 'Tom Kitten'
Earlier in the year, we updated our Change Checker Guide to UK Commemorative Coin Mintages which included details of all the coins issued into circulation in 2017.
But The Royal Mint has just updated its mintage figures for 2017-dated 50p coins.
It won't be a surprise that the 2009 Kew Gardens remains king of the 50p coins, but owners of the 2017 Sir Isaac Newton 50p will be glad to hear that the coin has managed to keep its sought-after 2nd place position on the chart.  However, the final mintage has crept up by 1,500 bringing the total to 1,801,500
Whilst all four Beatrix Potter 50ps already had fairly high mintages when the figures were first revealed, the final mintages have since increased, the obvious change being the 2017 Benjamin Bunny 50p which has more than doubled.  It has been confirmed that further Benjamin Bunny 50ps went into circulation during 2018,  bringing the total mintage to 25,000,000.
---
Want to add the 2017 Jane Austen £2 to your collection?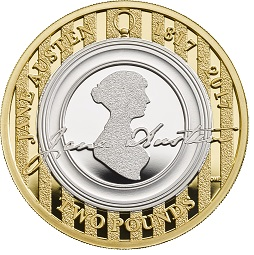 Own it today in Brilliant Uncirculated quality. Secure yours here >>
Change Checkers are often asking me, "when will the 2017 coin designs be released into general circulation?" 
So, I have compiled a list below showing which coins are now available in your change and those that are still to be released.
The list will be updated as soon as we get confirmation from The Royal Mint that any new coins have entered circulation.
2017 circulation coin release dates
WWI Aviation £2: A small amount released in September (Duxford Airshow), full release TBC
Jane Austen £2: A small amount released in July (Winchester Cathedral), full release  TBC
Peter Rabbit 50p: September 2017
Jeremy Fisher 50p: TBC
Tom Kitten 50p: December 2017
Benjamin Bunny 50p: December 2017
Sir Isaac Newton 50p: June 2017
It's worth noting that coins are only released into general circulation as and when they are required by the banks.
If you find yourself asking, "When are the 2017 coins released into circulation?", this is the place to check!
If you find any of the 2017 coins in your change, especially those that are still to be released into circulation, we'd love to hear from you.
You can send us an email to [email protected] or visit our Facebook, Twitter or Instagram page.
There is no doubt that the 2016 Beatrix Potter caused a collecting storm across the UK with collectors checking their change in an attempt to find a complete set of Beatrix Potter 50p's. In fact the series has been so popular, the coins have dominated the news ever since they were revealed by The Royal Mint last year.
And now, 2017 is set to be another exciting year for Change Checkers with the release of FOUR BRAND NEW Beatrix Potter 50p's.
Just revealed…
There were rumours last year about whether more Beatrix Potter themed 50ps would be issued… and they were true! We can now reveal the brand new designs for 2017…
Peter Rabbit
The 'Tale of Peter Rabbit' was the first in a series of 23 little tales by Beatrix Potter. The inquisitive bunny is the star of the little tales and pops up in many of the other stories.
This brand new 50p is available right now in superior brilliant uncirculated quality and features Peter Rabbit in his iconic blue jacket that became the emblem of Beatrix Potter's work.
Mr. Jeremy Fisher
Like many of the characters from the little tales, Jeremy Fisher began life in a letter which Beatrix Potter wrote while holidaying on the River Tay in Scotland.
The 50p features Mr. Jeremy Fisher in his waterproof makintosh and galoshes and collector quality versions are due to be released on the 5th June.
Tom Kitten
Tom Kitten was first introduced in 1907 when the 'The Tale of Tom Kitten' was published. The naughty kitten appeals to children everywhere with his antics and is another favourite character from the series.
The collector version Tom Kitten 50p will be available from 31st July and features the original illustration of Tom Kitten from the front cover of Beatrix Potter's book.
Benjamin Bunny
'The tale of Benjamin Bunny' published in 1904, was written from scratch by Beatrix Potter. She even borrowed a cat to create new sketches for the illustrated tale.
The 50p features Benjamin Bunny dressed in his little brown jacket and over-sized tam-o'-shanter, this coin will be available in September in superior brilliant uncirculated quality.
I'm sure you'll agree, these four coins are the perfect continuation of the series, and really capture the nostalgic charm of Beatrix Potter's original stories. Emma Noble has designed all four coins which have been issued to carry on the celebrations of some of Beatrix Potter's most loved animals.
There is no date as of yet to when these 50p's will be released into circulation but we'll be sure to update you as soon as we can. The first series of 50p's issued in 2016 proved to be extremely popular with collectors nationwide, so it is no doubt that the second series of 50p's will be just as sought after.
---
Avoid the long wait to find the Peter Rabbit 50p coin in your change by securing the Brilliant Uncirculated issue today for just £3.99 (+p&p).