Posts Tagged 'Wallace and Gromit 50p'
We're delighted to announce the next Change Checker Live Event will be coming to Cardiff!
We're at St David's Shopping Centre in Cardiff from 9.30am to 8pm on Wednesday 19th February and we're bringing the 2019 UK Wallace and Gromit 50p coin to swap with you.
Join us there and swap ANY UK 50p coin for the wonderful Wallace and Gromit 50p coin in Brilliant Uncirculated condition.
These coins won't be entering circulation, so this is your chance to get your hands on one in superior collector's quality for just face value.
PLUS, when you attend the event you'll receive an exclusive voucher to purchase Change Checker goodies on the day.
Please note: Swaps are limited to 1 per person, while stocks last.
St David' Shopping Centre, Cardiff
Located in one of the UK's fastest growing cities, St David's in Cardiff is one of the UK's premier retail destinations, with a choice of over 180 retailers and over 40 restaurants to enjoy during your visit.
You can find us on the lower level near Watches of Switzerland and Pravins, at the location marked by the red circle on the map below:
Sitting above St David's is a 2,000 space contemporary 24-hour car parking facility. Disabled parking is located on Level P3 and a second car park of 550 spaces can be found underneath John Lewis.
Situated right in the heart of Cardiff city centre, St David's is a short walk from Cardiff Central and Queen Street Rail Stations.
It's easy to get there by car too with excellent links from the A470 and the M4.
If you're using a sat nav to get there, the postcode you'll need is CF10 2EN. This will take you to the entrance of the multi storey car park on Mary Ann Street.
Can I swap more than one coin?
Such is the popularity of our Live Coin Swaps and to ensure that it is fair for everybody, we'll be limiting the number of swaps to strictly 1 swap per person.
Will you be doing any more Live Coin Swaps?
That's the plan!
We will be holding more Live Coin Swaps in the future and the plan is to visit a different area of the country each time, giving as many people as possible the opportunity to attend.
We look forward to seeing you there!
---
Secure your Wallace and Gromit 50p!
Can't wait to get your hands on the Wallace and Gromit 50p coin?
Secure your 2019 Wallace and Gromit 50p Coin in Brilliant Uncirculated quality here.

The eccentric inventor and his trusted canine friend have made their way back from the moon and onto a UK 50p to celebrate 30 years since their debut film, A Grand Day Out.
After weeks of anticipation, The Royal Mint has now released the first ever Wallace and Gromit 50p to celebrate 30 cracking years of the British Comedy duo.
Originally a small concept in Nick Park's student sketchbook, Wallace and Gromit have become instantly recognisable stars of the silver screen!
The pair now feature in 4 stop-motion animation short films: A Grand Day Out (1989), The Wrong Trousers (1993), A Close Shave (1995), A matter of Loaf a Death (2008) and the full-length feature film, The Curse of the Were-Rabbit, released in 2005.
An Original Nick Park Design
Excitingly, the reverse of this new 50p has been designed by none other than Nick Park himself!
The original artist behind the popular animation characters, Nick's artwork has created a truly authentic design for the coin which is certain to be a hit with fans and collectors alike.
Featuring Wallace and Gromit peering out of the spaceship they took to the moon, fans will certainly resonate with this adaptation of the famous film scene.
What's more, the initials 'NP' have been struck onto the design to confirm the design by Nick Park.
BU, Silver & Gold!
As of today the FIRST EVER Wallace and Gromit UK 50p has officially taken off!
The new coin is available in Brilliant Uncirculated quality in both Official Change Checker packaging and Royal Mint packaging.
A Silver Proof version of the coin has also been issued, featuring selected colour printing to really bring the design to life. Just 25,000 Silver Proof coins are available and given the popularity of Wallace and Gromit and the sell-out stories we've seen with other UK 50p issues this year (like The Gruffalo® 50p), collectors wanting one of these will certainly need to act quickly.
 Excitingly, this 50p has also been issued in a Gold Proof design! Limited to just 630 pieces, this one is a real collector item.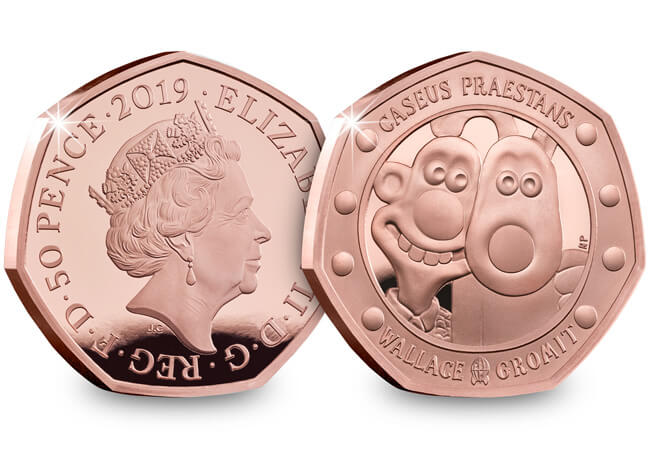 From their first appearance in 1989 to their dedicated following today, Wallace and Gromit have become international cultural icons and a real staple of British-ness! Here at Change Checker we can't think of a better way to celebrate such an important comedy duo than on a brand new UK coin.
---
Add the brand new Wallace and Gromit 50p to your collection!
This coin won't be entering circulation, but has been released as a special commemorative issue.
Click here to secure this brand new UK coin in superior Brilliant Uncirculated quality.