Posts Tagged 'world coins'
It's common knowledge among Change Checkers that The Royal Mint strikes all the coins in the United Kingdom – and has done for centuries.
But what may come as a surprise to many collectors is The Royal Mint has historically struck coins for a variety of countries around the world!
Currently, outside of the UK, The Royal Mint provides services for over 60 different countries, including New Zealand and many Caribbean nations.
In the past, The Royal Mint has struck coins for North and South America, Africa and the Middle East!
In this blog, we take a look at our Top Five most interesting world coins struck by our very own UK Royal Mint and the stories behind them.
---
"From Norway to New Zealand, from Bermuda to Brunei, coins have been struck at The Royal Mint for countries all over the world."
– The Royal Mint Museum
---
New Brunswick 1861 Half-Cent
Across the 18th and 19th centuries The Royal Mint, which was then based in London, minted several coins for North American states and the Caribbean.
Interestingly, in 1861 a half-cent coin, made of bronze, was minted for New Brunswick. More than 200,000 of these half-cent coins were struck, even though the denomination wasn't actually needed.
It is said these coins were struck as a misunderstanding at The Royal Mint (that's quite a misunderstanding!) and the majority of these were melted down. However, there has been reports that a lucky few coins have survived!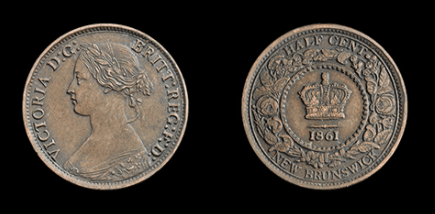 Norway 1942 25 Aurar
Many Change Checkers might be familiar with some of the coins struck by the UK Royal Mint throughout the Second World after reading our blog featuring coins struck in the UK for Iceland.
In addition to this a coinage was undertaken in the Second World War for the Norwegian government in anticipation of the country's liberation from occupying forces.
Made out of Nickel-Brass and shipped to Norway ready for their liberation, this could have been one of the most exciting Norwegian coins in circulation.
However, the coin was never issued and the large majority of these were returned to The Royal Mint a few years later and melted down.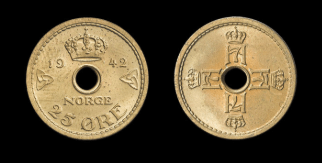 Nigeria 1959 Shilling
This Nigerian Shilling was made out of Cupro-Nickel, the same composition we are familiar with on modern United Kingdom 50 pence coins.
With an order of more than 1,000 million pieces for this new, distinctive Nigerian coinage, this is by far the largest international coin order The Royal Mint had ever received – quite the honour!
Hong Kong 1863 Mil
Introduced in 1863, the Hong Kong Mils were the first-ever perforated coins to be produced at The Royal Mint.
Perforated coins usually refer to coins which have a hole punched through the middle.
To date, although The Royal Mint have produced this style of coins for several other nations including East Africa, the United Kingdom has never had a perforated coin in their tender.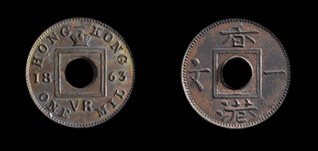 Australia 1951 Penny
Demand for Australian coinage in 1951 exceeded the capacity of the Brand Mints in Melbourne and Perth, and so the UK Royal Mint was approached for assistance.
Interestingly, the Australian coinage pieces struck in London are distinguishable by the addition of the tiny letters 'PL' which recalls a mintmark used by the UK Mint in Roman times.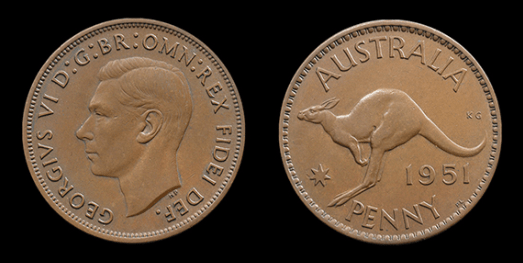 So, there we have it! Our Top Five most interesting coins struck by the UK Royal Mint for countries around the world!
These coins tell quite the story of The Royal Mint's long and important history in world coinage.
If you have any exciting coins from around the world or stories you'd like to share, let us know in the comments below!
---
If you're interested in coin collecting, our Change Checker web app is completely free to use and allows users to:
– Find and identify the coins in their pocket
– Collect and track the coins they have
– Swap their spare coins with other Change Checkers
Sign up today at: www.changechecker.org/app
During its lifetime, The Royal Mint has struck coins for over 100 different countries from around the globe.
But do you know the story of how they came to strike Icelandic coinage?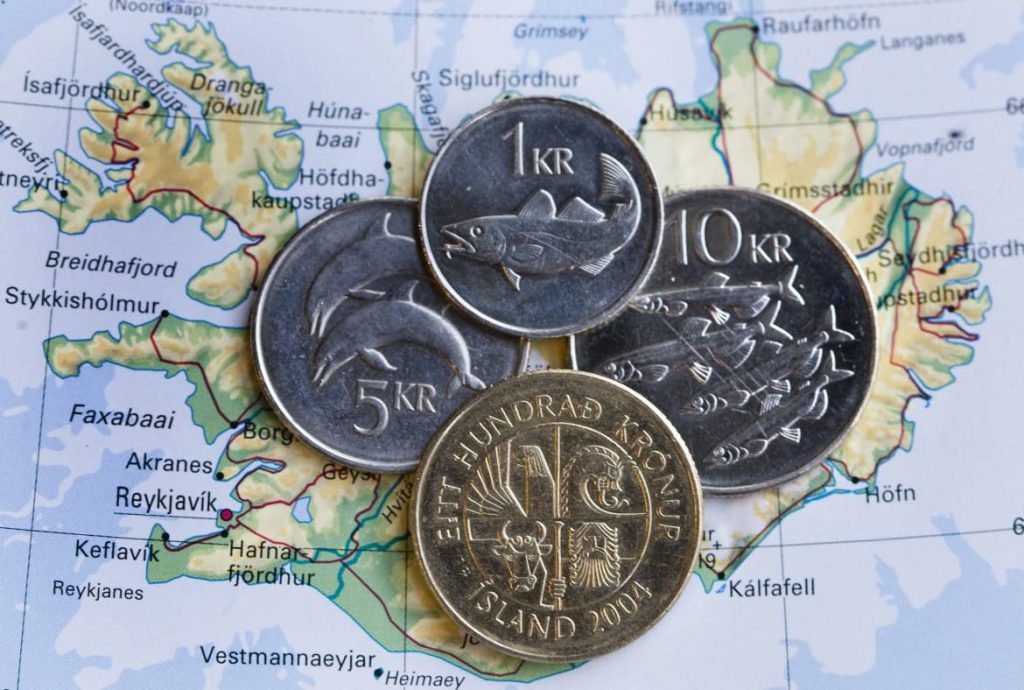 The 'inauguration' of Iceland's coinage
The story of how The Royal Mint came to strike Iceland's coins began in World War Two.
After a night where the windows and roofs of The Royal Mint at Tower Hill had been destroyed by enemy action, the very first British-struck Icelandic coins were born as "a glacial wind whirled round the coining presses to inaugurate this coinage of Iceland" (explained by John Craig, The Deputy Master of The Royal Mint, in his annual report).
Prior to World War II, Iceland was ruled by the Danish crown and Icelandic coins had been struck by The Copenhagen Mint.
But the fall of Denmark into enemy hands during the war meant that Iceland had to look elsewhere for its coinage requirements…
First ever British-struck Icelandic coins
It was in 1940 that The Royal Mint received its first order to strike the five Icelandic denominations from 1 Eyrir (0.01 Krόnur) to 25 Aurar (0.25 Krόnur).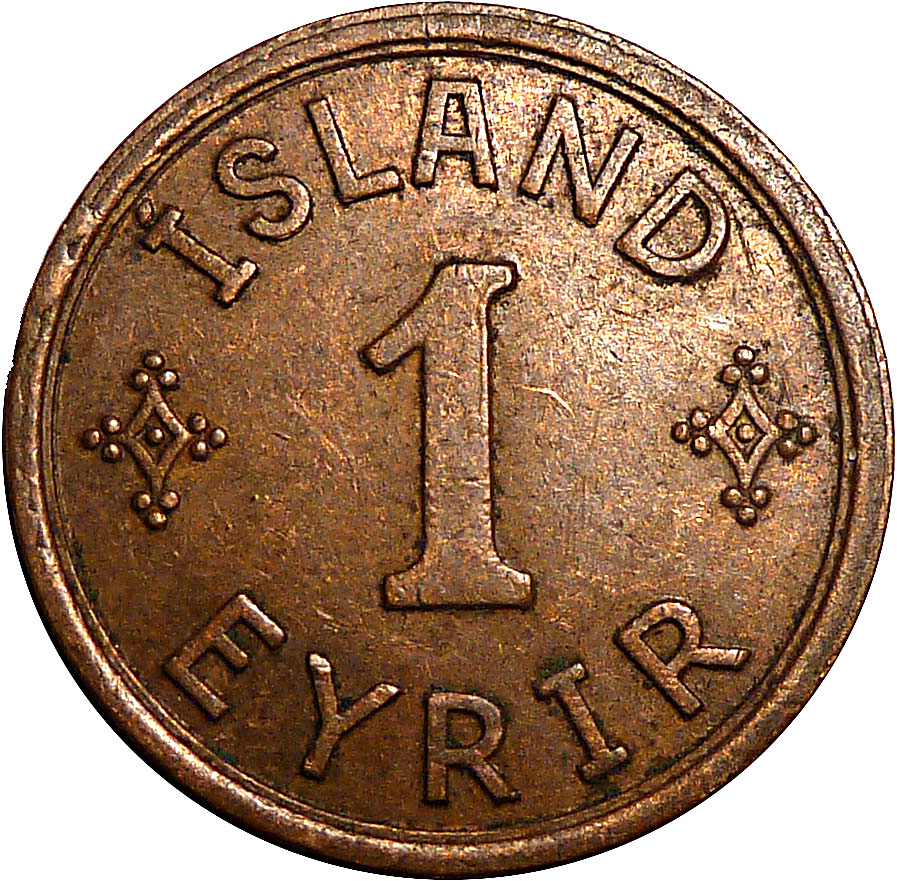 This was soon followed by additional orders for Krόnur and 2 Krόnur coins.
Not only did The Royal Mint experience damages to the building during WWII, but the price of nickel also rose substantially as the metal was in extremely high demand for munitions.
This meant it became necessary to strike the 1942 dated 10 and 25 Icelandic Aurar coins in the 'poor metal' of zinc rather than the now commonly used Cupro-nickel.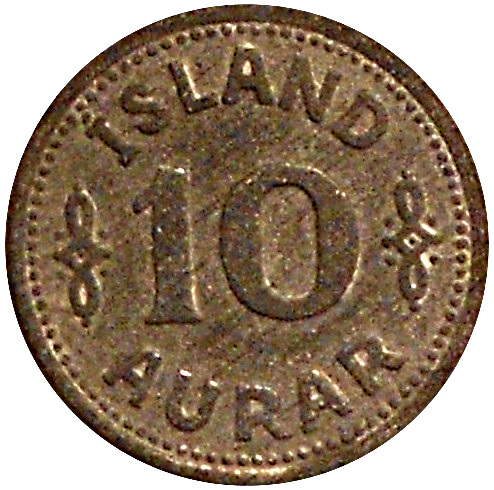 The new coins series
In June 1944 Iceland became a republic. A new series of coins were introduced in 1946, which remained in use for the next 35 years.
A full rendering of the national Coat of Arms appeared on the Krόnur and 2 Krόnur, complete with the bull, eagle, dragon and giant supporters.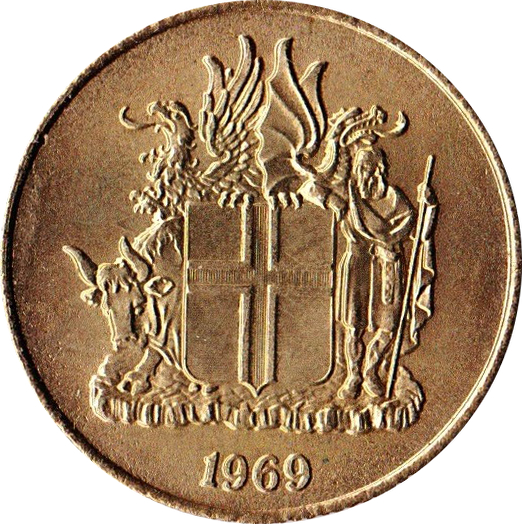 Four new denominations were added in the late 1960s, including the 50 Aurar, 5 Krόnur, 10 Krόnur and 50 Krόnur.
Iceland's first commemorative coins
Iceland's first commemorative coin was struck at The Royal Mint in 1961 – a gold 500 Krόnur marking the 150th anniversary of the birth of the scholar and statements, Jόn Sigurdsson.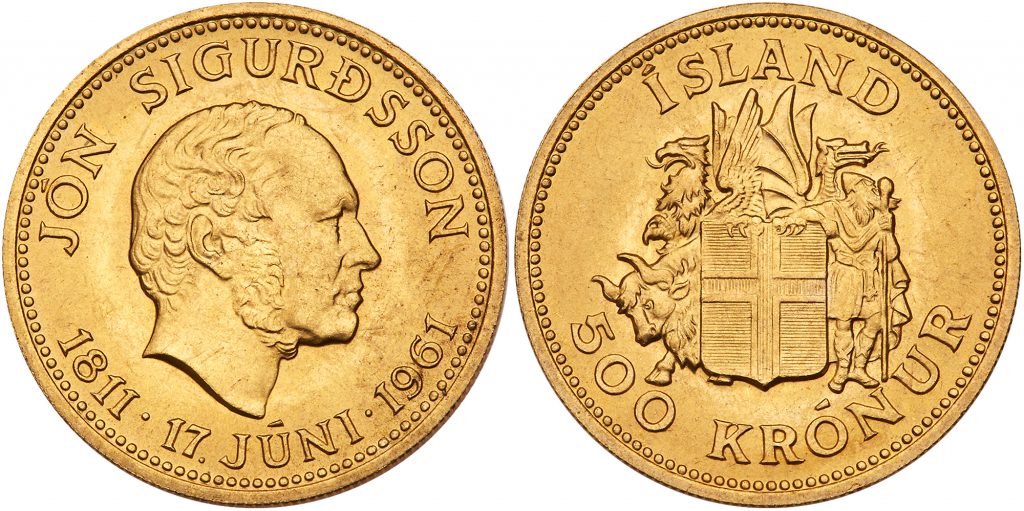 Iceland became a free and sovereign nation in 1918 when the Union Treaty with Denmark came into effect on the 1st December. To commemorate 50 years since this historic moment, a 50 Krόnur coin was issued.
In its first year of issue in 1968, the reverse design of the 50 Krόnur included a representation of the Althing (Parliament) building and carried an inscription marking the 50th anniversary of the achievement of Icelandic national sovereignty.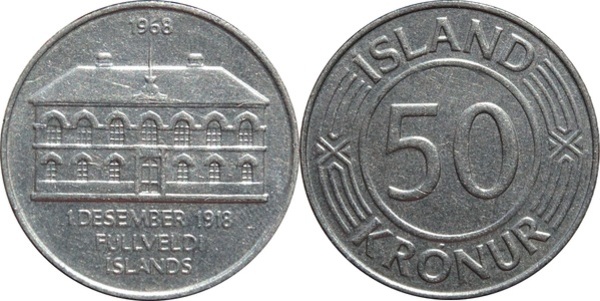 In 1974, The Royal Mint issued a three coin series of gold and silver coins, designed by Throstur Magnusson to commemorate the 1100th anniversary of the settlement of Iceland.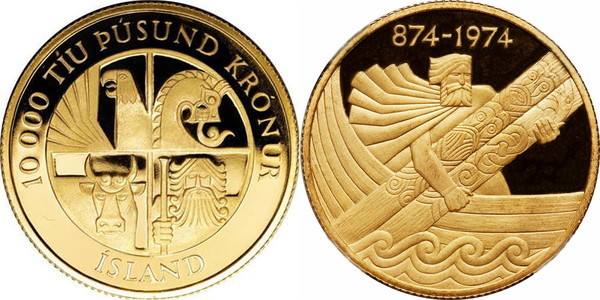 A major reform to Iceland's coinage
The Icelandic financial market suffered hyperinflation in 1981, which was settled by a major reform of the coinage, resulting in a complete redesign and revaluation of the circulating coins.
100 old Krόnur was now worth just 1 new Krόna. As well as 1 and 5 Krόna coins, denominations of 5, 10 and 50 Aurar were also introduced.
The new obverses, in keeping with Magnusson's designs, depicted the traditional protector spirits ("Landvættir") of Iceland.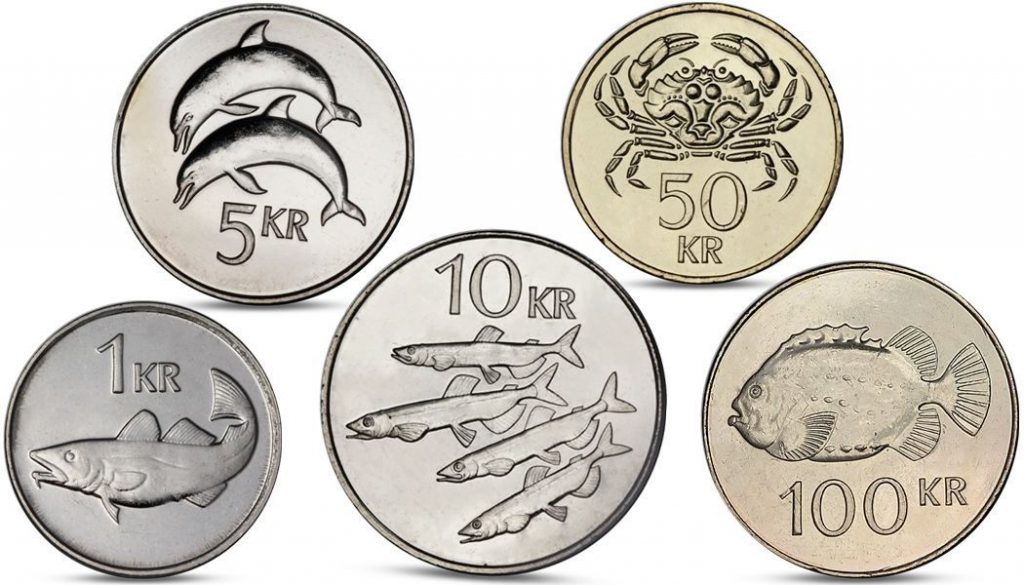 Each reverse portrays a variety of aquatic life, including dolphins, cod and northern shrimp.
As Iceland's economy has been founded on fishing for so long, the pungent smell of fish smelting came to be known as "money smell".
It's great to discover more about different coins from around the world, and I'm sure you'll agree that the stories behind Icelandic coinage are really fascinating.
If you're lucky enough to have come across any Icelandic coins during your trips abroad, let us know in the comments below.
---
If you're interested in coin collecting, our Change Checker web app is completely free to use and allows users to:
– Find and identify the coins in their pocket
– Collect and track the coins they have
– Swap their spare coins with other Change Checkers
Sign up today at: www.changechecker.org/app
Coins from Crown dependencies and overseas British territories can sometimes make an unexpected appearance in our change.
Sure, this can be an annoyance as technically the coins are not legal tender in the UK, but from a collecting point of view, new and interesting designs are always a bonus!
In our latest coin hunt competition, we went head to head with 10 YouTube Coin Hunters for a 50p coin hunt and it was amazing to see how many of the teams stumbled across coins that shouldn't be in our change…
Here are some of the unexpected coins we came across:
2012 Bailiwick of Jersey 50p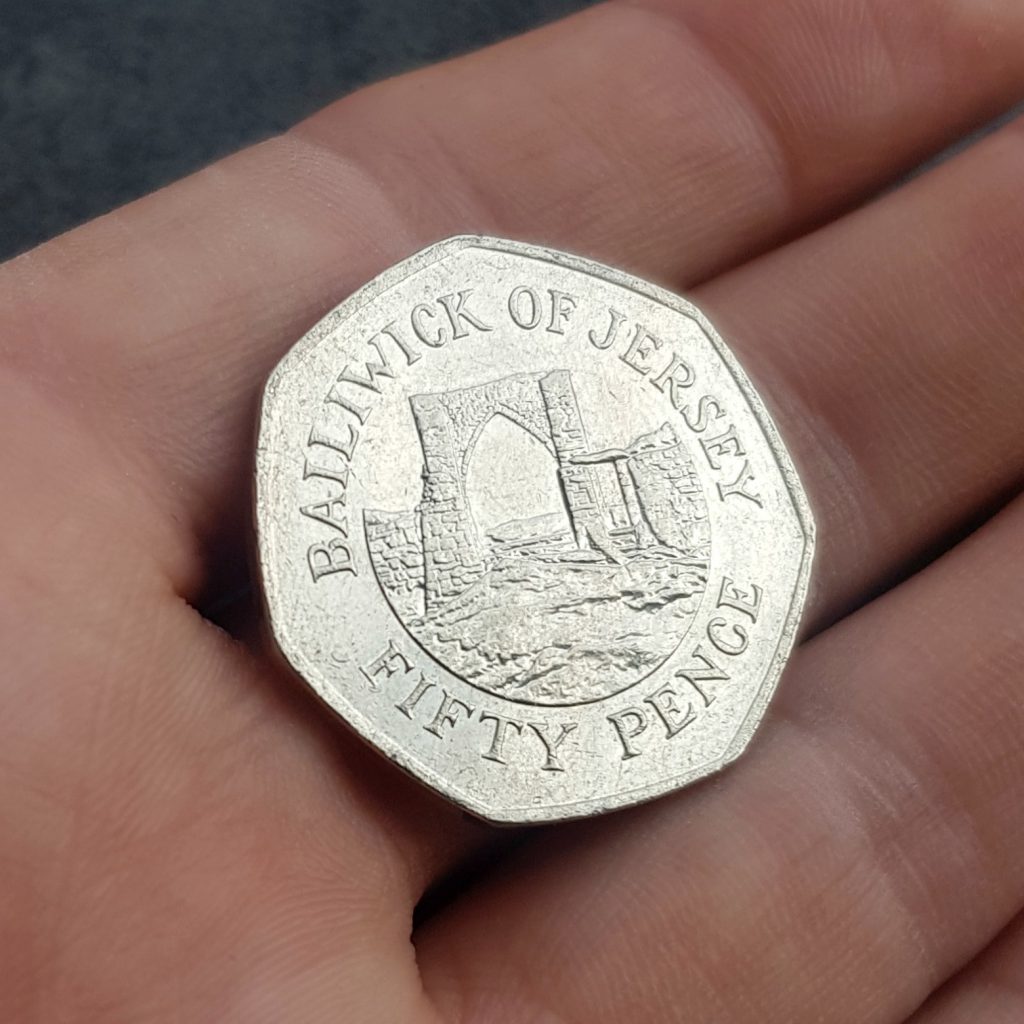 Yasmin and I were lucky enough to come across this 2012 Bailiwick of Jersey 50p in our coin hunt.
The coin features Jersey's Grosnez Castle on the reverse surrounded by the lettering 'Bailiwick of Jersey'. The obverse features the Arnold Machin engraving of Queen Elizabeth II.
Interestingly, 2012 dated Bailiwick of Jersey 50p coins were also struck in 2013 and 2014, giving this particular coin a total mintage of 365,000.
Jersey's coinage is not legal tender in the rest of the UK, but the lower mintage figures of the island's coins compared to the UK makes them particularly scarce and collectible, so it was a great surprise to find a Jersey coin amongst our 50ps!
Jersey's coin mintages are significantly lower because of their smaller population of only 100,000.
2012 Guernsey Freesia Flowers 50p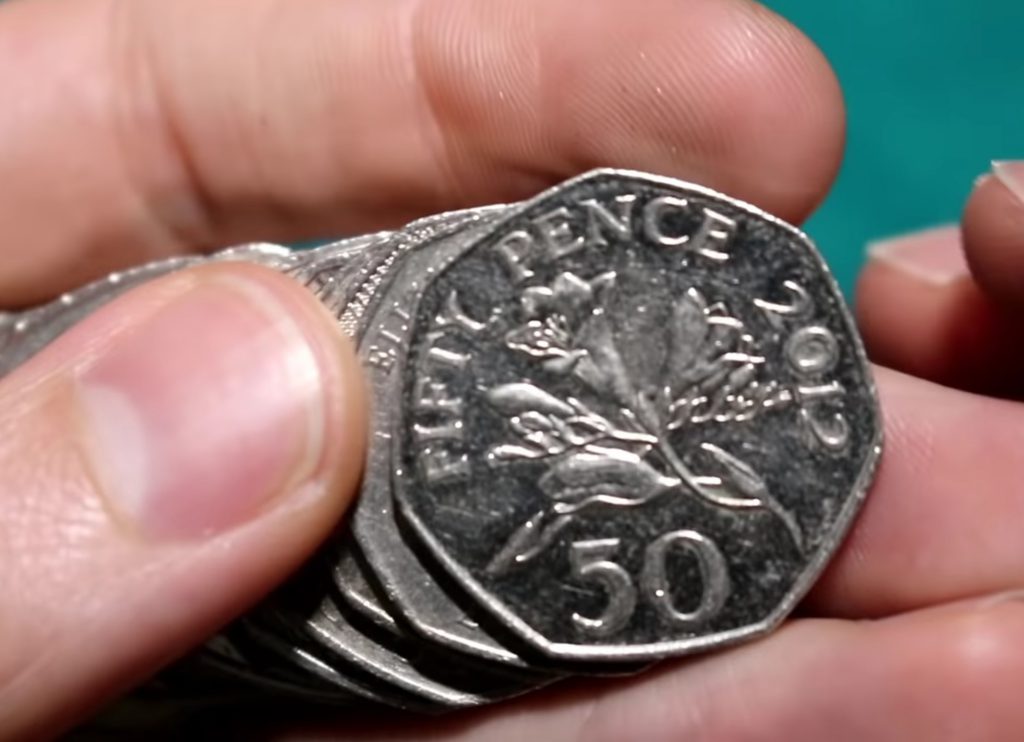 During his coin hunt, Christopher Collects managed to find a 2012 Freesia Flowers coin from Guernsey.
This beautiful 50p features two crossed freesia flowers on the reverse design, however it is the obverse design which is particularly special.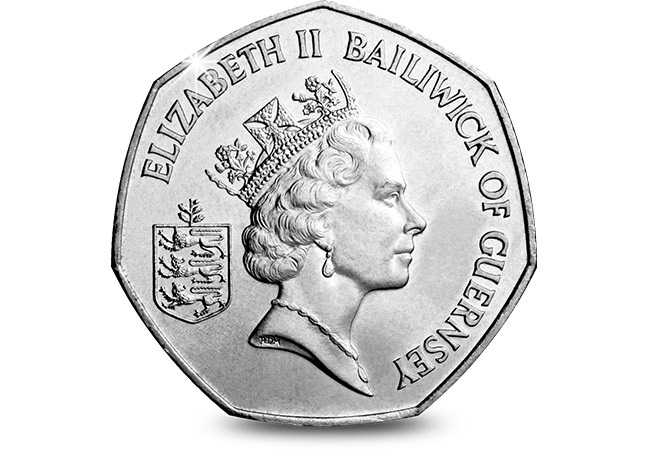 The obverse features Raphael Maklouf's portrait of Queen Elizabeth II with the lettering 'Bailiwick of Guernsey' above, and also a small Guernsey Coat of Arms to the left.
This addition on the obverse makes the Guernsey 50p stand out when compared to UK 50p coins.
We don't know the mintage figures for this coin, however it will likely be fairly low when compared to UK figures, due to Guernsey's smaller population.
2018 Isle of Man Imperial State Crown 50p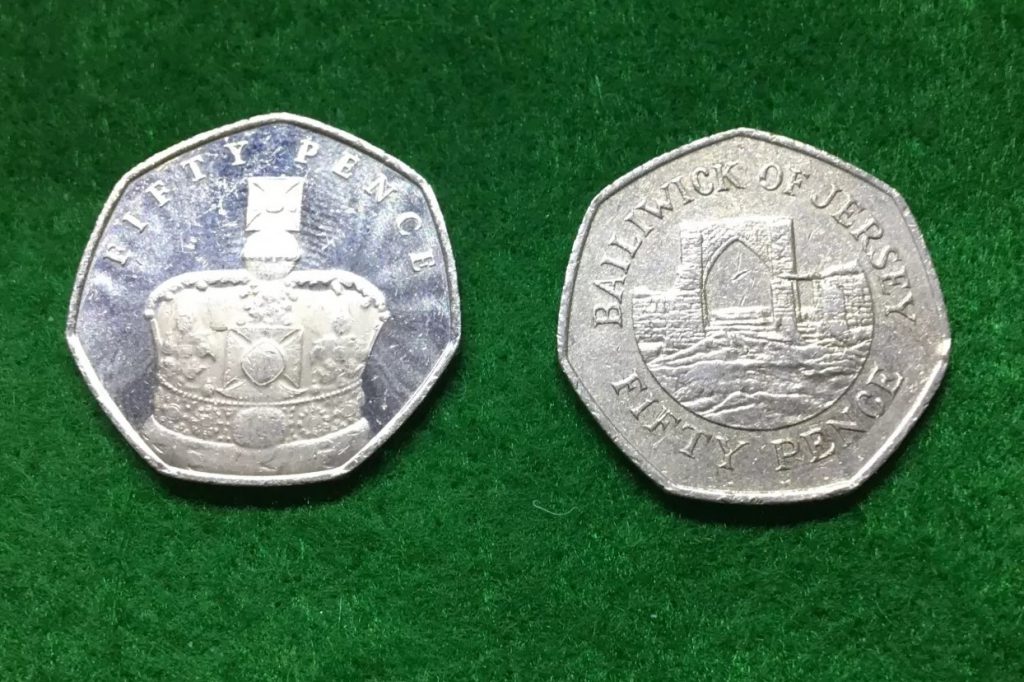 Coin Cupboard was very lucky and also found a Bailiwick of Jersey 50p, as well as an Imperial State Crown 50p from the Isle of Man.
The Imperial State Crown 50p was issued in 2018 as part of a five coin set celebrating the Sapphire Coronation Anniversary of Her Majesty Queen Elizabeth II.
A limited number of each coin entered circulation on the Isle of Man, although we don't know the exact mintage figure for this coin.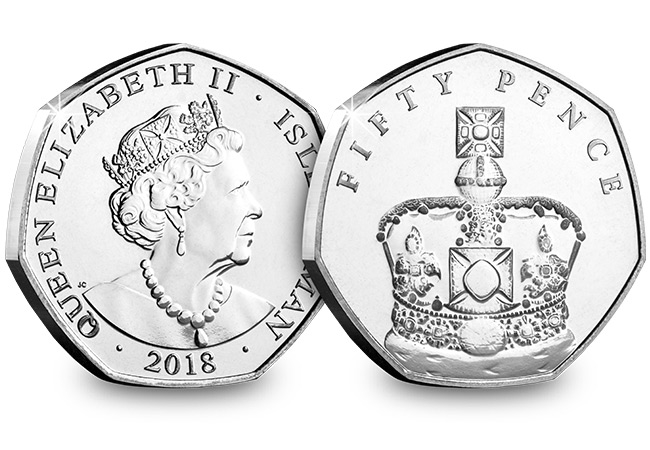 The reverse design shows the Coronation Crown and the obverse features Jody Clark's most recent portrait of the Queen which, unlike UK coins, includes her shoulders.
1999 East Caribbean States 1 Dollar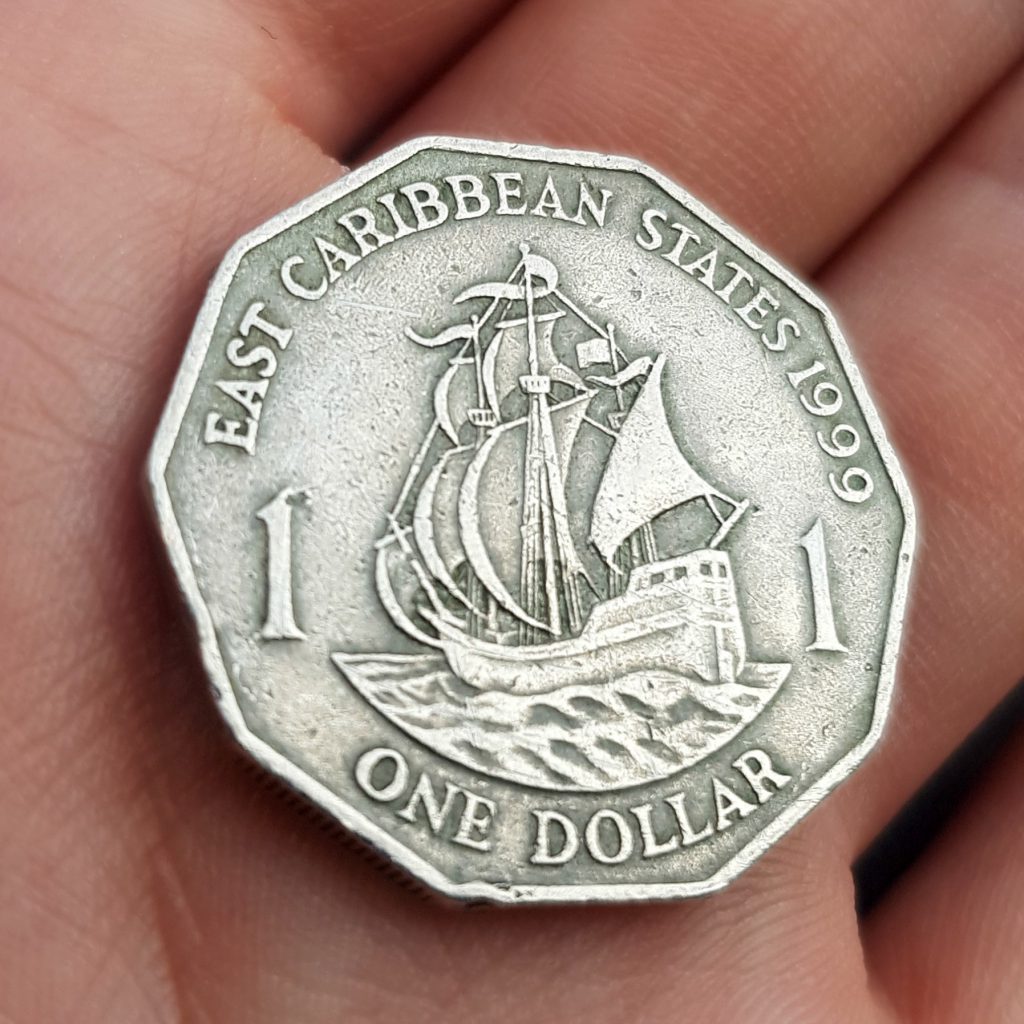 Whilst you might expect a few British Isles coins to turn up every now and again, we certainly weren't expecting to find this coin in our 50p bank bag!
In fact, both team Change Checker and Dom Collects came across one of these unusual coins in our change.
This 1 dollar was issued from 1989 to 2000 in the Eastern Caribbean States, but how did it find its way into our UK change?
As a British Overseas Territory, the East Caribbean States currency features the portrait of Her Majesty Queen Elizabeth II on the obverse.
This, along with the coin's size which is very close to the UK 50p, means it has managed to get mixed up with UK change and passed off as a 50p.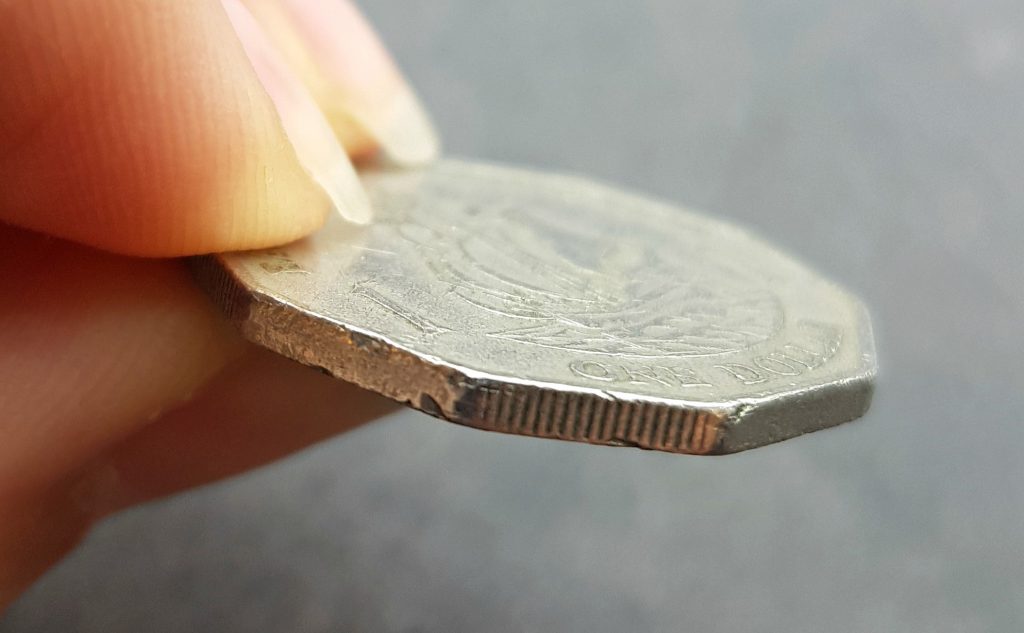 However, there is one very significant difference between this coin and a 50p, and that's the shape. The East Caribbean States dollar is actually decagonal (10 sided) and features milling along every other edge of the coin.
You can imagine just how surprising it was to come across this coin in the middle of our 50p hunt, and how unusual still that we weren't the only team to find one!
It just goes to show how many fascinating coins find their way into our change and why it's always worthing checking to see if you've found a coin which was intended for circulation in the UK.
---
Secure your Guernsey Freesia Flowers 50p coin today!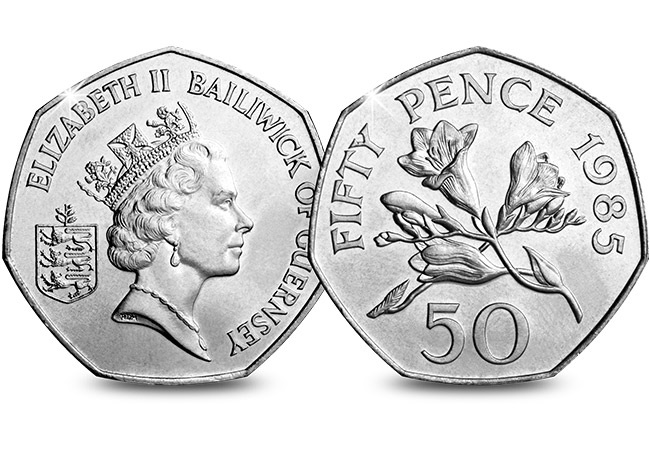 You can now secure the Guernsey Freesia Flowers 50p for your British Isles collection.