So I thought my 50p coin was worth £800…
One of the most regular questions we get at Change Checker is: "I have a Benjamin Britten 50p – how much is it worth?".
There's no doubt that the Britten 50p was somewhat overlooked when it was first released and it is amongst the slightly more scarce coins in circulation.
If you want a good brilliant uncirculated version of it for your collection, you might expect to pay up to £10 – maybe even a little more.  If you want a normal circulation quality coin – I would hold on.  It will eventually turn up in your change for 50p.
The answer seems reasonable but the enquirer is disappointed.  Very disappointed.
Why?
Well the answer is that they have just seen the exact same coin listed on eBay for over £800.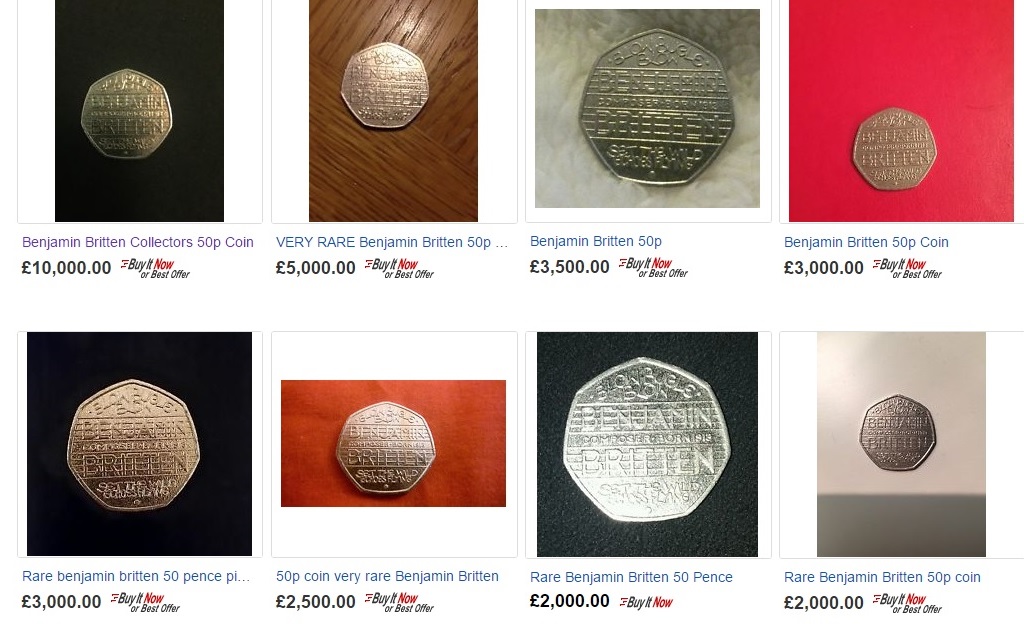 How can this be so?
Sadly, the answer is that eBay is not always a fair indicator of value.  Anyone can list anything.  So if you have a slightly unusual coin – like the Benjamin Britten 50p – list it on eBay for an outrageous price.  Once in a while a naive customer will pay the price – however…
The seller's profit – £799.50.
It's not just Benjamin Britten – there are others… including the 2006 Brunel £2, and the 2014 Trinity House £2.
So "Buyer Beware".  If you want a circulating quality coin, keep your eyes peeled or try swapping with www.changechecker.org.  If you want a mint condition coin be prepared to pay a premium but BUYER BEWARE.
Remember – even the rarest of all circulating 50p coins – 1992/93 EU Presidency – was sold by Change Checker for just £20.
Change Checking is fun.  Make sure it stays that way!
---
Which coins are missing from your collection?