Discover the currency of Egypt!
For the past few months at Change Checker HQ, we've been really enjoying researching different coins from around the world. And the coinage from the sunny climes of Egypt has really caught our attention…
After a bit of digging around, we've found out some interesting facts about these fascinating coins… Did you know that Egypt, just like us, uses the 'pound' as their currency?
But wait! Before you pack your bags and prepare for a trip abroad without the hassle of exchange rates, you need to be aware that this is not the British pound as we know it, but the Egyptian Pound!
Each pound is made up of 100 piastres (what we would refer to as pennies), and 22 Egyptian pounds convert to 1 British Sterling pound. Egyptian coins are in denominations of 1, 5, 10, 20, 25 and 50 piastres, along with the 1 pound coin of course.
Egypt's currency design is based largely on its ancient history, with pharaohs, pyramids and past dynasties proving to be popular themes across Egypt's coinage, including Tutankhamun, Cleopatra and the Pyramids of Giza. 
When exploring further into the background of these coins, it's no wonder Tutankhamun has been chosen as such a poignant design, featuring on the highest denomination, the £1 coin.
As one of the only perfectly preserved Egyptian Royal Tombs, the myth of Tutankhamun is world-famous, making him the best-known King of Egypt. In terms of coinage, Tutankhamun has not only featured in Egyptian minting, but worldwide on various coins (including this recently released coin from Ghana struck in the shape of Tutankhamun's mask).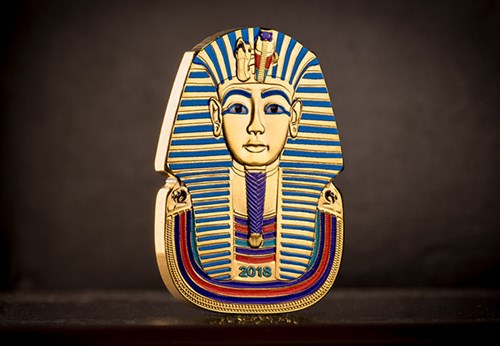 Cleopatra also features heavily on Egyptian coins, as the last active ruler of the Ptolemaic Kingdom of Egypt. Her name directly translates to 'Glory of her father', and it was rumoured she was romantically involved with Julius Caesar and Mark Anthony. Her legacy is ever standing due to what she represented in a male-dominated society – a strong woman able to hold a country together throughout warfare just as well as her male counterparts. A fitting face for any coin I think!
It's clear that the currency of Egypt sits on a proud heritage that maps out its ancient world through the striking designs of its coins. But what do you think about these coins? Let us know in the comments below!