The UK's Top 10 Rarest Coins in Circulation
Which coins should you be looking out for in your change?
We've taken a look at the mintage figures for UK coins to find out which ones are the rarest in circulation...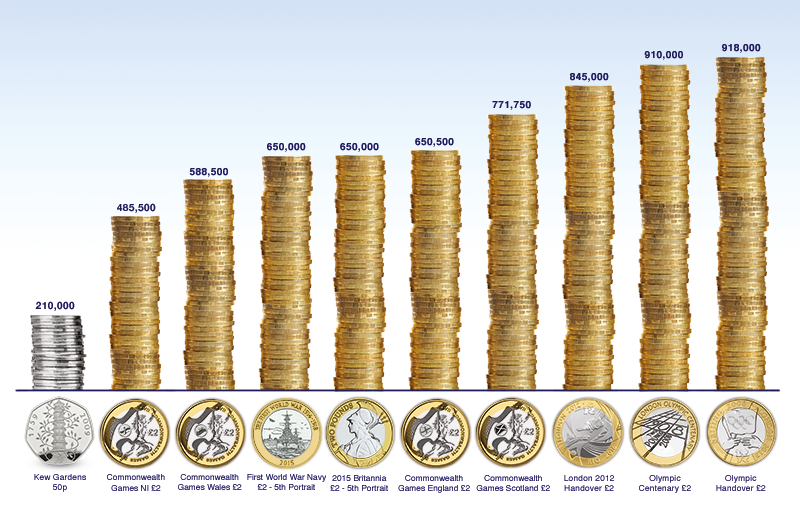 What you might be surprised by is that on our top 10 list, just 1 out of the 10 coins is a 50p!
The rarest UK coin currently in circulation is the Kew Gardens 50p, but the 9 rarest coins after that are actually £2s.
Whilst 50p coins are very popular amongst collectors at the moment, it's certainly worth noting that it is in fact the £2 coins which you should be keeping your eyes peeled for, as some of the ones you can find in your change are very rare.
Other rare coins to look out for
Of course, this doesn't take into account the rare error coins that have been found in circulation, such as:
Whilst exact mintage figures for these error coins may be unknown, we can assume that they could each be rare enough to find themselves near the top of the list.
A-Z of Great Britain 10p coins
It's also worth noting that whilst mintage figures for the individual designs haven't been released, if we assume that each A-Z of Great Britain 10p has been struck in equal quantities, then there would be approximately 281,000 of each design.
This would put each A-Z 10p design in equal second place on the list of the top 10 rarest coins in circulation!
What about the coins no longer in circulation?
Currently the Kew Gardens 50p is the rarest coin in circulation, but did you know that it isn't actually the UK's rarest 50p?
This title goes to the 1992/93 UK EC Presidency 50p, with a mintage of just 109,000 – almost half of the Kew Gardens!
In 1997, 50p coins were redesigned in the smaller specification and this coin was demonetised, meaning it is no longer in circulation.
The same can be said of the 1989 Claim of Right £2, which was demonetized in 1997 when the bi-metallic £2 coin was introduced.
This coin has a mintage of 381,400 which makes it the rarest UK £2 and would put it in second place on the list if it were still in circulation.
Are you lucky enough to have any of the top 10 rarest coins in your collection? Or perhaps you've even been lucky enough to get your hands on the pre-1997 coins listed above. Let us know in the comments below!
---
If you're interested in coin collecting, our Change Checker web app is completely free to use and allows users to:
– Find and identify the coins in their pocket
– Collect and track the coins they have
– Swap their spare coins with other Change Checkers
Sign up today at: www.changechecker.org/app