The Definitive 50p Collecting Challenge
The countdown has begun and in just 50 days time our much-loved 50p coin will celebrate its 50th anniversary!
Join the challenge!
To celebrate this hero of the numismatic world, we've launched the Change Checker Definitive 50p Collecting Challenge – a race to collect every UK definitive 50p coin in circulation as we count down to this important numismatic anniversary.
There are currently 21 different definitive 50p coin designs to be found in your daily change. Your mission is to collect all of them before the anniversary on the 14th October.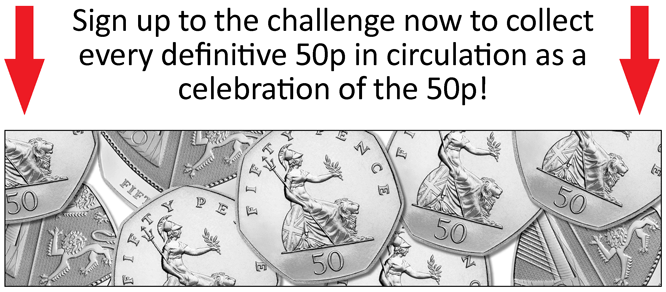 Definitive 50p coins
The mintage chart below shows how many of each UK definitive 50p coin is currently in circulation.
The rarest definitive 50p is the 2017 Royal Shield, so make sure you keep your eyes peeled and check the dates on your Royal Shield 50ps on the hunt for this coin.
Yasmin and I were actually lucky enough to come across the 2017 Royal Shield during a 50p coin hunt, so it can be done and they most certainly are out there if you check your change!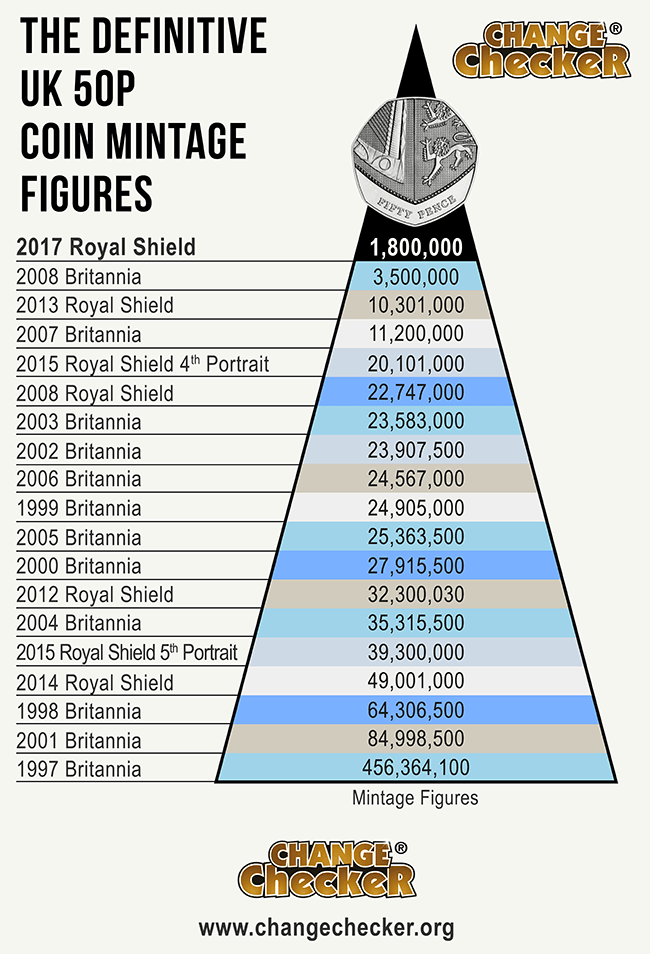 We don't yet know the mintage figures for 2018 and 2019 50p coins, so these coins haven't been included on the chart, however it's worth holding onto these coins as you never know how rare they might turn out to be! Our mintage charts and the Definitive 50p Checklist will be updated as soon these figures are confirmed.
You might have also noticed that no definitive 50p coins were issued for circulation in 2009, 2010, 2011 and 2016. These coins won't be included in the Definitive 50p Collecting Challenge, however if you do manage to find one in your change you will be very lucky as they would have come from an Annual Coin Set and are not intended for circulation.
Register for FREE!
Register for The Definitive 50p Collecting Challenge for FREE today to receive:
Collecting tips and suggestions to help you complete your Definitive 50p Collection
Exclusive discounts and savings for your collection
The chance to own the Definitive 50p Collecting Challenge Participant's Medal, plus a FREE 1997 UK Britannia 50p to kick start your collection
So, check your pockets, piggy banks, whisky jars and down your sofa – the challenge starts now!

You can download and print the Definitive 50p Collecting Challenge checklist here to keep track of the coins you've managed to find so far.
---
Start your collecting challenge today with the Definitive 50p Collecting Challenge Kit and SAVE £5.00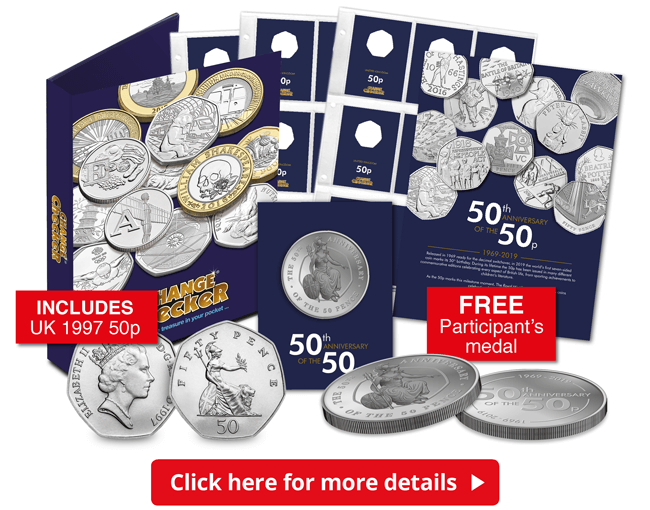 To help with your challenge, we've created the Definitive 50p Collecting Challenge Kit which includes everything you need to get you on your way!
We'll even give you a FREE 1997 UK Definitive 50p – the first one in your challenge – to get you started! And what's more, you'll receive a FREE participant's medal which we'll send to you in the anniversary month (October).
Click here to secure your Definitive 50p Collecting Challenge Kit and SAVE £5.00.