Brexit 50p to enter circulation!
Have you heard the news? It hit the headlines this morning that the Brexit 50p will enter circulation after the UK's departure from the EU.
In October last year, Philip Hammond unveiled his plans for a Brexit 50p to mark the UK's exit from the EU.
Whilst delays to Brexit meant the original 29th March 2019 dated coins did not go ahead, in August this year Chancellor Sajid Javid asked officials if it would be possible to produce Brexit 50p coins in time for Britain's departure from the EU on the 31st October 2019.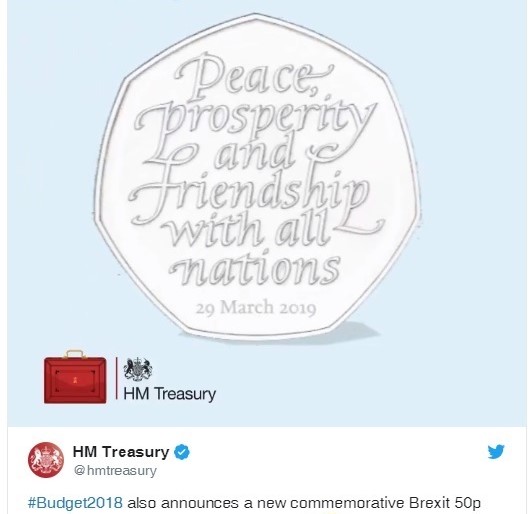 And today it looks as though we have our answer, as The Treasury has confirmed that the coins have been given the go ahead and will be minted by Brexit day – despite the continued uncertainty of Britain leaving the EU by then.
So this begs the question, if Britain doesn't leave the EU on the 31st October, could there potentially be millions of Brexit coins with the wrong date? It would certainly make for interesting collecting!
And the best news for collectors is that this coin will be entering circulation, although it is yet to be officially confirmed exactly how many or when we will start to see them in our change.
Rumour has it that 10 million Brexit 50ps could be produced, including Brilliant Uncirculated, Silver and Gold versions. This has not yet been confirmed by The Royal Mint, but has sparked great excitement in the collecting world.
As such a controversial issue, which has created much disruption across the UK and the EU since the referendum in June 2016, it is hoped that this new coin, which is expected to bear the phrase 'Peace, prosperity and friendship with all nations', will promote positivity surrounding Brexit.
To stay up to date with all the latest Brexit 50p news, sign up using the form below:
---
If you're interested in coin collecting, our Change Checker web app is completely free to use and allows users to:
– Find and identify the coins in their pocket
– Collect and track the coins they have
– Swap their spare coins with other Change Checkers
Sign up today at: www.changechecker.org/app