Ancient Greek civilisation provided the foundations for Western culture and one of the empire's most recognised legacies is Greek mythology, which had an extensive influence on arts and literature in the West. Greek myths tended to describe the lives of Greek Gods including their births, victories in battle, love affairs and their connection to certain city-states.
One artifact which pays homage to Greek mythology is Ancient Greek coinage. Greek currency was the first to be minted on an imperial scale and has influenced commerce across the world.
Coins were hugely important as a medium of exchange and an important store of value and source of prestige. Greek coins used a combination of figures, symbols and inscriptions to symbolise each ruler's territory. Each city state in Ancient Greece was said to be protected by a certain character from Greek mythology and one of the most identifiable features of Greek coinage are the Gods and Goddesses which are struck on many of the coins of the time.
This blog takes a look at some of the most famous myths that were struck on coins from the time, some over 2,000 years old!
Zeus 'King of the Gods'
Issued in the 2nd century BC this coin depicts Zeus the chief of the gods and believed to be the ruler of mankind. It's believe that Zeus saved his brothers, Poseidon and Hades, after they had been eaten by their father Cronus. The three of them divided creation between them. As the Father God, Zeus was the dispenser of good and evil and the upholder of morality.
Hercules 'Son of Zeus'
Alexander the Great often issued coins depicting himself dressed as Hercules, wearing a headdress made of the scalp of the Nemean lion – one of Hercules' "12 tests". Hercules is famed for being the strongest of all mortals. However, his physical power was offset by a lack of intelligence and strong emotions. Many of Hercules' great deeds occurred while doing penance for stupid acts done in anger or carelessness.

Apollo 'God of Music'
This coin is an example of one of many coins issued depicting Apollo, the son of Zeus. Apollo is considered a complex god of many things including music, poetry, art, oracles, archery, plague, medicine, sun, and knowledge. He is often depicted playing the lyre and is represented as an ever youthful god.

Ares 'God of War'
Issued in the 1st Century BC this coin depicts Ares, the God of war and violence. Fittingly the reverse of this coin features a sword. Ares was a superior fighter in battle and caused great bloodshed and destruction, but he also had a reputation for being cowardly.
The Dioscuri 'Patron Saint of Sailors'
This coin features the Dioscuri; the twin brothers of Castor and Pollux. Pollux, the son of Zeus, was immortal but Castor was mortal. When Castor was murdered, Pollux asked his father Zeus if he could share his immortality with his brother. So they transformed into the constellation Gemini, able to travel back and forth between Olympus and Hades. They are also known as protectors of sailors, able to calm the seas and winds in storms.
Gorgon 'Medusa'
Medusa was the only mortal of the three powerful winged Gorgon sisters. It is believed that Medusa was transformed into a monster by Athena. Medusa's hair was made of snakes, although it is depicted as wild leaves on this coin, and she was said to be able to turn people to stone with a glance. She was killed by the hero Perseus, who used the metal of his shield as a mirror to avoid eye contact with Medusa.
Histiaea 'Patron Saint of Histiaea'
This small silver coin is known as a "tertobol" and weighs just over 2 grams. It pictures Histiaea, the nymph, on both the obverse and reverse. Histiaea was named after the ancient city of Histiaea on the second largest Greek island, Euboea. Mythical Naiads lived in the lakes here and being immortal, were invited to the assemblies of the gods on Mount Olympus.

Poseidon 'God of the Sea'
Poseidon was worshipped as the god of the sea, earthquakes and horses. Poseidon is often portrayed with his best known weapon, the trident, which he used to shake the earth and create storms, causing devastating earthquakes and tsunamis. It is this trident that is featured on the reverse of this coin. The coin was issued by the Syracuse in the 3rd Century BC, as Poseidon was greatly important to them as a maritime city/state.
Tyche 'Goddess of Cities'
Tyche was the personification of fortune and controlled the luck and prosperity of a city. On this coin she is depicted with a crown of city walls and the reverse depicts a cornucopia, a symbol of good fortune. Tyche was said to have carried a large horn containing riches, which she would sporadically spread to individuals and cities. When no cause could be discovered for events such as floods, droughts or political upheaval, they were often attributed to Tyche
I think this just goes to show how historical events, stories and myths are immortalised on coins to be remembered for generations. And in years to come, our own ancestors may look back at the decimal coins from our era as a window into the past…
---
If you're interested in coin collecting, our Change Checker web app is completely free to use and allows users to:
– Find and identify the coins in their pocket
– Collect and track the coins they have
– Swap their spare coins with other Change Checkers
Sign up today at: www.changechecker.org/app
Coins from Crown dependencies and overseas British territories can sometimes make an unexpected appearance in our change.
They are identical in size, shape and weight to UK denominations (bar the new 12 sided £1) which means they often find their way into tills and vending machines undetected.
Finding one in your change can be an annoyance on one hand as technically the coins are not legal tender in the UK. On the other hand, from a collecting point of view, new and interesting designs are always a bonus!
Mintage figures for British Isles coins are very hard to track down, but we've managed to get hold of the definitive mintage figures for Guernsey to show you which are the rarest coins you should be looking out for.
Guernsey Definitive 50p Coin Mintage Figures
Guernsey's Definitive 50p Coins
Two different definitive 50p designs have been issued on Guernsey coinage between 1969 and 2012 – the Ducal Cap and Freesia 50p coins.
The first 50p design released in Guernsey, the Ducal Cap, was issued six times between 1969 and 1984, with each coin having a mintage of 200,000.
The coin features an image of the Ducal Cap of the Duke of Normandy on the reverse and the Guernsey Coat of Arms on the obverse, which includes three lions instead of Queen Elizabeth II's portrait. This makes the 50p particularly distinguishable.
Whilst the Ducal Cap 50ps have a fairly high mintage figure considering the size of Guernsey's population (just 62,307 as of 2018), the most common Guernsey 50p is actually the 1997 Freesia design with a mintage of 1,044,000.
The Freesia 50p features the Guernsey Freesia Flowers on the reverse and the portrait of Queen Elizabeth II on the obverse. There is also a small Guernsey Coat of Arms on the obverse of the coin, which acts like a Guernsey mint mark and makes the Guernsey 50p stand out when compared to typical UK 50p coins.
Mintage figures for the Freesia design vary considerably, with the rarest coin issued in 1987 actually only having a mintage of 5,000. Mintage figures for the UK Britannia 50p were also low in 1987, as this coin had a mintage of 88,659, whereas the definitive 50p is normally issued in the millions. However the Guernsey Freesia Flowers 50p is still over 17 times rarer than it's UK counterpart for 1987.
The most common Guernsey 50p, the 1997 Freesia Flowers has a mintage of 1,044,000, however this is still lower than the rarest UK definitive 50p (2017 Royal Shield), which has a mintage of 1,800,000.
Guernsey Definitive £2 Coin Mintage Figures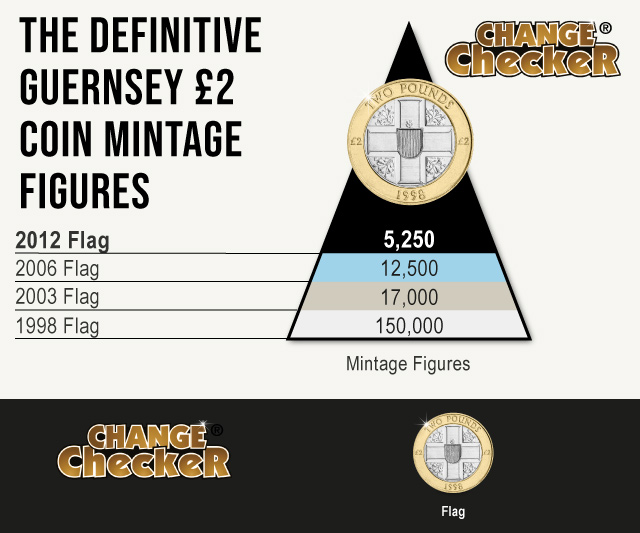 Guernsey's Definitive £2 Coin
The first definitive Guernsey £2 coin design was actually dated 1997, but was only included in brilliant uncirculated and proof coin sets.
It was in 1998 that the first of the Guernsey £2 coins were issued in to general circulation, featuring the definitive Flag design.
As the first year of issue for the first bi-metallic coin, you'd expect the mintage for this to be high, however only 150,000 of these coins were struck in 1998. This makes the 1998 £2 Guernsey's most common definitive £2 in circulation, but when compared to the UK's most common £2 (1998 Technology design) which had a mintage of 91,110,375, you realise just how rare these Guernsey coins really are!
This design has remained the same since its introduction, however the mintages figures for subsequent years were drastically lower, with the rarest coin being released in 2012 with a mintage of just 5,250. Comparatively, the UK's definitive £2 coin (Technology design) issued in 2012 had a mintage of 3,900,000 – that's over 700 times more than the definitive coins issued in Guernsey that year!
Although £2 coins were issued in Guernsey in 1991, 1993, 1994 and 1995, these were actually commemorative crown size coins, not issued for circulation and so we do not have these figures. At that time The Royal Mint manufactured Guernsey's commemorative coins, creating a crown size denomination from the £2 coin.
Guernsey Definitive £1 Coin Mintage Figures
Guernsey's Definitive £1 Coins
Three different definitive £1 designs have been issued in Guernsey since 1981 – the Lily, HMS Crescent and Finance Motif.
As you can see from the chart above, the Finance Motif design issued from 1985 – 2012 has dramatically lower mintage figures and has been issued more frequently.
The coin features the finance motif on the reverse, but as with most Guernsey coins, it is the unusual obverse that makes it stand out. The obverse features the portrait of Her Majesty the Queen facing right, with a small Guernsey Coat of Arms on the left.
In 1981, Guernsey issued the Lily £1. Similar to the Ducal Cap 50p, the Lily £1 features the Guernsey Coat of Arms on the obverse, which includes three lions instead of Queen Elizabeth II's portrait. The reverse of the design features a lily flower, the national flower of Guernsey.
200,000 Guernsey Lily £1 coins were issued in 1981, making it the second most common £1 on Guernsey.
In 1983, Guernsey issued the HMS Crescent £1.This coin also features the Guernsey Coat of Arms on the obverse, but the reverse features an engraving of the HMS Crescent by Robert Elderton.
This is the most common Guernsey £1, with a mintage of 267,000. But, compared to the most common UK £1 (2015 Royal Arms) which has a mintage of 129,616,985, mintage figures for the HMS Crescent £1 are incredibly low. Almost 500 times lower than the most common UK £1!
Although the 1981 Lily and 1983 HMS Crescent designs were only issued for one year each, they both have much higher mintage figures than the Finance Motif issued prior to these designs.
In fact, if you were to add up the mintages for every year the Finance Motif was issued (bar an unusually high year in 2001) the figure would still be lower than the 1981 Lily and 1983 HMS Crescent coins.
The rarest Guernsey £1 is the 1990 Finance Motif, with a mintage of just 3,500. We know that British Isles mintage figures are much lower than the UK due to the smaller population, however when you compare this to the rarest UK £1 which is the 2011 Edinburgh £1 with a mintage of 935,000, the difference is staggering! In fact, Guernsey's rarest £1 is actually more than 250 times rarer than the Edinburgh £1!
Lack of Demand for New Definitive Coins
From 2012 to present there have been no definitive coins released on Guernsey, and we must assume that this is due to the fact that there just isn't the demand for them. As previously mentioned, the small population of just 62,307 means that there are less coins issued on the British Isles.
Has any Guernsey coinage found its way into your pocket and have you been lucky enough to find any of the rarer coins? Let us know in the comments below.
---
Start your Guernsey coin collection!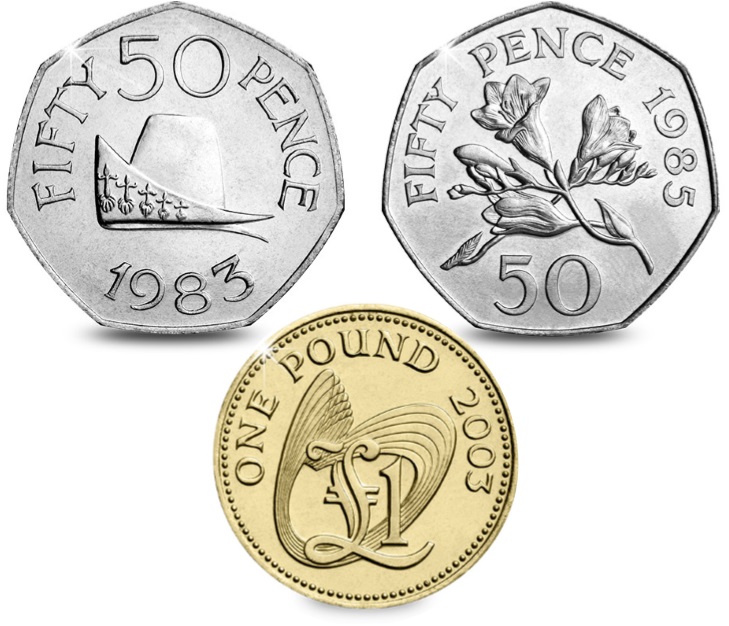 You can now order your very own coins from Guernsey to kick start your collection!
Secure the Ducal Cap 50p, Freesia Flowers 50p or Finance Motif £1 here >>
As today is Random Acts of Kindness day, I've decided to take a look and some of the most random, weird and wonderful coins issued from all around the world.
Whilst these coins haven't entered circulation, I'm sure you will agree that they are works of art from truly innovative Mints. It's been really exciting to discover the unique coins different countries have to offer, so take a look at the designs below to see some of the fascinating coins international mints have produced.
Germany's see through 5 Euro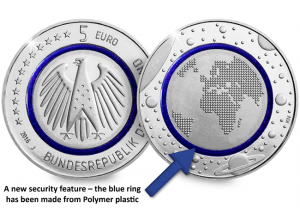 Developed by Dr Peter Huber and Günther Waadt, this unusual coin is a first of its kind. Released in 2016, the see through coin features a blue plastic ring in the middle and has been named 'Blue Planet Earth'.
Not only is the blue ring easy to identify and authenticate by the naked eye, it is made of polymer plastic which behaves like a form of insulation between the pieces of two different metals and will be easy for cash machine to recognize whether it is real or fake.
A German Minting Technology team has spent a decade developing this new security feature. In fact, it's the first coin to be made from a combination of metal and plastic materials which are rumoured to change colour when exposed to UV light.
In 2017, five more coins were created to reflect Earth's climatic zones with the use of a different coloured plastic polymer ring to represent each zone. The series will continue releasing one coin per year until 2021.
Canada's 3D Snowball Fight 50 Cents
We all love a snowball fight and this wonderful Canadian 50 Cent coin allows you to bring to life the magic of a snowball fight on an innovative 3D coin!
The Royal Canadian Mint is renowned for their forward thinking technology, and in 2018 they used lenticular printing to create artist Tony Bianco's fun-filled design with an illusion of depth, which actually appears to move as the coin is viewed from different angles – so watch out for those snowballs!
It really put a smile on my face when I came upon this coin in my research, and with a mintage of just 20,000 I'm sure those few Canadian Change Checkers who were lucky enough to add this coin to their collection will really treasure this coin.
Palau's Bottle Top Coin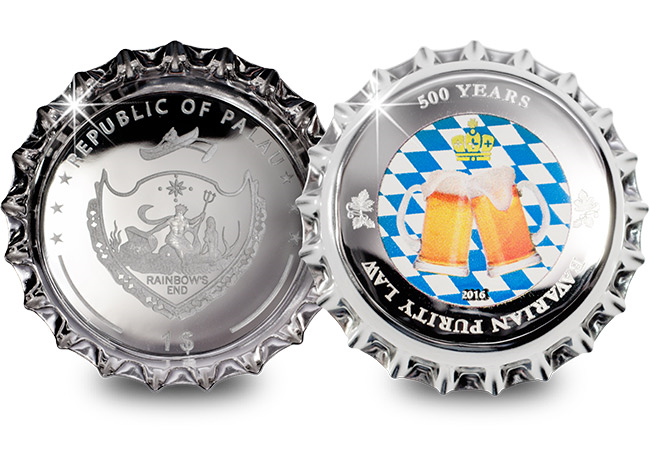 This is the world's first ever 'beer bottle top-shaped' legal tender coin. Issued in 2016 to honour the 500th Anniversary of the Bavarian Purity Law – the enactment by Duke Wilhelm IV of Bavaria in 1516 states that only 4 ingredients can be used to produce the beer and even provides a restriction on pricing.
Whether you're a beer lover or coin enthusiast – or both – I'm sure you'll agree that this unusual coin is a fitting tribute to this landmark occasion in the history of brewing.
The obverse of the crown-cap-shaped coin shows the coat of arms of the issuing state below an outrigger canoe. Whilst the reverse shows two toasting beer mugs and a crown.
Nauru's First Issue of the Euro 10 Dollars
This unique and incredibly intricate ten dollar coin was issued in Nauru (a tiny island in Micronesia, northeast of Australia) in 2002 to commemorate the first Euro coinage.
The unusual coin is shaped as a map of Europe and has been struck in .999 pure silver.
On the obverse you can see the Bank of Nauru's coat of arms and on the reverse is a gold plated Euro coin and the words '2002 – FIRST ISSUE OF THE EURO'.
Chad's Earth Meteorite Gold Proof 3000 Francs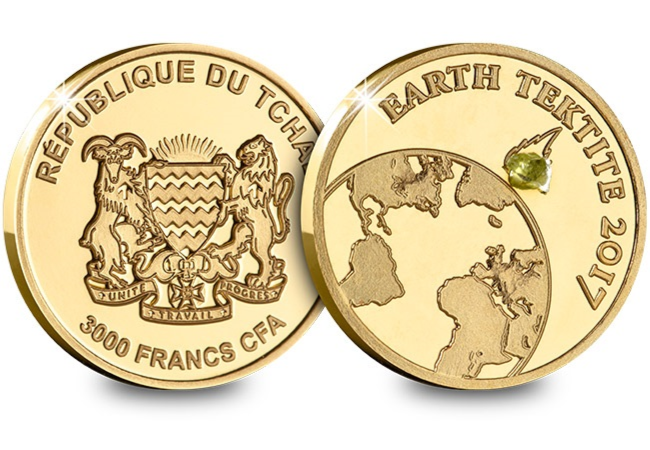 Within this Pure Gold Proof coin, issued in Chad in 2017, is a Moldavite Tektite gemstone – unique evidence of what can happen on the incredibly rare occasion that a meteorite hits the Earth.
These gemstones can only be found at five locations on Earth, and throughout the Middle Ages, they were highly prized and strictly reserved for those born of royal blood and nobility.
Struck from 0.5g of pure Gold, this coin is what is known as 'small' Gold – a collecting craze that is proving to be extremely popular among collectors worldwide, making this already very unique coin even more special.
With so many fascinating coins issued around the world, you don't have to look far to find inspiration for your international collection. What do you think about the coins above and have you found any weird and wonderful coins for yourself?
---