Can you find a connection between a polar bear, a moose and a hockey stick?
They're all Canadian icons of course! And they all feature on this brand new set of Canadian coins.
Whilst Canadian collectors would normally be able to find these coins in their change, this year the Royal Canadian Mint has struck a limited number of sets for collectors only! Find out why below…
Exclusive Canadian 50 Cent
This stunning 6 coin set of 2023 dated collector's edition coins includes the circulating Canadian coin denominations such as the dollar, 25 cent and of course, the 50 cent.
But, what's really caught the eye of collectors is the fact the 50 cent has been issued with selective colour especially for this set.
Featured on the 50 cent is a patriotic red and white mosaic of icons, forming the most famous Canadian emblem of the all – the maple leaf. Although each icon differs vastly, they all serve as true representations of the country.
Just 30,000 sets available for collectors
Perhaps most interestingly, these coins are not set to enter circulation this year…
The reason why?
The coins in this set feature Queen Elizabeth II's effigy on the obverse. The Royal Canadian Mint have announced that they will not issue any 2023 dated Queen Elizabeth II coins into circulation, meaning this set is a collector exclusive!
In fact, just 30,000 sets have been issued worldwide, including a double-dated obverse to commemorate the life and reign of Queen Elizabeth II.
As well as featuring Her Late Majesty's portrait, these coins also include four pearls symbolising the four Queen Elizabeth II effigies that have graced Canadian coins.
International demand for QEII coins on the rise
We've recently seen an increase in international demand for coins featuring Queen Elizabeth II, with collectors worldwide rushing to secure commemorative keepsakes.
Canada 2023 Collector's Coin Set
2022 Canadian Queen Elizabeth II $2
As you can imagine, this latest set featuring a mosaic of Canadian icons is sure to be popular among both UK and international collectors.
Will you be adding this set to your collection?
---
Secure your 2023 Mosaic of Canadian Icons Coin Set
Only 30,000 of these sets are available worldwide, and we've managed to secure an initial allocation of just 250 for Change Checkers, so don't miss out! Secure yours here >>
The Royal Canadian Mint are marking the end of Queen Elizabeth II's circulating coinage in 2023 with a Limited Edition Collector's Set of coins.
Packaged in a royal purple presentation to pay tribute to the Queen, these extraordinary coins mark the end of a remarkable reign, and the end of an era in Canadian coins.
Limited Edition Queen Elizabeth II Coins
Each coin's obverse is double-dated ("1952-2022") to commemorate Her Majesty's reign and is marked by four pearls symbolizing the four effigies that have graced Canadian coins during that time
These six coins will not enter circulation and are limited to JUST 50,000 WORLDWIDE! Considering the recent surge in demand for Queen Elizabeth II coins, stock surely won't last long…
Change Checker has fortunately managed to secure an initial allocation of just 250 sets for collectors. But you'll need to act fast to secure yours.
Click here to get yours for £35 (+p&p) >>
Royal Canadian Mint's history of popular Queen Elizabeth II coins
2022 Queen Elizabeth Memorial $2
In December 2022, The Royal Canadian Mint issued a unique Queen Elizabeth II memorial $2 coin.
Just shy of 5 million $2 coins entered circulation.
However, when you consider Canada's population is over 38 million, you'll appreciate just how sought-after this coin is.
The obverse features the portrait of Queen Elizabeth II, created by Susanna Blunt and the reverse features the traditional $2 Polar Bear design by Brent Townsend.
But, what makes this $2 coin extra special is the outer ring…
The outer ring features a striking black nickel finish and is reminiscent of a mourning band, in a touching tribute to Her Majesty.
Selectively coloured Insulin $2 coin
To mark the 100th anniversary of the discovery of Insulin, The Royal Canadian Mint issued this a special collector's coin set.
Featured in the set was this unusual selectively coloured $2 coin.
It's rare to see colour printing on a £2 coin – it's only been seen once in 20 years in the UK!
Just 100,000 sets were issued for collectors worldwide, with this being the only way people could get their hands on the individual $2.
Thousands queue online for Queen Elizabeth II coins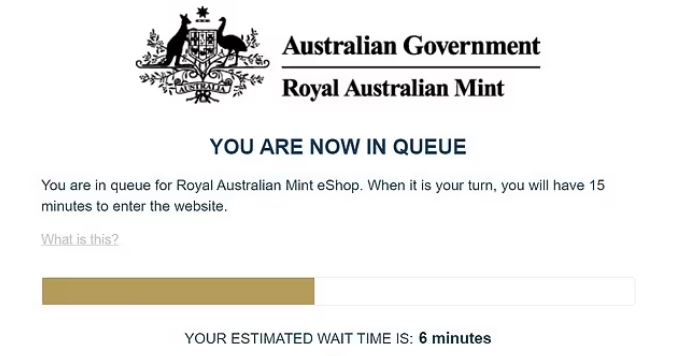 Demand for Queen Elizabeth II coins was particularly felt at Mints around the world, following the sad news of her passing on 8th September.
Collectors heading to The Royal Australian Mint websites faced long queues, with coins issued within the previous few weeks in very high demand.
---
Considering the popularity of Royal Canadian Mint's coins, paired with this being the last official Canadian Queen Elizabeth II Coin Set, we expect collector demand to be very high.
---
Don't miss out! Order your Canada 2023 Collector's Edition Set today
We have an initial allocation of JUST 250 sets available for Change Checkers. Don't miss out!
Have you heard about the coins with THREE different dates?
It was approved by Queen Elizabeth II in 2022
It was re-approved by King Charles III in 2023
It features '1922' as a date on the obverse
And if these circumstances weren't unusual enough, the coins releases also missed the 100th anniversary they were commemorating.
These three dates can be seen on the brand new Tutankhamun 50p coins. If you can't wait to add them to your own collection, click here >>
Otherwise, continue reading to discover how this happened and why the coins are set to become the most collectable coins in years…
How do the coins have three dates?
In 1922, Howard Carter uncovered a step in the Valley of the Kings, Egypt.
That step ended up being the start of a staircase that led to a tomb – the tomb of Tutankhamun.
To mark the anniversary of the incredible discovery, a brand new set of 50p coins were authorised in 2022 by the Isle of Man.
These 50ps then went to Buckingham Palace for approval.
The Queen approved the coins, but that ended up being one of her last official acts before her sad passing on 8 September 2022.
Her death put all new coins on hold.
Mints around the world halted production to observe the mourning period and await palace instructions.
When this came, the Isle of Man was instructed to re-submit an application to the Palace, this time for the approval of His Majesty King Charles III.
The problem? This was late in 2022. Would the Isle of Man get approval from the King before the year of the anniversary passed?
In short, no.
Palace approval came through in January 2023.
The coins features the same reverse, showing 1922 and 2022 commemorating the centenary anniversary.
But the obverse – now featuring the first British Isles King Charles III portrait – carries the year 2023.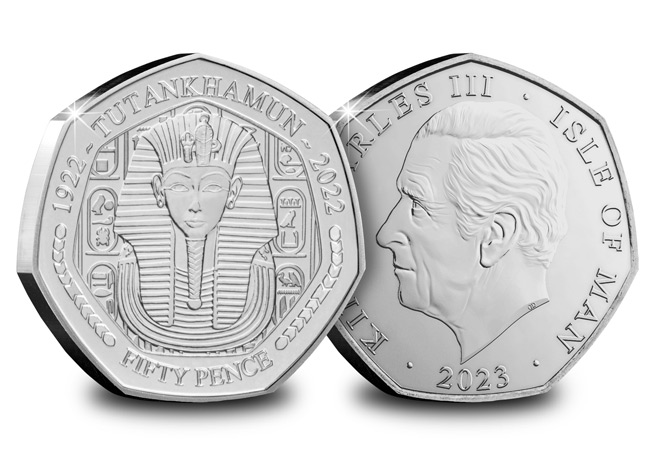 So that's how the coins came to have three dates on it. But what does this mean for it's collectability?
The power of strange…
Quirks like this are very few and far between… In fact, i've never heard of a coin like these.
The closest example came about due to the Coronavirus pandemic in 2020.
When the Olympic Games were postponed from 2020 to 2021 due to the pandemic, it led to a design quirk that created a collecting frenzy for a particular 50p.
Issued in the 2020 Annual Coin Set, the Team GB 50p was issued to mark our athletes participation in the upcoming Tokyo Games.
So, when the games were postponed, so was this coin's individual issue.
Eventually issued in 2021, this 50p become one of just a handful of coins to feature a dual-date – 2020 on the reverse and 2021 on the obverse.
The coin sold out in a flash.
So considering the popularity of the dual-dated Team GB 50p, you can understand why coins with THREE dates, such as the Tutankhamun 50ps, are a must-have.
If you haven't yet got your hands on these coins with three dates on them yet, head to the Westminster Collection website here to view their remaining stock >>
Discuss the latest coin releases in the Change Checker Community Group
Share, learn & swap with the Change Checker Community – the only official Change Checker Facebook group.