The FIRST King Charles III 50p joins the Scarcity Index!
It's the Scarcity Index update we've all been waiting for, as the FIRST EVER King Charles III 50p finally makes an appearance!
4.9 million of these coins entered circulation in December 2022 and collectors have since been finding them in their change, adding them to their collections and swapping with other collectors.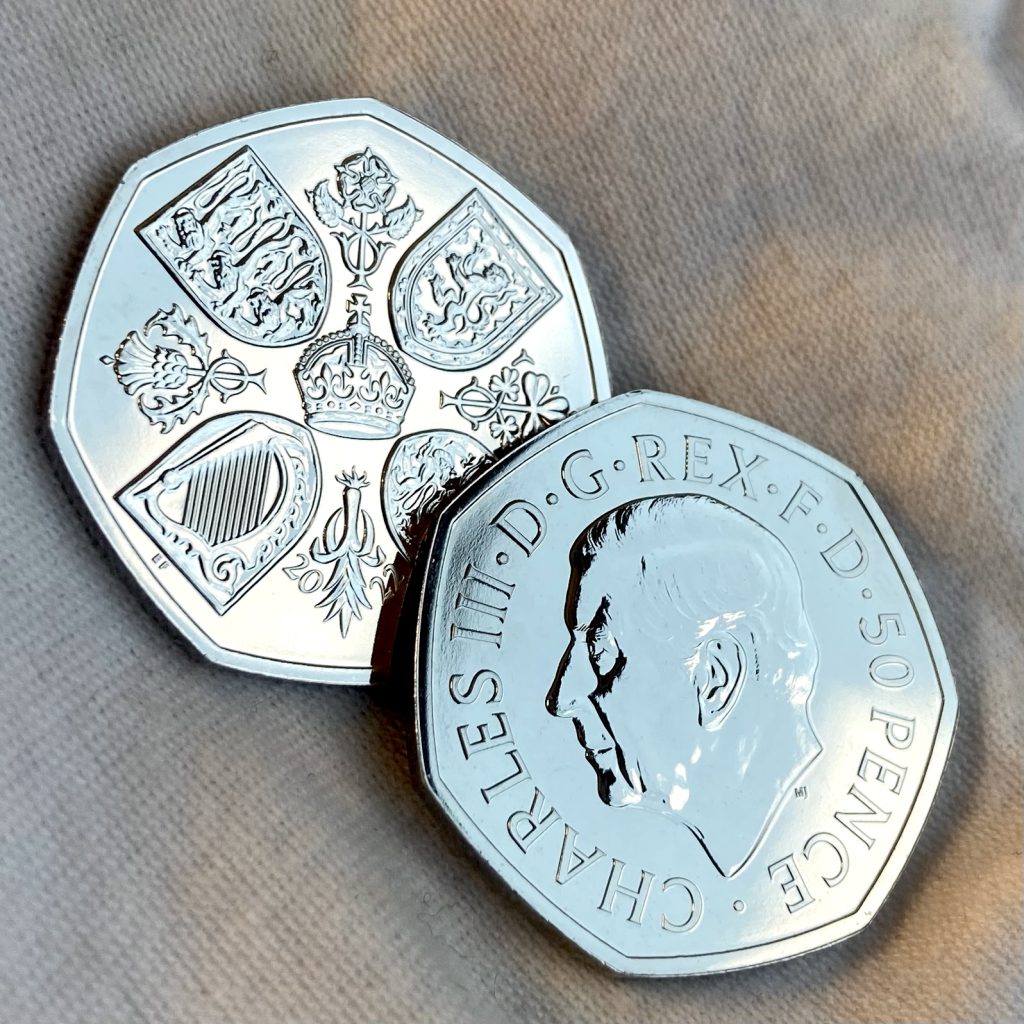 But it's time to reveal just how sought-after this new release really is…
Continue reading to find out and to discover the UK's most sought after circulation 10p, 50p and £2s and see where the coins in your collection rank against the others you can find in your change.
This information has been compiled using data from the Change Checker Swap Centre and presented in the easy to use indexes below, with arrows to signify how many places up or down a coin has moved since the last Scarcity Index update.
50p Scarcity Index
The 50p index has seen quite a bit of movement since our last update, with a few coins shooting up the ranks, and a few gradually moving down. However, perhaps the most exciting update is the addition of the FIRST EVER King Charles III 50p!
The 2022 Queen Elizabeth II Memorial 50p (marked above with a star) appears on the scarcity index for the first time since entering circulation late last year. On 8th December 2022, 4.9 million 50ps entered circulation featuring King Charles III for the first time. We tracked the new coin up and down the country with our collector map, and it turned out the place you're most likely to find a King Charles III 50p was Newcastle!
The Queen Elizabeth II Memorial 50p currently ranks as common on our scarcity index as it may not have made its way into many collections, and those who have found one have probably been reluctant to swap it. Watch this space though, as this new circulating coin could cause quite the shake up in the next Scarcity Index update!
Aside from the Queen Elizabeth II Memorial 50p, the biggest mover is the Ironside 50p, which has fallen 16 places since the last update. It's unclear what's caused this 10 year old coin to fall in the ranks, however with a circulating mintage of 7,000,000, you're fairly likely to come across one in your change.
Another big mover is the Handball Olympic 50p which has climbed an astonishing 14 places, putting it in the top 10 with the other Olympic 50ps and of course the Kew Gardens 50p, which remains in the top spot.
If you're new to collecting and want to find out more about circulation coins, you can check out our fact files here >>
Otherwise, keep reading to find out which 10ps and £2 coins you should be looking out for.
10p Scarcity Index
Whilst the top and bottom of our latest 10p Scarcity Index has remained stable, there has been a bit of a shake up among the coins in the middle.
Whilst Oak and Yeoman Warders have moved up 8 and 6 places respectively, Bond and NHS have both moved down by 10 places.
This comes as some surprise, as these were previously considered some of the most popular of the A-Z 10p coins.
It's worth remembering that this Index is only ranking the 10ps against each other, when really even the ones at the bottom of the list are still incredibly sought-after and even now (4 years on since they were last released) they are still the coins every collector seems to talk about!
And that's no surprise, as a maximum of JUST 304,000 of each A-Z 10p design entered circulation across 2018 and 2019 – making them some of the rarest coins out there. So make sure you keep your eyes peeled for them in your change!
£2 Scarcity Index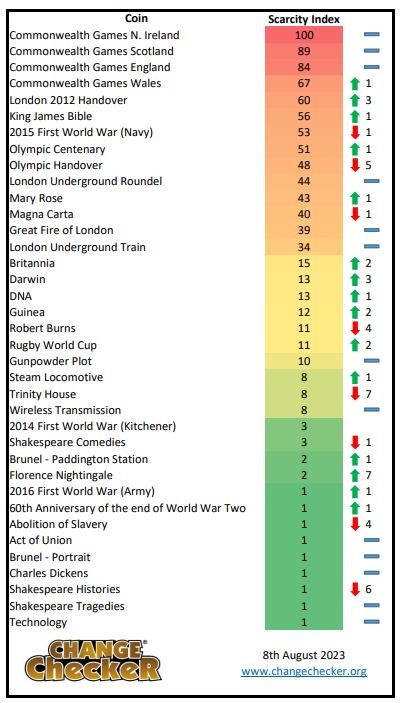 The top of the £2 index has remained stable, with those Commonwealth Games £2s proving to be the ones to look out for. And, with mintages ranging from just 485,000 to 771,750, you can see why these rare £2s are so sought-after!
We tend to see less movement on the £2 index due to the fact less coins have entered circulation in recent years.
However, it's worth remembering just how rare and collectable some of these coins are, even after being in circulation for so many years.
A few others creeping up the ranks are the Florence Nightingale, London 2012 Handover and Darwin £2s, whilst Trinity House and Shakespeare Histories have taken a bit of a dip.
But, with less £2s entering circulation, it's certainly worth holding onto any coins you can find, before they're snapped up!
How your Scarcity Index works
Generally collectors have relied on mintage figures to identify the scarcest coins. But they only tell part of the story.
Trying to find a good quality coin from 15 – 20 years ago, even for a higher mintage issue, is much more challenging than a more recent issue, as coins become damaged over time and are ultimately removed from circulation.
What's more, some designs are more hoarded than others by people who might not normally collect coins – for example the First World War £2 Coin series.
Finally, it can be up to a couple of years before the Royal Mint eventually confirms the actual mintage for an issue.
That's why we have combined the mintage information with two other key pieces of information:
How many of each design are listed as "collected" by Change Checkers, indicating the relative ease of finding a particular coin
The number of times a design has been requested as a swap over the previous 3 months, showing the current level of collector demand
Importantly, as new coins are released and popularity rises and falls across different designs, the Scarcity Index will be updated quarterly. This allows Change Checkers to track the relative performance of the UK's circulation coins.
How much are my coins worth?
The Scarcity Index doesn't necessarily equate to value, but it is certainly a good indicator. For example, the Kew Gardens 50p coin commands a premium of up to 200 times face value on eBay and is unsurprisingly top of the 50p Index.
You can use our 6 point guide to help you determine a more realistic value for your coins.
What about £1 Coins?
The £1 Scarcity Index has already been published for the Round £1 coins. Because they are no longer being issued, this is now set in stone.
Receive new UK coins without the hassle of placing orders on the day of release!
Join the Change Checker UK CERTIFIED BU Subscription Service and receive new UK coins sent to your door without the hassle of placing orders on the day of release!
Don't miss your chance to get ahead of the crowd and be one of the very first collectors to receive the latest UK new issue coins as soon as possible after their release.