Posts Tagged '10 Pound Banknote'
The UK's new polymer £10 note, featuring Jane Austen, entered circulation on 14th September 2017, replacing the previously-used paper notes.
After its release, collectors were eager to hunt down the notes with the lowest serial numbers but it's recently been revealed that there is a particular error that we should be looking out for – one that's worth thousands!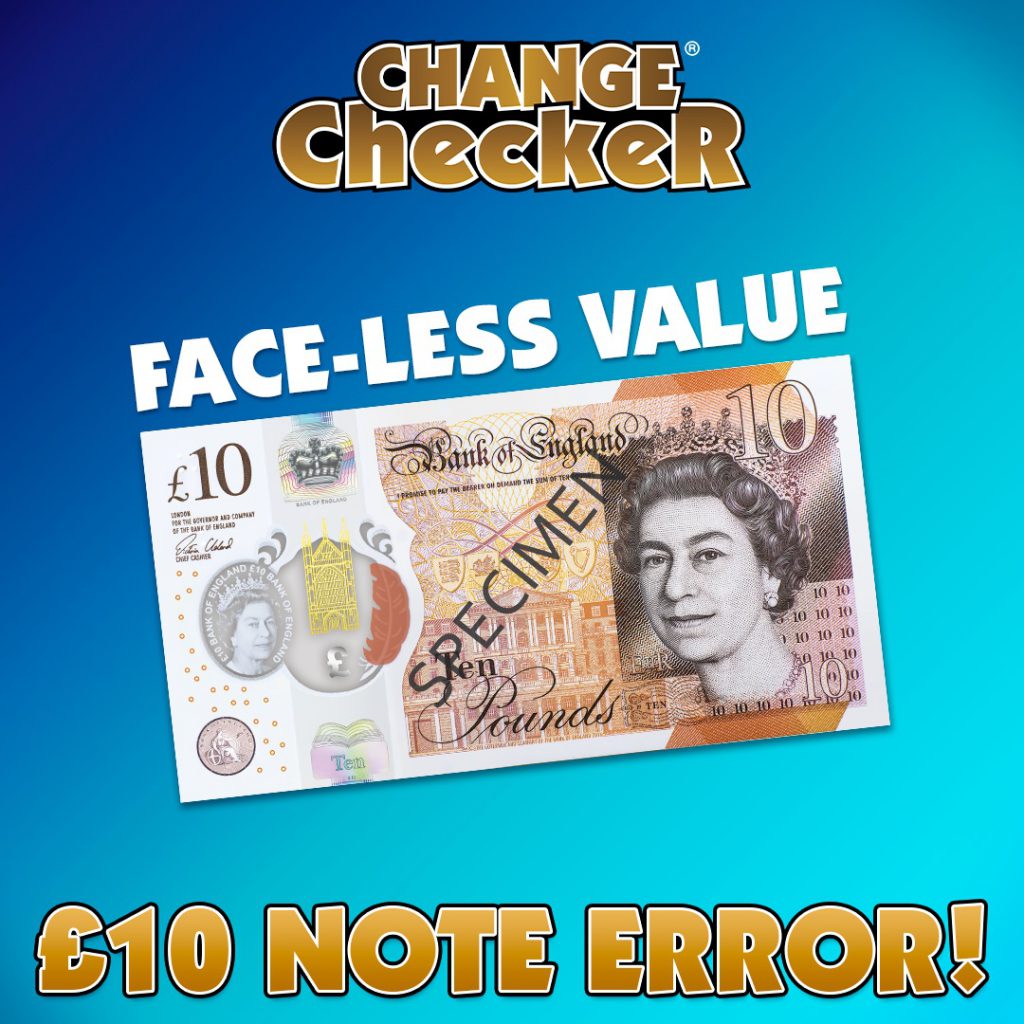 Faceless £10 Note
One lucky collector was very surprised to see Her Majesty's portrait missing some very key features on the £10 note that he withdrew from a cash machine.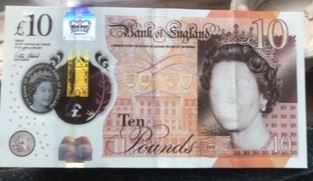 The gentleman was almost about to spend the note before a shop assistant pointed it out to him! Speaking of the unusual banknote, Mr. Coleman said he was considering auctioning it.
Whilst we'd love for this to be a genuine error, we'll have to wait for official confirmation from the Bank of England!
Sought-after Banknotes
Collecting banknotes is a serious hobby that many thousands of people all over the world enjoy. Whenever a new banknote is issued, or an error story arises, collectors are eager to add them to their collection.
With so many stories in the press and listings on eBay claiming certain notes were worth way over face value, it's easy to see how the nation got swept away with the idea of their new polymer banknote being worth thousands of pounds.
Whilst there's a range of serial numbers that could fetch you a pretty penny on the secondary market, we've never seen an error quite like the Faceless £10 Note. If this is classified as genuine, it would certainly increase collector demand!
Do you have this error note sitting in your collection?
If you think you've got a banknote with Her Majesty's portrait missing its features, we'd love to hear from you! You can get in touch via [email protected] or via any of our social channels:
Don't miss out on the very latest UK coin releases!

Join the Change Checker UK CERTIFIED BU Subscription Service and receive new UK coins sent to your door without the hassle of placing orders on the day of release!
Simply choose the perfect subscription for you here >>
The UK banknotes have gone through some big changes since they were first introduced but do you know the story behind them?
In this blog, we guide you through the history of UK banknotes as we take a look at just how far they've come…

7th Century – China
The first recorded use of 'paper' money was in China back in the seventh century! However, it was until over a thousand years later that paper money made its way to Europe.
16th Century – Goldsmith-Bankers
In the 16th century, the goldsmith-bankers would issue receipts for cash, known as 'running cash notes'. They were made out in the name of the depositor and also carried the words, 'or bearer', after the name of the depositor.
This similar phrase still appears on British banknotes today: "I promise to pay the bearer on demand the sum of…"
1694 – Bank of England
When the Bank of England was established in 1694 to raise money for King William III's war effort, they issued notes in exchange for deposits. These were the first recorded bank notes to feature a cashier's signature!
18th Century – Fixed Denominations
The issuing of fixed denomination notes first started in the 18th century. Notes were printed with the pound sign and the first digit included, but any following digits were then added by hand!
By 1745, notes were issued in denominations ranging from £20 to £1,000 but it wasn't until 1759, as a result of gold shortages caused by the seven years of war, that a £10 note was issued.
The £5 note followed in 1793 at the start of the war against Revolutionary France and by 1797 the £1 and £2 notes were issued.
1853- Fully Printed
In 1853, the first fully printed banknotes were introduced, meaning hand-written denominations on notes were phased out.
Early 20th Century – 10 Shilling Note
During the First World War, the link between notes and gold was broken. The government needed to preserve bullion stocks and so the Bank stopped paying out gold for its notes.
In 1914 the Treasury printed and issued 10 shilling and £1 notes and in 1931, Britain left the gold standard.
Late 20th Century – Feature of Historical Figures
The late 20th century saw the first introduction of historical figures on the designs of UK banknotes. Since 1970, we've seen figures including scientist Isaac Newton, composer Edward Elgar and nurse Florence Nightingale featured on our banknotes.
21st Century – Polymer notes and BAME figures
In the 21st century we have seen the introduction of the polymer £5, £10 and £20 banknote, as a cleaner, safer and stronger alternative to the paper notes.
These notes have become incredibly popular with collectors, with some polymer £20 notes fetching far over their face value on the secondary market!
However, a lack of Black, Asian and Minority Ethnic (BAME) figures being recognised on legal tender led to campaigning for greater inclusivity in 2020.
These campaigns come after Chancellor Rishi Sunak stated he was considering proposals from a campaign group. He has since asked the Royal Mint to come up withnew designs honouring BAME figures who have served the nation – such as military figures and nurses.
Whilst details of these figures and designs remain under consideration, we look forward to hearing more as the story unfolds.
---
Did you know how far back in history our banknotes date? Let us know in the comments below!
---
Secure the last-ever £1 banknote to your collection!
Click here to secure your piece of British Numismatic history for just £10 (+p&p) >>
The withdrawal date for the current paper £10 note is in less than one week's time on Thursday 1st March.
The paper 'Series E' note has been in circulation, in some form, for the past 26 years. So, I thought it would be interesting to take a look back at the history of the £10 note and our journey begins 259 years ago in 1759…

In a recent poll conducted on our Facebook page, 40% of you said that you still have paper £10 notes. Although you can still exchange them at the Bank of England after the cut-off date, I would suggest exchanging them before the withdrawal date.
Some retailers, banks and building societies may still accept these notes; however this is at their discretion. To save yourself any potential hassle, once you've added one to your collection, go and spend or swap your notes at the bank.
---
The Change Checker Banknote Collecting Pack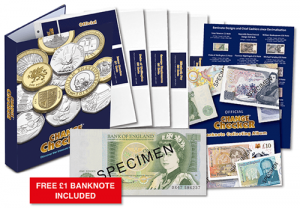 The brand new Official Change Checker Banknote Collecting Pack is the perfect way for any change checker to start collecting banknotes or display an already growing collection.
To help get you started, this pack includes an original £1 banknote, issued more than 35 years ago, in mint uncirculated condition… absolutely FREE.
Don't miss out on this brand new Banknote collecting pack, start your collection today >>