It's been more than two years since the old £5 notes were withdrawn from circulation, and yet 118 million of these notes still have not been returned.
This figure, combined with the 94 million old £10 notes left to be returned (following the withdrawal of the paper note in 2018) means that over £1.5bn worth of outdated banknotes are currently in circulation!
In fact, you might just have one in your pocket/wallet/down the back of the sofa right now!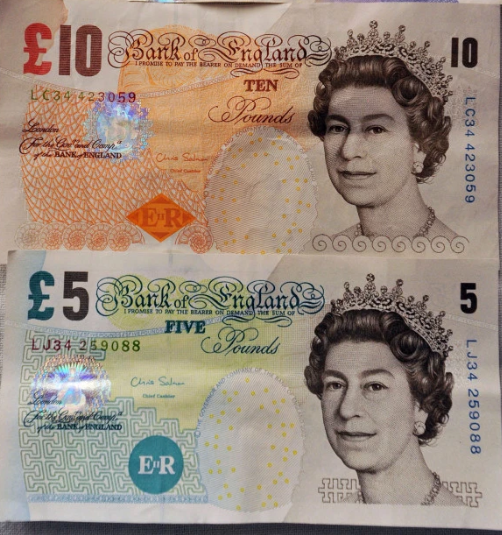 A spokeswoman from the Bank of England said that the 224 million £5 notes returned was lower than expected, but the 697 million £10 notes returned was in line with their expectations.
It's possible that these unreturned notes have been lost or damaged, or even held on to by collectors following the introduction of the new polymer notes.
Whilst these paper notes are no longer legal tender, they can still be exchanged at the Bank of England and there is no time limit on this.
I still remember the excitement of the first polymer £5 notes which were introduced in 2016 and whilst they definitely felt alien to begin with, I think it's fair to say that we have all become accustomed to the polymer design and finding an old £5 or £10 note nowadays is a nostalgic experience.
In fact, many collectors were eager to get hold of some of the more unusual serial numbers for the new Winston Churchill polymer £5 and Jane Austen polymer £10 when they were first released.
And I'm certainly looking forward to seeing the polymer £20 and £50 notes which will be released in coming years.
So do you have any old banknotes lying around? There's over £1.5bn of them out there somewhere…
---
If you're interested in coin collecting, our Change Checker web app is completely free to use and allows users to:
– Find and identify the coins in their pocket
– Collect and track the coins they have
– Swap their spare coins with other Change Checkers
Sign up today at: www.changechecker.org/app
First Trust Bank, one of four main banks in Northern Ireland, will become the first Northern Ireland-based bank to end the practice of printing its own-denomination banknotes. The bank revealed it will scrap its own banknotes next year and switch to dispensing Bank of England notes from its ATM network.
Although the UK has a vast variety of different notes in circulation, The Bank of England is the only bank to issue notes for England and Wales, while there are seven different banks in Scotland and Northern Ireland that currently produce their own notes.
The decision is thought to be an economic issue and means that all existing First Trust banknotes will not be able to be used for payments from midnight on 30th June 2022. They can however be exchanged for Bank of England banknotes, or other sterling banknotes of equivalent value at Post Offices up until 30th June 2024.
Why do Scotland and Northern Ireland issue their own banknotes?
The UK has a vast variety of different notes in circulation and although those of us living in England and Wales don't see many, there are three different banks in Scotland and four in Northern Ireland that currently produce their own notes.
In fact the tradition of printing banknotes was considered the norm centuries ago as most of the UK's banks produced their own banknotes. However over time they weren't all doing it responsibly and were not able to back the notes up with actual assets. The law changed in the 1840's in England and Wales so all production of banknotes was moved to The Bank of England bar Scotland who argued for an exception as they were not having the same issues. The Bank Notes Act of 1928 allowed banks in Northern Ireland to produce their own notes.
For people living in Scotland and Northern Ireland, the banknotes are part of the furniture and a part of their cultural identity that usually feature local landmarks and historical figures. These issuing banks have also considered the notes as part of their marketing as customers are seeing the name of their banks in their hands as they spend cash.
Can you spend Scottish and Northern Irish banknotes in England?
Yes. The notes are legal currency and backed with physical assets with the Bank of England so can technically be accepted anywhere in the UK. However, the problems come as shops are not always overly familiar with all the different types of notes and may not be sure on how to check them for counterfeiting so don't like to accept them.
Is this the beginning of the end for Northern Irish and Scottish banknotes?
The decision is scrap the printing of banknotes at First Trust Bank is thought to be an economic issue and comes as other Northern Ireland banks prepare for the change over to modern Polymer notes in the very near future. The update is needed in order to produce counterfeit resilient notes to protect against forgery and ensure the security of circulating notes. But this costly change could be too much for First Trust handle.
There are also a lot fewer of these notes changing hands and with the increasing use of digital payment methods and mobile technology, it could be the reasoning behind the decision to scrap the notes.
The other three Northern Irish banks are currently in various stages of issuing their own polymer £5, £10 and £20 notes and it is clear that Scotland are completely committed to keeping their own notes as Clydesdale Bank was the first bank in the UK to issue a Polymer note back in 2015.
The Bank of England officially revealed the new £10 polymer banknote in a ceremony at Winchester Cathedral – the burial place of Jane Austen, on the 200th anniversary of her death.
What does it look like?
The new £10 note features a portrait image of Jane Austen (commissioned by her nephew James Edward Austen Leigh in 1870), alongside the famous quotation from her novel Pride and Prejudice: 'I declare after all there is no enjoyment like reading!"
Jane Austen's writing table – the central design in the background is inspired by the 12 sided writing table, and writing quills, used by Jane Austen at Chawton Cottage.​ An illustration of Miss Elizabeth Bennet undertaking "The examination of all the letters which Jane had written to her" from a drawing by Isobel Bishop (1902-1988) is also featured.
There is also an image of Godmersham Park, the home of Edward Austen Knight (Jane Austen's brother). It is believed that she visited the house often and it was the inspiration for a number of Jane Austen's novels.
When can I find one in my change?
The new note entered circulation on 14th September this year and around 55% of £10 banknotes in circulation are made from polymer.
Will I still be able to spend my current £10 notes?
Yes you will, but only up until 1 March 2018. As with the old paper £5 notes, the £10 note will eventually cease to be legal tender – but you will still be able to exchange them at the Bank of England.
What will happen to the paper £10 notes once they're no longer legal tender?
There are approximately 359,000,000 paper ten pound notes in circulation, but the Bank of England does have a plan for them.
Once the Bank of England start to withdraw the paper £10 notes from circulation, they will be recycled.
In the early 2000s, the Bank of England introduced a new way to get rid of its old notes – by recycling them with a composting treatment similar to that used with food waste.
This recycling method was put into place for all paper-note waste in 2011, using them as a soil improver for agriculture.
What should I look out for on the new polymer £10 banknotes?
When the new polymer £5 note was released in September 2016, serial numbers became the talk of a nation. The first prefixes I considered were JA01, JA75 (Jane Austen's birth year) and JA17 (the year of Jane Austen's death). However, whilst these will likely become popular with collectors in the future, it could be many years before notes with these serial numbers enter circulation due to the huge amount of possible combinations that would come before 'JA'. Click here to find out what else you should be looking for on these banknotes >>
So the new era of Plastic Banknotes is officially upon us! What do you make of the new Polymer banknotes?
---
Mark the 200th anniversary of Jane Austen's death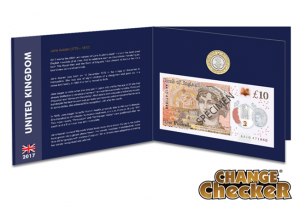 To celebrate such an inspirational female figure, the Royal Mint and the Bank of England have chosen to honour her on a brand new £2 coin and £10 banknote.
Click here to own the 2017 Jane Austen £2 Coin and £10 Banknote Pack today >>