The Royal Mint has denied claims that there are already counterfeit 12-Sided £1 coins in circulation after a charity worker pointed out discrepancies between two coins.
Roy Wright, a charity worker from Surrey, was shocked when he noticed a few subtle differences between the two £1 coins, leading him to believe he had found the 'first fake £1 coin'.
Impossible to counterfeit
Despite the new £1 coins being designed to be 'impossible to counterfeit', Mr Wright suggested that coin he had was heavier, had no hologram and the Queen's head was positioned more to the left. Not only that, the edges were more rounded and there was no detail on the head of the thistle.
A genuine coin with a production fault…
Whilst the story has caused some excitement in the press and The Royal Mint has not yet been able to examine the offending coin, they are confident it is not a fake, but instead a genuine coin with a production fault.
Despite tight quality controls being in place, The Royal Mint has said that variances are likely to occur during the striking process in a small numbers of coins. Whilst such mis-strikes are relatively unusual and can be numismatically interesting, they are not the same as genuine errors.
Rumours of a genuine error in circulation
Unconfirmed rumours have also been circulating about some new £1 coins featuring two dates. There are reports of some coins having 2016 on the obverse and 2017 engraved in the micro lettering of the reverse.
Although, we are yet to see an example, if this is true, it would have to be the result of mis-matched 2016 and 2017 dies being used during production – a genuine error or "mule".
Of course, it was the use of an incorrect die that resulted in the most famous modern "error" – the "undated 20p coin", now regarded by many as the Holy Grail of change collecting. You can read more about the story of the undated 20p here.
If you've #foundapound in your change, have you spotted anything strange about it?
1.4 billion brand new £1 coins will be released into circulation around the UK tomorrow in what is the single biggest change to the UK's coinage since decimalisation.
To celebrate the release, we're giving away FIVE 'Nations of the Crown' Silver Proof 12-Sided £1 Coins!
For your chance to WIN a Silver Proof £1, all you need to do is find one of the new 12-sided £1 coins in your change…
Post a photo via Facebook, Twitter or Instagram using the hashtag #foundapound and the location you found your first £1 coin.
We'll then choose 5 winners at random on the 10th April.
It's really that easy – so good luck and get posting! #foundapound
 To help you out, a few guaranteed locations have already been announced:
Click here to see the full list.
WIN a Silver Proof £1 – the Collector's Favourite
We have 5 special Silver Proof £1 coins to give away…
Precious metal content – struck from 925/1000 Sterling Silver with 24 Carat Gold-plate to create the outer ring.
Strict Limited Edition – just 25,000 individual coins. That's HALF the number of Silver Proof £1 Coins that were issued for the original Round £1 Coin in 1983.
Perfect Proof Finish – even better than Brilliant Uncirculated, Proof coins are struck several times using specially polished dies to create a flawless finish with a perfect mirrored background and frosted design. The ultimate in coin quality.
We will draw five lucky winners out of the hat on 10 April 2017. All you need to do is take a picture of your £1 via Facebook, Twitter or Instagram using the hashtag #foundapound and the location you found your first £1 coin – it's that easy! So good luck and fingers crossed!
---
Terms & Conditions
No purchase is necessary to enter.
The draw will take place on 10 April and the winner will be notified on that day by a comment to the winners original social media post.
The winner will receive the "UK 2017 New 12 Sided Silver Proof £1".  There is no cash alternative.
Participants agree to meet reasonable requests to assist publicity if required.
The prize draw is promoted by The Westminster Collection, trading division of 288 Group Ltd.
Employees of 288 Group and their families are not eligible to enter.
The hashtag #foundapound must be used to qualify for entry into the competition
Tomorrow the new £1 coin will be released into circulation around the UK, sparking a new flurry of interest in coins from the general public.
Just like the polymer fiver back in September, the new £1 is sure to create excitement across the UK as people get their hands on the new coins for the first time.
So here's what to look out for when you find one: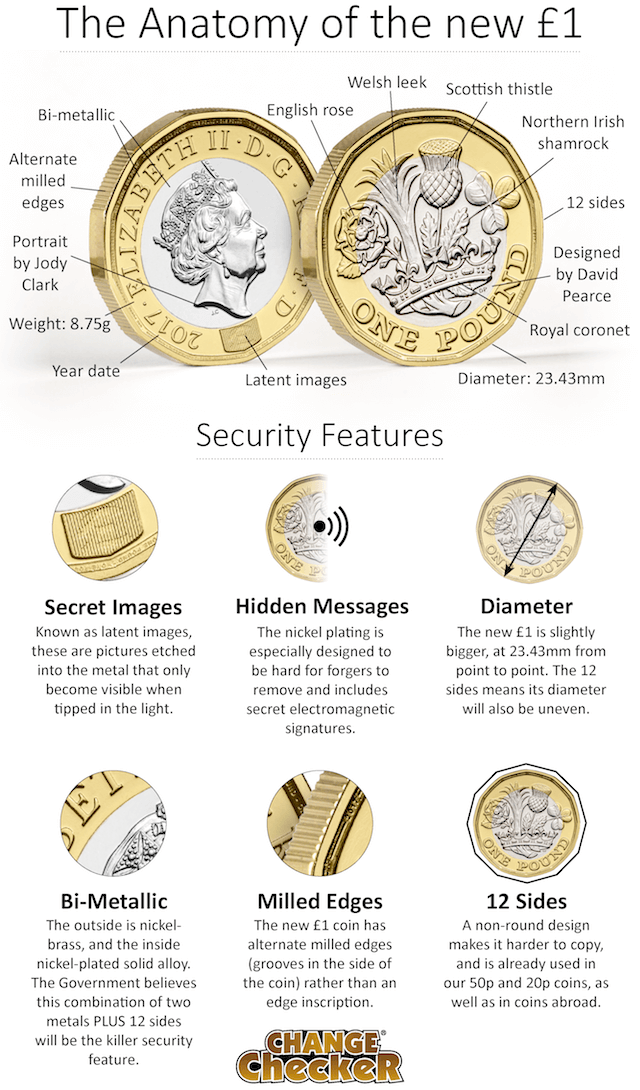 It's also worth looking out for the date on your £1 when you find one in your change. The Royal Mint have confirmed that at least 1.4 billion £1 coins in total will enter circulation, but half a billion of these £1 coins will be dated 2016.
When you do find your first pound make sure you post a picture on Facebook, Twitter or Instagram using the hashtag #foundapound, and also tag the location you found it!